Amoomi Duties At Islamabad: Blessings To Remember
Khuddam reflect on moments during duties which they will hold onto forever.
Published on January 11, 2021 at 10:00 am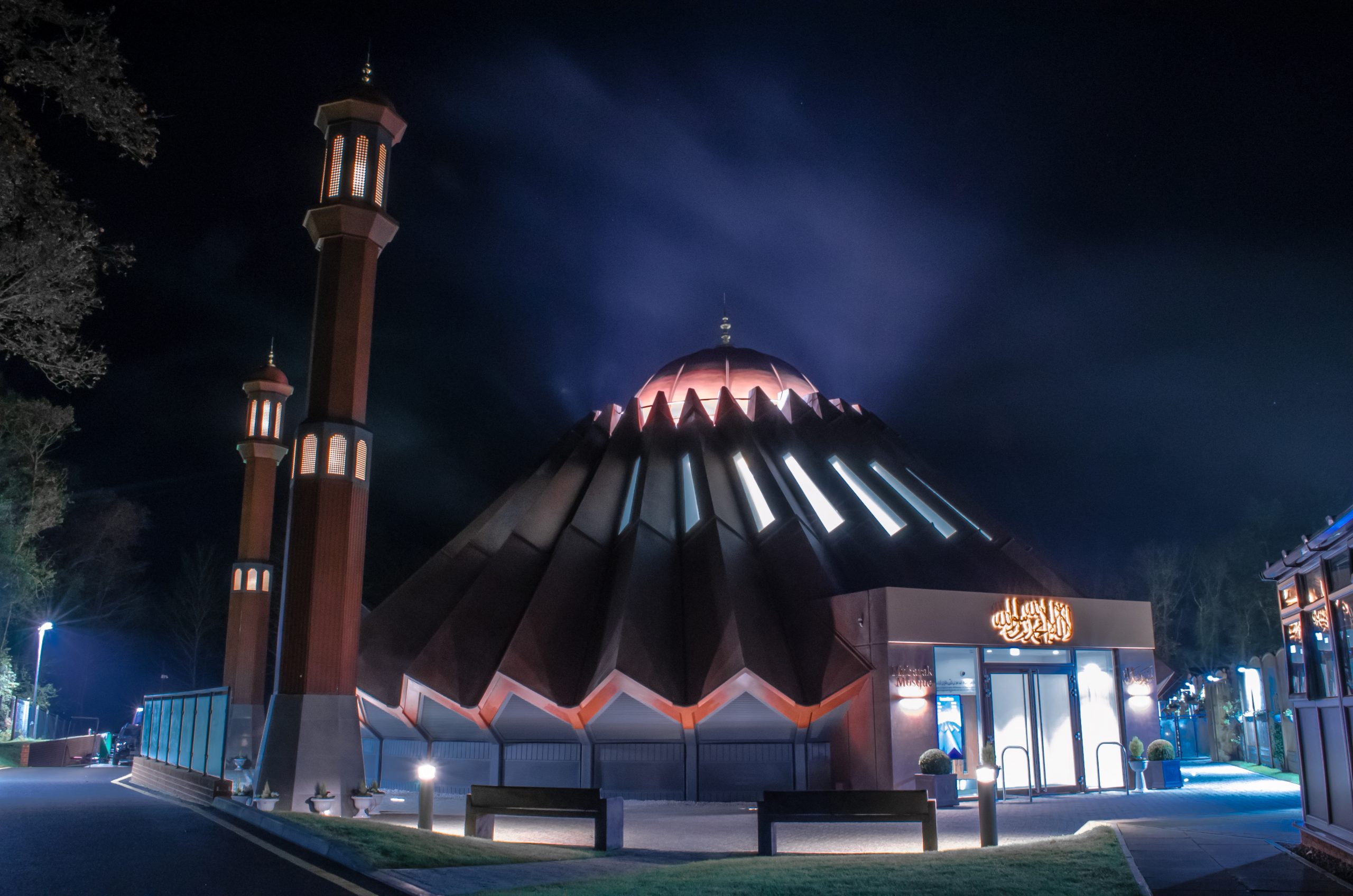 March 2020 announced the start of national lockdown in the UK and various other countries. With it brought great sorrow to Ahmadis around the world due to them not being able to meet Hazrat Khalifatul-Masih Vaba anymore. The Khuddam from Muqami region, who had recently been bestowed the privilege of doing regular duties since Huzooraba had shifted to Islamabad, were brought even more sorrow. They were informed that they would not be able to conduct duties in Masjid Mubarak. Nevertheless, whilst adhering to government guidelines Islamabad was closed to visitors. However, since the protection of the residence of the Khalifa-e-Waqt is still the responsibility of Khuddamul Ahmadiyya, by adhering to social distancing guidelines, duties were conducted during the lockdown. What is unique about these duties is that many of our Khuddam experienced numerous blessed and joyful encounters. Here are a few of the incidents Khuddam from Muqami region have experienced. I should point out that, in order to demonstrate the love that Khuddam have for our beloved Huzooraba, I have passed on these occurrences to be published as were received.
One Khadim narrates, "I am a Pharmacist by profession, and sometimes I travel further away from home to work in different pharmacies. One day after travelling a long distance, I came straight to Islamabad for my four-hour shift in the evening. When I arrived, I was famished and was shy to ask for any food from my shift in-charge. I prayed to Allah that I am in your holy land, so please relieve me from my hunger. After a short moment, I noticed that a Khadim was approaching my car. When I looked out, he answered: "Huzooraba has sent some refreshments for Khuddam, and this refreshment is for you, so please take some." For a moment, there were tears in my eyes as I had just observed Allah's love. There and then, I was convinced that this is purely the work of Allah who blessed and rewarded me for coming here to do duty."
Another Khadim narrates, "I remember Jamia Ahmadiyya UK had the blessed opportunity of offering duties as soon as Huzoor-e-Aqdasaba had moved to Islamabad. It was Ramadan – a blessed and holy time and it was a Friday. Myself and my classmate were doing duty from 11am to 10pm at Qitta-e-Khas [inner compound]. I remember finding it particularly difficult to fast whilst offering duties; and every hour we would countdown to the moment of Iftar.
There was around an hour until Iftar, and we were particularly struggling at this point but all of a sudden, another Jamia student – who was offering his duty at scanning – needed a replacement so that he could offer his prayers. I volunteered, and walked to scanning whilst he went and offered his prayers.
I was only at scanning for a few minutes, and I knew I had to get back to Qitta-e-Khas soon; but right then and there, lo and behold, Huzoor-e-Aqdasaba opened the door of the Private Secretary's office and looked outside. In that surreal moment, it felt like it was just me and my Khalifah. I hesitantly waved, not knowing that Huzooraba had even seen me. However, I saw my Beloved Khalifah smile at me, and wave at me before heading back inside his office. At that moment I realised the immense blessing of not only being in Islamabad offering duties for Huzooraba, but the sheer blessings of fasting during the holy month of Ramadan."
Another Khadim narrates, "once Hazrat Ameerul Mumineenaba  came to inspect the field of Islamabad and to my good fortune I was outside having a drink of water. I was very fortunate to be one of the few that were accompanying His Holinessaba through the grass. During this 10-15 minute walk he turned towards me and asked whether my wife and daughter had arrived in the UK. To this I replied as of yet they have not but InshaAllah they would be joining me soon. It was a surprise for me as Huzooraba was very busy and interested in this inspection and the fact that he took time to ask about my family personally left me speechless and ever more thankful at  having the opportunity to serve so close to Huzooraba."
Another Khadim narrates, "After Eid Prayers Huzooraba came out of the mosque and walked over to my class fellows and inquired about each of them, I was one of the few that were not there as I was on duty around the perimeter of Islamabad. When I found out Huzooraba had come to see our class, I was happy for those who were present there, however, a slight part of me wished I had been there as well. Soon after I saw a car approaching from which a young man came out and said Huzooraba has sent this for those who are on duty. It was Huzoor'saba Kahwah [traditional green tea] that Huzooraba had drank after the Eid Sermon and was a source of blessing for me and my colleagues. This reminded me straight away that however far I or anyone maybe, we are always in Huzoor'saba thoughts and prayers."
Eid-ul-Adha was one of the most joyful days for Khuddam conducting duties in Islamabad. Not only because it was Eid, but that each Khadim received a precious gift from beloved Huzooraba that they will never forget. The gift bags had the Khadim's name written on them and they contained various different items such as a tie, toppi, pair of socks and scarves.
One Khadim, upon picking up the gift pack from myself, became very emotional and could not express his gratitude. He said this motivated him even more to come and do Amoomi duties.
Another Khadim, when receiving the gift, excitedly sent an audio message to his Qiadat group, expressing his emotions and how blessed he was feeling. He said he wanted to share his feelings with his fellow Khuddam in the Qiadat so that those who are not taking part in the duties may listen and come forward.
In June and July 2020, I learnt that Huzooraba had graciously sent mangoes for all Khuddam who have been conducting duties in Islamabad. Sadr sahib instructed that they must be distributed immediately. As a result, a list of Khuddam was made and each one was contacted so they could collect the mangoes. Within the same day, almost all Khuddam on the list came delightfully and collected the Tabaruk [blessing]. I could personally see the joy on everyone's faces when they came to collect the mangoes that Huzooraba had graciously sent for them. All were excited to go home and share this blessing with their families.
Duties in Islamabad have been blessed for every Khadim who participated. We hope and pray that this pandemic ends quickly so Khuddam can continue serving the Jama'at.
Kicking Off the Year – Khadim Style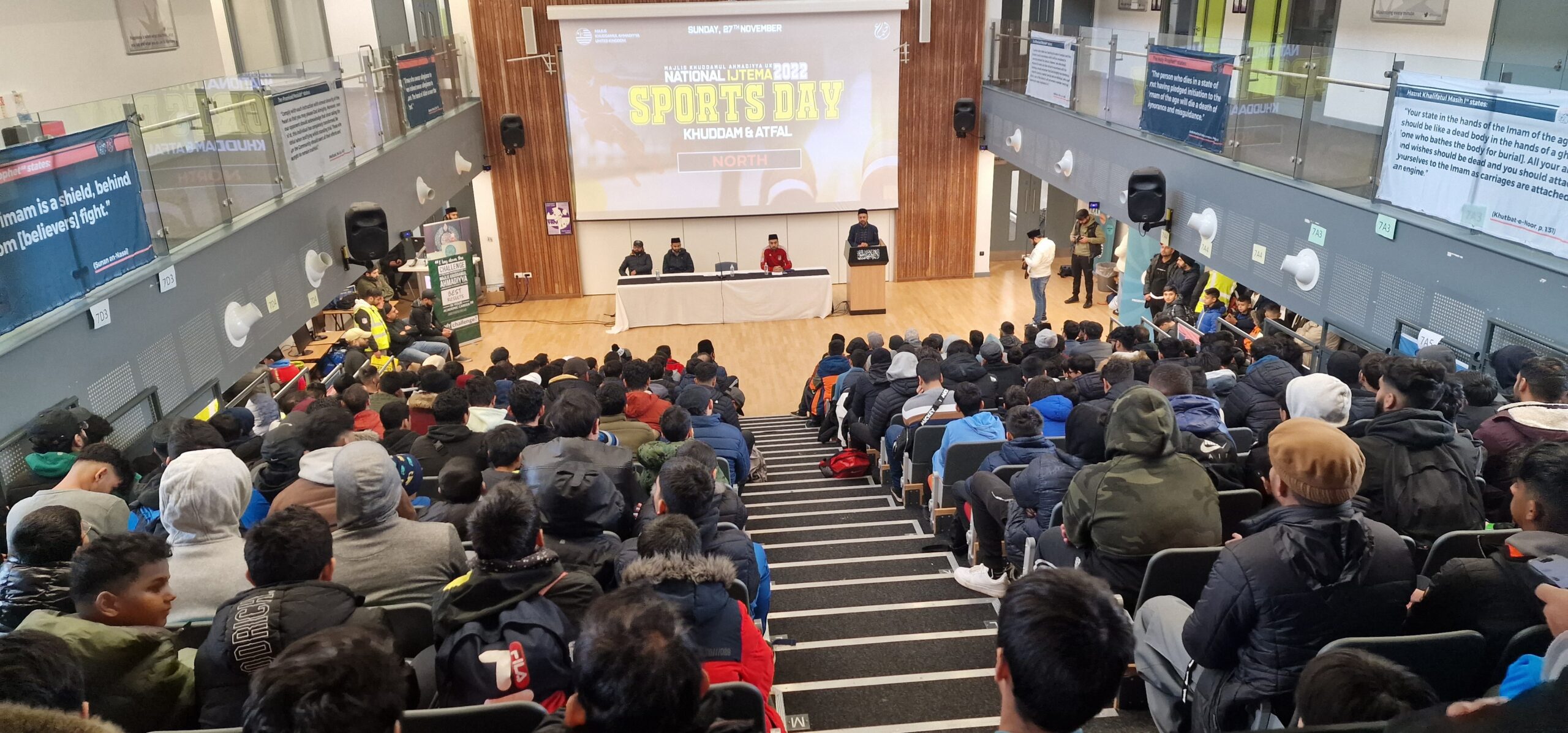 The National Ijtema Sports day for Northern Regions is currently underway in Bradford at Dixons Allerton Academy, and the Khuddam and Atfal present here are thoroughly enjoying all the activities and sessions that are taking place.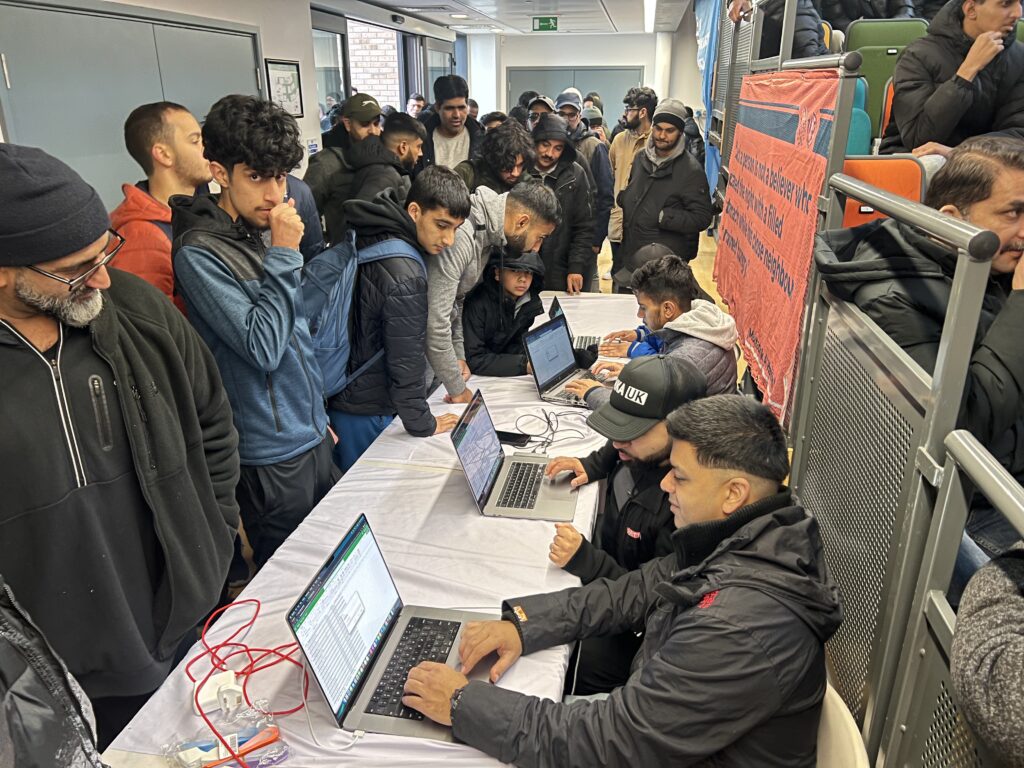 Majlis Khuddamul Ahmadiyya UK is holding this sports day on the instructions of Huzooraba after sports at the National Ijtema 2022 were cancelled due to the demise of Her Majesty Queen Elizabeth II as a mark of respect. Huzooraba instructed the Majlis that the sports that were due to take place at the Ijtema should be organised as soon as possible for the benefit of all Khuddam and Atfal that missed out. Subsequently, it was decided for the Majlis to hold 2 sports days – one for the northern regions (taking place today) and another for the southern regions (date to be announced).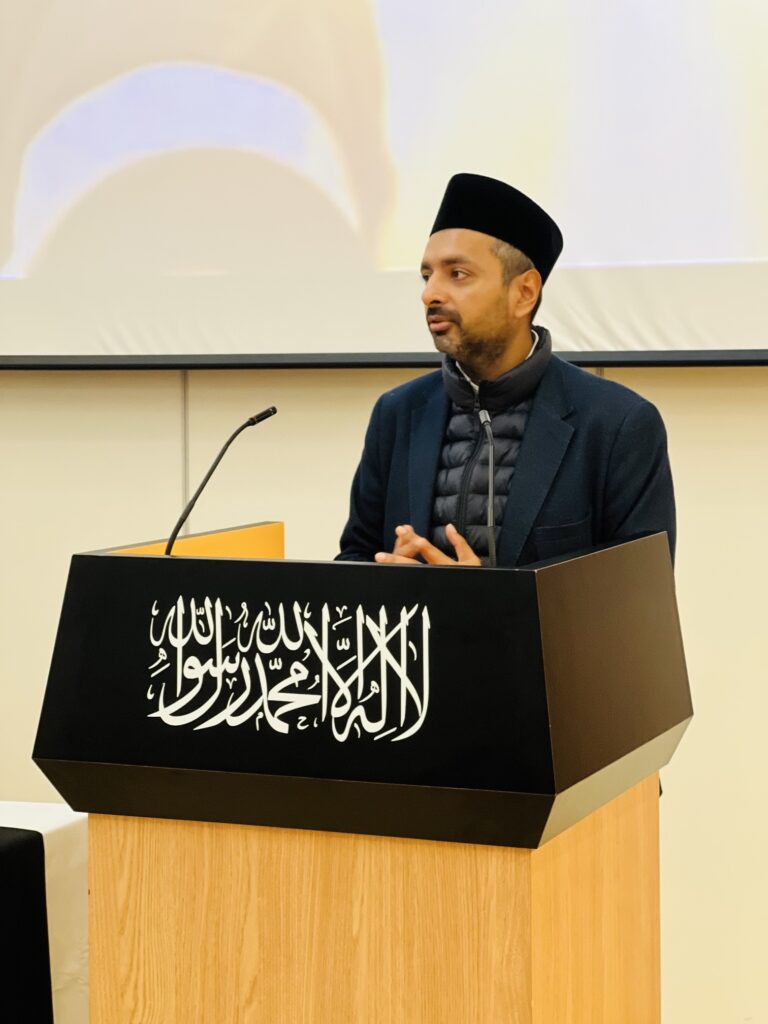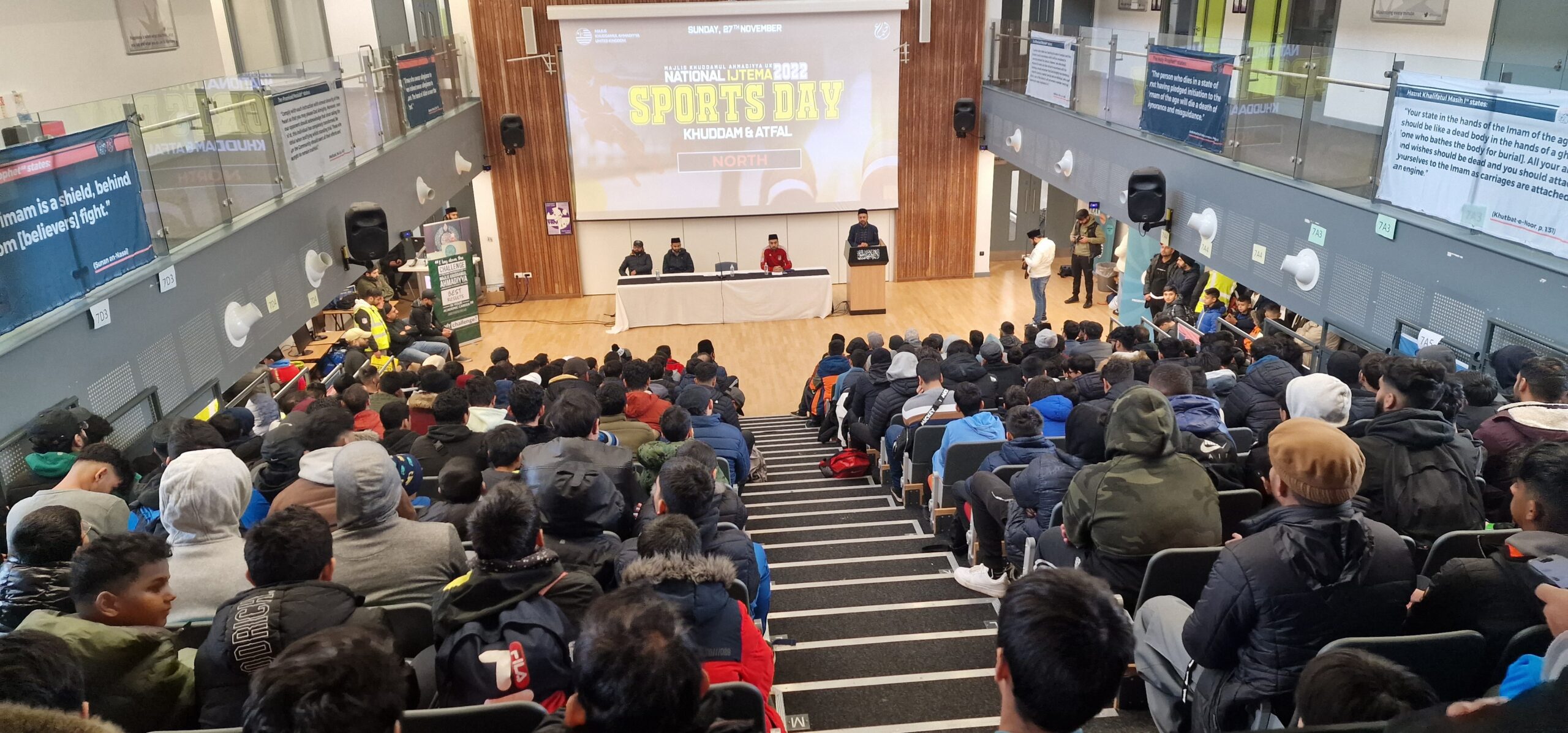 Registration started at 8am with Khuddam and Atfal arriving from all around the northern parts of the UK with breakfast served in the marquees set up onsite. The event started at 10am with an opening session chaired by the Nazime Ala Sahib Ijtema, Tariq Hayat Sahib. The plan for the day was announced by Mohtamim Sahib Sehate-Jismani, Abdur Rauf Lodhi Sahib.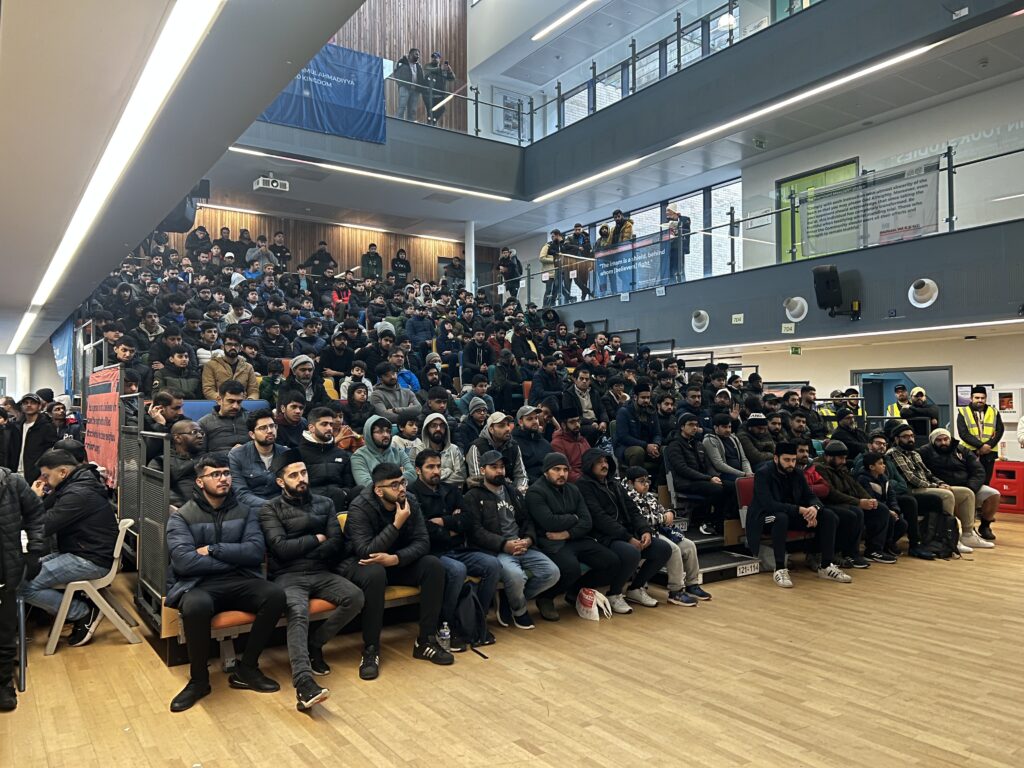 Football and Cricket for Khuddam and Atfal took place in grass fields and netball courts. Tarbiyyat 'Chit Chat Chai' were held at the auditorium, alongside outdoor and indoor sports, on topics such as relationships, the key to paradise, and working hard or hardly working. The first talk covered a wide range of questions in relation to how Khuddam should approach the idea of getting married, how to decide on the type of spouse that they desire, the qualities they should look for and the attitude they adopt going into the process.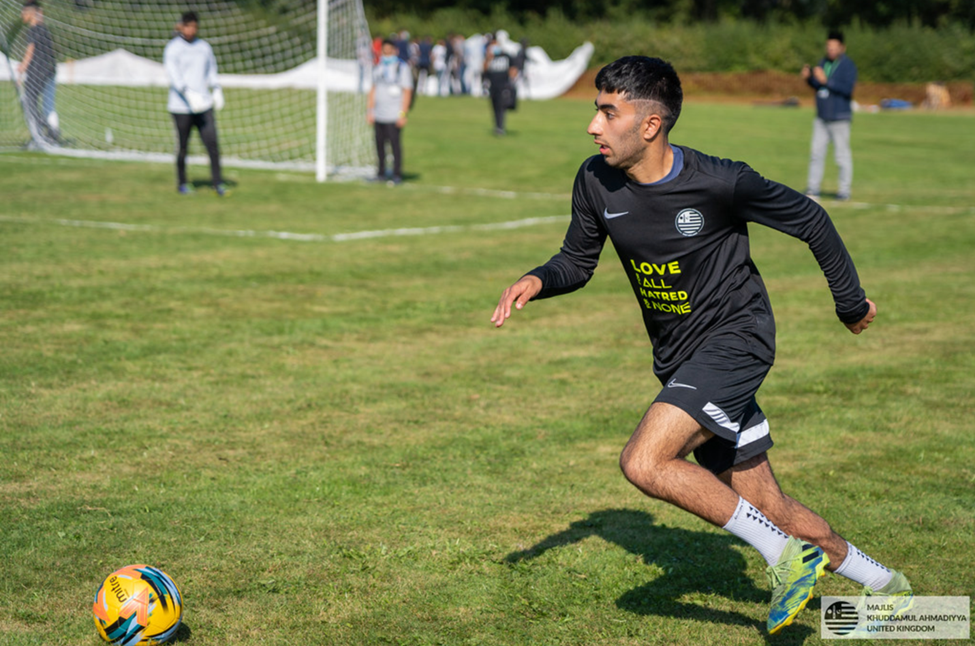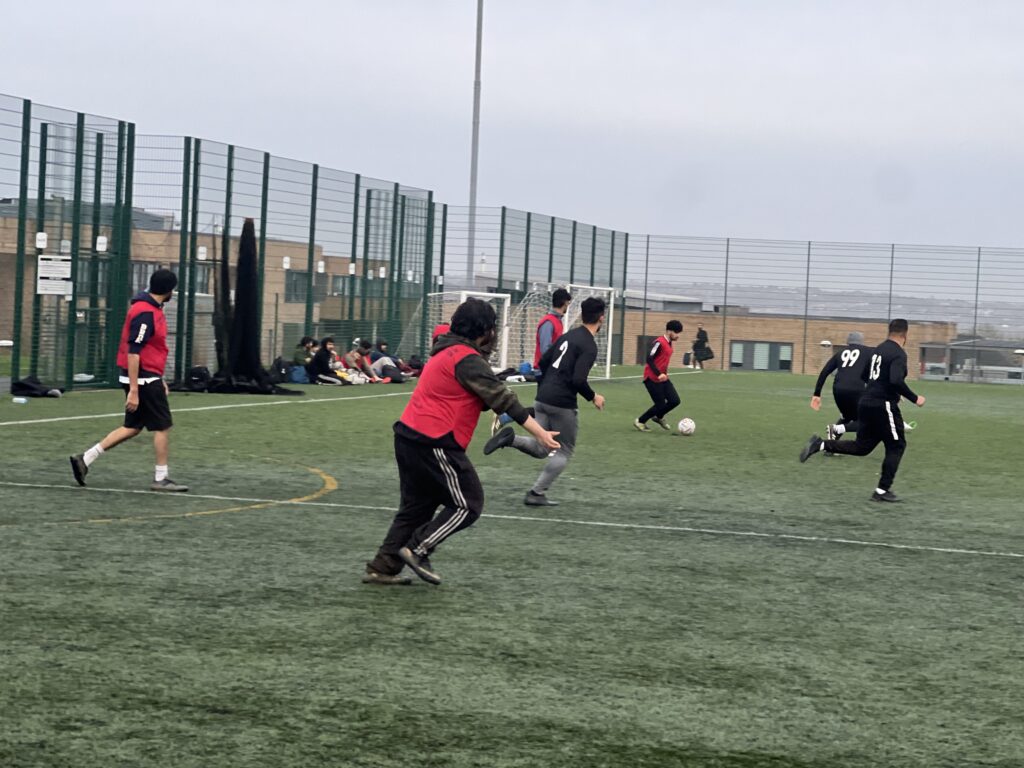 After Namaz-e-Zuhr and Ask a short Talqeen-e-Amal session took place which was on the topic of Namaz. This was followed by a continuation of sports. So far Khuddam and Atfal are finding this it to be a good opportunity to begin the year with an activity that binds the Majlis together in a spirit of brotherhood. The final session is due to take place after Maghrib Namaz, where winning teams will be given prizes by Sadr Majlis Khuddamul Ahmadiyya. The Khuddam and Atfal attendance at the Sports Day is 780, Alhamdulillah.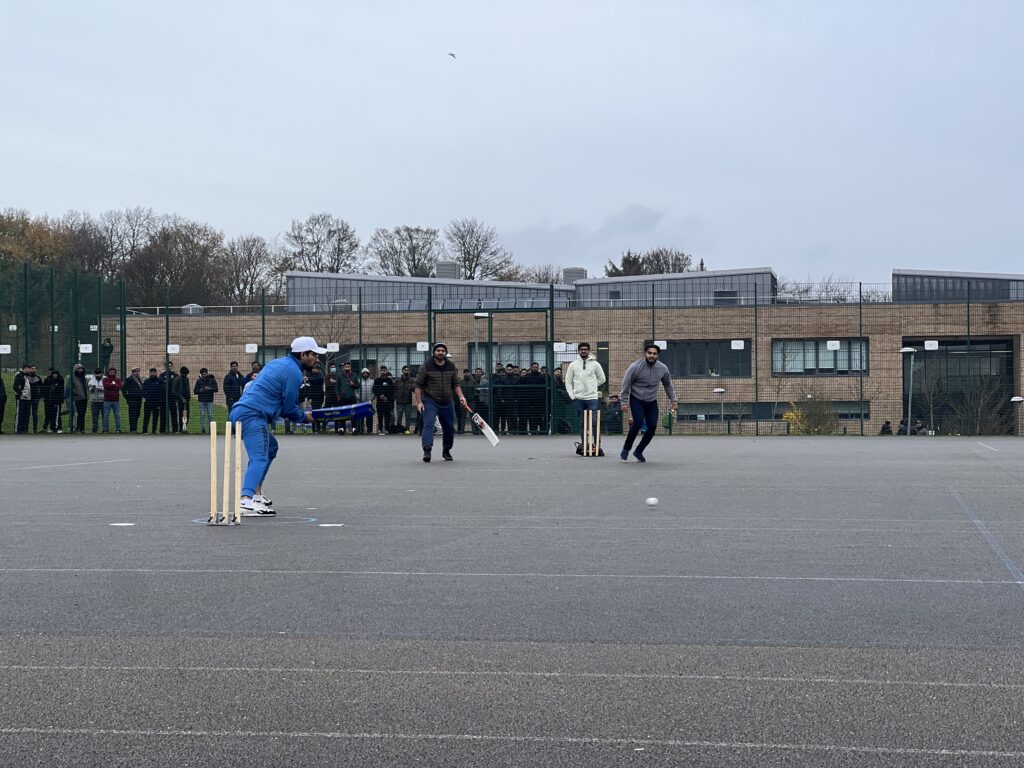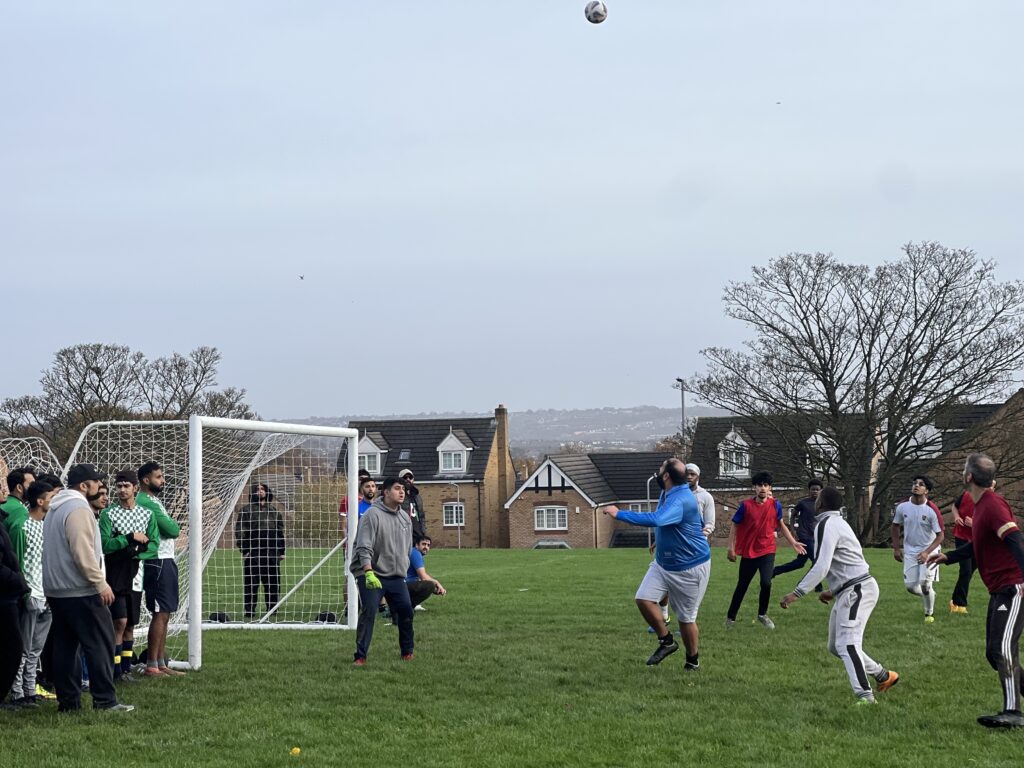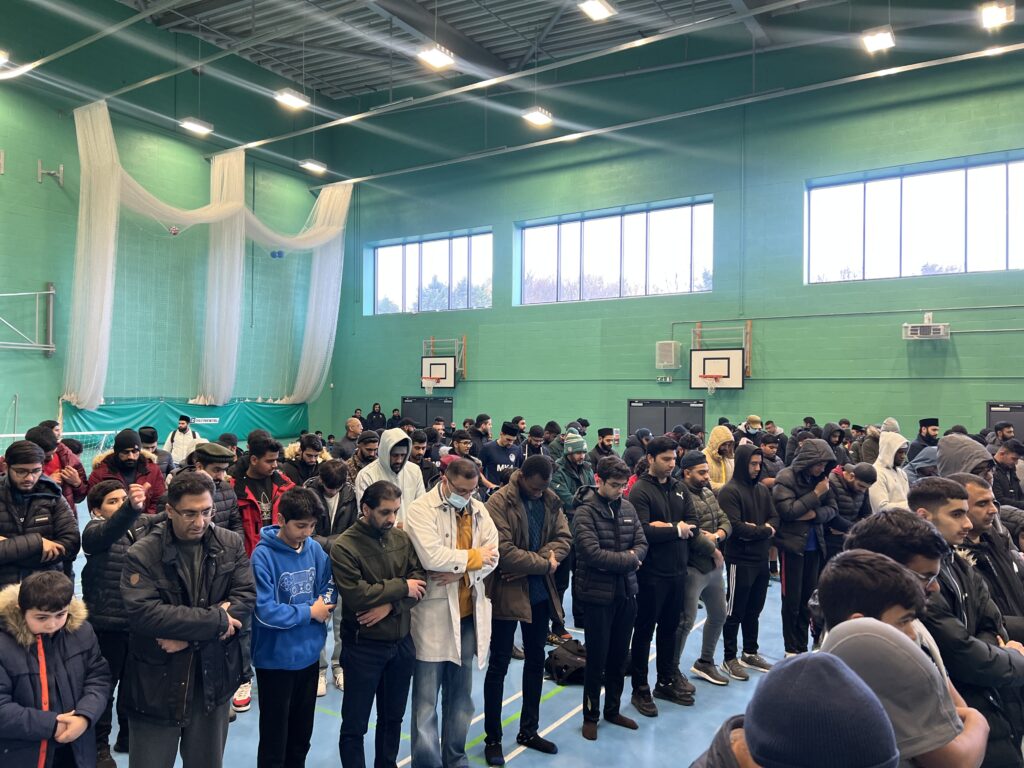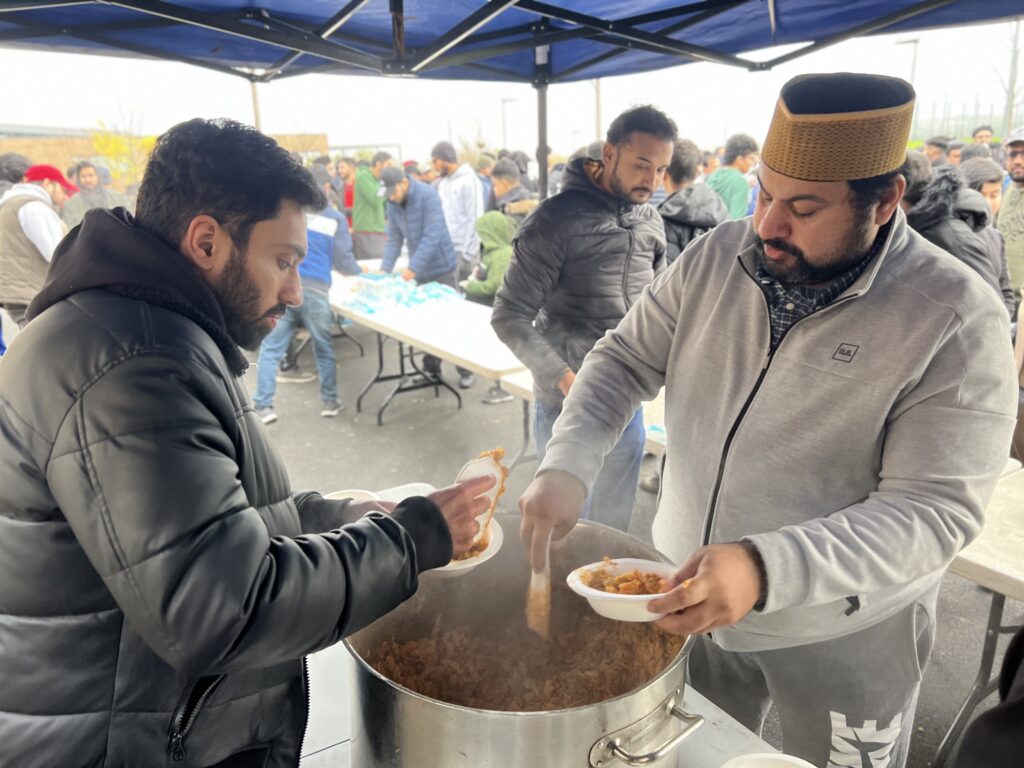 Here is some of the feedback from the Khuddam on today's event.
A Khadim form North West, Abdul Ghalib Sahib, said that "The event has been really good so far, I enjoyed coming together with Khuddam again after the sports were previously cancelled at the Ijtema due to the demise of the Queen". Another khadim, Waheed Ahmad, said that "It was good that Majlis has found a window to hold such an important event of the Khuddam year". Another khadim from Scotland said that "It is important for Ahmadi youth to come together, build a sense of togetherness and develop brotherhood."
Hazrat Khalifatul-Masih V Inaugurates Islamabad Convenience Store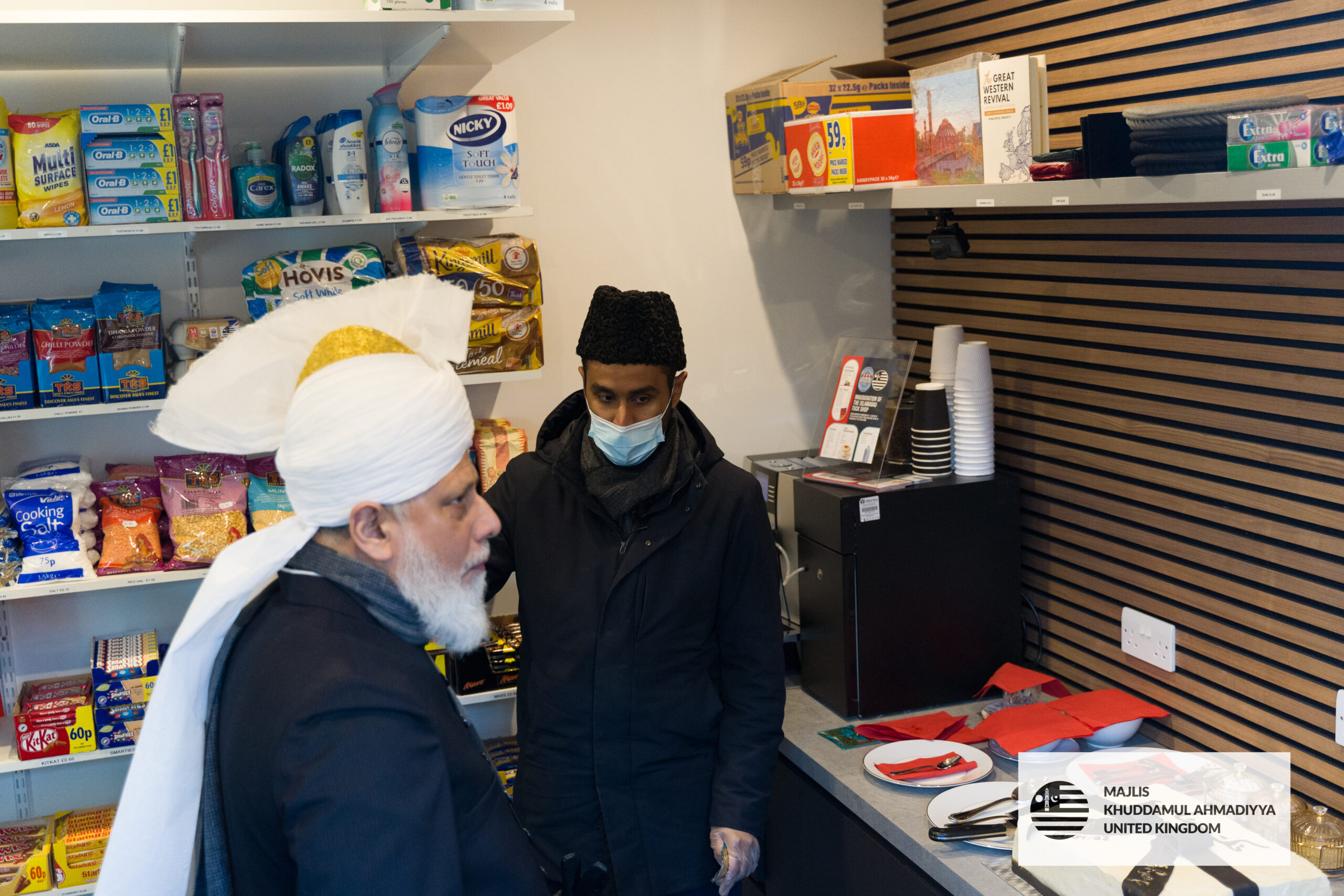 On the 1st of April 2022, after Asr Namaz, Hazrat Khalifatul-Masih V (aba) inaugurated the MKA Tuck Shop in Islamabad. Huzoor (aba) opened the Homeopathic Dispensary adjacent to the Tuck Shop before gracing the Khuddam store.  Huzoor (aba) unveiled a plaque and led everyone in silent prayer after which Sadr Majlis Khuddamul Ahmadiyya UK, Abdul Quddus Arif, Mohtamim Sanat-o-Tijarat, Umar Hassan, and Motamid Khuddamul Ahmadiyya UK, Nassar Bhatti, had the opportunity to show Huzoor (aba) the store and its wares.
Huzoor (aba) graced Khuddam with his precious time and distributed sweets to children who had gathered outside.
Immediately after Huzoor (aba) stepped outside the store, Huzoor (aba) was informed by Sadr Sahib about the Khuddam present with Huzoor (aba) speaking to a few as well. All those who had gathered were greatly  moved by Huzoor's presence.
This tuck shop will Insha'Allah serve as a small convenience store for the residents of Islamabad and visitors. The Homeopathy Dispensary has also opened alongside the MKA Tuck Shop.
Wars will Stop when the World Turns to the Promised Messiah Says Hazrat Khalifatul-Masih V
In today's Friday Sermon, Hazrat Khalifatul-Masih V (aba) once again reminded Ahmadis around the world to pray for an end to the current crisis.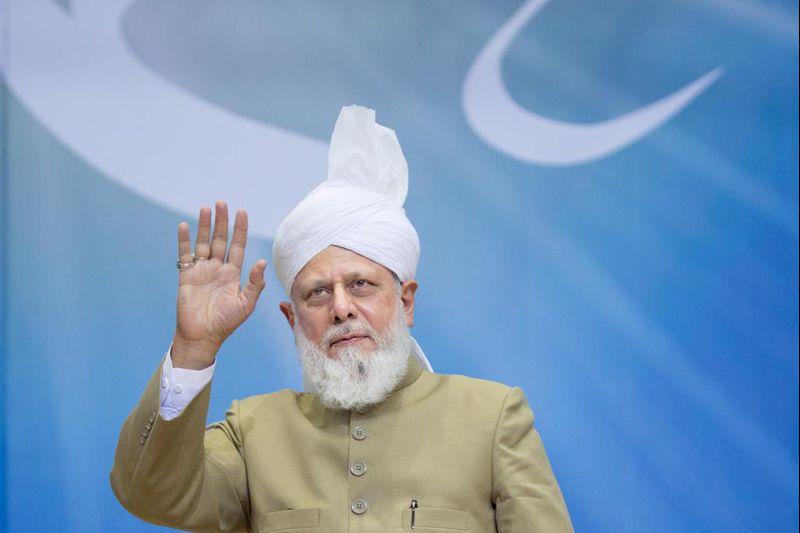 In today's Friday Sermon, Hazrat Khalifatul-Masih Vaba once again reminded Ahmadis around the world to pray for an end to the current crisis. Hazrat Khalifatul-Masih V stated:
Pray that Allah the Almighty grants both sides of the conflict proper understanding and they stop this murder of humanity. 
Huzooraba further commented that Muslims should learn from the unity that the West has displayed in condemning the war:
Muslims should learn from this war. The [West] has become united, yet Muslims, despite belonging to one creed, never unite. They had one country destroyed; Iraq was destroyed, Syria was destroyed, Yemen is being destroyed—they cause this destruction through outsiders and are doing it themselves too, instead of being united. At the very least the Muslims should learn, from the West, how to be united.
Huzoor reiterated his continuous message that there will only be peace in the world when the world accepts the Imam of the Age—the Promised Messiahas:
May Allah have mercy on these nations, the Muslim nations and on the Muslim Ummah. This can only happen however, when these people accept the Imam of the Age who has been sent for this very purpose.
May Allah grant them understanding, and where they [the Muslims] reform themselves may they also pray and use their means to stop the world from wars, rather than themselves become embroiled in them. 
Hazrat Khalifatul-Masih Vaba has been warning of an impending world crisis for a long time and has travelled the world spreading the message of the Promised Messiahas.