Connection with Khilafat-e-Ahmadiyya
The Qaid of Dundee Qiadat shares his experience of Khilafat in relation to the acceptance of prayer
Published on December 25, 2021 at 1:00 pm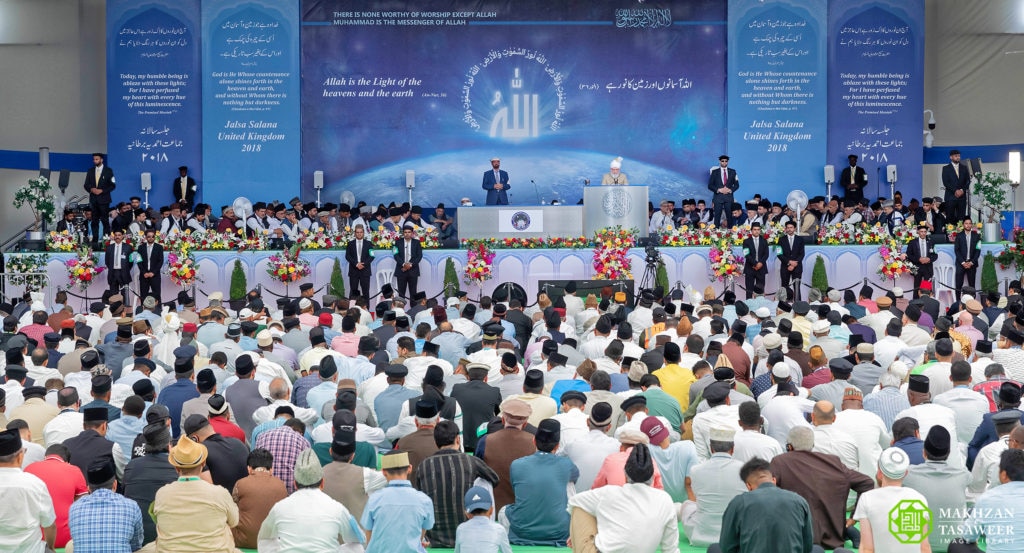 Khilafat is a divine source of guidance and being an Ahmadi Muslim I believe we are immensely fortunate to experience this on a day-to-day basis. Even though some of us cannot physically see our beloved Khalifah every day we still have a powerful spiritual connection with him.
Personally, I have experienced a connection with Khilafat in a variety of different ways. One example is the satisfaction and reward when you write to beloved Huzoor-e-Aqdasaba for prayers.
There are a multitude of examples that I can narrate on acceptance of prayers but the one I have selected is from the time when I moved to the UK and claimed asylum in order to escape persecution in Pakistan. During this initial period, I was moved to a detention centre where I was held for almost 5 weeks. The availability of a fax machine in the detention centre meant I wrote to beloved Huzoor-e-Aqdasaba for prayers every day. I had a great desire to attend my first ever Jalsa Salana UK and expressed this through various letters to Huzoor-e-Aqdasaba.
For various reasons, the first detailed interview regarding my detention could not be completed in the initial meeting and it seemed very unlikely that I would be able to attend Jalsa Salana that year as it was a mere three weeks away. Despite this, I had faith and continued writing letters to Huzoor-e-Aqdasaba daily.
After a long week, I was informed of the decision of my case – it was rejected. I was shocked, worried and mostly saddened that I will now definitely miss Jalsa Salana UK. At this point I increased the number of letters I sent to Huzooraba, sending him 2 letters a day. I appealed the decision and my court hearing was scheduled with just two weeks to go until Jalsa.
The day prior to my hearing, I phoned the Private Secretary's office and requested if they can pass my request for special prayers to Huzoor-e-Aqdasaba. I was interviewed in court for several hours. Once the judge was happy that she had all the necessary information, I was informed that due to her busy schedule she wouldn't be able to give a decision on my case anytime soon. This meant that, even if within the next week there was a positive decision, I would still miss Jalsa Salana. I immediately wrote a letter to Huzoor-e-Aqdasaba explaining the whole situation.
Early the next morning, my phone rang whilst I was still half asleep. It was a call from my solicitor in which he informed me that he had some good news. He had just received a fax from the Home Office that I had been granted Refugee status. I was in shock for a while because the news came so unexpectedly. My heart was full of praise to Allah for He had listened to the prayers of the Khalifah. To this day, it astounds me that I was the recipient of the blessings of those prayers.
Hazrat Khalifatul-Masih V Inaugurates Islamabad Convenience Store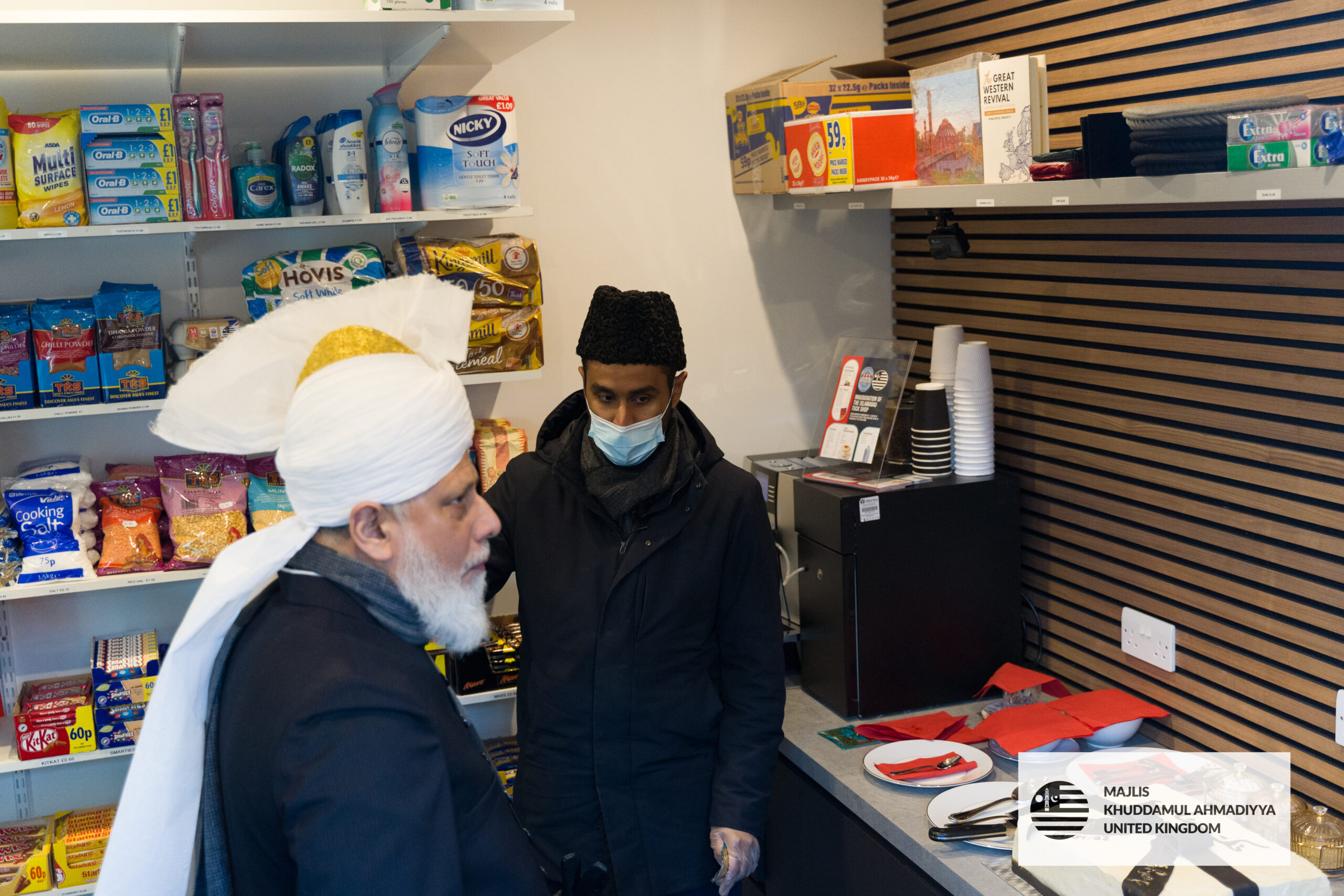 On the 1st of April 2022, after Asr Namaz, Hazrat Khalifatul-Masih V (aba) inaugurated the MKA Tuck Shop in Islamabad. Huzoor (aba) opened the Homeopathic Dispensary adjacent to the Tuck Shop before gracing the Khuddam store.  Huzoor (aba) unveiled a plaque and led everyone in silent prayer after which Sadr Majlis Khuddamul Ahmadiyya UK, Abdul Quddus Arif, Mohtamim Sanat-o-Tijarat, Umar Hassan, and Motamid Khuddamul Ahmadiyya UK, Nassar Bhatti, had the opportunity to show Huzoor (aba) the store and its wares.
Huzoor (aba) graced Khuddam with his precious time and distributed sweets to children who had gathered outside.
Immediately after Huzoor (aba) stepped outside the store, Huzoor (aba) was informed by Sadr Sahib about the Khuddam present with Huzoor (aba) speaking to a few as well. All those who had gathered were greatly  moved by Huzoor's presence.
This tuck shop will Insha'Allah serve as a small convenience store for the residents of Islamabad and visitors. The Homeopathy Dispensary has also opened alongside the MKA Tuck Shop.
Wars will Stop when the World Turns to the Promised Messiah Says Hazrat Khalifatul-Masih V
In today's Friday Sermon, Hazrat Khalifatul-Masih V (aba) once again reminded Ahmadis around the world to pray for an end to the current crisis.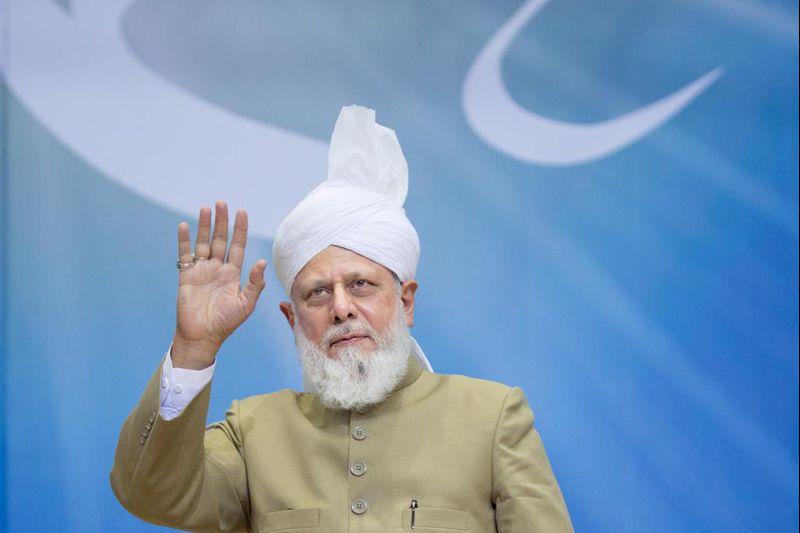 In today's Friday Sermon, Hazrat Khalifatul-Masih Vaba once again reminded Ahmadis around the world to pray for an end to the current crisis. Hazrat Khalifatul-Masih V stated:
Pray that Allah the Almighty grants both sides of the conflict proper understanding and they stop this murder of humanity. 
Huzooraba further commented that Muslims should learn from the unity that the West has displayed in condemning the war:
Muslims should learn from this war. The [West] has become united, yet Muslims, despite belonging to one creed, never unite. They had one country destroyed; Iraq was destroyed, Syria was destroyed, Yemen is being destroyed—they cause this destruction through outsiders and are doing it themselves too, instead of being united. At the very least the Muslims should learn, from the West, how to be united.
Huzoor reiterated his continuous message that there will only be peace in the world when the world accepts the Imam of the Age—the Promised Messiahas:
May Allah have mercy on these nations, the Muslim nations and on the Muslim Ummah. This can only happen however, when these people accept the Imam of the Age who has been sent for this very purpose.
May Allah grant them understanding, and where they [the Muslims] reform themselves may they also pray and use their means to stop the world from wars, rather than themselves become embroiled in them. 
Hazrat Khalifatul-Masih Vaba has been warning of an impending world crisis for a long time and has travelled the world spreading the message of the Promised Messiahas.
Since the Beginning the Message has been the Same
The message of the Khulafah of the Ahmadiyya Muslim Community has been the same since the inception of Khilafat over 100 years ago. It is time the world pays attention.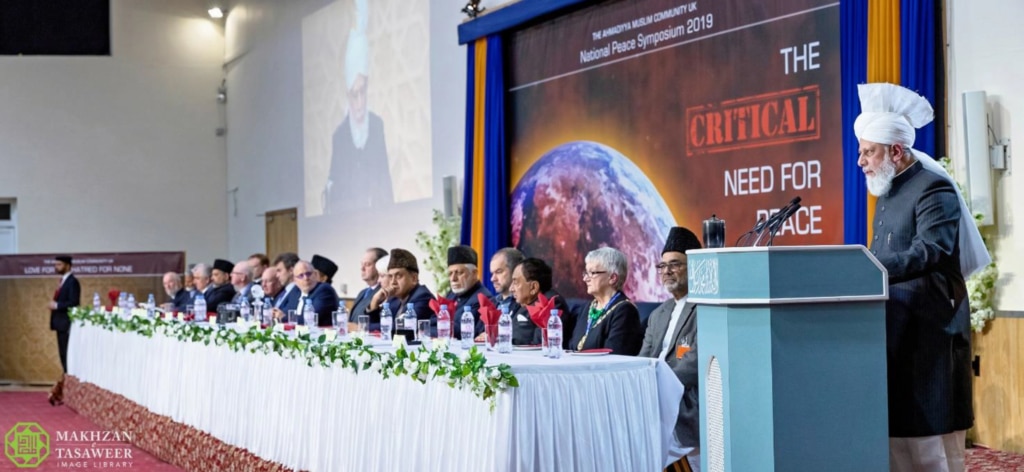 "I decided to conduct a special military operation. It aims to protect people who have been bullied and subjected to the racial genocide by the Kyiv regime for eight years." These were the words of Vladimir Putin moments after the invasion began. Communities, governments, and nations around the world have been shocked by the Russian advance on Ukraine, as ministers and members of parliament scramble to find a way to intervene and restore peace across Europe. But as members of the Ahmadiyya community, we must ask, have the Khulafah of the Jamaat not already told the world countless times the steps required to achieve world peace?
Throughout the lives of the Caliphs, we have witnessed their deep desire to establish peace and unity across the world. Firstly, let's turn our attention to Hazrat Khalifatul Masih Ira.
First Caliphate (1908 – 1914)
Shortly after the sad demise of the Promised Messiahas, Hazrat Khalifatul Masih Ira instructed Khawaja Kamal-ud-Din to deliver the address Paigham-e-Sulh. This was an address written by the Promised Messiahas looking to establish unity between the Hindus and Muslims of India. We find Hazrat Khalifatul-Masih Ira effortlessly trying to ensure there was peace in times of civil unrest. Such inter-nation peace set the tone for the many decades that Muslims and Hindus lives side by side in Qadian. Hazrat Khalifatul Masih Ira not only recognised how important this subject was to the Promised Messiahas, but through this, laid the foundations of the Ahmadiyya peace policy (which itself is based on the Holy Qur'an) in a practical sense.
Second Caliphate (1914 – 1965)
We can see throughout the lifetime of Hazrat Khalifatul Masih IIra, his marvellous understanding in geopolitical matters; his part in the creation of Pakistan is one example. Similarly, Huzoorra had lived through both World Wars and so was acutely aware of the fragile state the world was in, and the steps required in achieving world peace. When the nuclear bomb was dropped on Hiroshima and Nagasaki, Hazrat Khalifatul-Masih IIra immediately issued a statement on behalf of the entire Jama'at that the Jama'at was staunchly opposed to the use of weapons of mass destruction that end the life of hundreds of thousands of innocent civilians.  In 1952, Hazrat Khalifatul Masih IIra wrote a letter discussing about how governments across the world could establish true peace. Huzoorra mentioned that: 'The world is trying to maintain harmony and peace with weapons, laws or reason, but these three things, though necessary in one respect, are not enough." He continued these three things may have some apparent benefits but can lead to some harm. Instead he mentioned that it is through spirituality that a just and peaceful world could be created. "Spirituality is the name of natural tendencies channelled into morality. When these tendencies are moulded into morals, then rationality is a certain part of them. Consequently, a permanent bond is created which cannot be moved from its place by any greed, evil desire or fear." This highlights that when one adopts spirituality, their morals and actions become unbreakable and so we would be able to live in a world of true and permanent peace.
Third Caliphate (1965 – 1982)
When we look at the life of Hazrat Khalifatul Masih IIIrh, we find that not only did he continuously discuss the practical steps required to establish peace, but had also elaborated upon the prophecy of the potential outbreak of World War 3. Huzoorrh,in his book A message of Peace and a Word of Warning stated: "The Promised Messiahas also prophesied that a third world war of even bigger dimensions would follow the Second. The two opposing camps will clash with such suddenness that everyone would be caught unaware. Death and destruction would rain from the sky and fierce flames would engulf the Earth." However, Huzoorrh stated that man "can yet avert Divine wrath if he stops worshipping the false deities of wealth, power and prestige" and then looks to create a "genuine relationship with his Lord". When looking at the calamity unfolding before our eyes, we can see exactly how actions can be explained as a result of self-prestige and power, and so seem to be acting and committing such horrid acts. Huzoorrh here expresses the fact that if we want to prevent World War III, as prophesised by the Promised Messiahas, establishing a true relationship with Allah is vital.
Fourth Caliphate (1982 – 2003)
We turn now to the Fourth Khalifah of the Promised Messiahas, Hazrat Mirza Tahir Ahmad, Khalifatul-Masih IVrh. On September 16, 1984, Huzoorrh was asked about the ideals in Islam for establishing peace. Huzoorrh mentioned that there are two key fundamentals. The first being absolute justice to be established across nations and treating others fairly, regardless of their geographical background. The second principle, is what Islam means: peace, and not only peace but also showing and conducting peace towards others. Huzoorrh mentions that this is best explained by the Holy Prophetsa where he narrated that as Muslims, everyone's honour, property, and life should be safe from another Muslim, and if anyone is hurt in this manner, then their Islam is lost. Hazrat Khalifatul-Masih IVrh further explained that unless absolute justice and peace are exercised and established, nations would "grow into monsters and trample on others' rights and would not see it as an injustice". Today we observe exactly this taking place. Just as Huzoorrh  discussed how nations can turn into 'monsters', it is clear how some countries today have essentially become this monster; by acting in unjust ways towards others, showing no respect or honour. Therefore, in their eyes, their actions are completely justified to them.
Fifth Caliphate (2003 – Current)
Let's now turn towards what the current and Fifth Khalifah, Hazrat Mirza Masroor Ahmadaba has said. Huzooraba has discussed this at length. In the collection of addresses World Crisis and the Pathway to Peace, Huzooraba discusses the matter of establishing world peace. Huzooraba has alluded to the fact that absolute justice is a necessity for this. "The truth is that peace and justice are inseparable. The key requirement to fulfilling this primary goal is absolute justice and fairness in all matters. The Holy Qur'an, in Chapter 4, verse 136, has given us a golden principle and lesson, guiding us about this. It states that as a means to fulfil the requirements of justice, even if you have to bear witness and testify against yourself, your parents or your closest relatives and friends, then you must do so. This is true justice where personal interests are set aside for the common good."
We observe in today's world that if nations were to adopt the principles as discussed by the Khulafah, then not only would wars and outbreaks be averted, but a world of peace would be seen where justice and honesty would shine throughout the world.
It is clear to see from all the Khulafah of the Promised Messiah (as), their answers to achieving world peace echo one another. Morality, spirituality, and justice need to be rooted across all the nations of the world, and dealings of honesty and mutual respect are essential. Huzooraba has mentioned that it is his sincere prayer for leaders of the world to act with wisdom for the betterment of mankind, commenting: "Prayer alone that can save you".