'I am Equal…'
In light of the current situation in the USA, the question of race equality is again at the forefront of news headlines. Protests and riots are taking place, whilst social media is replete with people voicing their opinion. In a world of inequality, Islam provides the answer.
Published on June 2, 2020 at 7:00 pm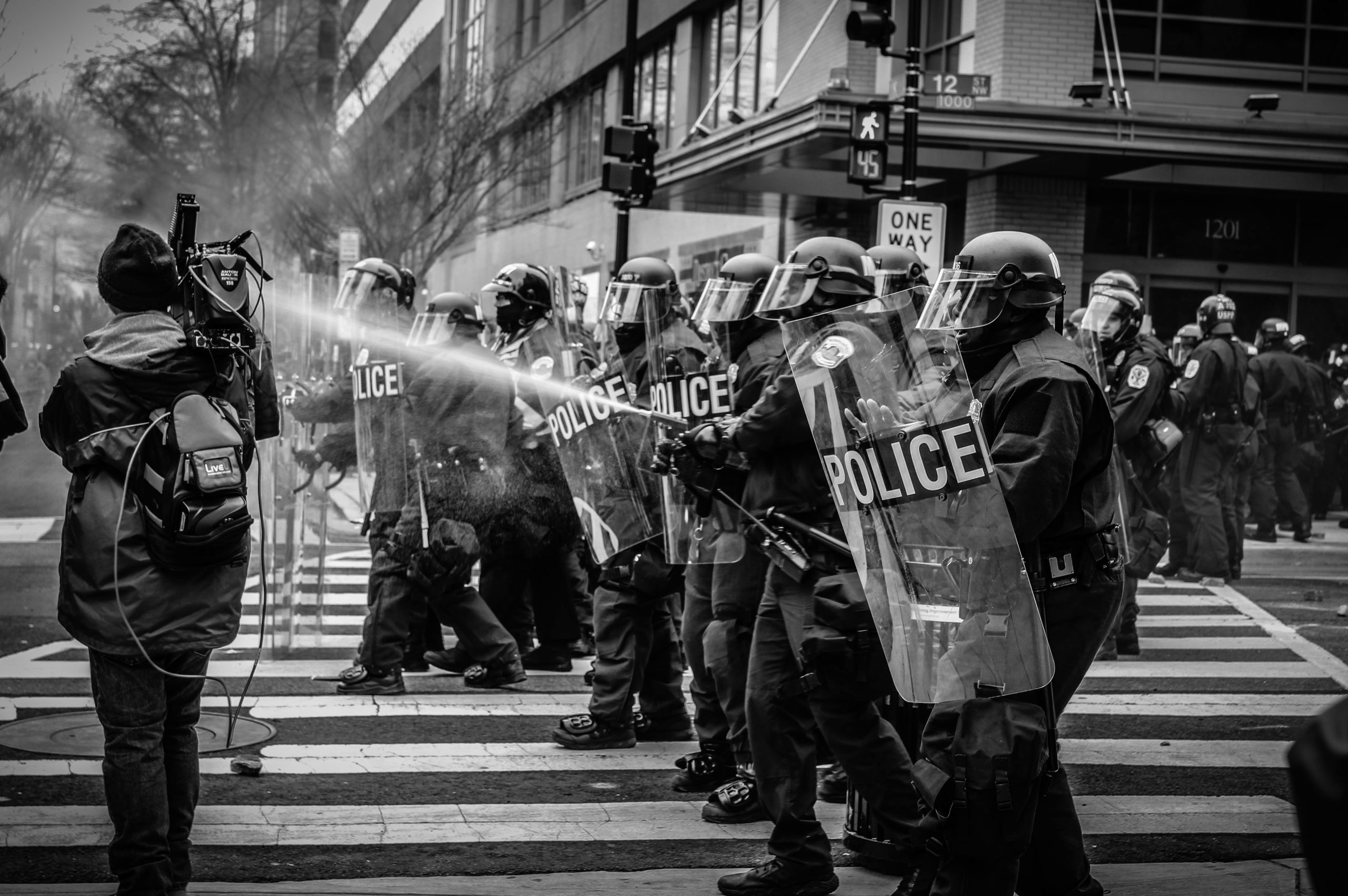 Assalaamo Alaikum Wa Rahmatullahu Wa Barakatuhu. My name is Israfeel Kusi-Addo, I am 19 years of age and I am an Ahmadi Muslim Khadim originally from Ghana, currently living in the United Kingdom.
By the Grace of God, I have been given the opportunity to express my feelings on a very important topic, one which is quite close to home; racism. For me growing up in South London, racism is something that I tackle on almost a daily basis. Whether it be from the selective behaviours of teachers when it comes to resolving matters, to the frequency and way police stop and search us simply due to us "fitting a profile", or when I go to the shop and the black lady at the till reminds me to always take my receipt as a black man, for fear of my safety. This is a very prevalent issue within our community, but more so within America.
As we all may or may not be aware, on Monday 25 May, George Floyd, an African American man was brutally murdered by a Minneapolis police officer who impaled his knee into Mr Floyd's neck for almost 9 minutes whilst Mr Floyd had his face imprinted on the ground. At the same time 2 other officers also had him pinned to the ground whilst the remaining officer simply watched.
The injustices by certain law enforcers amongst others have senselessly killed black people in America and across the world are part of the reasons for deep rooted racism within our societies today. No matter how 'developed' human civilisation seems, racism seems to be deep rooted in some societies. Fortunately for me, Islam has a very simplistic, yet beautiful manner of teaching and handling racism. In chapter 49 verse 14 of the Holy Qur'an, it states:
"O mankind, We have created you from a male and a female; and We have made you into tribes and sub-tribes that you may recognize one another. Verily, the most honourable among you, in the sight of Allah, is he who is the most righteous among you. Surely, Allah is All-Knowing, All-Aware."
Here we can see in plain sight that God denounces all forms of discrimination based on creed, caste or colour. The only measure of one's value is how pious and righteous they are. Additionally, one's true character can be seen as pure if they are willing to uphold human values and protect the honour, dignity and freedoms of all people, irrespective of their differences to bring about harmony and peace. This is in perfect harmony with the teachings of Islam, as the Holy Prophet (sa) stated in his farewell sermon:
"All humans, regardless of their background, are equals as humans. There is no superiority for a white person over a black person and neither is the black superior to the white. No Arab has superiority above a non-Arab and no non-Arab has superiority above an Arab."
Islam lays the foundation of achieving true peace, yet the actions of some Muslims suggest otherwise. However, we in the Ahmadiyya Muslim community have been blessed with Khilafat and a spiritual Imam in the person of Hazrat Mirza Masroor Ahmad (aba), Alhamdulillah. Through his guidance and leadership, we are able to ponder over the true teachings of Islam and act accordingly. For instance, Huzoor (aba) has said:
"Islam proclaims that all people are born equal, no matter where they hail from or the colour of their skin."
In another instance, Huzoor (aba) states:
"The teachings of the Holy Qur'an are universal and timeless and have established the rights of every person, of every belief, of every race and of every nation."
This is revolutionary as unlike other leaders around the world with hidden agendas, Huzoor  (aba) advises us to use Islam as the foundation of all good things, as the only thing that we all have in common is that we have differences. Therefore, by embracing one another and following the teachings of Islam, we can surely bring about a world of prosperity, peace and harmony. Insha'Allah.
Kicking Off the Year – Khadim Style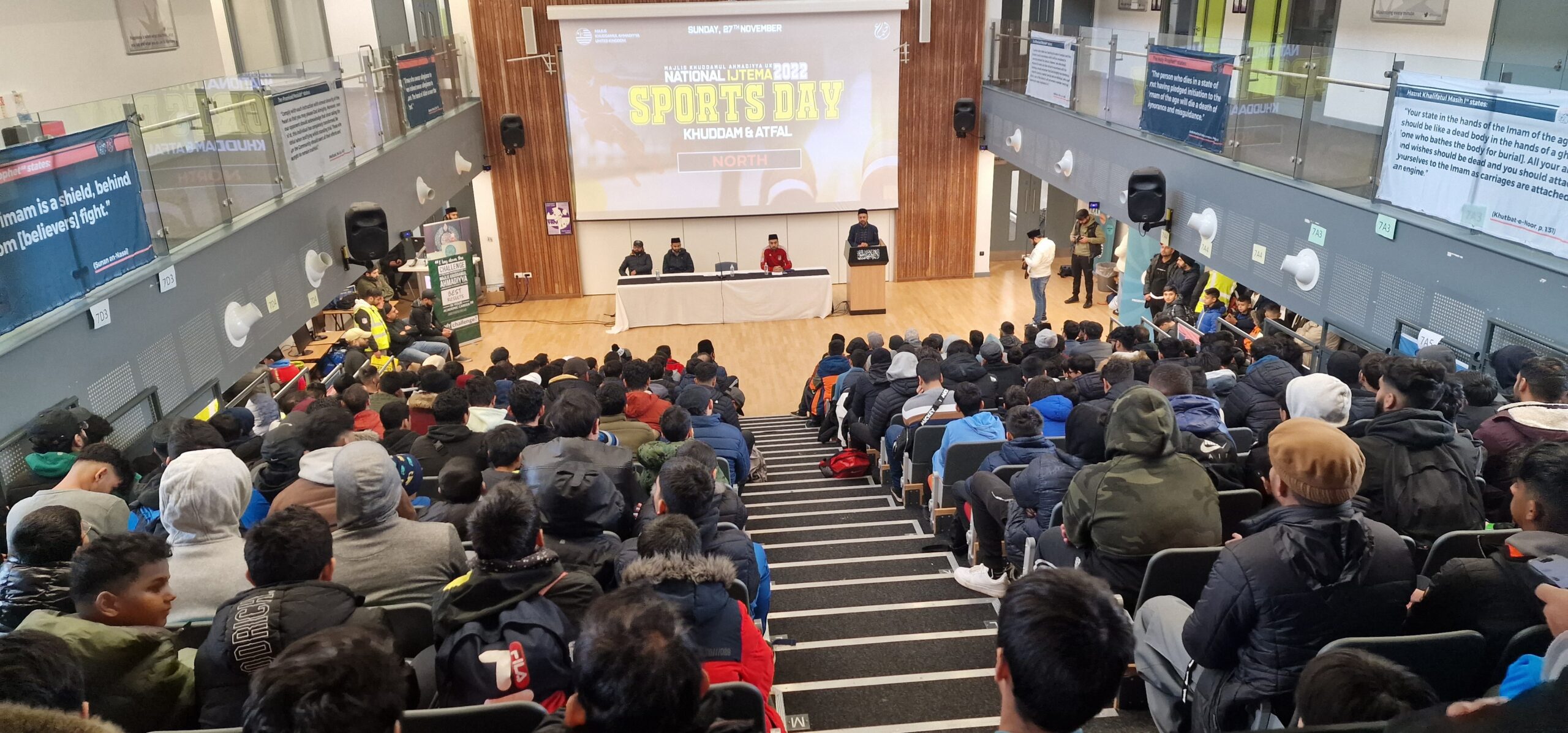 The National Ijtema Sports day for Northern Regions is currently underway in Bradford at Dixons Allerton Academy, and the Khuddam and Atfal present here are thoroughly enjoying all the activities and sessions that are taking place.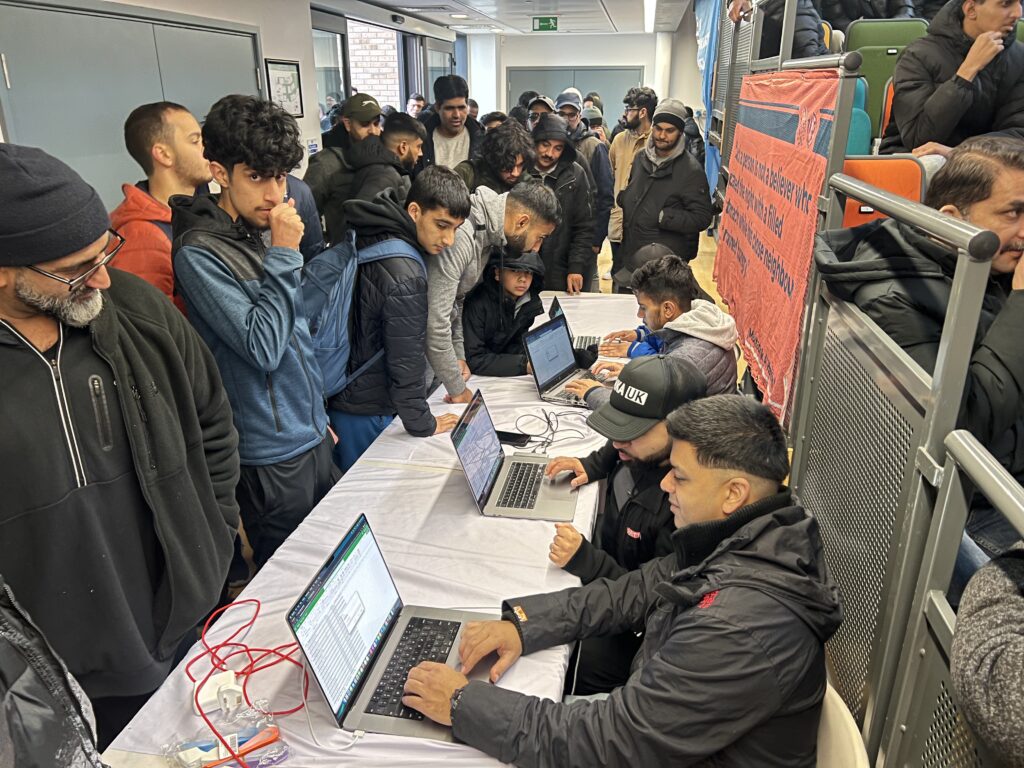 Majlis Khuddamul Ahmadiyya UK is holding this sports day on the instructions of Huzooraba after sports at the National Ijtema 2022 were cancelled due to the demise of Her Majesty Queen Elizabeth II as a mark of respect. Huzooraba instructed the Majlis that the sports that were due to take place at the Ijtema should be organised as soon as possible for the benefit of all Khuddam and Atfal that missed out. Subsequently, it was decided for the Majlis to hold 2 sports days – one for the northern regions (taking place today) and another for the southern regions (date to be announced).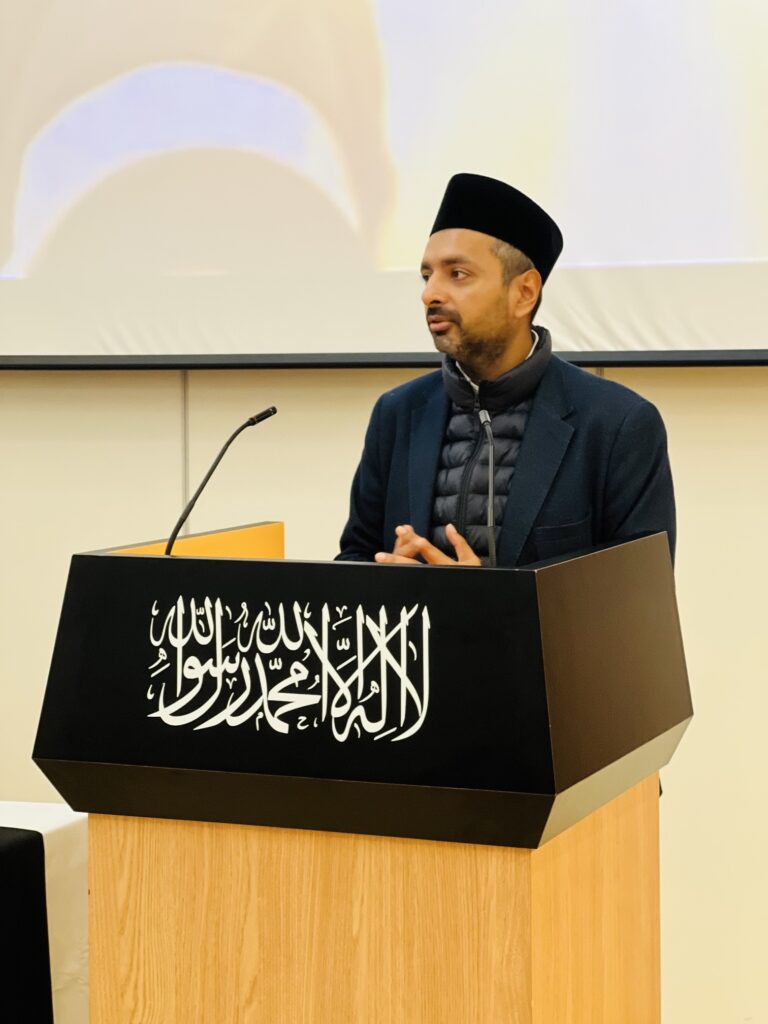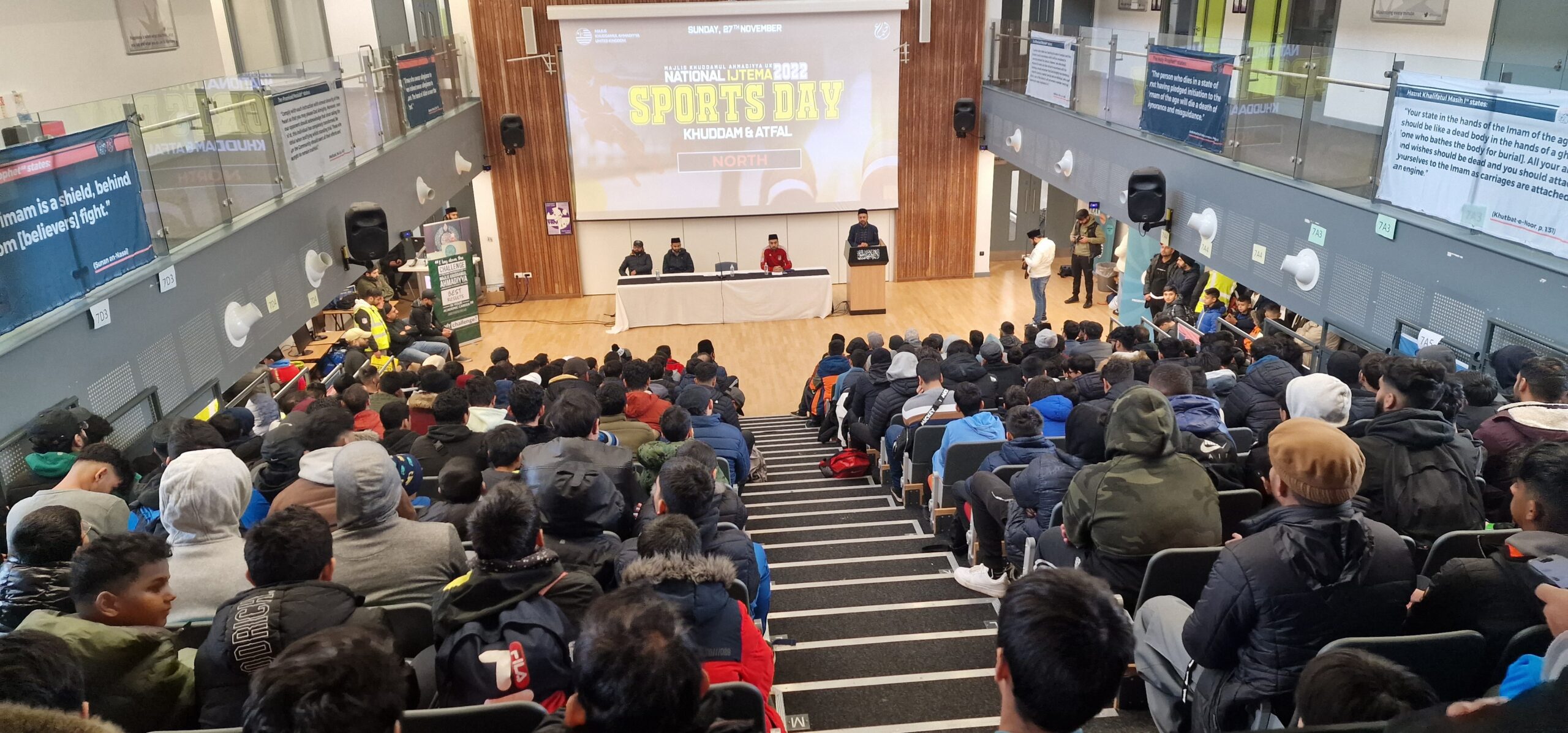 Registration started at 8am with Khuddam and Atfal arriving from all around the northern parts of the UK with breakfast served in the marquees set up onsite. The event started at 10am with an opening session chaired by the Nazime Ala Sahib Ijtema, Tariq Hayat Sahib. The plan for the day was announced by Mohtamim Sahib Sehate-Jismani, Abdur Rauf Lodhi Sahib.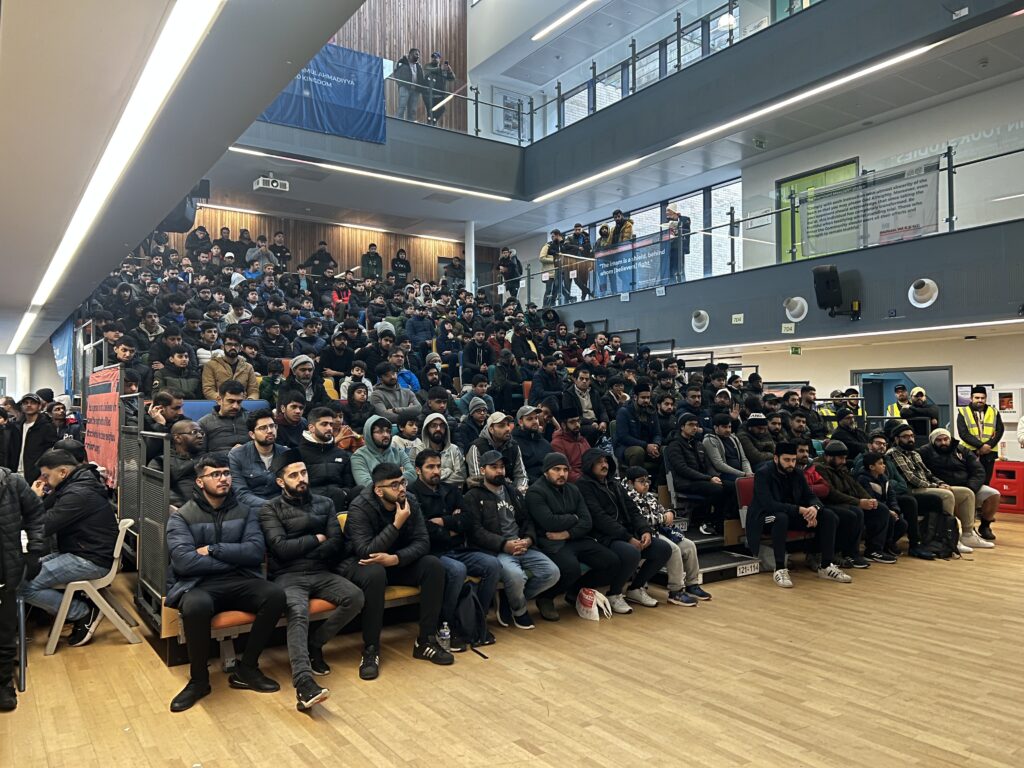 Football and Cricket for Khuddam and Atfal took place in grass fields and netball courts. Tarbiyyat 'Chit Chat Chai' were held at the auditorium, alongside outdoor and indoor sports, on topics such as relationships, the key to paradise, and working hard or hardly working. The first talk covered a wide range of questions in relation to how Khuddam should approach the idea of getting married, how to decide on the type of spouse that they desire, the qualities they should look for and the attitude they adopt going into the process.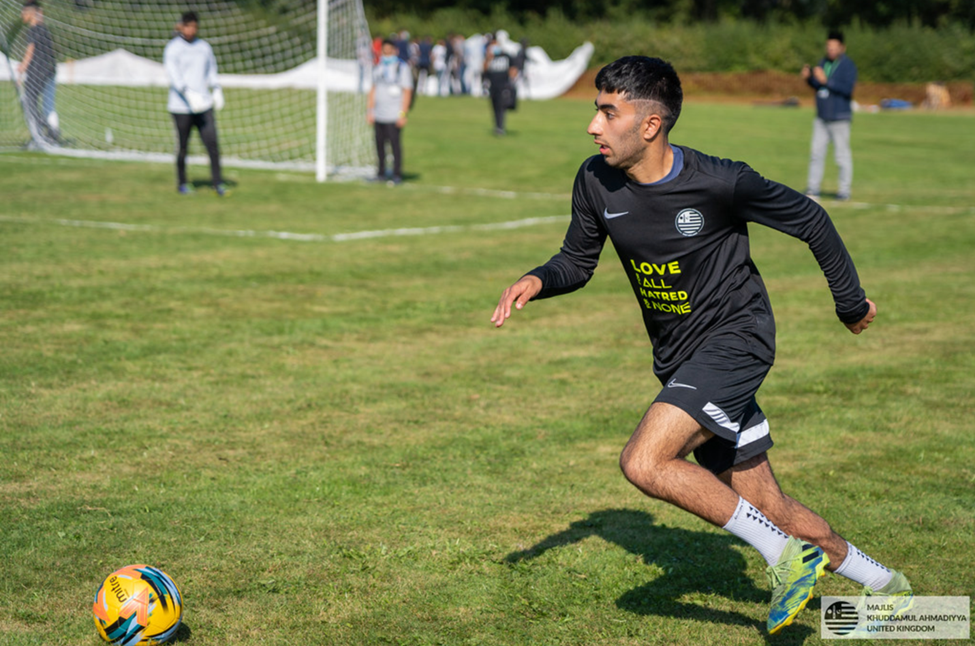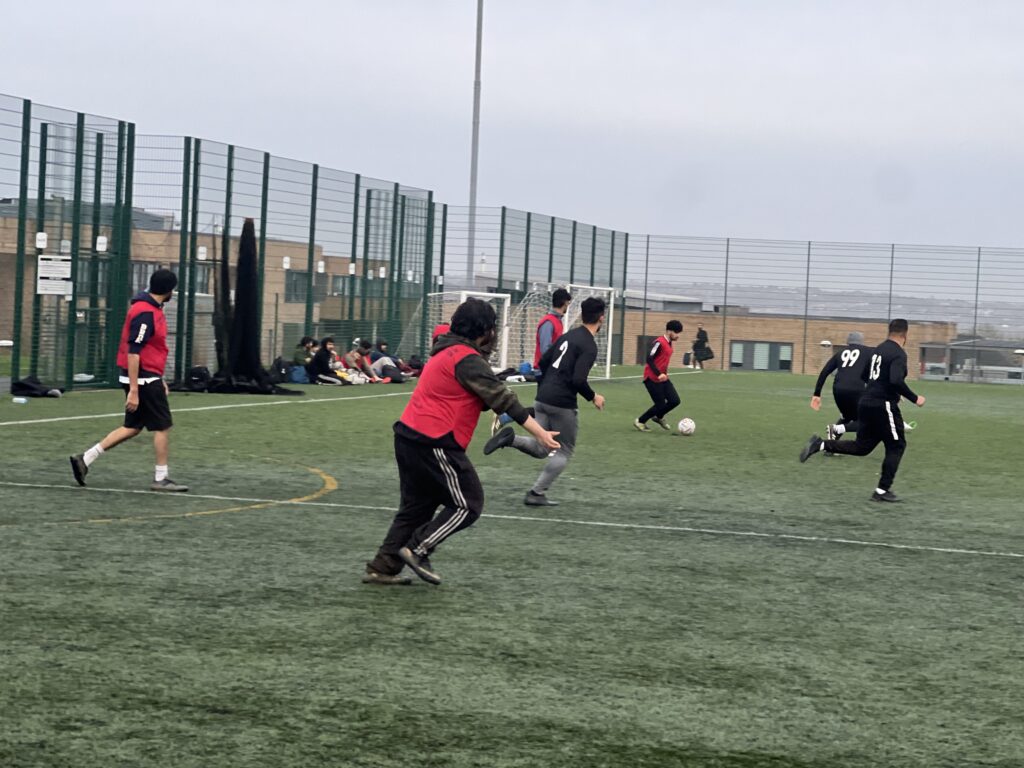 After Namaz-e-Zuhr and Ask a short Talqeen-e-Amal session took place which was on the topic of Namaz. This was followed by a continuation of sports. So far Khuddam and Atfal are finding this it to be a good opportunity to begin the year with an activity that binds the Majlis together in a spirit of brotherhood. The final session is due to take place after Maghrib Namaz, where winning teams will be given prizes by Sadr Majlis Khuddamul Ahmadiyya. The Khuddam and Atfal attendance at the Sports Day is 780, Alhamdulillah.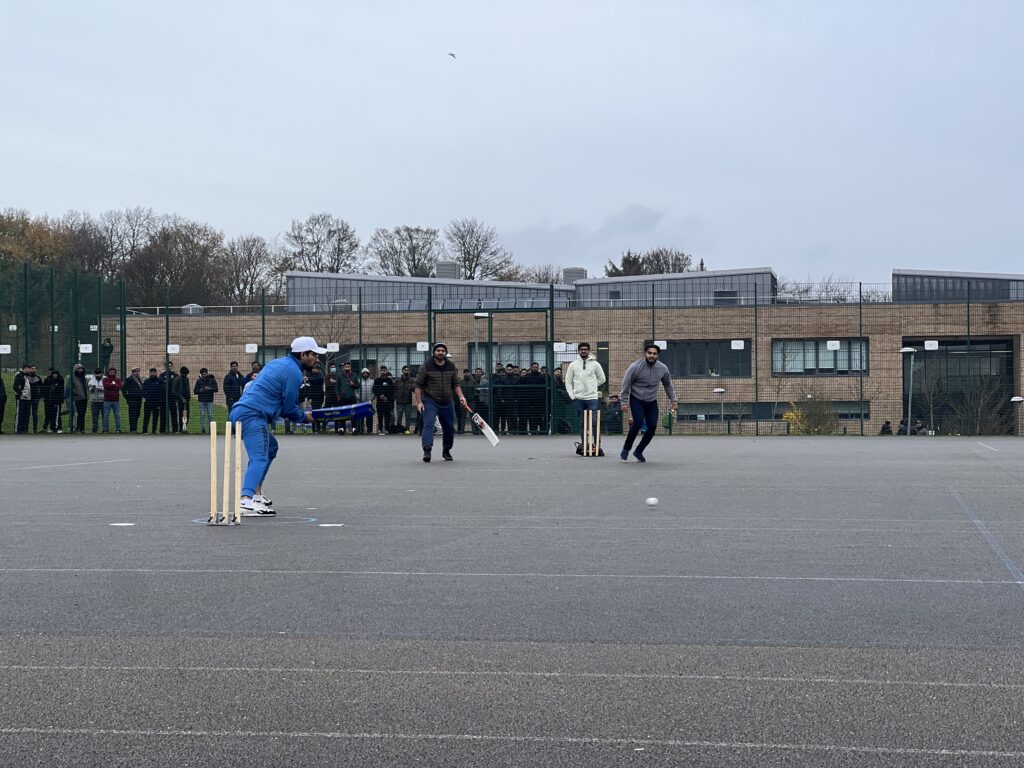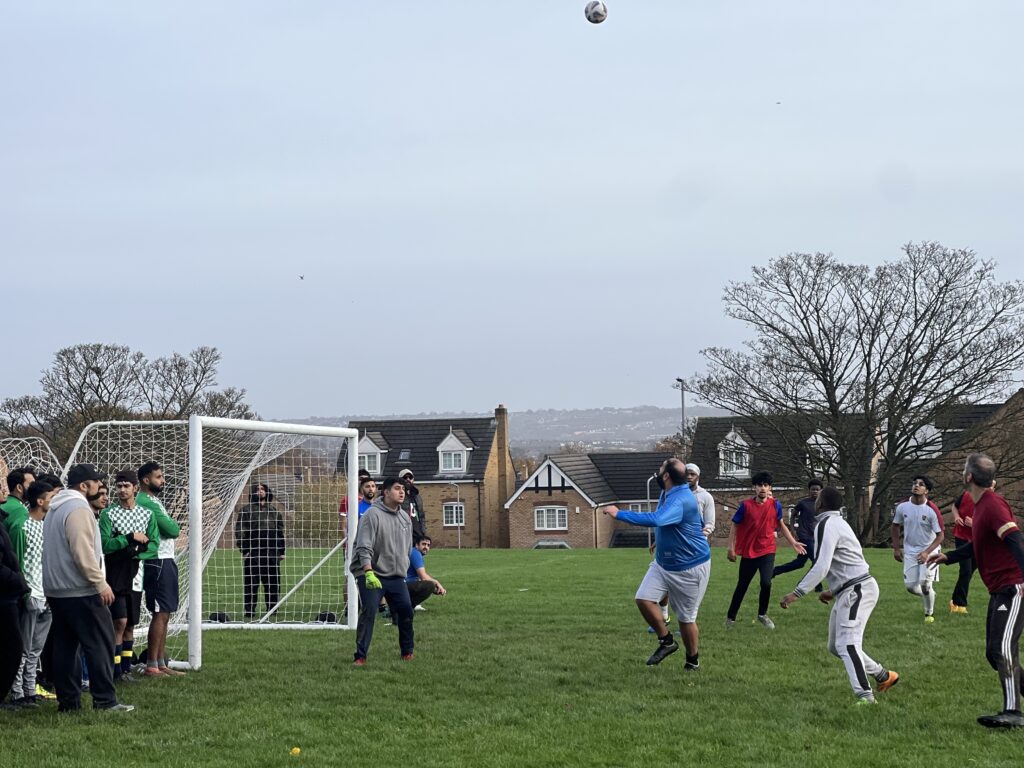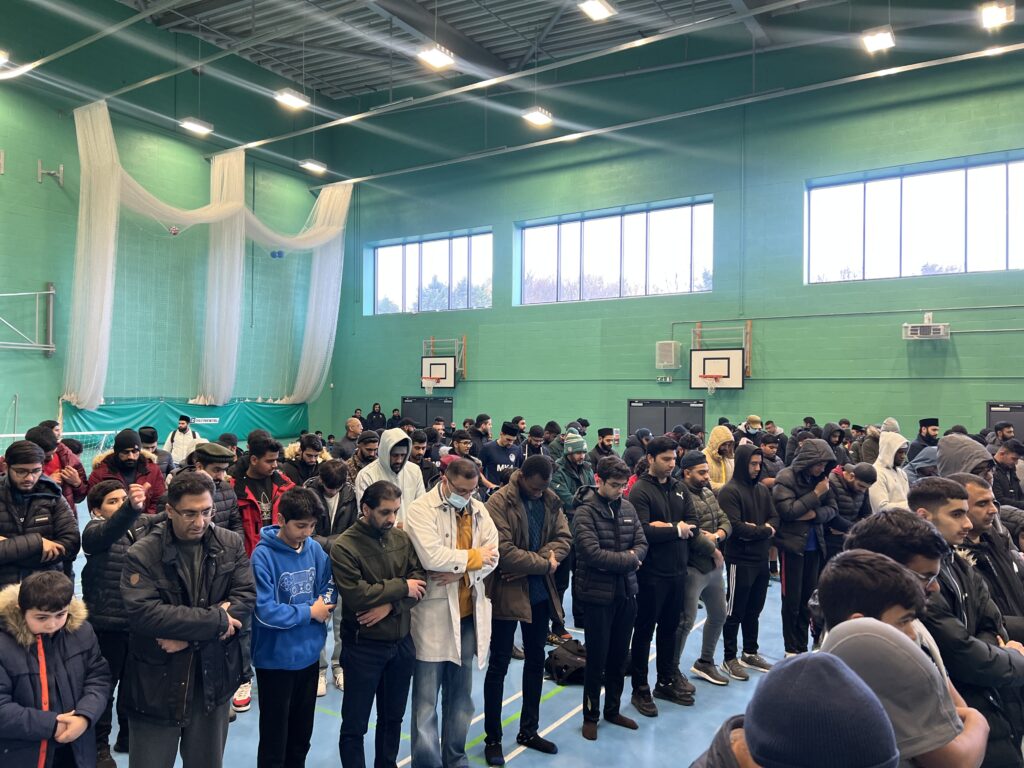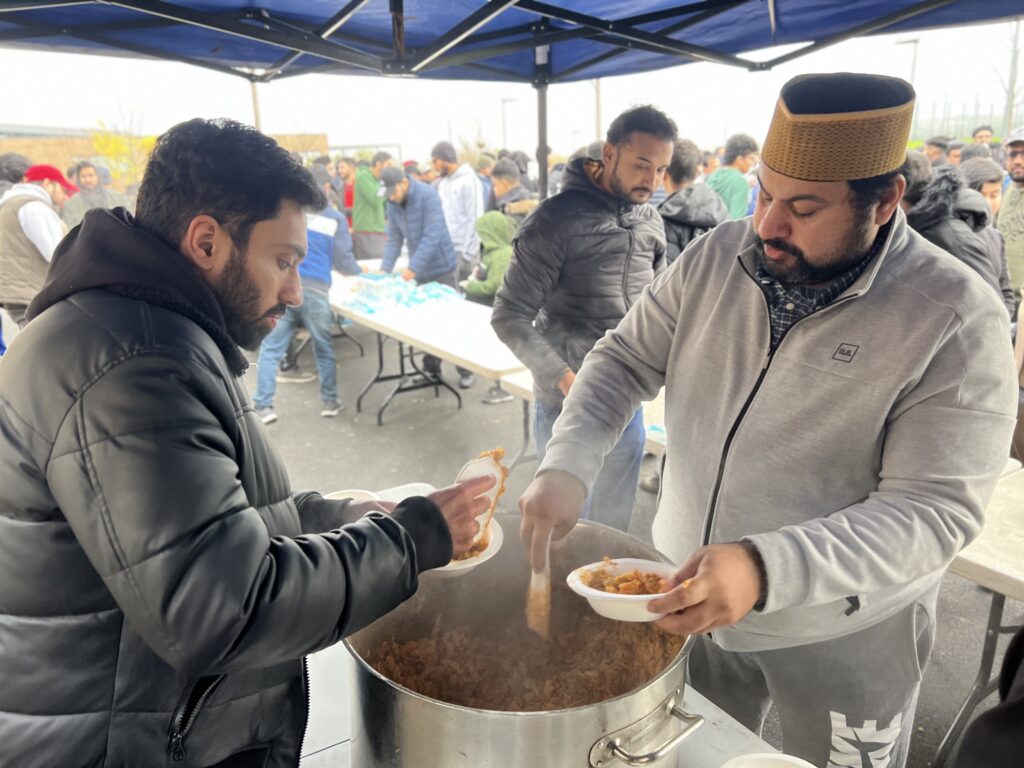 Here is some of the feedback from the Khuddam on today's event.
A Khadim form North West, Abdul Ghalib Sahib, said that "The event has been really good so far, I enjoyed coming together with Khuddam again after the sports were previously cancelled at the Ijtema due to the demise of the Queen". Another khadim, Waheed Ahmad, said that "It was good that Majlis has found a window to hold such an important event of the Khuddam year". Another khadim from Scotland said that "It is important for Ahmadi youth to come together, build a sense of togetherness and develop brotherhood."
Hazrat Khalifatul-Masih V Inaugurates Islamabad Convenience Store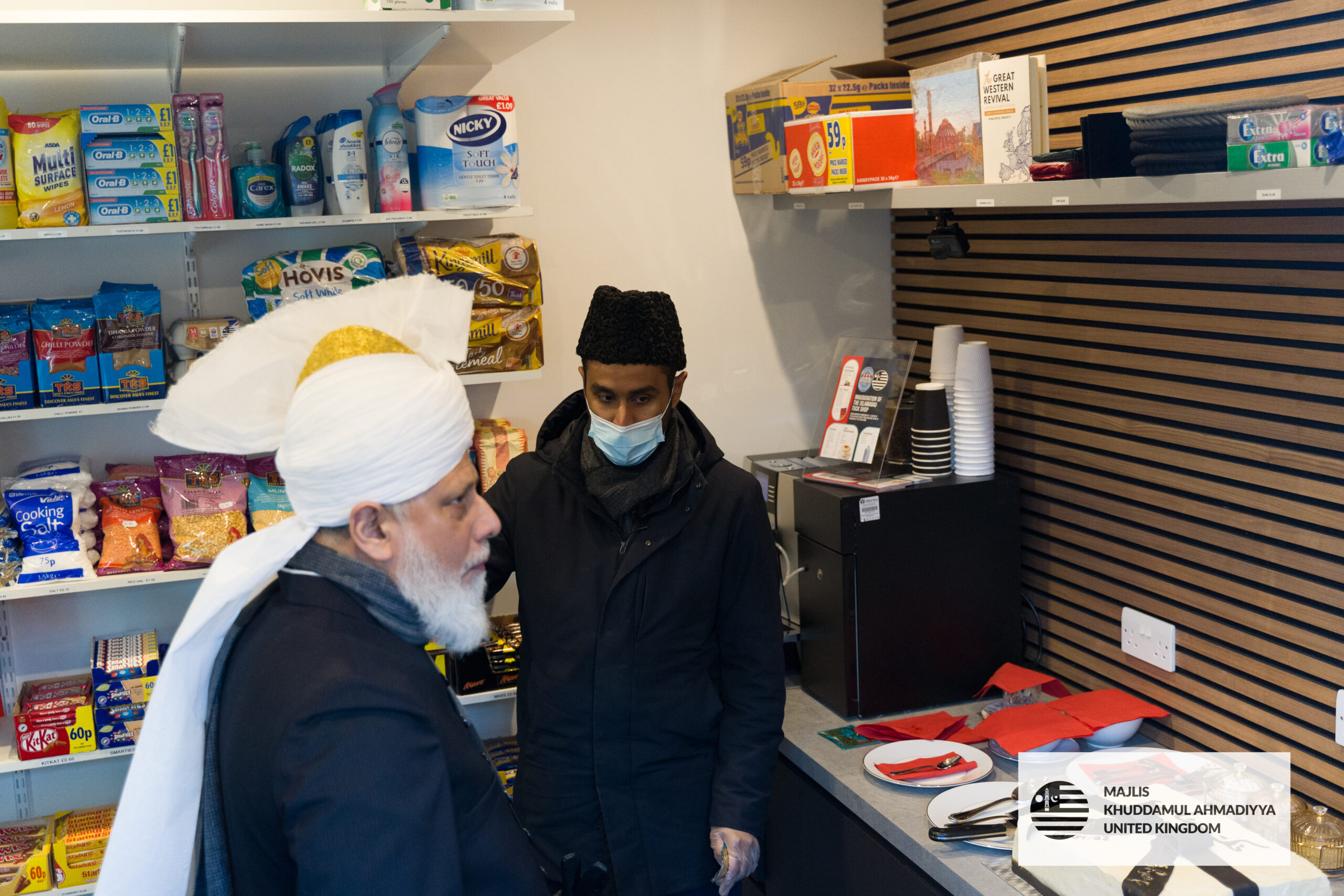 On the 1st of April 2022, after Asr Namaz, Hazrat Khalifatul-Masih V (aba) inaugurated the MKA Tuck Shop in Islamabad. Huzoor (aba) opened the Homeopathic Dispensary adjacent to the Tuck Shop before gracing the Khuddam store.  Huzoor (aba) unveiled a plaque and led everyone in silent prayer after which Sadr Majlis Khuddamul Ahmadiyya UK, Abdul Quddus Arif, Mohtamim Sanat-o-Tijarat, Umar Hassan, and Motamid Khuddamul Ahmadiyya UK, Nassar Bhatti, had the opportunity to show Huzoor (aba) the store and its wares.
Huzoor (aba) graced Khuddam with his precious time and distributed sweets to children who had gathered outside.
Immediately after Huzoor (aba) stepped outside the store, Huzoor (aba) was informed by Sadr Sahib about the Khuddam present with Huzoor (aba) speaking to a few as well. All those who had gathered were greatly  moved by Huzoor's presence.
This tuck shop will Insha'Allah serve as a small convenience store for the residents of Islamabad and visitors. The Homeopathy Dispensary has also opened alongside the MKA Tuck Shop.
Wars will Stop when the World Turns to the Promised Messiah Says Hazrat Khalifatul-Masih V
In today's Friday Sermon, Hazrat Khalifatul-Masih V (aba) once again reminded Ahmadis around the world to pray for an end to the current crisis.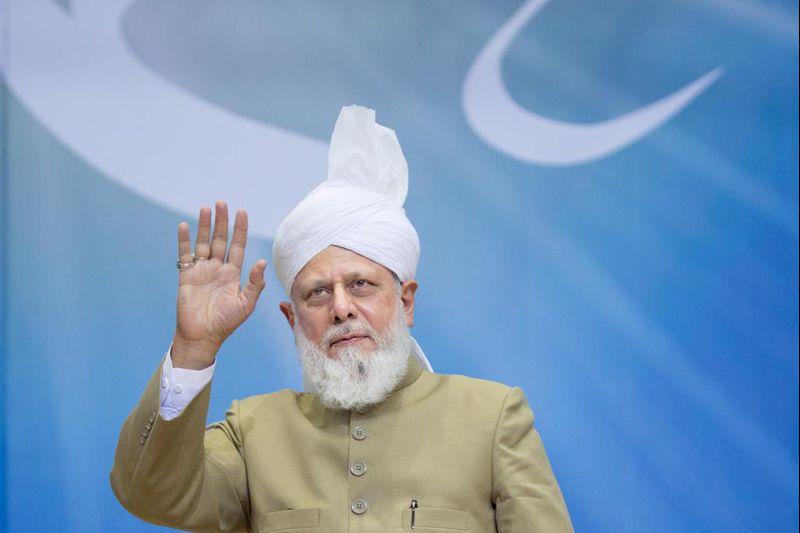 In today's Friday Sermon, Hazrat Khalifatul-Masih Vaba once again reminded Ahmadis around the world to pray for an end to the current crisis. Hazrat Khalifatul-Masih V stated:
Pray that Allah the Almighty grants both sides of the conflict proper understanding and they stop this murder of humanity. 
Huzooraba further commented that Muslims should learn from the unity that the West has displayed in condemning the war:
Muslims should learn from this war. The [West] has become united, yet Muslims, despite belonging to one creed, never unite. They had one country destroyed; Iraq was destroyed, Syria was destroyed, Yemen is being destroyed—they cause this destruction through outsiders and are doing it themselves too, instead of being united. At the very least the Muslims should learn, from the West, how to be united.
Huzoor reiterated his continuous message that there will only be peace in the world when the world accepts the Imam of the Age—the Promised Messiahas:
May Allah have mercy on these nations, the Muslim nations and on the Muslim Ummah. This can only happen however, when these people accept the Imam of the Age who has been sent for this very purpose.
May Allah grant them understanding, and where they [the Muslims] reform themselves may they also pray and use their means to stop the world from wars, rather than themselves become embroiled in them. 
Hazrat Khalifatul-Masih Vaba has been warning of an impending world crisis for a long time and has travelled the world spreading the message of the Promised Messiahas.