'The sheep are longing to see their shepherd.'
A beautiful poem submitted by a Khadim expressing his heartfelt emotions and feelings regarding the health and recovery of our beloved Imam, Hazrat Khalifatul-Masih V (aba). May Allah grant him a swift recovery and a long & healthy life, Ameen.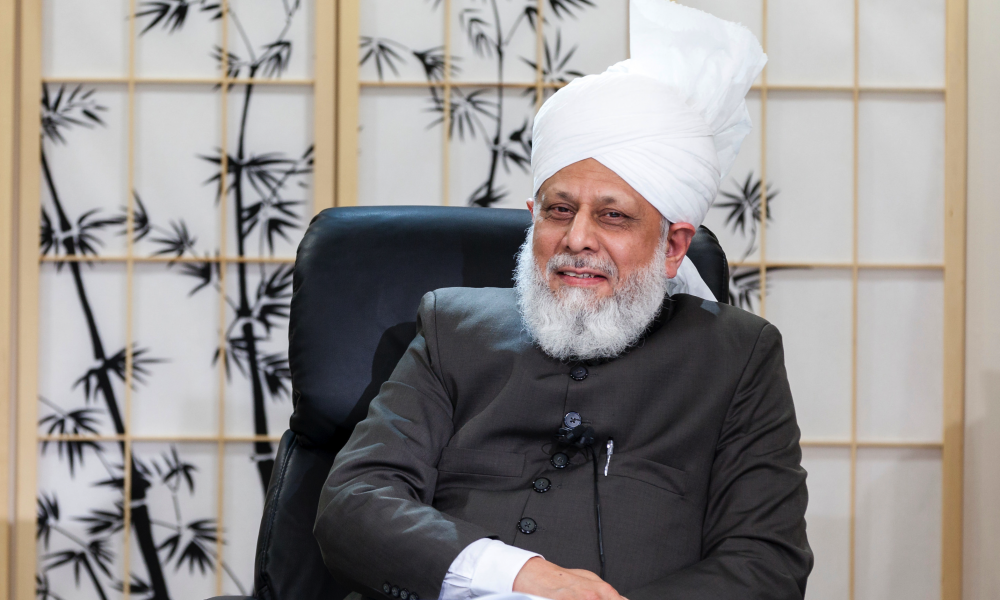 Beloved Huzoor,
You've been with us in both joy and pain.
For us you've taken on so much strain.
You've guided us through failure and success.
We pledge to obey you and do our best to impress.
You've accustomed us to keep hold of your rope.
In the bleakest of days, you are our beacon of hope.
You've shown us plenty of Allah's Might.
In the darkest of nights, you are our beacon of light.
The sheep are longing to see their shepherd.
The love for their master remains unfettered.
This wait for you seems so very long.
We pray you remain healthy and strong.
O Allah, show us again our guiding moon.
Beloved Huzoor, we pray you may recover soon.
IFHAM MIRZA BAIG
Hayes, UK
Prayers of Ramadan Should Continue Afterwards too
Translation of the final part of the Friday Sermon of Hazrat Khalifatul-Masih V (aba) delivered on 7 May 2021 at Islamabad, Tilford.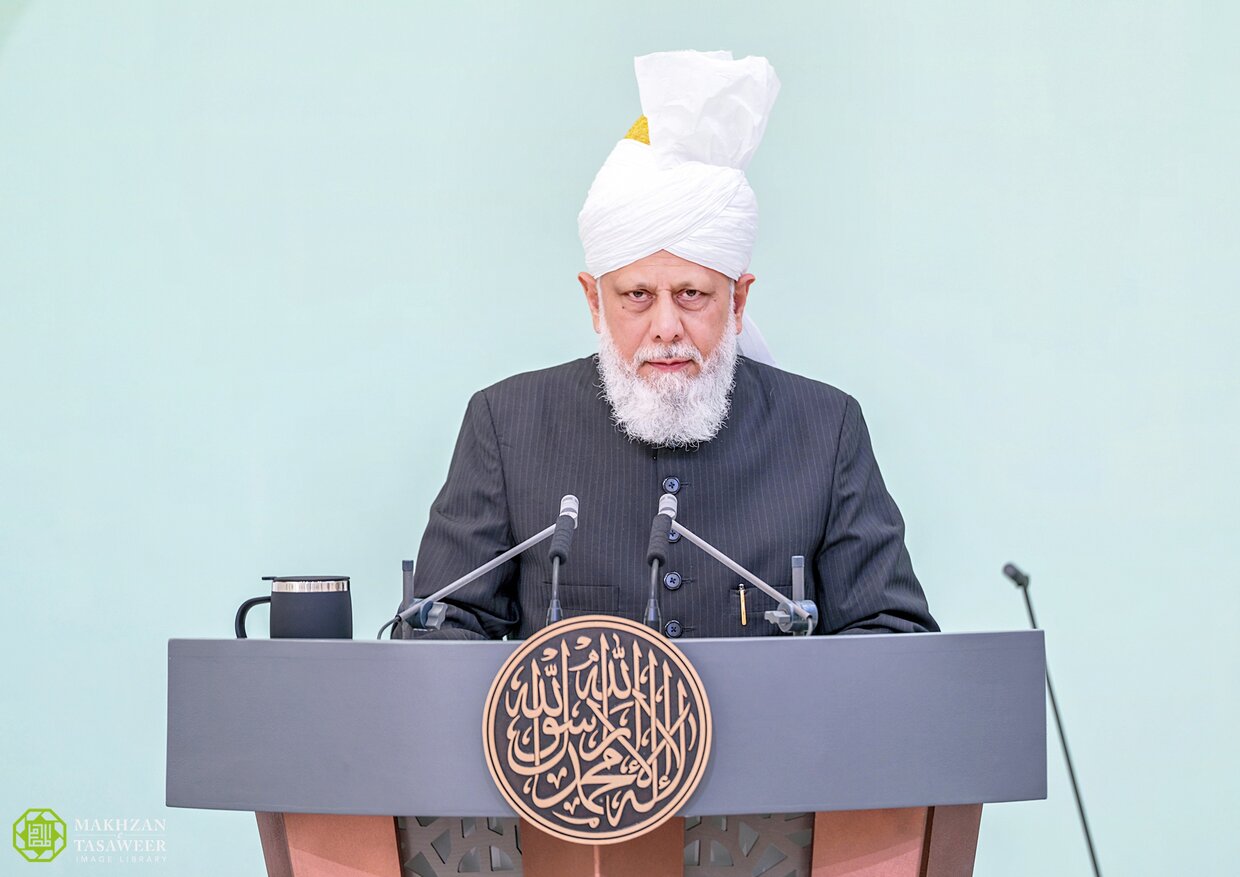 Towards the end of today's Friday Sermon, Hazrat Khalifatul-Masih V (aba) discussed the importance of continuing prayers after Ramadan so that we can safeguard ourselves and children from the evils of today's age. Huzoor (aba) stated:
"Now I wish to briefly direct everyone's attention towards the fact that today is the final Friday of Ramadan. This should not be taken as merely the final Jummu'ah of Ramadan, rather this Jummu'ah should be one which discloses for us new paths for the future. Those matters towards which we have inclined in Ramadan and those acts of virtue which have been practiced during it, we ought to continue after Ramadan—rather even progress in them. Otherwise, it is pointless for us to pass through Ramadan if we do not continue virtue, [uphold] moral progress, and further expand in it.
In the previous Friday Sermon, I directed attention towards Durood and Istighfar [seeking forgiveness]. That is something that should not remain limited to Ramadan alone, that as soon as Ramadan passes we indulge in worldly affairs in a way that we forget prayers and Istighfar. This is why I specifically mentioned that [Durood and Istighfar] is something we should continue forever.
In this age, when the schemes of the Dajjal are using new means, where the majority of the world has been taken into their fold, sometimes our youth and children fall under their influence. In such situation we certainly need prayers for ourselves. May Allah the Almighty safeguard us from these satanic and evil attacks. Ameen.
By attaching our children to ourselves, by fostering a deep connection with them, by creating a special bond with them, we need to tell them about Allah the Almighty and the beautiful teachings of Islam. Then after instilling complete certainty into the hearts of children, attach them with God Almighty in such a way that no deed of theirs, no action, no endeavour, no thought goes against the will of God Almighty and His teachings. They should have an answer to every worldly thought and disorder. It should not be the case that they do not know the answers to some matters and are influenced by them [rather] they should possess the answers through which they can save themselves from disorder. This is the only way to correct the lives of our children and an assurance of their safety. And this is the proper manner to safeguard our progenies from all types of disorders. However, this cannot be achieved until we ourselves attain lofty standards in our faith, until we attain the standard which should be the hallmark of a believer. This shall be possible when our relationship with God Almighty is strong, our prayers and our worship is of a high degree and we properly understand why we have undertaken the Bai'at of the Promised Messiahas. This is a huge responsibility which falls upon us, that by strengthening our faith, making steadfast our actions, we become the means of saving our progenies.
The amount of promiscuity and vain and evil matters that exist today have only perhaps existed before us. These evils have reached every household through the TV and internet. Before there was danger outside the home, now there is danger even inside. If children are watching something on their own, it cannot be said as to what they are watching. There is much need for caution.
The progenies of the elders—or the pioneer Ahmadis, or the progenies of those Ahmadis who undertook the Bai'at themselves and became part of this Community, who have accepted the Imam of the age and in order to safeguard their faith were prepared to make every sacrifice, and indeed they did—should remember that only if we keep our faith above worldly affairs and we keep our moral conditions before us, can we save ourselves and our children. No family—irrespective of which family it is, whether it is the family of pious elders or their children—can guarantee that Allah the Almighty shall certainly continue to bless them or shall be pleased with them. It is the practice of every individual which is needed to gain the pleasure of Allah the Almighty. It is our actions which shall save us. No relationship to anyone or family can save someone. It is for this reason that we should engage in prayers. We ought to keep a close eye on our religious shortcomings. We should pray for the spiritual progress of our children and progeny more than their worldly progress. We pray for worldly progress a lot, whereas we ought to be praying for spiritual progress much more. In the same way, those who have become Ahmadis themselves would also have to incline themselves and their thoughts onto this line of practice. It is only in such condition that we can survive and our children can survive too.
Thus, in the remaining days of Ramadan it is important to pray that may Allah the Almighty safeguard our faith and that of our children. May we spiritually progress. Even after Ramadan may the standards of our worship continue to increase. May we establish a firm relationship with God Almighty. May we be saved from falling to the plots and schemes of the Dajjal. Worldly comforts should not be our aim rather may Allah the Almighty bless us with those worldly and spiritual rewards which make us bow down before Him in a state of thankfulness and make us a complete worshipper.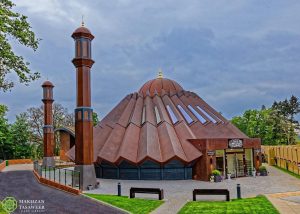 I also want to direct attention towards the pandemic which has taken hold of the entire world, that in order to be saved from this a lot of prayers are needed.
In the same way pray for those Ahmadis in countries where there is a lot of persecution and the lives of Ahmadis have been made difficult, may Allah the Almighty create ease for them. The Ahmadis of Pakistan should especially focus on Sadqah and charity in these days and afterwards as well. Inshallah these prayers shall render all the attacks of the enemy useless.
These prayers should be regularly recited:
رَبِّ کُلُّ شَیْءٍ خَادِمُکَ رَبِّ فَاحْفَظْنِیْ وَا نْصُرْنِیْ وَ ارْحَمْنِیْ
[O my Lord! Everything is Thy servant. O my Lord! Protect me and help me and have mercy on me.]
اَللّٰھُمَّ اِنَّا نَجْعَلُکَ فِیْ نُحُوْرِھِمْ وَ نَعُوْذُ بِکَ مِنْ شُرُوْرِھِمْ
[O Allah! We make Thee a shield against the enemies and seek Thy refuge from their evils.]
It should also be remembered that mere prayers are not beneficial. People write to me asking what prayers should be recited, till we do not properly observe our Prayers [Salat] there is no benefit in reciting prayers from the tongue. The way in which Prayers are observed in Ramadan should also continue afterwards, it is only then that we can absorb the grace and succour of God Almighty in the proper manner.
In the same way, pray to be saved from every trial. May the remaining few days [of Ramadan] pass with success and may we continue the virtues we adopted. Also remember the more we expand the circle of our prayers the more we shall be blessed. That is why every Ahmadi should pray for the difficulties of other Ahmadis to be removed. In this way, in a subtle way, an atmosphere of brotherhood and good relationships will be adopted. There will of course be a spiritual benefit but also a practical one too that more love and harmony will be created.
Pray for the Muslim Ummah too. The direction in which it is heading and the after rejecting the prophet of the age the way it is ruining itself, may Allah the Almighty safeguard it.
Pray for humanity as a whole, may Allah cause it to walk on the right path and enable it to be saved from the displeasure of Allah. Our task is to pray and to continue to pray during Ramadan and after it too. May Allah the Almighty enable all to do this."
Five Examples Of How Khilafat Has Helped The Muslim Ummah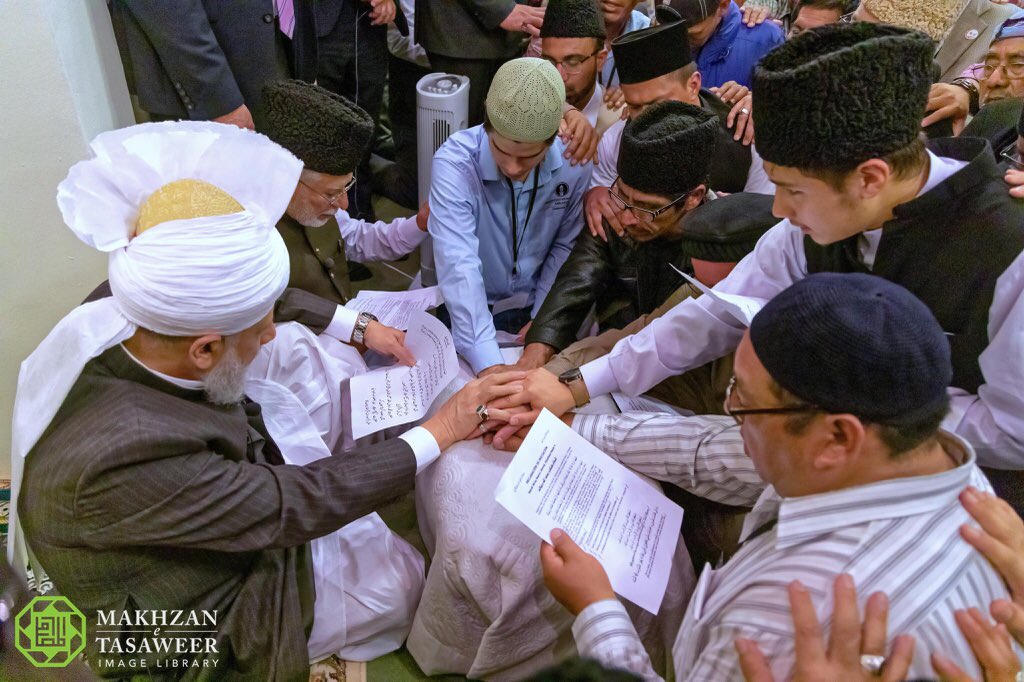 The Ahmadiyya Muslim community is fortunate that it is guided by Khilafat. However, the blessings of Khilafat are not only for Ahmadi Muslims but those who are not part of the Ahmadiyya Muslim Community benefit from Khilafat as well. Here are five examples of how the Caliphs of the Ahmadiyya Muslim Community benefit the entire Ummah.
Hazrat Hakeem Maulana Nooruddin — Khalifatul-Masih Ira
Hazrat Hakeem Maulana Nooruddinra (the successor of the Promised Messiahas)  was a great man of learning. Soon after he became the Khalifatul-Masih, he setup various humanitarian institutions. Furthermore, he played a vital role in strengthening the institution of Khilafat after 1400 years. This was a very delicate time as Muslims had been blessed with Khilafat on the precepts of prophethood after fourteen centuries, therefore, the colossal task of safeguarding Khilafat was something that the entire Muslim Ummah should be grateful for.
Hazrat Mirza Bashiruddin Mahmood Ahmad — Khalifatul-Masih IIra
In 1931, the All-India-Kashmir Committee was set up for the establishment of the civil rights of the Muslims of Kashmir and to alleviate their oppression. Hazrat Mirza Bashiruddin Mahmood Ahmadra  was elected as its first president. He sought to gather Muslim leaders with different opinions on one platform for the cause of the Muslims of Kashmir. He is known to have achieved great success in doing so. The committee turned the attention of the Muslims of Kashmir towards acquiring education and Hazrat Khalifatul-Masih IIra himself gave practical help towards this cause. The committee led by him also encouraged trade, commerce and involvement in politics among the Muslims of Kashmir.
The committee, however, faced strong opposition from the Indian National Congress and the opponents of the Ahmadiyya Muslim Community. Such opponents alleged that the committee was formed by the Ahmadiyya Muslim Community in order to spread its teachings and they strongly opposed the leadership of the Ahmadiyya Caliph. However, Hazrat Mirza Bashiruddin Mahmood Ahmadra did not stop his humanitarian efforts and advised the opponents:
"They should stop this hearsay for the sake of the oppressed brothers of Kashmir. Let them come; I am ready to leave presidency but they must promise that they will follow the decision of the majority of Muslims… I assure them that even after stepping down from the presidency, me and my Community shall help them (the people of Kashmir) more than their associates. The presidency is not a thing of respect for me. Respect is gained from service. The leader of a nation is one who serves it…"
The manner in which Hazrat Khalifatul-Masih IIra championed the rights of Muslims, especially those of Kashmir, is something which has been unmatched since. Indeed, the time he spent as president of the committee was a source of great help to Muslims as a whole just like his entire Khilafat.
Hazrat Mirza Nasir Ahmad — Khalifatul-Masih IIIrh
In 1970, Hazrat Khalifatul-Masih IIIrh embarked on a nine-week tour of various African countries. During his visit, he attended numerous receptions held in his honour and inspected the educational, social as well as spiritual services rendered by the Ahmadiyya Muslim Community of various African countries. He established the Nusrat Jahan scheme and appealed for financial contributions from the community. Under this scheme, Ahmadi doctors and teachers are serving in various parts of Africa by running numerous medical clinics and secondary schools. Indeed, this scheme is an example of how Hazrat Khalifatul-Masih IIIrh benefitted not just Muslims but people from all walks of life and all religions. It is under this scheme that many schools, hospitals and services are functioning in the poorest parts of the world. Such an initiative was conceived and launched by the third Caliph of the Ahmadiyya Muslim Community.
Hazrat Mirza Tahir Ahmad — Khalifatul-Masih IVrh
Hazrat Mirza Tahir Ahmadrh was a great scholar and visionary who quickened the propagation of Islam in many ways, especially with the establishment of Muslim Television Ahmadiyya (MTA) in 1994. With this came a new age of rapid communication and meant that the true teachings of Islam could be spread throughout the world. It was through MTA that the Caliph could be heard and seen globally. MTA has grown drastically since its inception and today serves as the premier platform on which the Caliph educates and spiritually nurtures the world, indeed people from all religions benefit from this.
Hazrat Mirza Masroor Ahmad — Khalifatul-Masih Vaba
As the current leader of the Ahmadiyya Muslim Community, His Holinessaba has proactively championed the cause of Islam and is a constant source of guidance for all Muslims. In a time where Islam's teachings are misinterpreted and portrayed in the wrong manner, Hazrat Mirza Masroor Ahmad, Khalifatul-Masih Vaba, continuously preaches the true teachings of Islam, thus defending Islam and allowing Muslims to be presented in a positive manner. He has visited almost every part of the world and spoken in various parliaments to explain and educate the world as to the true message of the Holy Prophet Muhammadsa. This is why many Muslims turn towards him at times of crisis for guidance.
The Caliphs of the Ahmadiyya Muslim Community have not just been a source of guidance for those who have entered the fold of the Community, but the entire Muslim Ummah has benefitted from them since the inception of the Ahmadiyya Muslim Caliphate in 1908.
Letters to Heads of State
Hazrat Khalifatul-Masih V (aba) wrote letters to world leaders – what guidance did Huzoor (aba) offer?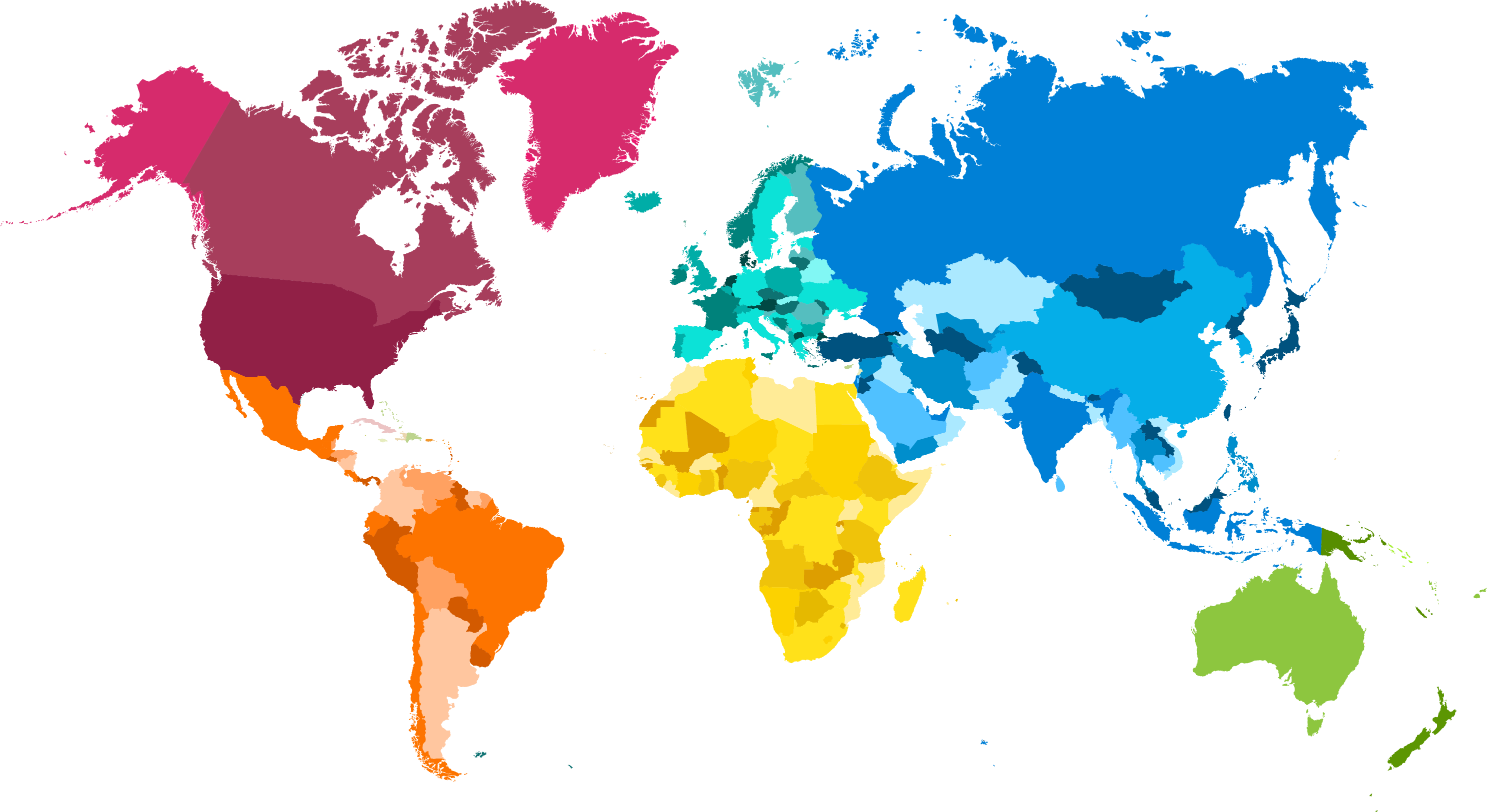 A total of 17 letters were sent by Hazrat Khalifatul-Masih Vaba of which 14 were to national leaders of Australia, Canada, China, France, Germany, Ghana, India, Israel, Japan, Nigeria, Russia, Sierra Leone, the United Kingdom and the United States of America.
In addition to those 14 letters, His Holinessaba also sent letters to Pope Francis and the Secretary General of the United Nations.
His Holinessaba sent the same message to France, China, Germany, India, Israel, Japan, Russia, UK, USA and Canada. Therefore, these extracts below join to formulate a single message.