A New World after Covid-19?
The Answer Lies with Tahrik-e-Jadid
Published on May 6, 2020 at 6:00 pm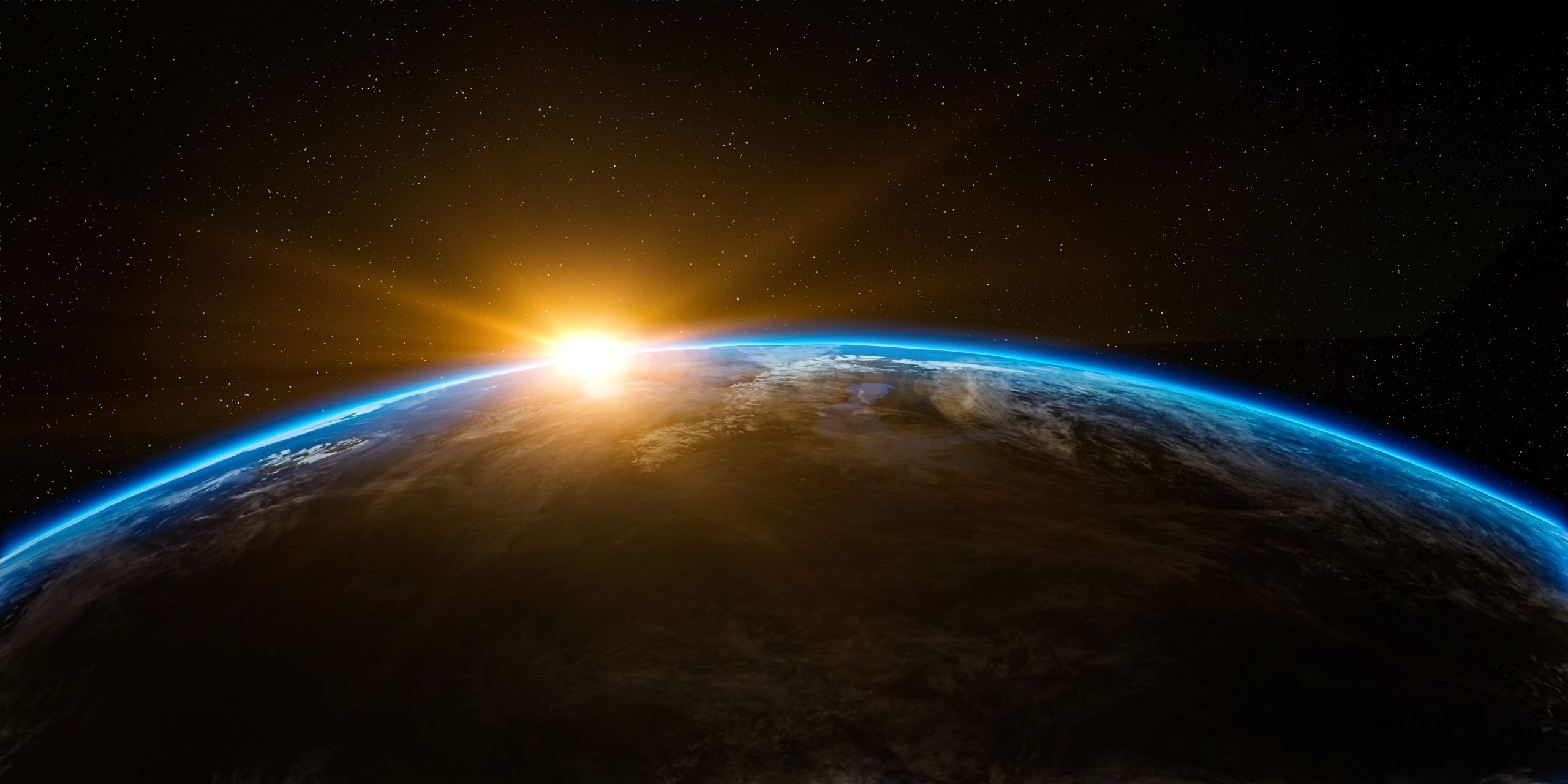 We continuously read and hear that we are living in unprecedented times, western civilisation is at its lowest point in centuries, world economies are on the brink of collapse, oil prices have turned negative due to demand drying up – all of these are scenarios that were beyond imagination just a few months ago. The world as we knew it will not be the same and the way we used to live will undoubtedly change. However, what will the world learn from this pandemic? Many will be questioning why this is happening? Some may now look to find God; they will look for answers to their questions. This is where we can turn to the blessed scheme of Tahrik-e-Jadid to give us a few answers, a scheme established under divine guidance in November 1934 by a man in India, Hazrat Mirza Bashiruddin Mahmud Ahmad – Khalifatul- Masih II (ra).
Tahrik-e-Jadid which translates as "The New Scheme", was initiated in response to a great wave of opposition to the Jama'at which was headquartered in Qadian, India.  As Hazrat Musleh Maud (ra) launched Tahrik-e-Jadid, he laid out its purpose in a number of addresses. On one occasion, Huzoor (ra) said:
"The purpose of launching Tahrik-e-Jadid is to acquire such a fund with which Allah's message can be delivered as far as the corners of the earth with ease and facility." (Friday Sermon, 27 November 1942)
Tahrik-e-Jadid is not only a scheme of financial sacrifice, but a scheme that demands a complete overhaul of one's personality and character. Hazrat Khalifatul-Masih II (ra) further explained in his book Nizam-e-Nau (The New World Order) that Tahrik-e-Jadid would be a forerunner to the scheme of Al-Wasiyyat (Nizam-e-Nau, p137). Indeed, a "New World Order" is literally unfolding before our very eyes.
As Ahmadi Muslim youth, this is our opportunity to be at the forefront in guiding the world towards our Creator. An opportunity to spread the true message of Islam and Ahmadiyyat far and wide. For this, we can take inspiration from our forefathers whose sacrifices decades ago enabled the Jama'at to spread globally. If we take a look at some of the faith inspiring incidents from the early years, it is only then that we get to understand what true sacrifice means.
It is narrated that in September 1936, soon after the launch of Tahrik-e-Jadid, 1300 members of the Community committed to do voluntary work during seasonal holidays and 200 young members dedicated their lives for the service of the Community for 3 years. Many pensioners moved to the Markaz and dedicated their life for the service of the Jama'at (Tehrikat-Khulafa, p143-144). It was sacrifices like these, and through the blessed scheme of Tahrik-e-Jadid, that laid the foundation for the Waqf-e-Zindagi scheme, which by the Grace of Allah we still see ongoing today.
In another faith inspiring incident, Hazrat Khalifatul-Masih II (ra) narrates:
"One young man on hearing about the scheme, left his home town of Sarghoda and went to Afghanistan without a passport and started doing Tabligh. The government thwarted his efforts once they found him and imprisoned him in jail. This is where he started preaching to the guards and inmates of the prison and in turn starting influencing them. The prison officers decided to file a complaint against him, the Mullahs issued a fatwa for his death, however the commanding minister stated that he is a subject of the British Empire and that he must not be killed. Thus, under the protection of the Afghani government he safely reached India.
When I met him on his return, I said to him that he should have gone to a different country, he replied immediately that please tell me which country and I will go this very instance. It is worth mentioning, that his mother was alive at the time but he was prepared to travel to another country without seeing her." (Khutbaat-e-Mahmood, vol 16, p758)
When one reflects and looks deeper into the blessed scheme of Tahirk-e-Jadid, it is only then that we see how relevant the principles and demands of Tahirk-e-Jadid are, especially in this current climate. For example:
Lead simple lives

When explaining this further, Hazrat Musleh Maud (ra) stated that we should consume one dish at meal times. Practising this in the current climate will not only help us save funds, but is also relevant as supplies in supermarkets are running low and we are forced to purchase a limited number of items.

Take up minor jobs if unemployed

Unfortunately, many Khuddam find themselves unemployed in the current climate. Hazrat Musleh Maud (ra) stated "members should take up jobs no matter how insignificant – no individual should remain idle even if his income is two rupees." This should act as an inspiration to the youth and they should be actively looking to take up temporary jobs in sectors that are hiring.

Learned Ahmadis to deliver lectures on the teachings of Islam

Majlis Khuddamul Ahmadiyya UK has been using online platforms to deliver lectures and talks on a variety of topics. This commenced from quite early on during the lockdown – the objective was to look after the education and wellbeing of our youth. All Khuddam should make full use of these activities.
The above are just a few examples. All of which prove that the blessed scheme of Tahrik-e-Jadid is truly divine, that decades after its launch, all aspects of the scheme continue to be pertinent in this day and age, and will continue to do so after the lockdown and for years to come Insha'Allah.
When talking about Tahrik-e-Jadid and specifically Majlis Khuddamul Ahmadiyya, Hazrat Musleh Maud (ra) made his expectations very clear. Huzoor (ra) sates:
"I have laid out a programme before Khuddamul Ahmadiyya, and I remind them to pay heed to those matters that I have explained and always be ready to present themselves for the service of country and nation.
There is a clear picture in my mind about everything, and one part of this picture is Khuddamul Ahmadiyya. This in fact, is a spiritual upbringing and training of the army that will fight in the war against the enemies of Ahmadiyyat. That is to say, the army that will raise the flag of Ahmadiyyat with victory and success in enemy territory." (Friday Sermon, 7th March 1939).
In the coming weeks, the UK Government plans to ease the lockdown and will announce new measures that society will be required to adopt. What these measures will look like are yet to be seen, but one thing we know is that society will start to form a new shape as social distancing and face masks become the norm. Let us pray that may Allah enable the world to turn to our Creator and give us the opportunity to shape the "New World Order" Insha'Allah.
May Allah allow us to live up to the expectations of Hazrat Musleh Maud (ra), and the expectations and guidance of beloved Huzoor (aba). May Allah also enable the Jama'at to grow from strength to strength, Ameen.
Kicking Off the Year – Khadim Style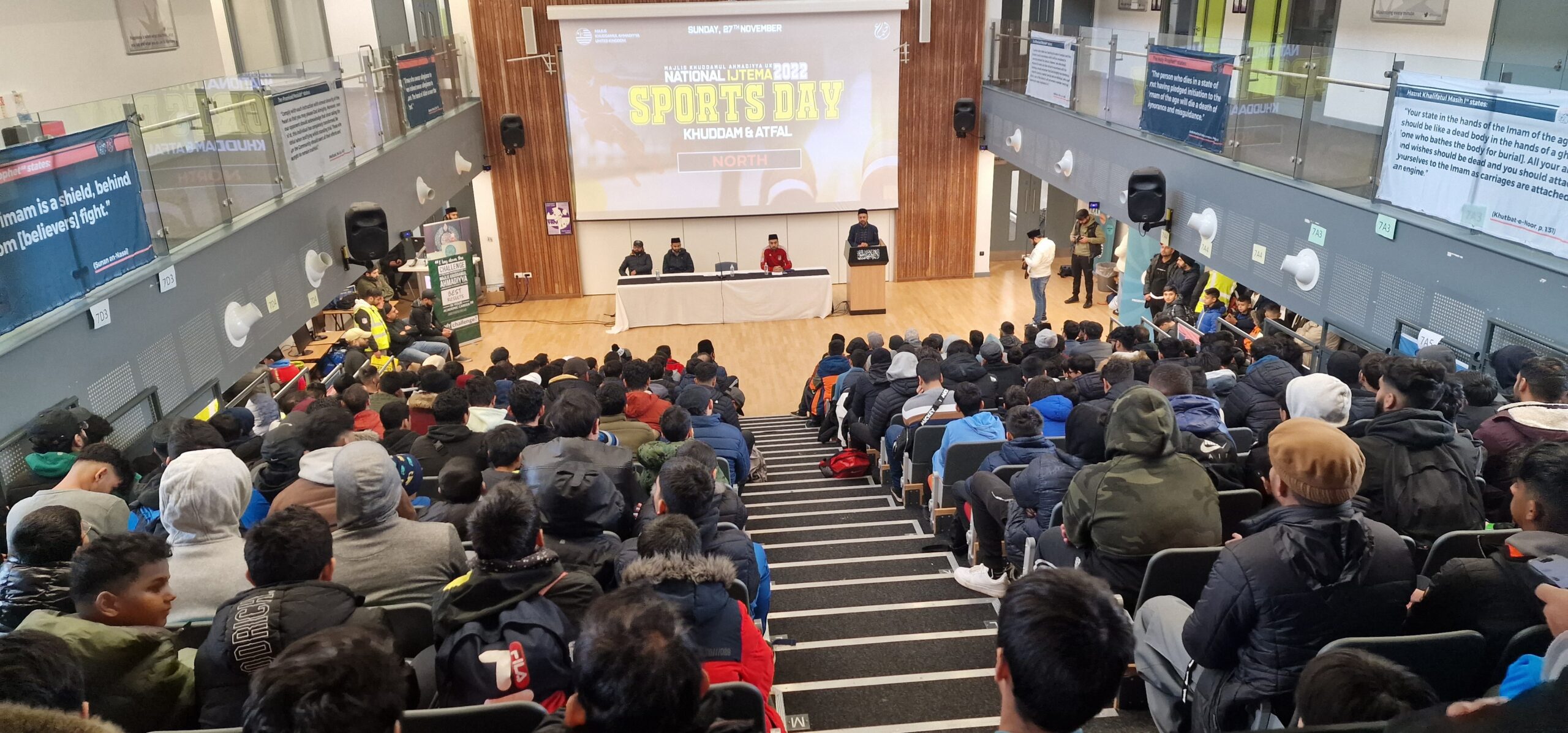 The National Ijtema Sports day for Northern Regions is currently underway in Bradford at Dixons Allerton Academy, and the Khuddam and Atfal present here are thoroughly enjoying all the activities and sessions that are taking place.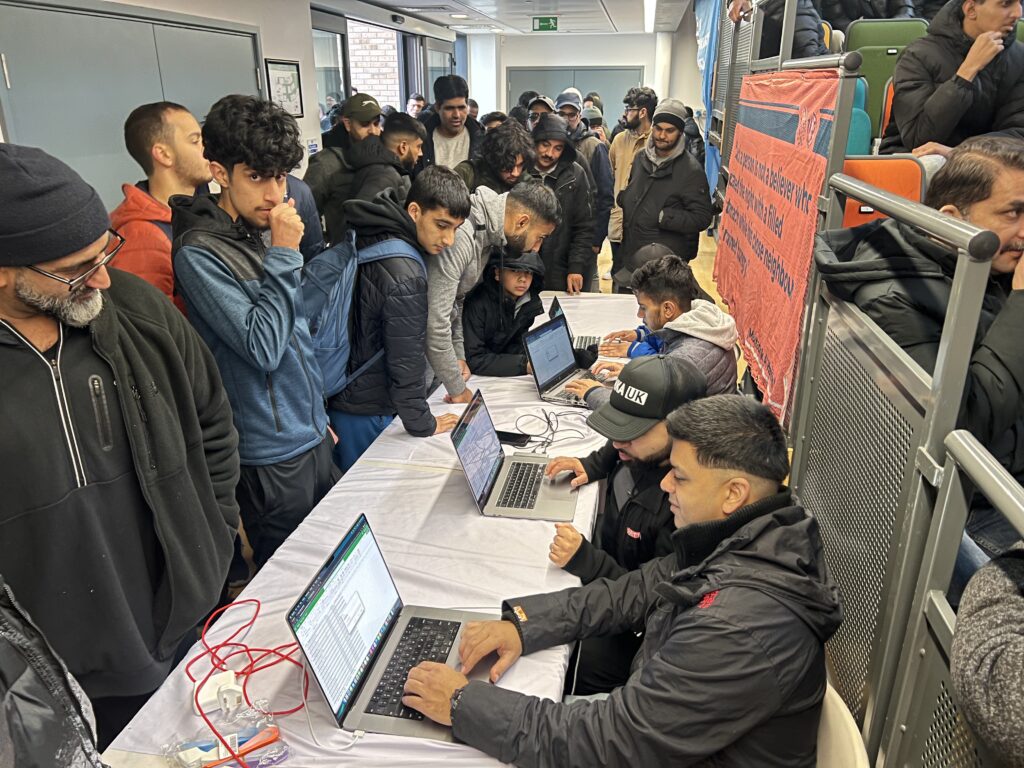 Majlis Khuddamul Ahmadiyya UK is holding this sports day on the instructions of Huzooraba after sports at the National Ijtema 2022 were cancelled due to the demise of Her Majesty Queen Elizabeth II as a mark of respect. Huzooraba instructed the Majlis that the sports that were due to take place at the Ijtema should be organised as soon as possible for the benefit of all Khuddam and Atfal that missed out. Subsequently, it was decided for the Majlis to hold 2 sports days – one for the northern regions (taking place today) and another for the southern regions (date to be announced).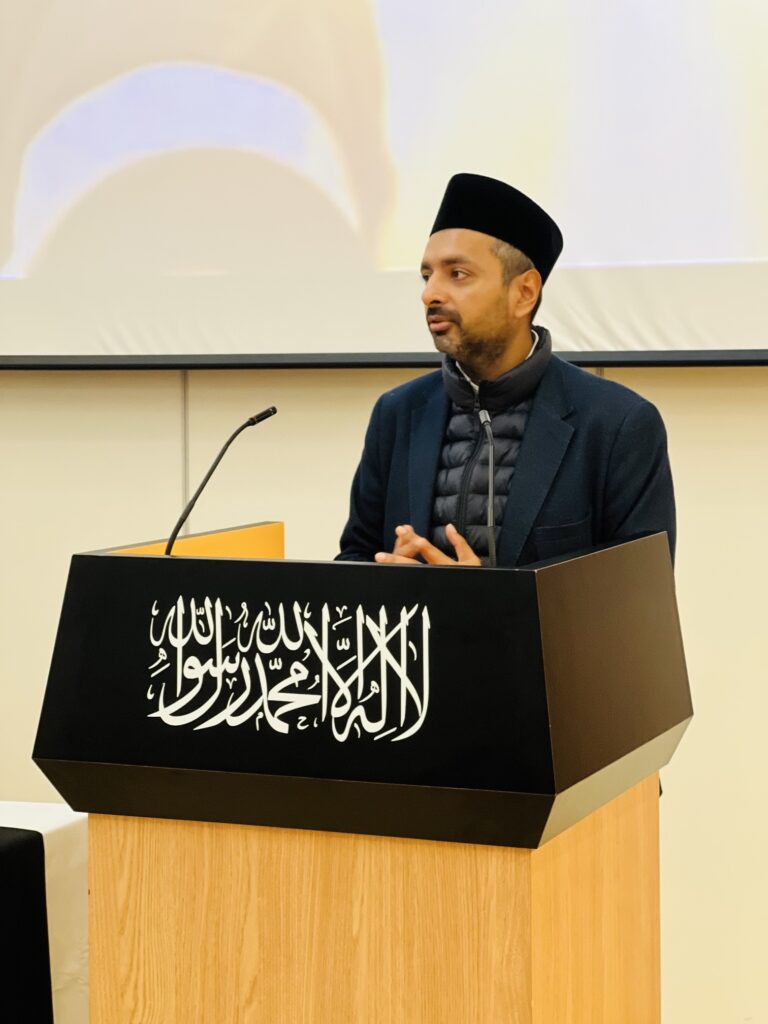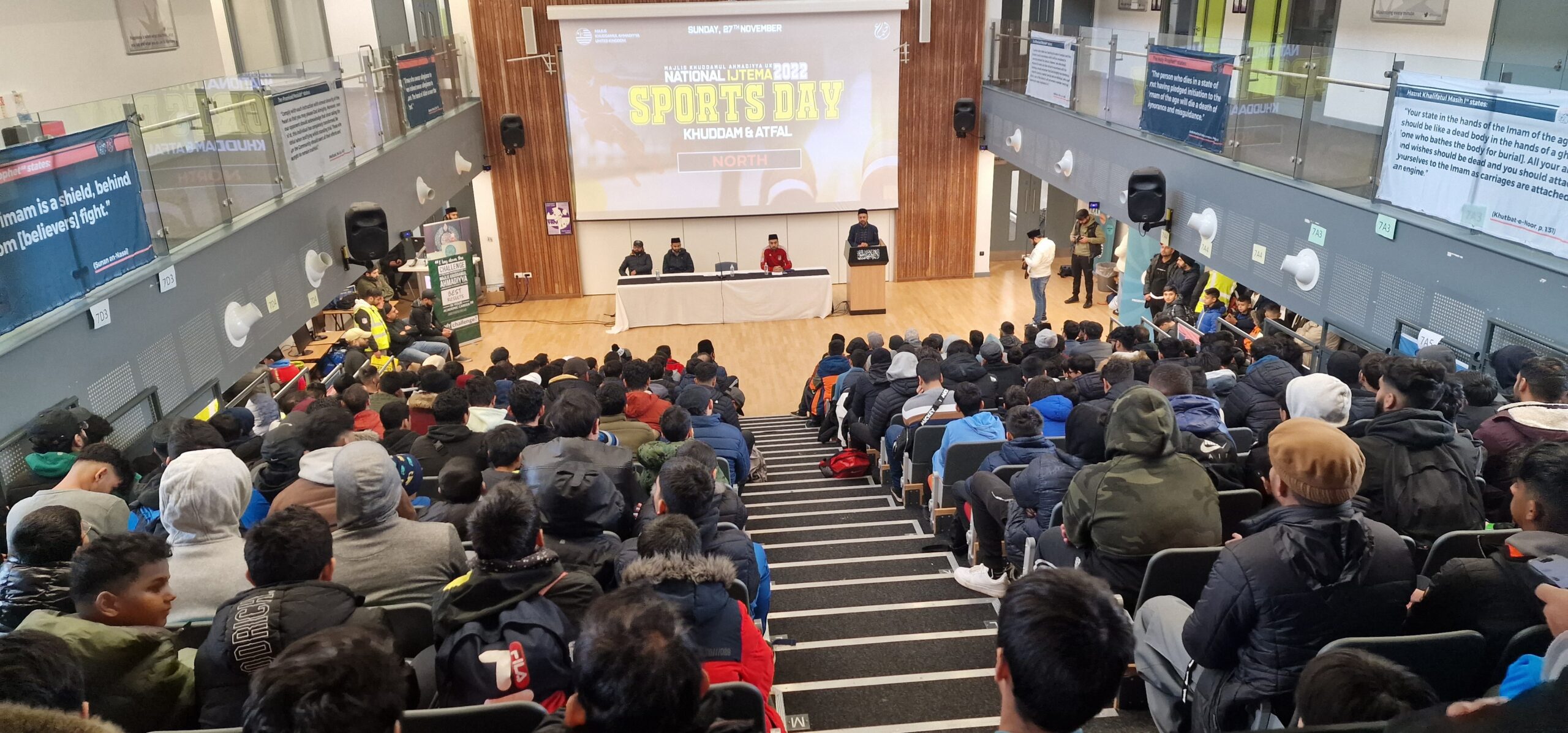 Registration started at 8am with Khuddam and Atfal arriving from all around the northern parts of the UK with breakfast served in the marquees set up onsite. The event started at 10am with an opening session chaired by the Nazime Ala Sahib Ijtema, Tariq Hayat Sahib. The plan for the day was announced by Mohtamim Sahib Sehate-Jismani, Abdur Rauf Lodhi Sahib.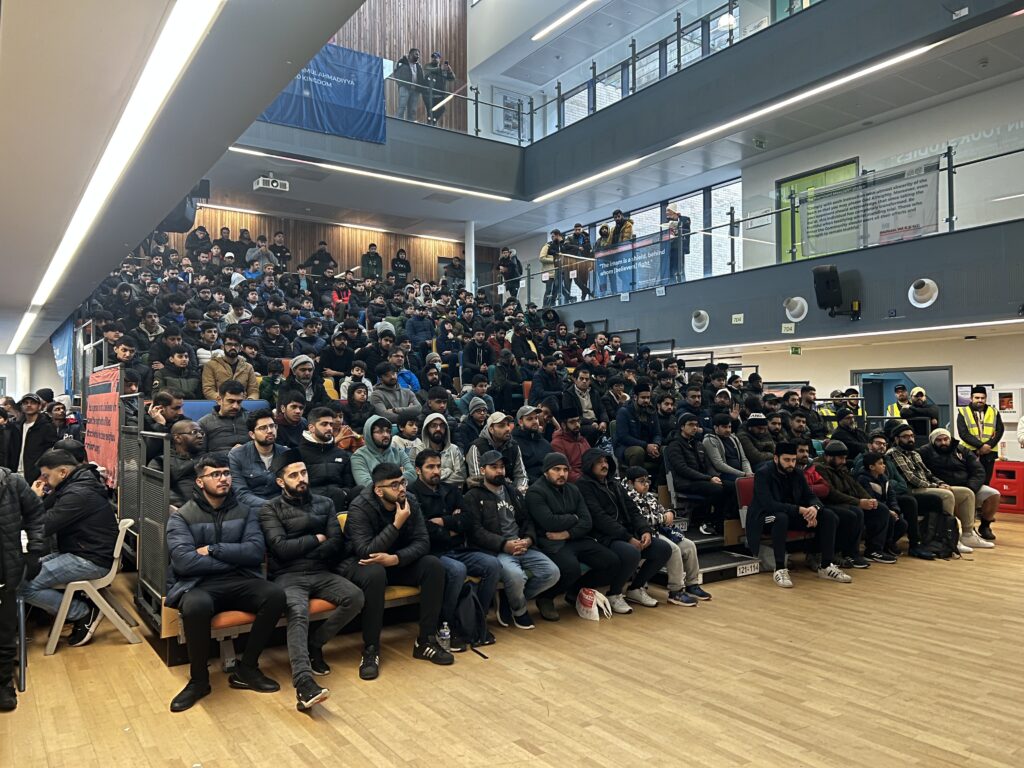 Football and Cricket for Khuddam and Atfal took place in grass fields and netball courts. Tarbiyyat 'Chit Chat Chai' were held at the auditorium, alongside outdoor and indoor sports, on topics such as relationships, the key to paradise, and working hard or hardly working. The first talk covered a wide range of questions in relation to how Khuddam should approach the idea of getting married, how to decide on the type of spouse that they desire, the qualities they should look for and the attitude they adopt going into the process.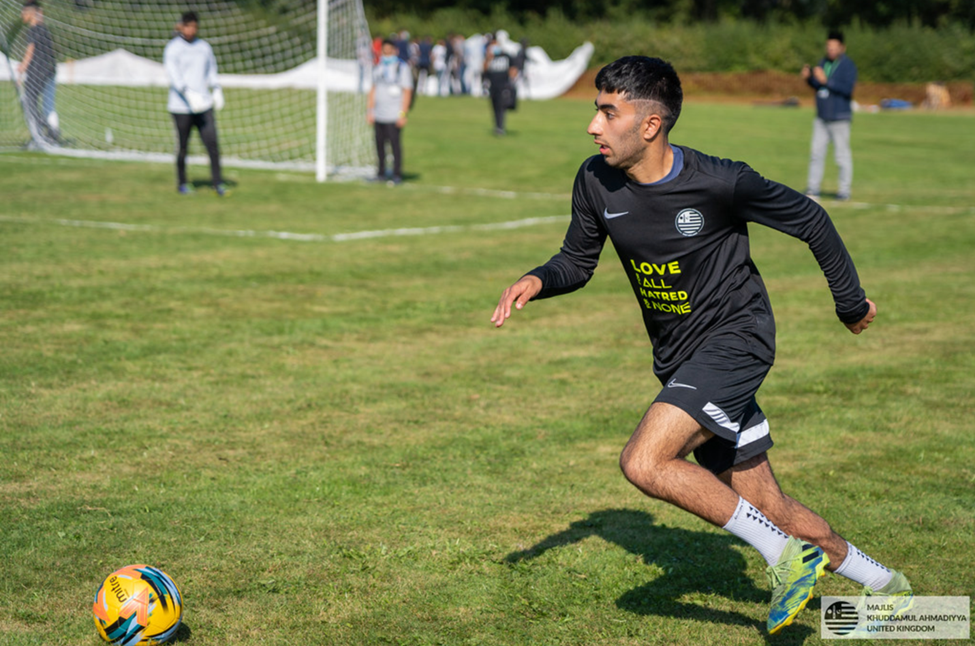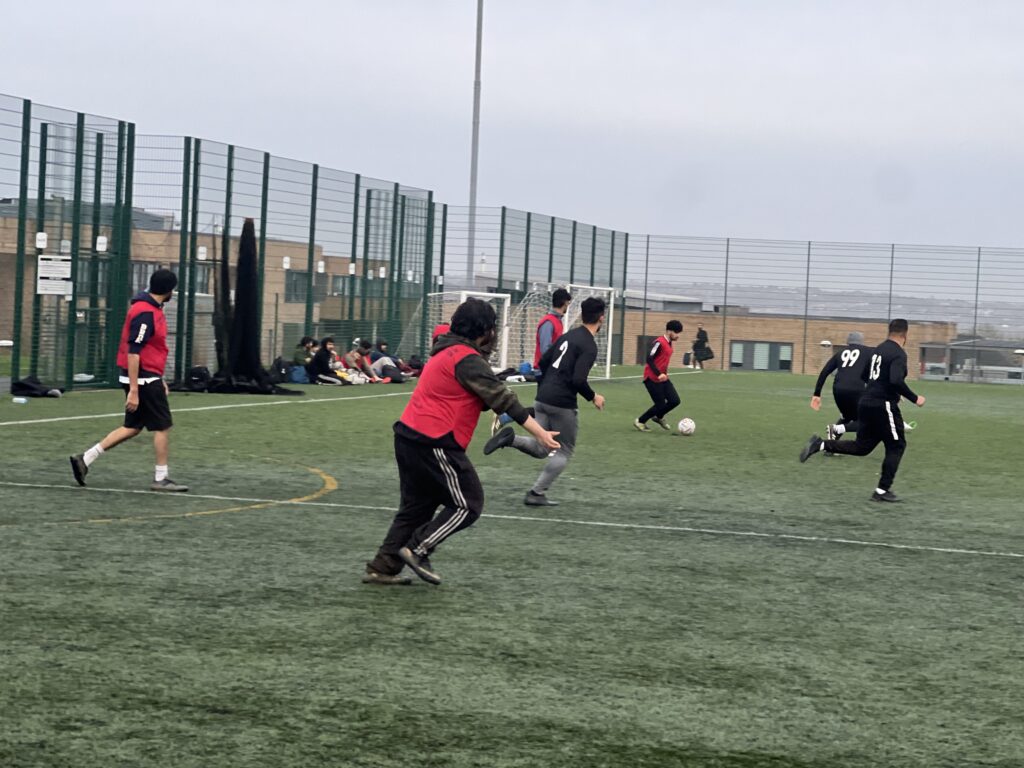 After Namaz-e-Zuhr and Ask a short Talqeen-e-Amal session took place which was on the topic of Namaz. This was followed by a continuation of sports. So far Khuddam and Atfal are finding this it to be a good opportunity to begin the year with an activity that binds the Majlis together in a spirit of brotherhood. The final session is due to take place after Maghrib Namaz, where winning teams will be given prizes by Sadr Majlis Khuddamul Ahmadiyya. The Khuddam and Atfal attendance at the Sports Day is 780, Alhamdulillah.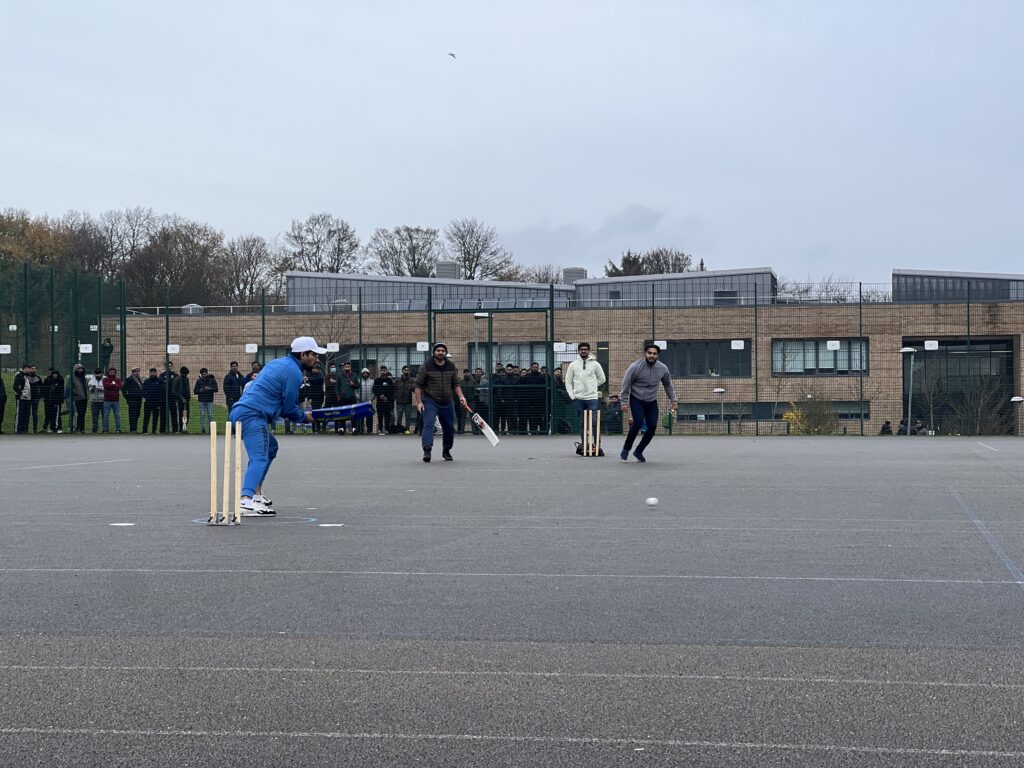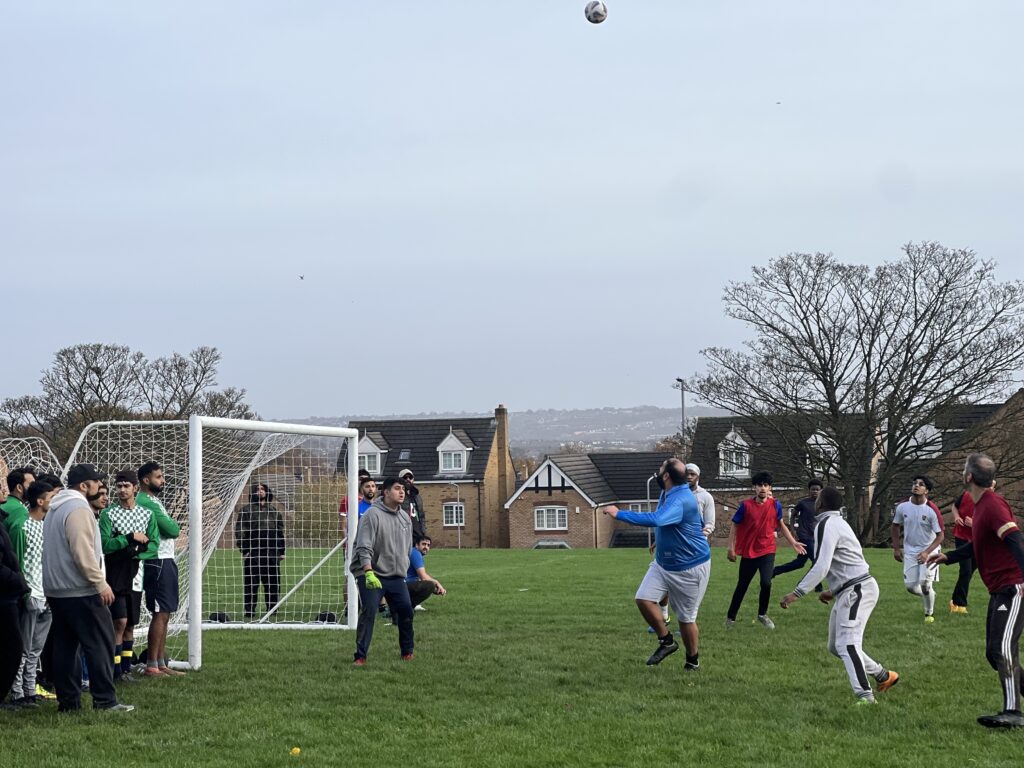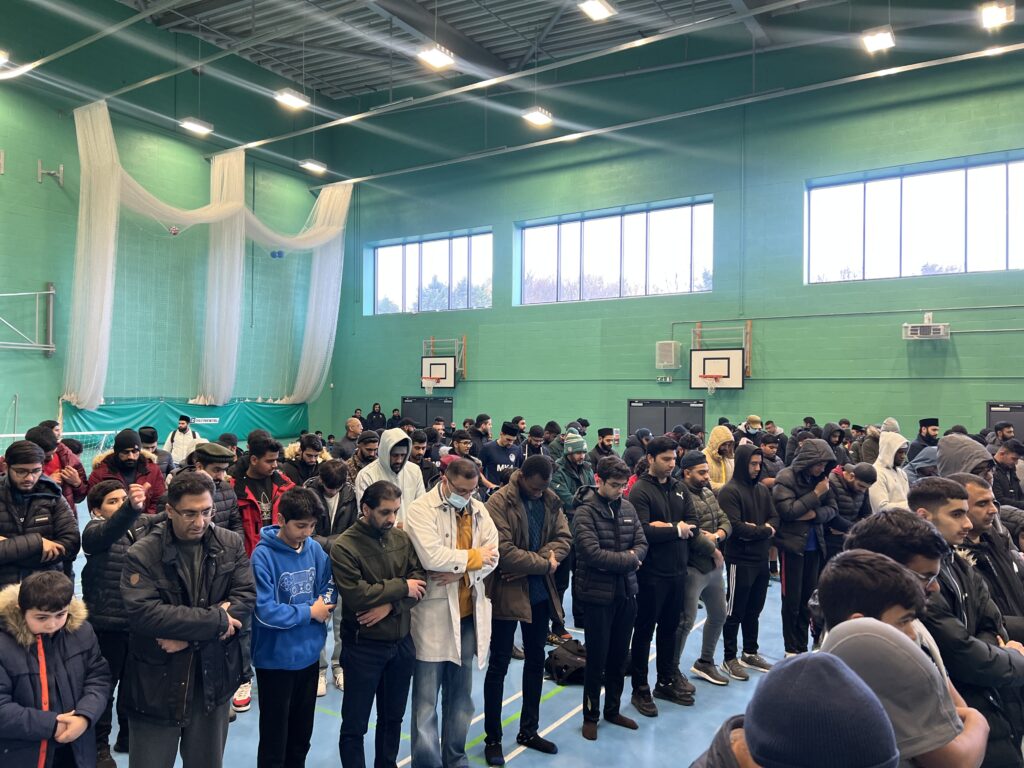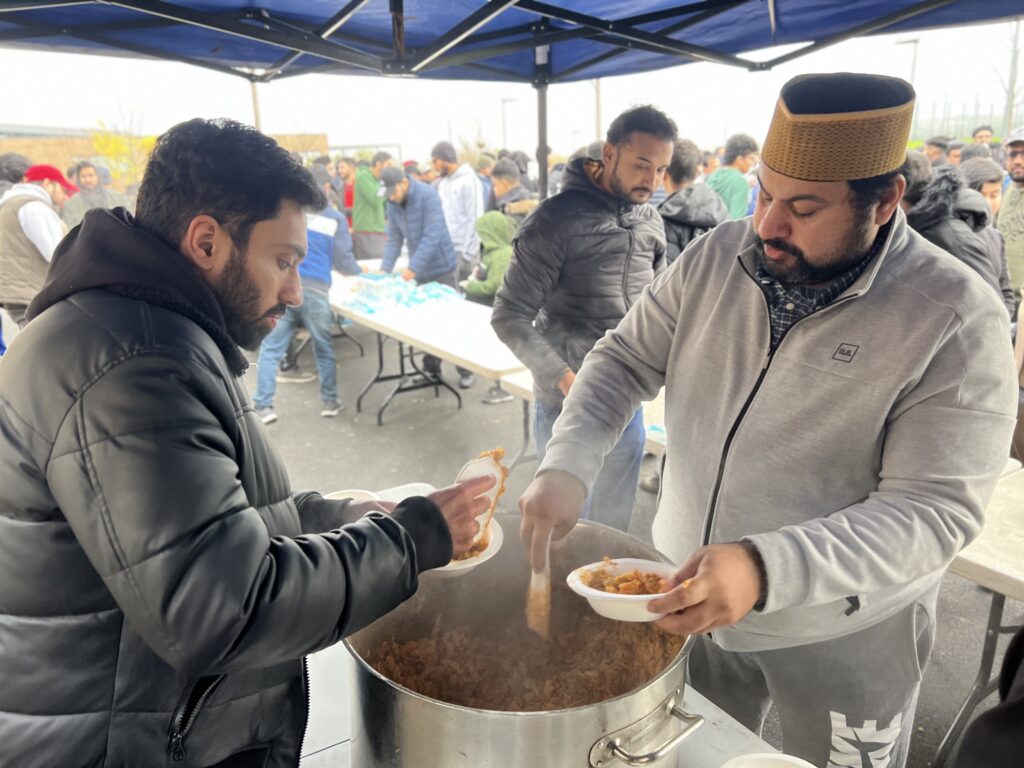 Here is some of the feedback from the Khuddam on today's event.
A Khadim form North West, Abdul Ghalib Sahib, said that "The event has been really good so far, I enjoyed coming together with Khuddam again after the sports were previously cancelled at the Ijtema due to the demise of the Queen". Another khadim, Waheed Ahmad, said that "It was good that Majlis has found a window to hold such an important event of the Khuddam year". Another khadim from Scotland said that "It is important for Ahmadi youth to come together, build a sense of togetherness and develop brotherhood."
Hazrat Khalifatul-Masih V Inaugurates Islamabad Convenience Store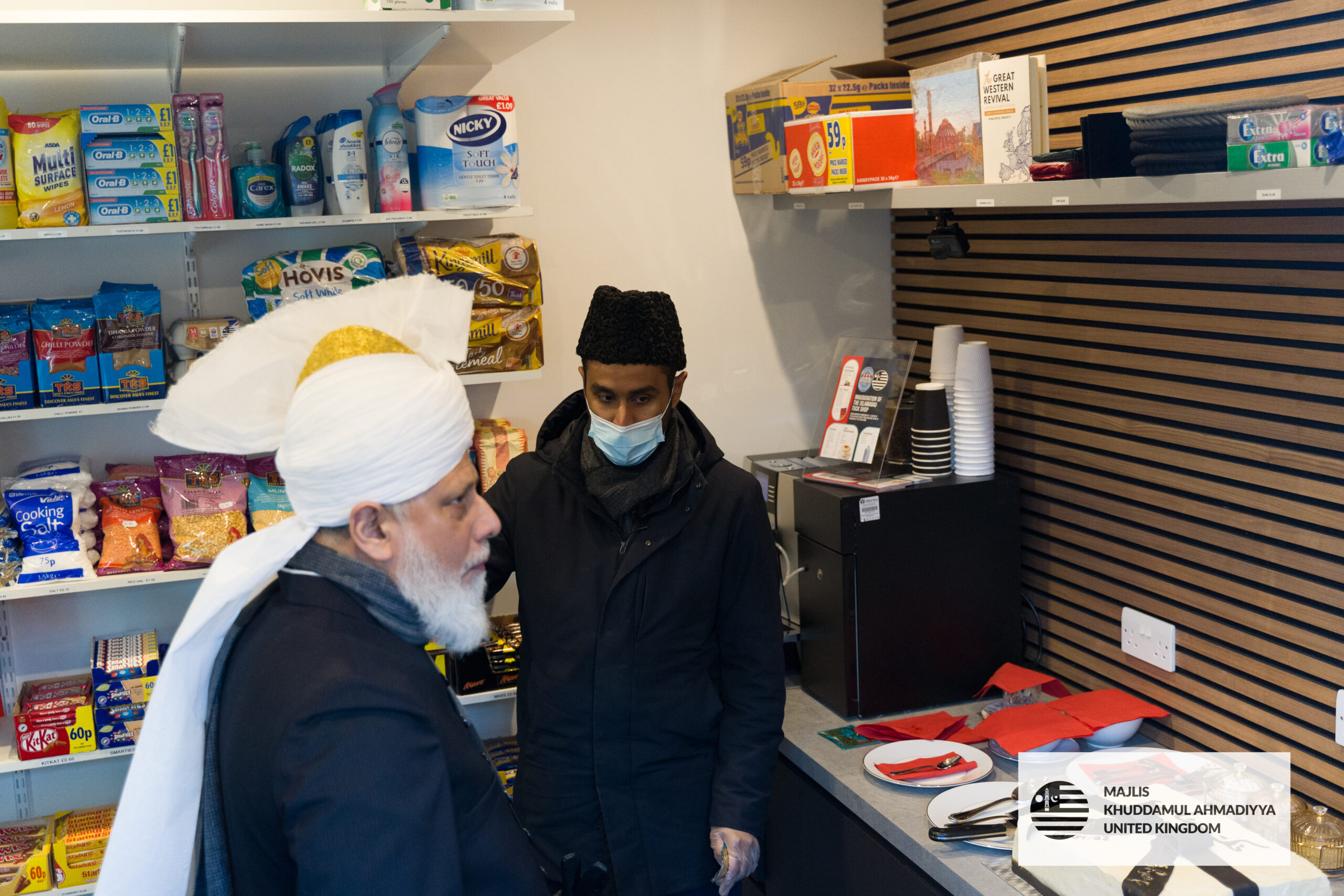 On the 1st of April 2022, after Asr Namaz, Hazrat Khalifatul-Masih V (aba) inaugurated the MKA Tuck Shop in Islamabad. Huzoor (aba) opened the Homeopathic Dispensary adjacent to the Tuck Shop before gracing the Khuddam store.  Huzoor (aba) unveiled a plaque and led everyone in silent prayer after which Sadr Majlis Khuddamul Ahmadiyya UK, Abdul Quddus Arif, Mohtamim Sanat-o-Tijarat, Umar Hassan, and Motamid Khuddamul Ahmadiyya UK, Nassar Bhatti, had the opportunity to show Huzoor (aba) the store and its wares.
Huzoor (aba) graced Khuddam with his precious time and distributed sweets to children who had gathered outside.
Immediately after Huzoor (aba) stepped outside the store, Huzoor (aba) was informed by Sadr Sahib about the Khuddam present with Huzoor (aba) speaking to a few as well. All those who had gathered were greatly  moved by Huzoor's presence.
This tuck shop will Insha'Allah serve as a small convenience store for the residents of Islamabad and visitors. The Homeopathy Dispensary has also opened alongside the MKA Tuck Shop.
Wars will Stop when the World Turns to the Promised Messiah Says Hazrat Khalifatul-Masih V
In today's Friday Sermon, Hazrat Khalifatul-Masih V (aba) once again reminded Ahmadis around the world to pray for an end to the current crisis.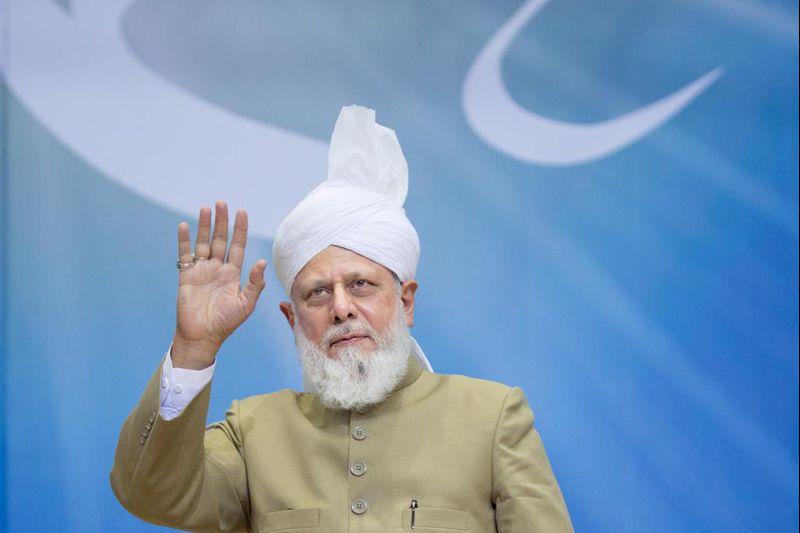 In today's Friday Sermon, Hazrat Khalifatul-Masih Vaba once again reminded Ahmadis around the world to pray for an end to the current crisis. Hazrat Khalifatul-Masih V stated:
Pray that Allah the Almighty grants both sides of the conflict proper understanding and they stop this murder of humanity. 
Huzooraba further commented that Muslims should learn from the unity that the West has displayed in condemning the war:
Muslims should learn from this war. The [West] has become united, yet Muslims, despite belonging to one creed, never unite. They had one country destroyed; Iraq was destroyed, Syria was destroyed, Yemen is being destroyed—they cause this destruction through outsiders and are doing it themselves too, instead of being united. At the very least the Muslims should learn, from the West, how to be united.
Huzoor reiterated his continuous message that there will only be peace in the world when the world accepts the Imam of the Age—the Promised Messiahas:
May Allah have mercy on these nations, the Muslim nations and on the Muslim Ummah. This can only happen however, when these people accept the Imam of the Age who has been sent for this very purpose.
May Allah grant them understanding, and where they [the Muslims] reform themselves may they also pray and use their means to stop the world from wars, rather than themselves become embroiled in them. 
Hazrat Khalifatul-Masih Vaba has been warning of an impending world crisis for a long time and has travelled the world spreading the message of the Promised Messiahas.