10 Facts About I'tikaaf
The holy month of Ramadan brings many blessings and opportunities for Muslims to create a stronger bond and relationship with their Creator. One of these opportunities is I'tikaaf, which is performed in the last 10 days of Ramadan.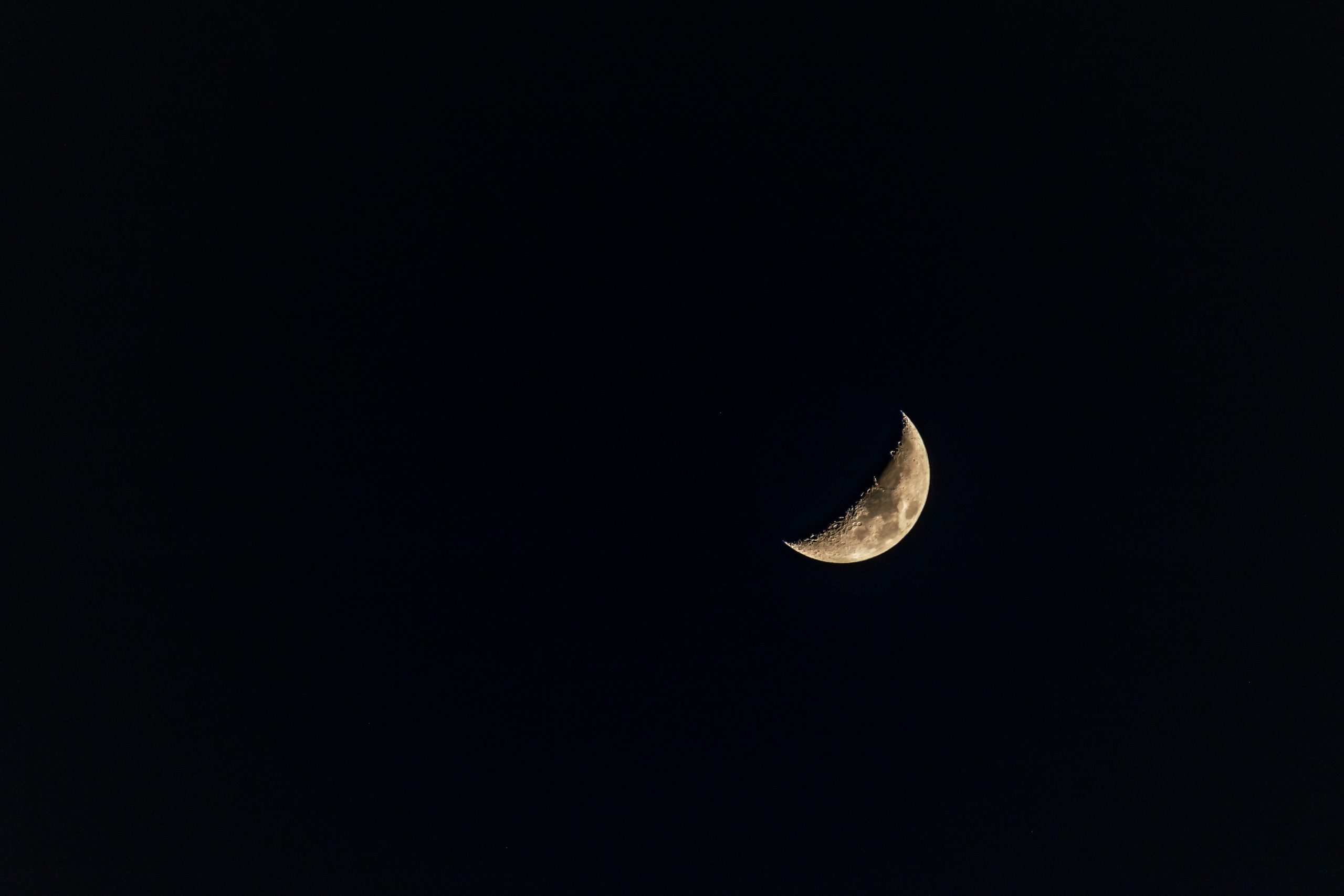 Ramadan is a fundamental opportunity in which an entire month has been specifically allocated to the believers so that they may attain nearness to Allah the Almighty. Hence, one may ask, what are the means to which Allah's pleasure can be attained? In this regard the Holy Qur'an states:
'And as for those who strive in Our path — We will surely guide them in Our ways.'
[Al-'Ankabut 29:70]
Now we have entered the final 10 days of Ramadan. Therefore, one opportunity given to us by Allah the Almighty to strive towards His path during Ramadan, is through I'tikaaf. So the question now is, what is I'tikaaf? Well, here are 10 quick facts about Ramadan and this blessed mode of worship which is made available to us in this blessed month:
1. Out of the many ways in which one may spiritually benefit from Ramadan is to present oneself for I'tikaaf.
'The gates of heaven are open for the month of Ramadan and the gates of the hellfire are closed and the devils are shackled.'
[Sahih al-Bukhari 1899]
Such measures make it even more possible for one to supplicate before the Almighty.
2. I'tikaaf is offered in the last Ashra (ten days) of Ramadan, conventionally within a Mosque. One should not leave the Mosque unless faced with a unique circumstance as one's priority and attention should wholly be given to Allah over all matters.
It is narrated regarding the Holy Prophet (sa):
'The Messenger of Allah (sa) used to seclude himself (in the mosque) during the last ten nights of Ramadan. He would say, "Search for Lailat-ul-Qadr (Night of Decree) in the last ten nights of Ramadan."
[Sahih al-Bukhari 2020]
3. These ten days should completely be observed in worshipping Allah the Almighty through offering the five daily prayers & voluntary prayers, reading the Holy Qur'an and through the remembrance of Allah.
4. In essence one should endeavour to sever all ties with matters relating to worldly gains and should be at one with Allah. There is a Hadith in this regard which states:
'It is Sunnah for the one performing I'tikaaf not to visit the sick, attend a funeral, or touch his wife (with sexual desire), nor have sexual intercourse with her. He should also not go out (of the mosque) except for an extreme necessity, and no Itekaaf is accepted without fasting, or without being in a mosque.'
[Abu Dawood 2473]
5. I'tikaaf is not compulsory, but is dependent on each individuals' circumstances and situation. However, there is no doubt that whoever is able to partake in this blessed opportunity should do so as this will be a means for one's heart to be cleansed from all previous sins. The Holy Prophet (sa) has been reported to have said:
"Whoever prayed at night in it (the month of Ramadan) out of sincere Faith and hoping for a reward from Allah, then all his previous sins will be forgiven."
[Sahih al-Bukhari 2008]
6. This is a practice which was also performed by previous Prophets. The prophet Moses (as) prayed for 40 days on the mount of Sinai as is mentioned in the Holy Qur'an:
'And remember the time when We made Moses a promise of forty nights;'
[Al-Baqarah 2:52]
And so did his Messiah, Jesus (as). Before the advent of Islam, the Holy Prophet Muhammad (sa) also observed this practice by supplicating in the cave of Hira.
7. The Promised Messiah (as) also observed this tradition, in 1886 C.E he travelled to Hoshiarpur and stayed there for 40 days for supplication and worship, where he was foretold by Allah the Almighty of a promised son.
8. The way in which the Holy Prophet Muhammad (sa) practiced I'tikaaf according to multiple Ahadith is during the last ten days of Ramadan, as is mentioned in a Hadith:
'The Messenger of Allah (may peace he upon him) used to observe I'tikaaf in the last ten days of Ramadan'
[Sahih Muslim 1172]
9. In a Hadith of Abu Dawood, it is sated that I'tikaaf can only be practiced inside a mosque, however due to such unprecedented circumstances this has been prohibited. Hazrat Musleh Ma'ud (ra) states that one may practice I'tikaaf outside of a mosque but the blessings are not the same.
10. Hazrat Khalifatul-Masih V (aba) has stated, "I'tikaaf cannot be practiced within a mosque, however those who want to practice this can do so within their homes by allocating a separate room". [9 May 2020]
To conclude, we should all endeavour to gather as many blessings as we can in this blessed month so that we may strive towards righteousness and steadfastness. We as Ahmadi's should most certainly remember our beloved Imam, Hazrat Mirza Masroor Ahmad (aba), in our prayers and we should continuously pray for the success of Islam Ahmadiyyat.
My Lockdown Story
Luqman, a 17 year old Khadim shares how he spent his lockdown in the service of mankind in accordance with the teachings of Islam, and how it provided him with peace of mind and a sense of benefiting his community in a positive manner.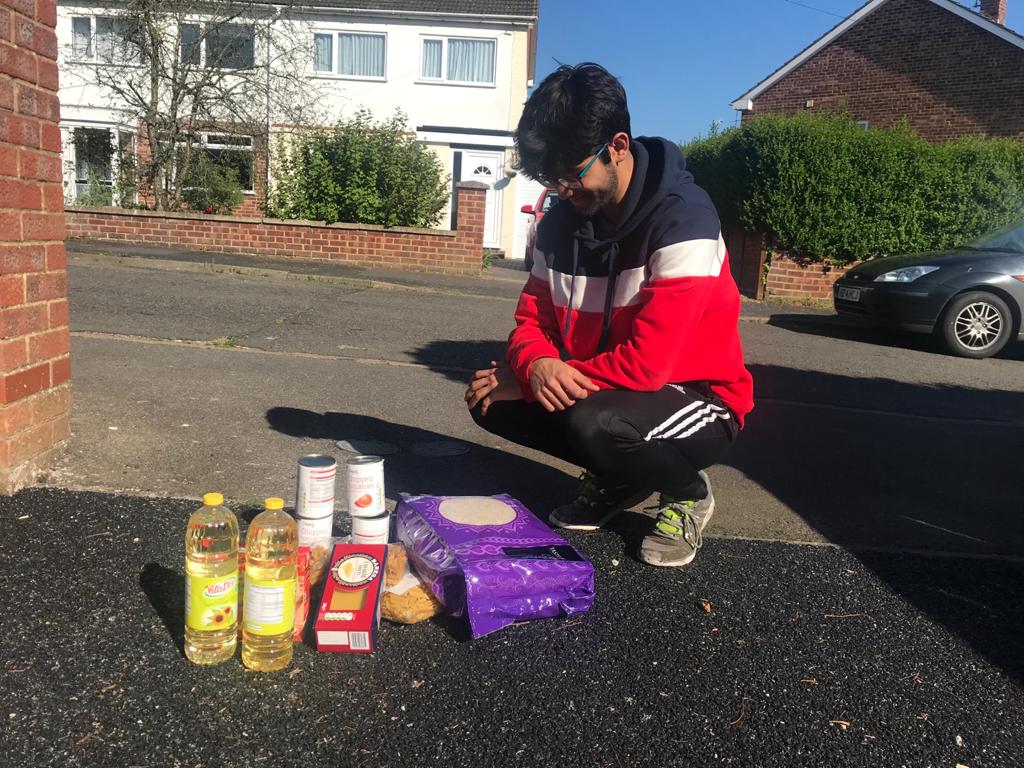 My name is Luqman and I am a 17-year-old Ahmadi Muslim, living in Milton Keynes. During lockdown, I have been helping with Khidmat-e-Khalq (service to mankind) activities, as serving mankind is an integral part of my faith. My aunt has volunteered as the Area Coordinator for our village and the neighbouring village. This role entails receiving messages from and communicating with anyone who needs help and then arranging that help. The first task was to hand out leaflets to every house, with my mum's and aunt's contact details if assistance was needed. My sister and I both assisted with this.
Many people responded saying how grateful they were for this support.
One of these responses was by an elderly lady (91 years old) in the neighbouring village, who lived alone and needed help with shopping. She sent the shopping list to my aunt and together, we went and did the shopping for her. It was only a small list and the trip was quite quick, but it felt great to be able to help someone who was stuck indoors. We dropped off her shopping at her front door and when she came out to pick it up, she smiled and thanked us- it was very humbling to see the gratitude on her face! I now go with my aunt once a week to do her shopping.
There is also another family who live a couple of roads away from us who are unable to leave the house and needed help with shopping and picking up their medical prescriptions. I have accompanied my aunt to do their shopping once. I feel very privileged to have had these opportunities to serve others. It is very comforting to know that I am helping to make other peoples' lives easier.
I have recently been to drop off cooking supplies to a woman who collects donations and then makes hot meals, giving them out to those who don't have access to food in these difficult times. It was great to know that the food donations were made towards a good cause and I am proud of being a part of this.
"Islam urges every person to partake in charitable giving, and that even an act of kindness towards another is charity. It also promotes community cohesion and we as Muslims are trying to spread the message of peace to create stronger bonds in society and remove any negative perceptions about Islam.'' [AMYA Press Release]
'I am Equal…'
In light of the current situation in the USA, the question of race equality is again at the forefront of news headlines. Protests and riots are taking place, whilst social media is replete with people voicing their opinion. In a world of inequality, Islam provides the answer.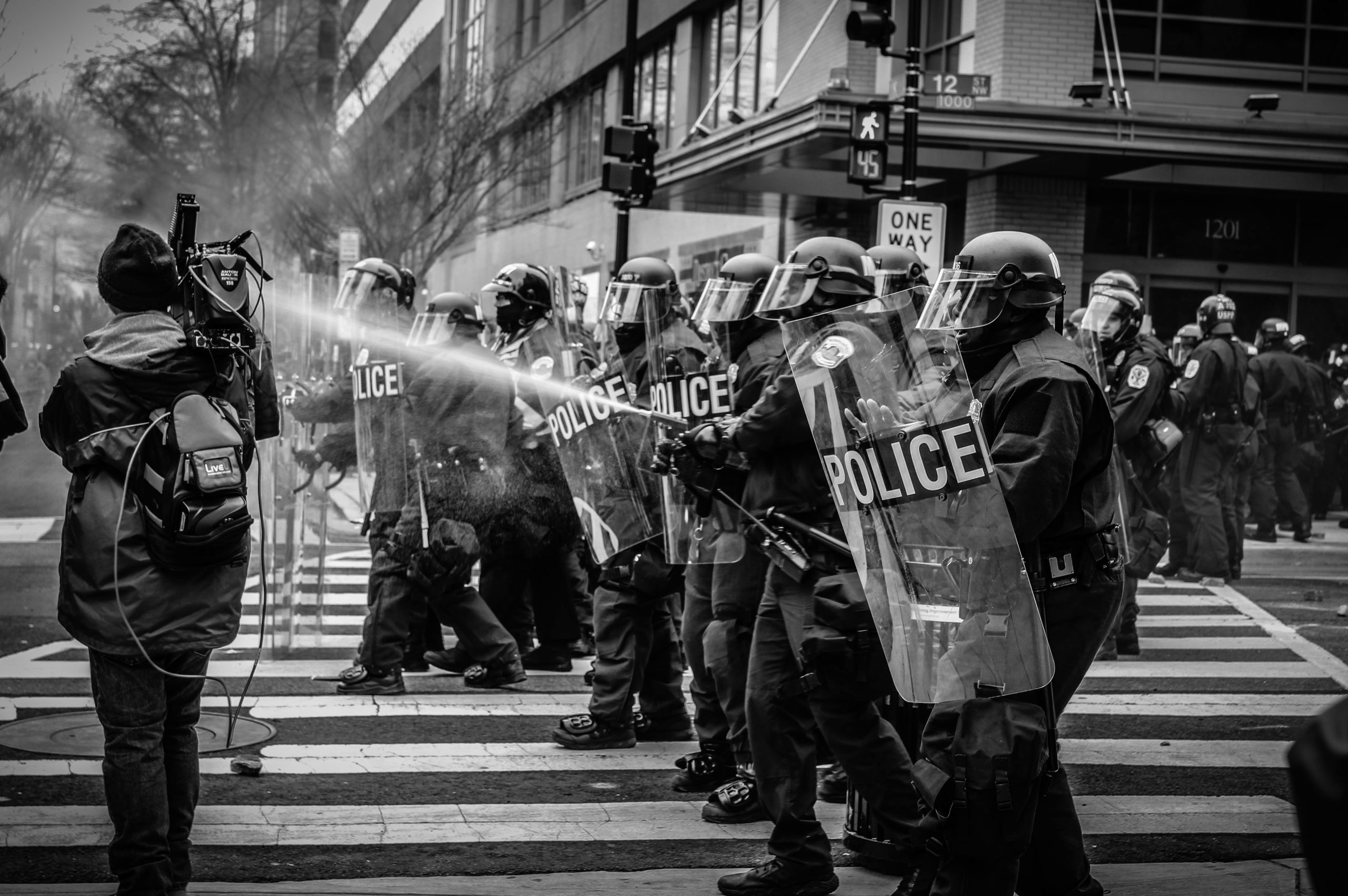 Assalaamo Alaikum Wa Rahmatullahu Wa Barakatuhu. My name is Israfeel Kusi-Addo, I am 19 years of age and I am an Ahmadi Muslim Khadim originally from Ghana, currently living in the United Kingdom.
By the Grace of God, I have been given the opportunity to express my feelings on a very important topic, one which is quite close to home; racism. For me growing up in South London, racism is something that I tackle on almost a daily basis. Whether it be from the selective behaviours of teachers when it comes to resolving matters, to the frequency and way police stop and search us simply due to us "fitting a profile", or when I go to the shop and the black lady at the till reminds me to always take my receipt as a black man, for fear of my safety. This is a very prevalent issue within our community, but more so within America.
As we all may or may not be aware, on Monday 25 May, George Floyd, an African American man was brutally murdered by a Minneapolis police officer who impaled his knee into Mr Floyd's neck for almost 9 minutes whilst Mr Floyd had his face imprinted on the ground. At the same time 2 other officers also had him pinned to the ground whilst the remaining officer simply watched.
The injustices by certain law enforcers amongst others have senselessly killed black people in America and across the world are part of the reasons for deep rooted racism within our societies today. No matter how 'developed' human civilisation seems, racism seems to be deep rooted in some societies. Fortunately for me, Islam has a very simplistic, yet beautiful manner of teaching and handling racism. In chapter 49 verse 14 of the Holy Qur'an, it states:
"O mankind, We have created you from a male and a female; and We have made you into tribes and sub-tribes that you may recognize one another. Verily, the most honourable among you, in the sight of Allah, is he who is the most righteous among you. Surely, Allah is All-Knowing, All-Aware."
Here we can see in plain sight that God denounces all forms of discrimination based on creed, caste or colour. The only measure of one's value is how pious and righteous they are. Additionally, one's true character can be seen as pure if they are willing to uphold human values and protect the honour, dignity and freedoms of all people, irrespective of their differences to bring about harmony and peace. This is in perfect harmony with the teachings of Islam, as the Holy Prophet (sa) stated in his farewell sermon:
"All humans, regardless of their background, are equals as humans. There is no superiority for a white person over a black person and neither is the black superior to the white. No Arab has superiority above a non-Arab and no non-Arab has superiority above an Arab."
Islam lays the foundation of achieving true peace, yet the actions of some Muslims suggest otherwise. However, we in the Ahmadiyya Muslim community have been blessed with Khilafat and a spiritual Imam in the person of Hazrat Mirza Masroor Ahmad (aba), Alhamdulillah. Through his guidance and leadership, we are able to ponder over the true teachings of Islam and act accordingly. For instance, Huzoor (aba) has said:
"Islam proclaims that all people are born equal, no matter where they hail from or the colour of their skin."
In another instance, Huzoor (aba) states:
"The teachings of the Holy Qur'an are universal and timeless and have established the rights of every person, of every belief, of every race and of every nation."
This is revolutionary as unlike other leaders around the world with hidden agendas, Huzoor  (aba) advises us to use Islam as the foundation of all good things, as the only thing that we all have in common is that we have differences. Therefore, by embracing one another and following the teachings of Islam, we can surely bring about a world of prosperity, peace and harmony. Insha'Allah.
'They Are Living, Only You Perceive Not.'
A decade has passed since the horrific act of terror committed against the Ahmadi Muslim Community in Lahore on 28 May 2010. Anas Salman is a young Muslim who witnessed the atrocious attacks on one of the mosques, Dar uz-Zikr. Read his eye witness testimony below.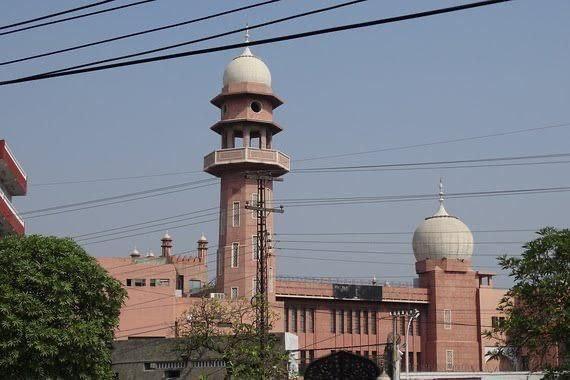 One of the most brutal attacks ever encountered by this community was the Lahore attacks of Pakistan on 28 May 2010. As we reflect upon a decade since those martyrs who sacrificed their lives in this inhuman act of terrorism, it is difficult to understand the pain that the families of the affected went through. The attack took place in two Ahmadiyya mosques in Lahore, Pakistan whilst the peace-loving Ahmadis were busy in Friday prayers. The responsibility of this attack was claimed by Tehreek e Taliban, Pakistan. The attack was carried out in two different mosques (Dar ul-Zikr & Bait al-Noor) at the same time. The initial attack was followed up by making the people inside the two mosques hostages for hours . The saddest part of this brutality was that the attackers entering the mosque murdered everyone they found alive indiscriminately. Moreover, a lack of proper support from authorities made it even easier for these perpetrators to shed blood of innocent Ahmadis without fear.
However, it was the courage of our courageous Ahmadi brothers who eventually overpowered two of the attackers in Model town mosque and handed him over to the police. An eyewitness and survivor of the attack named Anas Salman, a Khadim who now lives in the UK, explains this whole experience in the following words:
"It was one of those days which I can never forget. I got up from the office and went to Garhi Shaho mosque (Dar ul-Zikr) for Jumma prayer. When I reached there, I offered my first set of 'sunnat' prayers and as soon as I finished my prayers, I heard gunshots. The Murabbi sahib who was delivering the sermon asked the worshippers to stay calm. Soon, we noted that bullets started getting fired from one of the mosque hall windows on the left and some people got injured.  People started running to save their lives towards the right corner of the hall. Murabbi sahib started reciting prayers in loud voice but all of a sudden, the door behind him was blasted with a grenade and he embraced martyrdom in front of my eyes. A terrorist entered from the destroyed door and started firing. I was in the second last row, so I ran towards the back door with others and came to the open hallway.
As soon as we came to the hallway, one of the terrorists there blew himself up in a suicide blast. We tried to run to save our lives by hiding in the toilets, rooms and underneath the staircase. During that time, we continuously heard the gunshots. When I looked around, I saw myself surrounded by around 30 people which included children as well. People were in a state of shock and some were calling police, whilst others were calling their loved ones to say final good byes. I also tried to call my mother but the network was busy. I was worried about what would happen next. Suddenly, one of the attackers fired at us from the opposite ceiling of the hall. Many people got hit and I also got hit with two bullets: one on the upper chest and the other penetrated my arm. I wanted to talk to my mother one last time but the network didn't allow it. I laid there in despair waiting to embrace death. Luckily there was a basement beside that staircase. When I realised that I am still breathing after 15 minutes, I gathered my strength and asked all others to go into the basement. It was half past 3 and we could still hear the gunshots. After some time, my phone rang and I could hear my mother's voice on the other side. I got emotional after listening to my mother and started crying. However, the reply my mother gave shook me and raised my morale. She replied back by saying: 'Son, you are God's property and whatever He will do for you will be better'. These words really gave me a boost and I asked her to give the phone to my father. She said that he is in 'sajda' and is not getting up. I asked them for prayers and said goodbye.
We could still hear firing and gunshots, so we stayed in the basement and started praying. At around half past 5, we heard chants of 'Allah o Akbar' and the announcement asking us to come out as everything was alright now. However, these voices were suppressed by a loud bomb blast. We felt that the ceiling of the mosque would fall upon us but we remained safe. Later on, we realised that it was systematically plotted by terrorists due to which they managed to kill more people. At around half past 6, we again heard similar chants but we did not move. However, after a while, our Khuddam brothers knocked on the basement door and called us out upon which we came out. We were thankful to God that we got saved but as soon as we saw the scenes of bloodshed and brutality in the mosque, I fell on the ground unconscious and was taken away by our Khuddam brothers to the ambulance."   
More than 80 worshippers were brutally martyred and another 120 were severely injured. Most of the victims were buried in the town of Rabwah, the official headquarters of Ahmadiyya Muslim community in Pakistan. The attack was condemned by many main stream media outlets and politicians but none of them attended the funeral services or visited the affected. Independent organisations claimed that this type of atrocity is primarily targeted to Ahmadis easily due to their constitutional 'non-Muslim' status. Today, on this day of 28 May 2020, we pledge allegiance to the martyrs of 28 May through our heartiest submissions. It is hard to believe that those terrorists were chanting slogans of Takbir while killing innocents on the day which is declared Yaum e Takbir officially by the government of Pakistan. However, under the divine guidance of our beloved Khalifa, Hazrat Mirza Masroor Ahmed (aba), this community showed an immense example of patience and composure. There was no protest recorded, no official statements being made and no reports were lodged. This blessed Jama'at rested its case with the highest of courts, that of Allah Almighty. Fellow Ahmadi brothers hugged and consoled each other by saying,
"Surely, to Allah we belong and to Him shall we return." (Surah al-Baqarah, Ch.2: V. 157)   
This agony created a state of restlessness in the community which was encountered by endless prayers seeking help and justice from Allah. Ahmadis all over the world became witness of this sacrifice that "O my martyr brother, you have set an example of the Sahaba of Uhud and enabled yourself to claim your place in the gardens of Jannah". Huzoor (aba) also comforted the Jama'at on this occasion with the following words:
"Allah the Almighty is certainly capable of taking revenge from those who have tried to cause this collective harm. He knows better how He will show His Power, how He will catch those who commit this mischief and oppression. But may Allah make these people, who are repeatedly challenging the honour of God and are increasing in oppression, a sign and example for people; Insha-Allah, it will happen." (Friday Sermon, 28 May 2010) 
Today as we witness the completion of these ten years of this incident, we can surely feel that this sacrifice did not restrict the progress of this blessed Jama'at. In fact, this community qualified themselves among the ones following the footsteps of the Holy prophet (sa) and the Sahaba (ra) as per the hadith. Today every Ahmadi can surely feel the wounds those takbir slogans inflicted them with. The love for 'Takbir' however, will still be there.