Moral Ethics – Address of Hazrat Khalifatul-Masih IV (rh) to Atfalul Ahmadiyya UK at the Annual Atfal Rally in 1993
"I will now turn briefly to another point. Righteousness and self confidence. You have advantages from living in a powerful and advanced country of the world but you have disadvantages also. There are good points and bad points. The bad points are cultural and moral deterioration. The British people do not realise that culture is something that can be totally disassociated from moral responsibility. In the name of culture they feel they can do anything and no one can stop them or restrict them. They feel they are free to do whatever they please, with the result, that they step into areas which Allah forbids. They trespass religious code and ethics in the name of culture and freedom. They violate the Word of God and moral principles which are accepted universally. This is an area of danger and I must warn you of it. I have come across some cases of children who go astray in teenage years to lead a life not of goodness but are told that they are free to do what they want. [As if they are told] who are your parents and religious leaders to tell you what to do? You are free, it's a free country, enjoy yourself. This is the insinuation of what they are told by teachers and other students and they do not understand the underlying trap in this teaching. So I must warn you against this type of philosophy of freedom. They are talking of freedom in an area which does not belong to them. They say God and parents have no right to interfere in that area. It is similar to your parents telling you that you are free as a person, so why respect the laws of England or any other country. You may do what you please. You may steal, mug people, bribe and be bribed – enjoy yourself, this country is yours, this is your land and no one can stop you. If your parents were to teach you this will the society accept it? Will they not react and call it a rebellion against the law of the land? They certainly would as this is their area where they enjoy strength and power. And that will be their reaction if someone from elsewhere interferes in their area of command, and yet they shamelessly interfere where they have no right to. They interfere in the area of God's commandments, and religious ethics and moral values. The area that belongs to your parents and religious leaders [in such matters] you should listen to them. This should be clearly understood."
Moments From History – The First Adhan And Namaz In Paris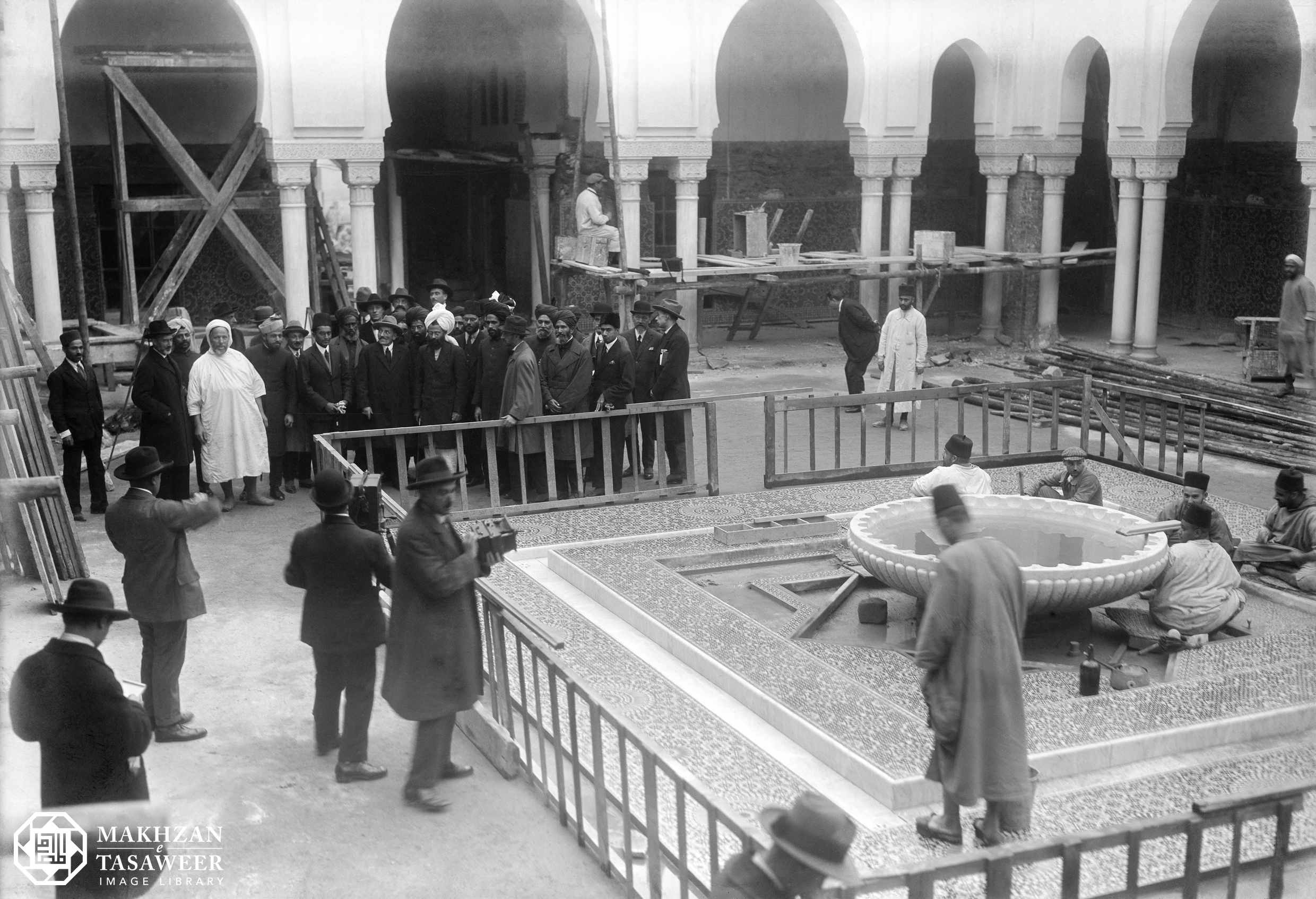 30 October 1924 was a rainy day in Paris. As Hazrat Musleh Maudra walked into the first mosque of the city (which was under construction) many people gathered around him in awe. The officer incharge of construction proceeded to accompany Huzoorra to the Mehrab, which had been cleaned out so that prayer could be offered. Huzoorra instructed Hazrat Hafiz Roshan Alira to call the Adhan – the first in a Paris mosque. After the Adhan was called Hazrat Musleh Maudra lead the Zuhr and Asr prayers; these were the first congregational prayers offered in the first mosque of Paris, France.
In this photo Hazrat Musleh Maudra inspects the Mosque during its construction. This is a photo from the same day.
'They Are Living, Only You Perceive Not.'
A decade has passed since the horrific act of terror committed against the Ahmadi Muslim Community in Lahore on 28 May 2010. Anas Salman is a young Muslim who witnessed the atrocious attacks on one of the mosques, Dar uz-Zikr. Read his eye witness testimony below.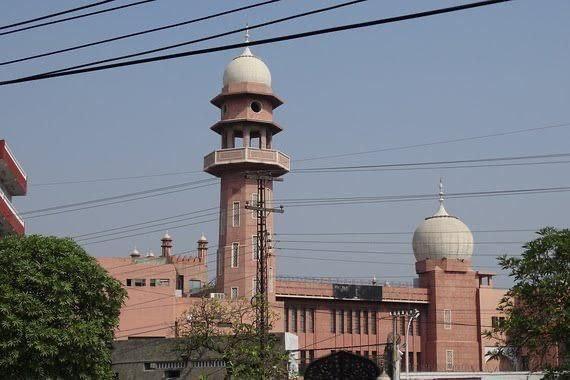 One of the most brutal attacks ever encountered by this community was the Lahore attacks of Pakistan on 28 May 2010. As we reflect upon a decade since those martyrs who sacrificed their lives in this inhuman act of terrorism, it is difficult to understand the pain that the families of the affected went through. The attack took place in two Ahmadiyya mosques in Lahore, Pakistan whilst the peace-loving Ahmadis were busy in Friday prayers. The responsibility of this attack was claimed by Tehreek e Taliban, Pakistan. The attack was carried out in two different mosques (Dar ul-Zikr & Bait al-Noor) at the same time. The initial attack was followed up by making the people inside the two mosques hostages for hours . The saddest part of this brutality was that the attackers entering the mosque murdered everyone they found alive indiscriminately. Moreover, a lack of proper support from authorities made it even easier for these perpetrators to shed blood of innocent Ahmadis without fear.
However, it was the courage of our courageous Ahmadi brothers who eventually overpowered two of the attackers in Model town mosque and handed him over to the police. An eyewitness and survivor of the attack named Anas Salman, a Khadim who now lives in the UK, explains this whole experience in the following words:
"It was one of those days which I can never forget. I got up from the office and went to Garhi Shaho mosque (Dar ul-Zikr) for Jumma prayer. When I reached there, I offered my first set of 'sunnat' prayers and as soon as I finished my prayers, I heard gunshots. The Murabbi sahib who was delivering the sermon asked the worshippers to stay calm. Soon, we noted that bullets started getting fired from one of the mosque hall windows on the left and some people got injured.  People started running to save their lives towards the right corner of the hall. Murabbi sahib started reciting prayers in loud voice but all of a sudden, the door behind him was blasted with a grenade and he embraced martyrdom in front of my eyes. A terrorist entered from the destroyed door and started firing. I was in the second last row, so I ran towards the back door with others and came to the open hallway.
As soon as we came to the hallway, one of the terrorists there blew himself up in a suicide blast. We tried to run to save our lives by hiding in the toilets, rooms and underneath the staircase. During that time, we continuously heard the gunshots. When I looked around, I saw myself surrounded by around 30 people which included children as well. People were in a state of shock and some were calling police, whilst others were calling their loved ones to say final good byes. I also tried to call my mother but the network was busy. I was worried about what would happen next. Suddenly, one of the attackers fired at us from the opposite ceiling of the hall. Many people got hit and I also got hit with two bullets: one on the upper chest and the other penetrated my arm. I wanted to talk to my mother one last time but the network didn't allow it. I laid there in despair waiting to embrace death. Luckily there was a basement beside that staircase. When I realised that I am still breathing after 15 minutes, I gathered my strength and asked all others to go into the basement. It was half past 3 and we could still hear the gunshots. After some time, my phone rang and I could hear my mother's voice on the other side. I got emotional after listening to my mother and started crying. However, the reply my mother gave shook me and raised my morale. She replied back by saying: 'Son, you are God's property and whatever He will do for you will be better'. These words really gave me a boost and I asked her to give the phone to my father. She said that he is in 'sajda' and is not getting up. I asked them for prayers and said goodbye.
We could still hear firing and gunshots, so we stayed in the basement and started praying. At around half past 5, we heard chants of 'Allah o Akbar' and the announcement asking us to come out as everything was alright now. However, these voices were suppressed by a loud bomb blast. We felt that the ceiling of the mosque would fall upon us but we remained safe. Later on, we realised that it was systematically plotted by terrorists due to which they managed to kill more people. At around half past 6, we again heard similar chants but we did not move. However, after a while, our Khuddam brothers knocked on the basement door and called us out upon which we came out. We were thankful to God that we got saved but as soon as we saw the scenes of bloodshed and brutality in the mosque, I fell on the ground unconscious and was taken away by our Khuddam brothers to the ambulance."   
More than 80 worshippers were brutally martyred and another 120 were severely injured. Most of the victims were buried in the town of Rabwah, the official headquarters of Ahmadiyya Muslim community in Pakistan. The attack was condemned by many main stream media outlets and politicians but none of them attended the funeral services or visited the affected. Independent organisations claimed that this type of atrocity is primarily targeted to Ahmadis easily due to their constitutional 'non-Muslim' status. Today, on this day of 28 May 2020, we pledge allegiance to the martyrs of 28 May through our heartiest submissions. It is hard to believe that those terrorists were chanting slogans of Takbir while killing innocents on the day which is declared Yaum e Takbir officially by the government of Pakistan. However, under the divine guidance of our beloved Khalifa, Hazrat Mirza Masroor Ahmed (aba), this community showed an immense example of patience and composure. There was no protest recorded, no official statements being made and no reports were lodged. This blessed Jama'at rested its case with the highest of courts, that of Allah Almighty. Fellow Ahmadi brothers hugged and consoled each other by saying,
"Surely, to Allah we belong and to Him shall we return." (Surah al-Baqarah, Ch.2: V. 157)   
This agony created a state of restlessness in the community which was encountered by endless prayers seeking help and justice from Allah. Ahmadis all over the world became witness of this sacrifice that "O my martyr brother, you have set an example of the Sahaba of Uhud and enabled yourself to claim your place in the gardens of Jannah". Huzoor (aba) also comforted the Jama'at on this occasion with the following words:
"Allah the Almighty is certainly capable of taking revenge from those who have tried to cause this collective harm. He knows better how He will show His Power, how He will catch those who commit this mischief and oppression. But may Allah make these people, who are repeatedly challenging the honour of God and are increasing in oppression, a sign and example for people; Insha-Allah, it will happen." (Friday Sermon, 28 May 2010) 
Today as we witness the completion of these ten years of this incident, we can surely feel that this sacrifice did not restrict the progress of this blessed Jama'at. In fact, this community qualified themselves among the ones following the footsteps of the Holy prophet (sa) and the Sahaba (ra) as per the hadith. Today every Ahmadi can surely feel the wounds those takbir slogans inflicted them with. The love for 'Takbir' however, will still be there.
How Majlis Khuddamul Ahmadiyya Began
Described as the 'backbone' of the Ahmadiyya Muslim Community; the way Majlis Khuddamul Ahmadiyya was founded in 1938 speaks volumes to its close relationship with the Khalifah of the time.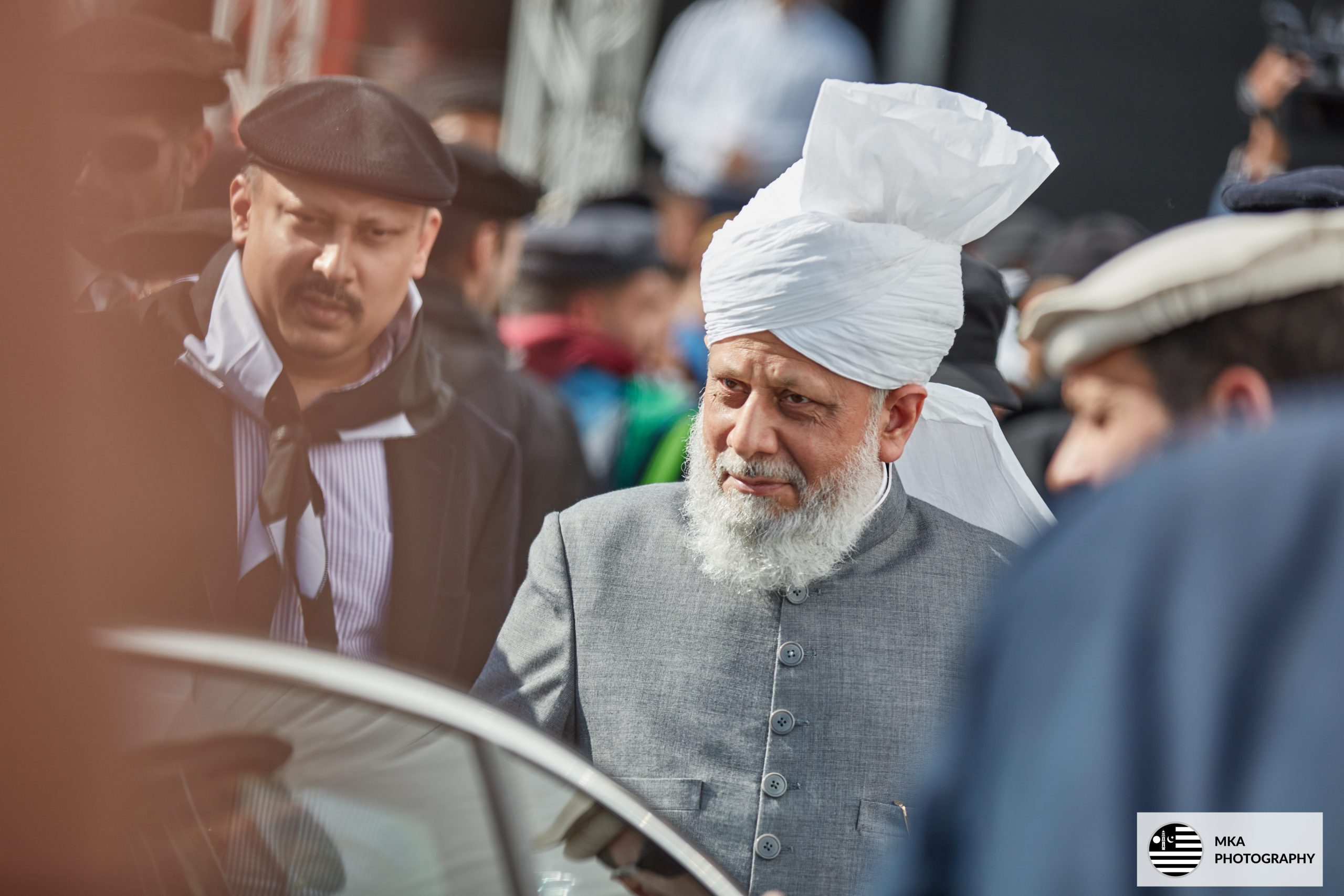 Whilst laying the foundation of this auxiliary organisation, Hazrat Khalifatul-Masih IIra prophesied:
"I am contemplating over what our response will be to the onslaughts of the opponents. My mind possesses abridged knowledge of each and every matter, which also includes Khuddamul Ahmadiyya. Indeed, [this organisation] is a source of spiritual training, knowledge and moral development. This moment in time is the age of training and developing the youth, and the period of training is a period of obscurity. People may assume that nothing is happening, however when a nation emerges into the practical field having attained moral development, the entire world becomes a witness of the outcome. In reality such a nation – which arises at the gesture of a hand and sits at the gesture of a hand – shall create a great revolution in the world (Tarikh-e-Ahmadiyyat Volume VIII Page 445).
The Establishment of Majlis Khuddamul Ahmadiyya
With regards to the manner in which Majlis Khuddamul Ahmadiyya was established, respected Sheikh Mehboob Alam Sahib states:
"As I arrived home in the evening of the 20th January 1938 having been dismissed from Jamia Ahmadiyya, an office-bearer of the Private Secretary informed me that I have been summoned by Hazrat Khalifatul-Masih IIra. When I arrived in the presence of Huzoor, he presented two published tracts of Sheikh Abdurrahman Misri Sahib before me and stated, 'Write a response to this. Go to the Darul Mujahideen and employ the life-devotees to assist you, and if you please, include some from Jamia as well. However, do not seek assistance from any superior scholars. You are permitted to only acquire the support of Maulvi Qamar Din Sahib and Maulvi Zuhoor Hussain Sahib, and begin immediately. If you require any books, I will provide them from my personal library.' Thus, I took the tracts and without even eating, proceeded to work along with some life-devotees. One day, Huzoor further instructed me to hold a meeting in order to elect the office-bearers for this task."
(An extract from the interview of respected Sheikh Mehboob Alam Khalid Sahib by Mirza Sultan Ahmad Sahib and Sultan Mubashir Sahib)
Thus, on 31 of January 1938 following the Asr prayer, ten youth gathered at the accommodation of respected Sheikh Mehboob Alam Khalid Sahib in Qadian on account of his invitation. These very youth proceeded to seek the help and assistance of God Almighty, having vowed to strive towards serving the progress of Ahmadiyyat and remaining steadfast in their corroboration of Khilafat, and to always counter any dissention that arises against it. The youth who were at the forefront of this organisation are as follows:
Maulvi Qamar-u-Din Sahib
Hafiz Bashir Ahmad Sahib
Maulana Zahoor Hussain Sahib
Maulana Ghulam Ahmad Farukh Sahib
Maulana Muhammad Siddiq Sahib (Librarian)
Maulana Muhammad Ahmad Jaleel Sahib
Hafiz Qudratullah Sahib
Maulvi Muhammad Yusuf Sahib
Maulana Muhammad Ahmad Jaleel Sahib
Choudhry Khalil Ahmad Nasir Sahib
These youth held an election to appoint the office-bearers of this organisation in their first meeting. During the election, the names were suggested first, followed by their approval. Respected Maulvi Qamar-u-Din Sahib was elected as the president and respected Mehboob Alam Khalid Sahib as the secretary which was later approved by Hazrat Khalifatul-Masih IIra on 4th February 1938.
The Organisation Being Referred to as Khuddamul Ahmadiyya
Since this organisation was being established with the permission of Hazrat Khalifatul Masih IIra, Huzoor was requested to provide a name for this organisation. Hence, respected Sheikh Mehboob Alam Khalid Sahib states:
"As I presented the report of the election, Huzoor took out a blue-coloured lined paper from the pad and wrote the words 'Khuddamul Ahmadiyya' with his blessed pen."
Respected Syed Mukhtar Ahmad Hashmi Sahib states that Huzoor also wrote down the date, 4th February 1938.
(Translated by Huzaifah Tahir, MKA UK Isha'at)