Prayers of Ramadan Should Continue Afterwards too
Translation of the final part of the Friday Sermon of Hazrat Khalifatul-Masih V (aba) delivered on 7 May 2021 at Islamabad, Tilford.
Published on May 7, 2021 at 4:49 pm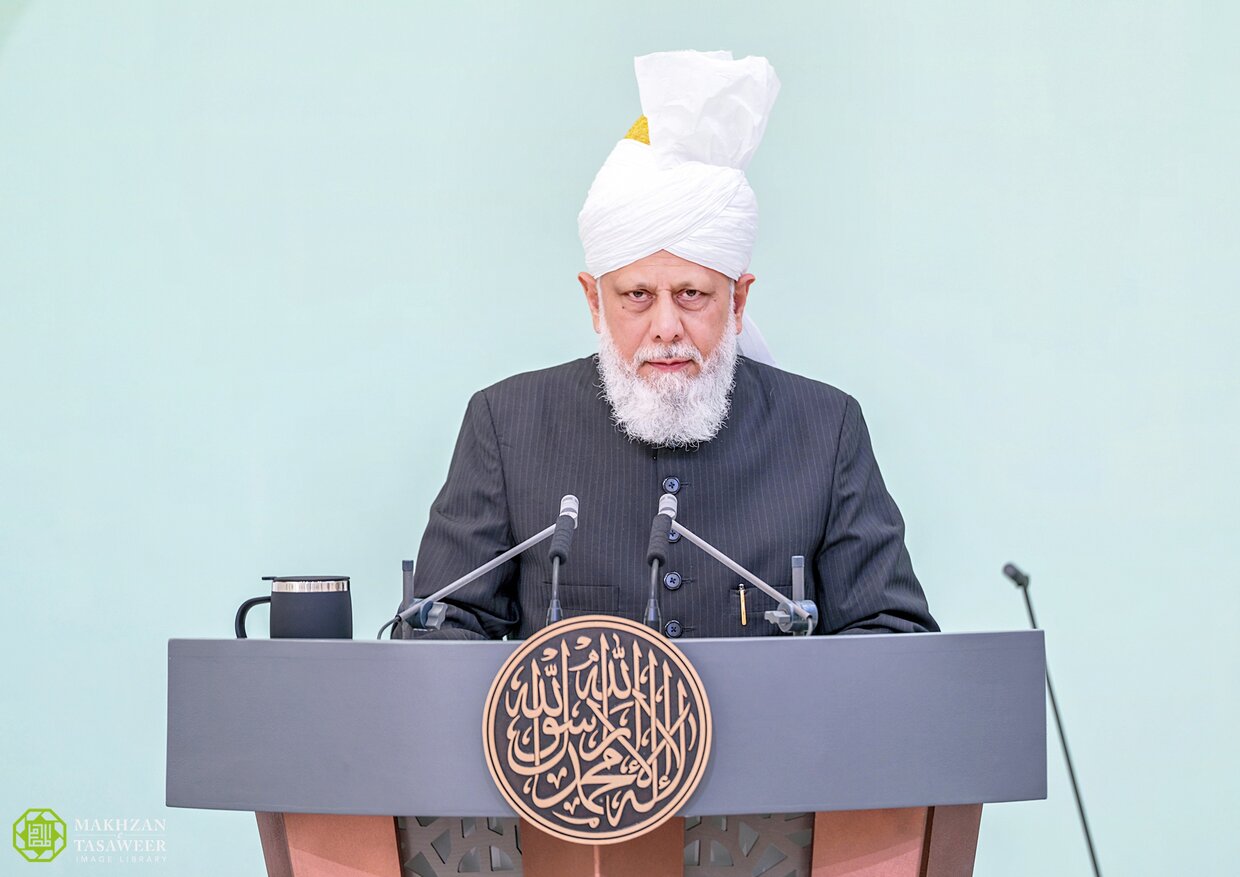 Towards the end of today's Friday Sermon, Hazrat Khalifatul-Masih V (aba) discussed the importance of continuing prayers after Ramadan so that we can safeguard ourselves and children from the evils of today's age. Huzoor (aba) stated:
"Now I wish to briefly direct everyone's attention towards the fact that today is the final Friday of Ramadan. This should not be taken as merely the final Jummu'ah of Ramadan, rather this Jummu'ah should be one which discloses for us new paths for the future. Those matters towards which we have inclined in Ramadan and those acts of virtue which have been practiced during it, we ought to continue after Ramadan—rather even progress in them. Otherwise, it is pointless for us to pass through Ramadan if we do not continue virtue, [uphold] moral progress, and further expand in it.
In the previous Friday Sermon, I directed attention towards Durood and Istighfar [seeking forgiveness]. That is something that should not remain limited to Ramadan alone, that as soon as Ramadan passes we indulge in worldly affairs in a way that we forget prayers and Istighfar. This is why I specifically mentioned that [Durood and Istighfar] is something we should continue forever.
In this age, when the schemes of the Dajjal are using new means, where the majority of the world has been taken into their fold, sometimes our youth and children fall under their influence. In such situation we certainly need prayers for ourselves. May Allah the Almighty safeguard us from these satanic and evil attacks. Ameen.
By attaching our children to ourselves, by fostering a deep connection with them, by creating a special bond with them, we need to tell them about Allah the Almighty and the beautiful teachings of Islam. Then after instilling complete certainty into the hearts of children, attach them with God Almighty in such a way that no deed of theirs, no action, no endeavour, no thought goes against the will of God Almighty and His teachings. They should have an answer to every worldly thought and disorder. It should not be the case that they do not know the answers to some matters and are influenced by them [rather] they should possess the answers through which they can save themselves from disorder. This is the only way to correct the lives of our children and an assurance of their safety. And this is the proper manner to safeguard our progenies from all types of disorders. However, this cannot be achieved until we ourselves attain lofty standards in our faith, until we attain the standard which should be the hallmark of a believer. This shall be possible when our relationship with God Almighty is strong, our prayers and our worship is of a high degree and we properly understand why we have undertaken the Bai'at of the Promised Messiahas. This is a huge responsibility which falls upon us, that by strengthening our faith, making steadfast our actions, we become the means of saving our progenies.
The amount of promiscuity and vain and evil matters that exist today have only perhaps existed before us. These evils have reached every household through the TV and internet. Before there was danger outside the home, now there is danger even inside. If children are watching something on their own, it cannot be said as to what they are watching. There is much need for caution.
The progenies of the elders—or the pioneer Ahmadis, or the progenies of those Ahmadis who undertook the Bai'at themselves and became part of this Community, who have accepted the Imam of the age and in order to safeguard their faith were prepared to make every sacrifice, and indeed they did—should remember that only if we keep our faith above worldly affairs and we keep our moral conditions before us, can we save ourselves and our children. No family—irrespective of which family it is, whether it is the family of pious elders or their children—can guarantee that Allah the Almighty shall certainly continue to bless them or shall be pleased with them. It is the practice of every individual which is needed to gain the pleasure of Allah the Almighty. It is our actions which shall save us. No relationship to anyone or family can save someone. It is for this reason that we should engage in prayers. We ought to keep a close eye on our religious shortcomings. We should pray for the spiritual progress of our children and progeny more than their worldly progress. We pray for worldly progress a lot, whereas we ought to be praying for spiritual progress much more. In the same way, those who have become Ahmadis themselves would also have to incline themselves and their thoughts onto this line of practice. It is only in such condition that we can survive and our children can survive too.
Thus, in the remaining days of Ramadan it is important to pray that may Allah the Almighty safeguard our faith and that of our children. May we spiritually progress. Even after Ramadan may the standards of our worship continue to increase. May we establish a firm relationship with God Almighty. May we be saved from falling to the plots and schemes of the Dajjal. Worldly comforts should not be our aim rather may Allah the Almighty bless us with those worldly and spiritual rewards which make us bow down before Him in a state of thankfulness and make us a complete worshipper.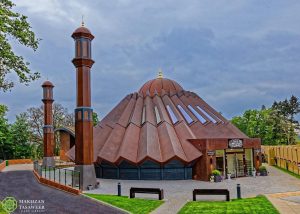 I also want to direct attention towards the pandemic which has taken hold of the entire world, that in order to be saved from this a lot of prayers are needed.
In the same way pray for those Ahmadis in countries where there is a lot of persecution and the lives of Ahmadis have been made difficult, may Allah the Almighty create ease for them. The Ahmadis of Pakistan should especially focus on Sadqah and charity in these days and afterwards as well. Inshallah these prayers shall render all the attacks of the enemy useless.
These prayers should be regularly recited:
رَبِّ کُلُّ شَیْءٍ خَادِمُکَ رَبِّ فَاحْفَظْنِیْ وَا نْصُرْنِیْ وَ ارْحَمْنِیْ
[O my Lord! Everything is Thy servant. O my Lord! Protect me and help me and have mercy on me.]
اَللّٰھُمَّ اِنَّا نَجْعَلُکَ فِیْ نُحُوْرِھِمْ وَ نَعُوْذُ بِکَ مِنْ شُرُوْرِھِمْ
[O Allah! We make Thee a shield against the enemies and seek Thy refuge from their evils.]
It should also be remembered that mere prayers are not beneficial. People write to me asking what prayers should be recited, till we do not properly observe our Prayers [Salat] there is no benefit in reciting prayers from the tongue. The way in which Prayers are observed in Ramadan should also continue afterwards, it is only then that we can absorb the grace and succour of God Almighty in the proper manner.
In the same way, pray to be saved from every trial. May the remaining few days [of Ramadan] pass with success and may we continue the virtues we adopted. Also remember the more we expand the circle of our prayers the more we shall be blessed. That is why every Ahmadi should pray for the difficulties of other Ahmadis to be removed. In this way, in a subtle way, an atmosphere of brotherhood and good relationships will be adopted. There will of course be a spiritual benefit but also a practical one too that more love and harmony will be created.
Pray for the Muslim Ummah too. The direction in which it is heading and the after rejecting the prophet of the age the way it is ruining itself, may Allah the Almighty safeguard it.
Pray for humanity as a whole, may Allah cause it to walk on the right path and enable it to be saved from the displeasure of Allah. Our task is to pray and to continue to pray during Ramadan and after it too. May Allah the Almighty enable all to do this."
Kicking Off the Year – Khadim Style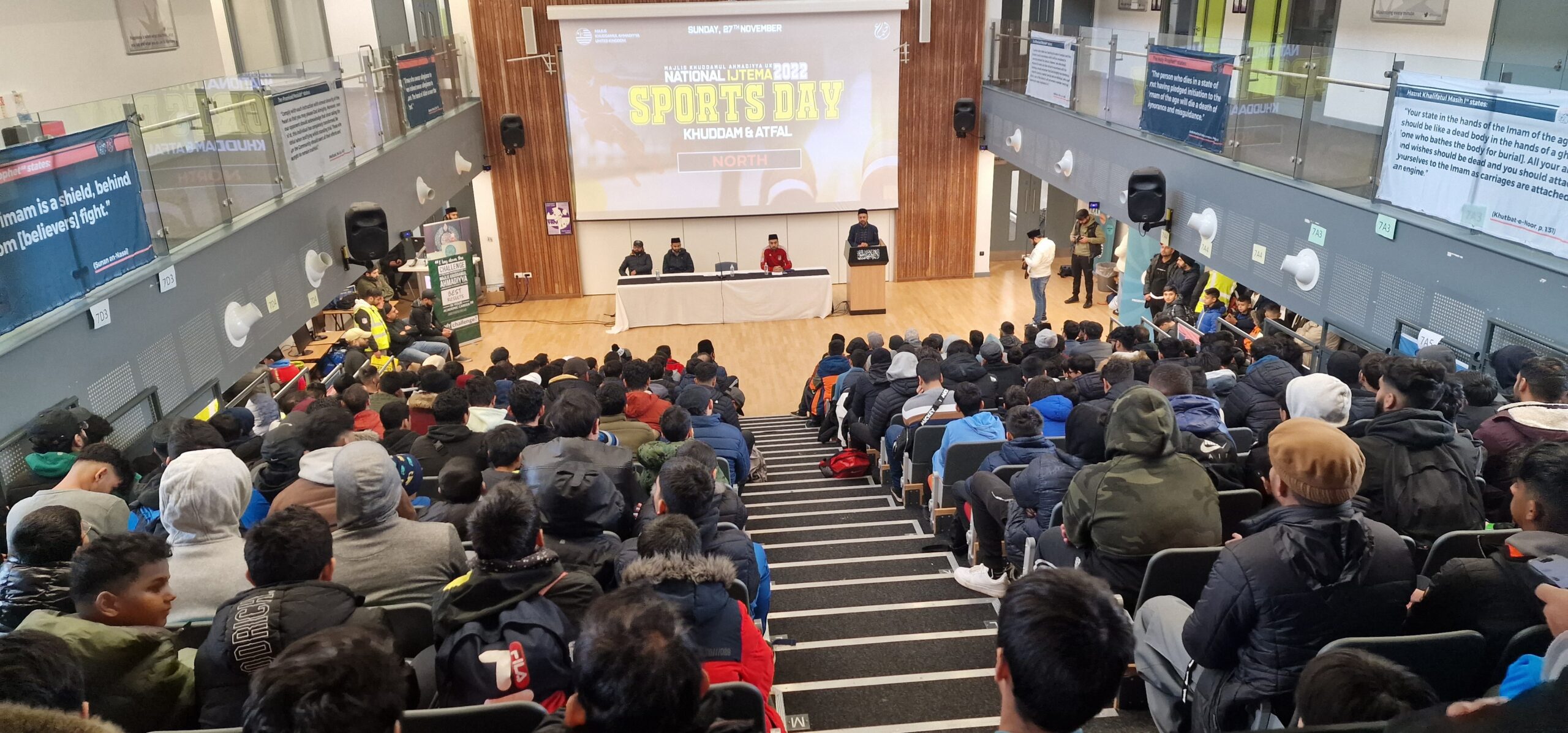 The National Ijtema Sports day for Northern Regions is currently underway in Bradford at Dixons Allerton Academy, and the Khuddam and Atfal present here are thoroughly enjoying all the activities and sessions that are taking place.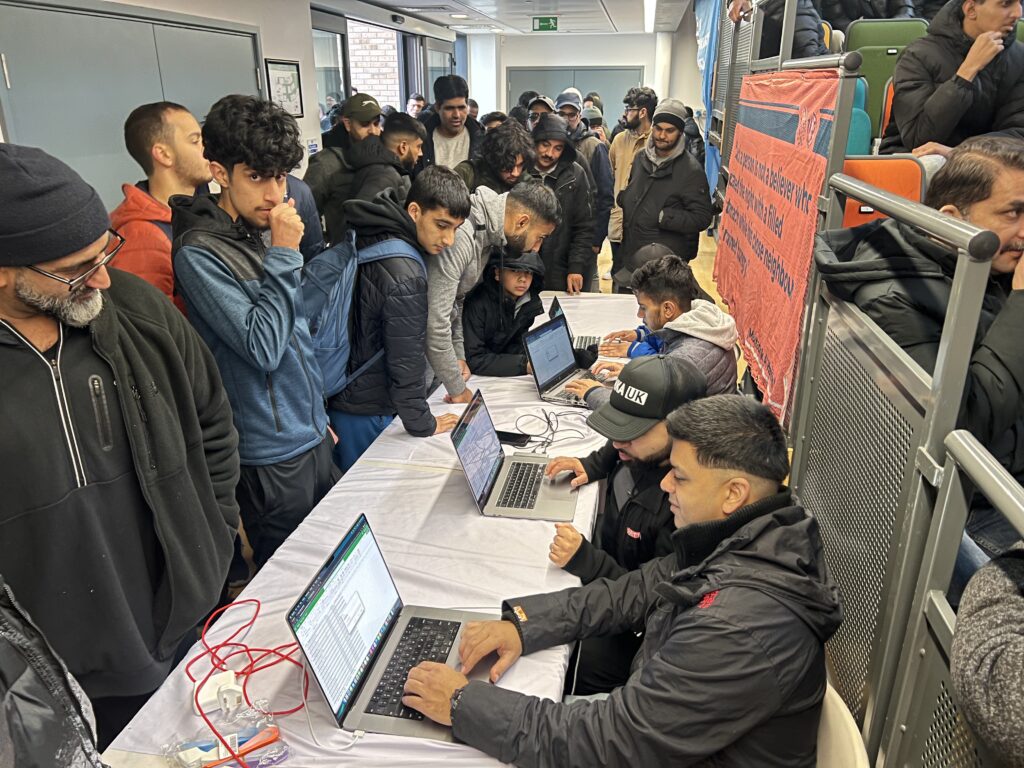 Majlis Khuddamul Ahmadiyya UK is holding this sports day on the instructions of Huzooraba after sports at the National Ijtema 2022 were cancelled due to the demise of Her Majesty Queen Elizabeth II as a mark of respect. Huzooraba instructed the Majlis that the sports that were due to take place at the Ijtema should be organised as soon as possible for the benefit of all Khuddam and Atfal that missed out. Subsequently, it was decided for the Majlis to hold 2 sports days – one for the northern regions (taking place today) and another for the southern regions (date to be announced).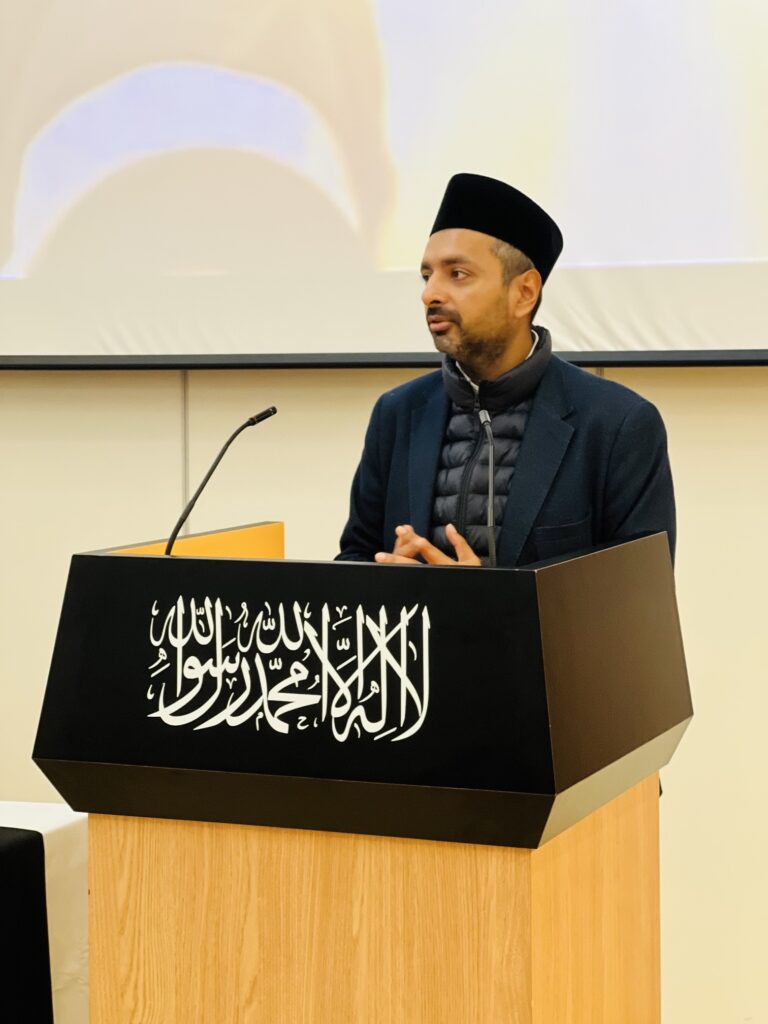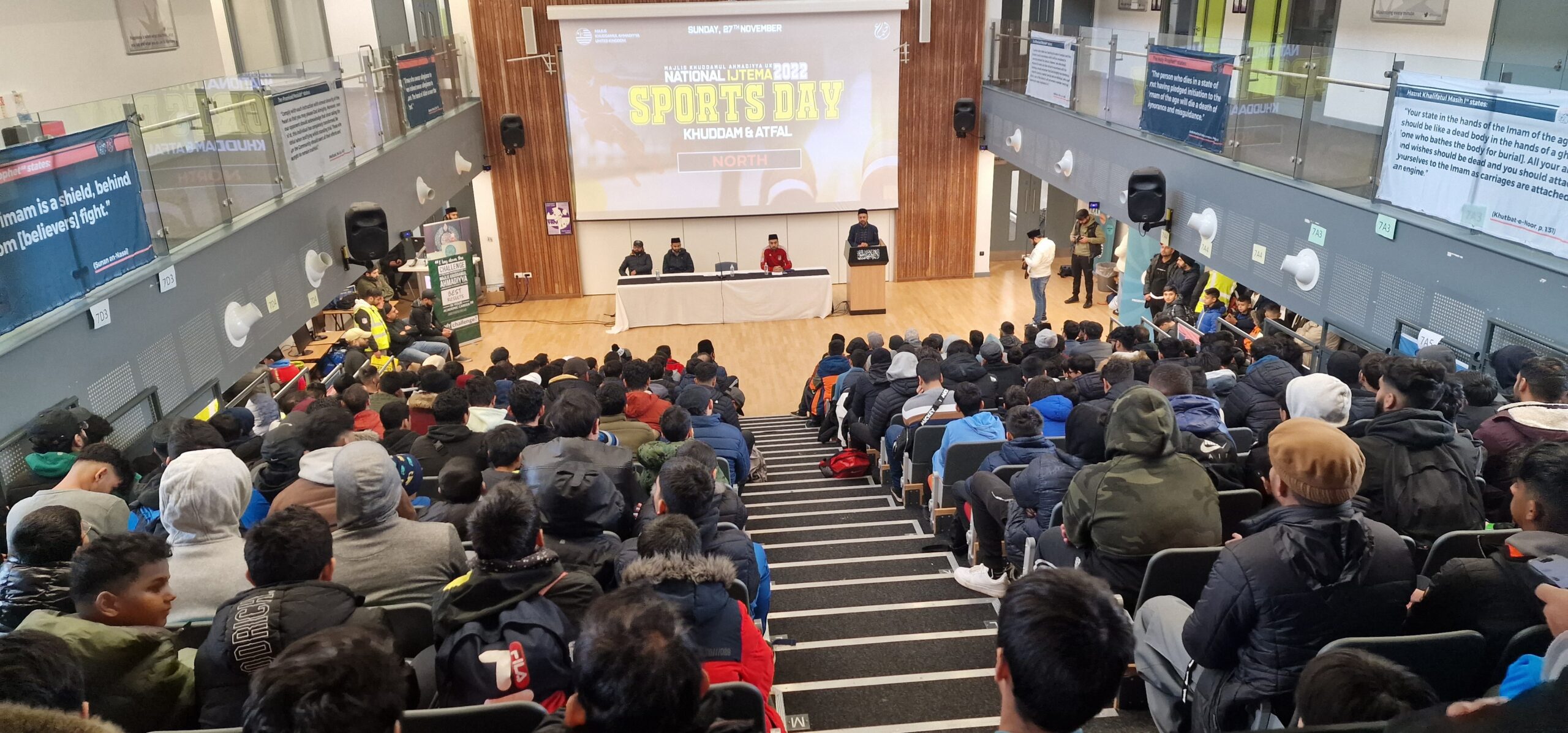 Registration started at 8am with Khuddam and Atfal arriving from all around the northern parts of the UK with breakfast served in the marquees set up onsite. The event started at 10am with an opening session chaired by the Nazime Ala Sahib Ijtema, Tariq Hayat Sahib. The plan for the day was announced by Mohtamim Sahib Sehate-Jismani, Abdur Rauf Lodhi Sahib.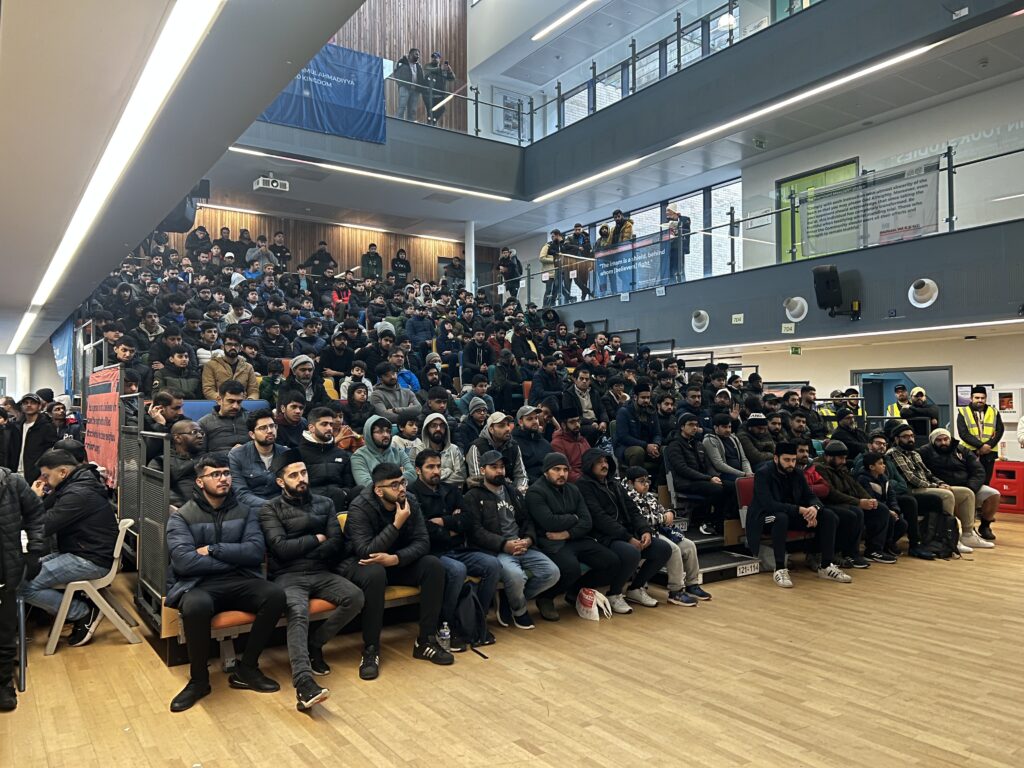 Football and Cricket for Khuddam and Atfal took place in grass fields and netball courts. Tarbiyyat 'Chit Chat Chai' were held at the auditorium, alongside outdoor and indoor sports, on topics such as relationships, the key to paradise, and working hard or hardly working. The first talk covered a wide range of questions in relation to how Khuddam should approach the idea of getting married, how to decide on the type of spouse that they desire, the qualities they should look for and the attitude they adopt going into the process.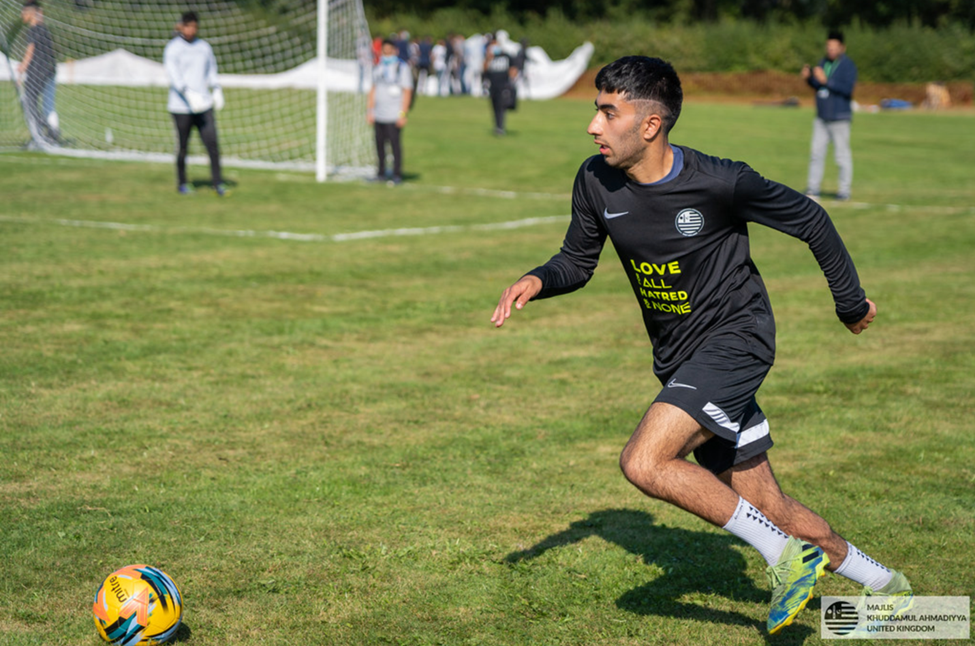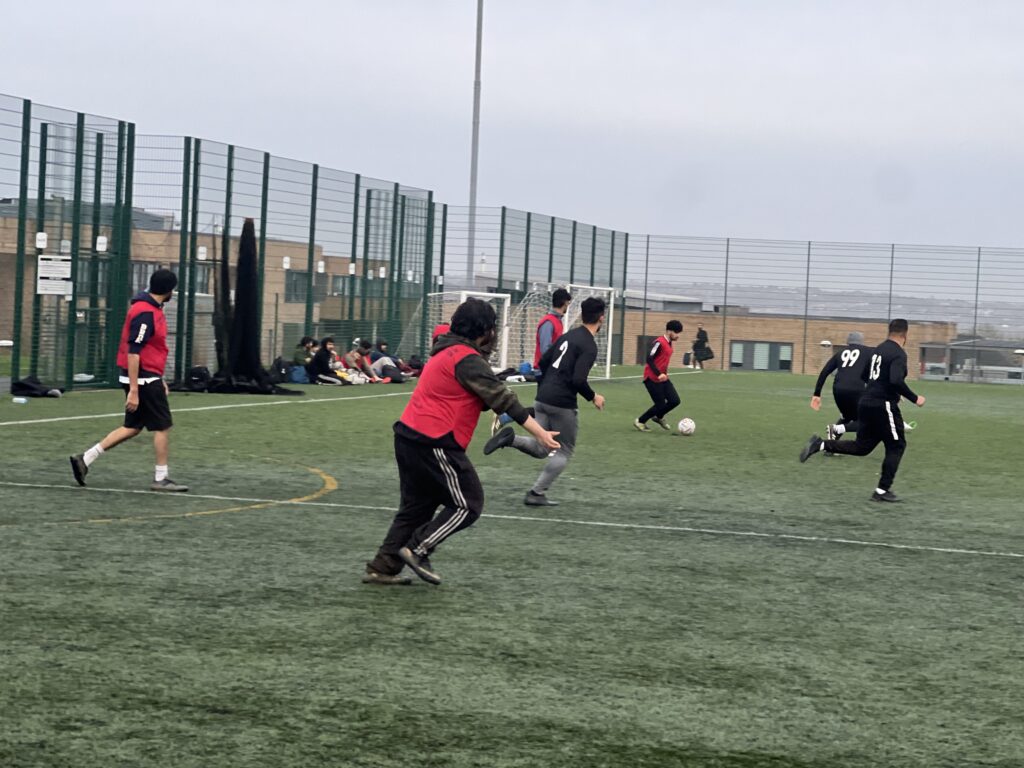 After Namaz-e-Zuhr and Ask a short Talqeen-e-Amal session took place which was on the topic of Namaz. This was followed by a continuation of sports. So far Khuddam and Atfal are finding this it to be a good opportunity to begin the year with an activity that binds the Majlis together in a spirit of brotherhood. The final session is due to take place after Maghrib Namaz, where winning teams will be given prizes by Sadr Majlis Khuddamul Ahmadiyya. The Khuddam and Atfal attendance at the Sports Day is 780, Alhamdulillah.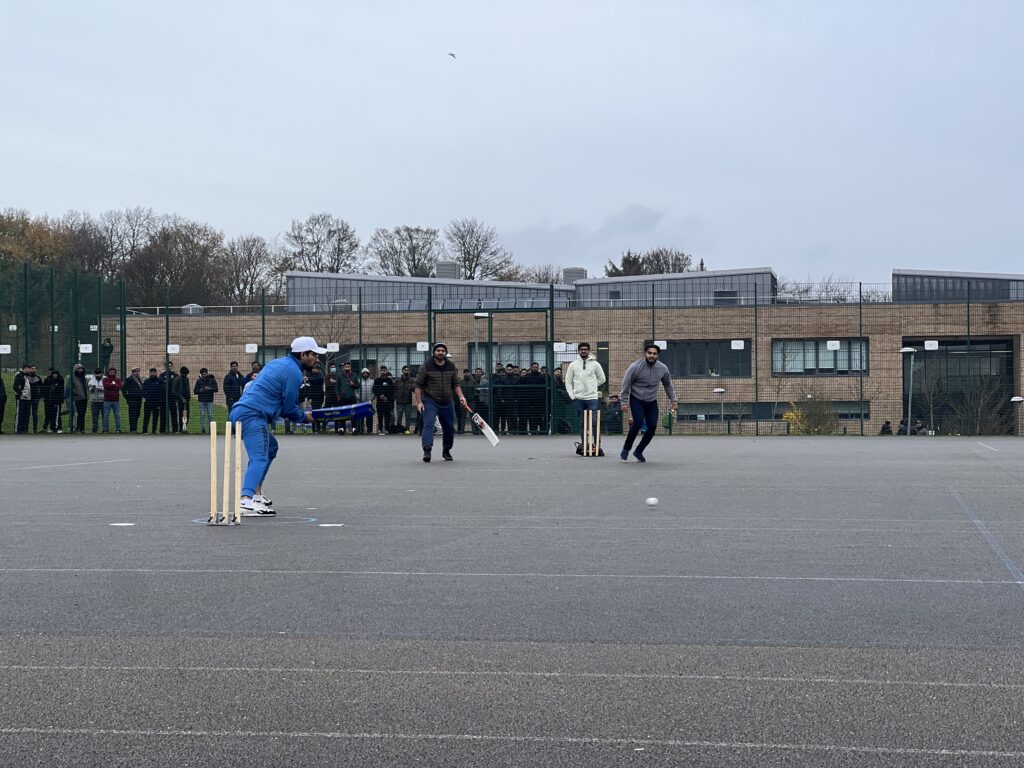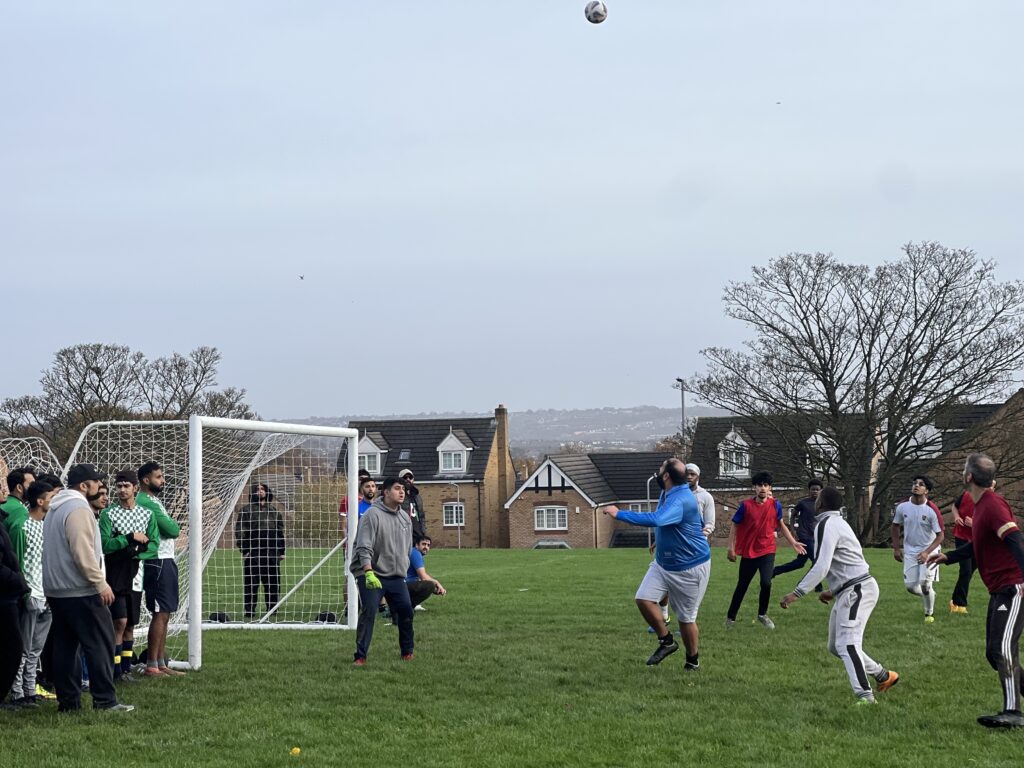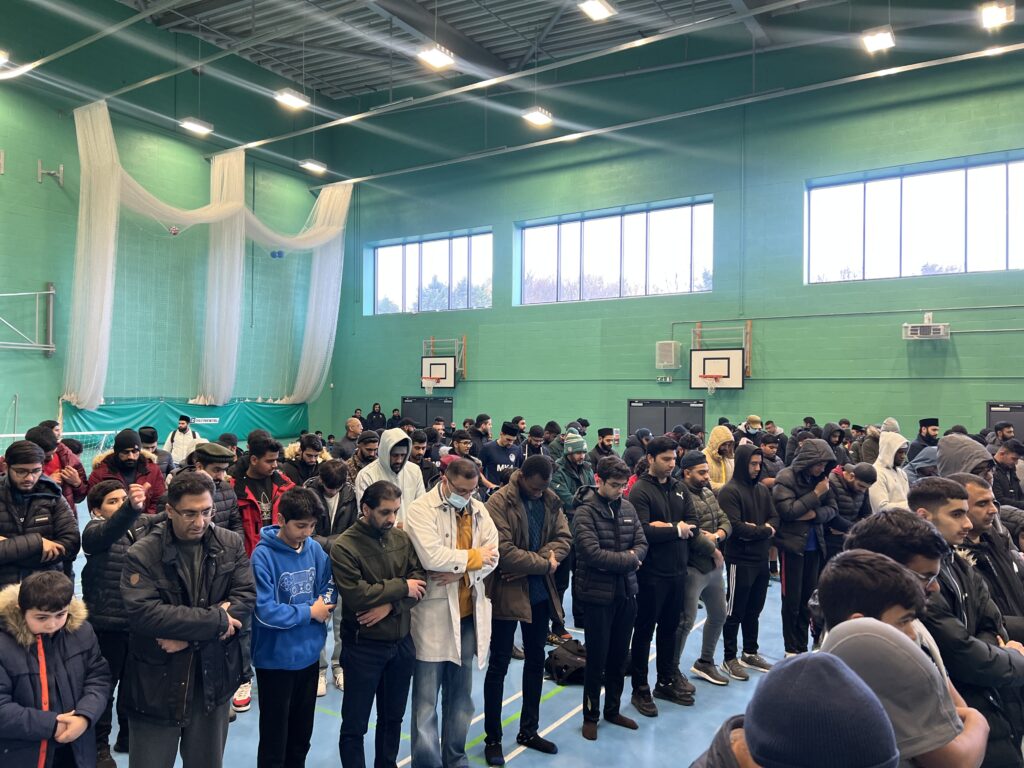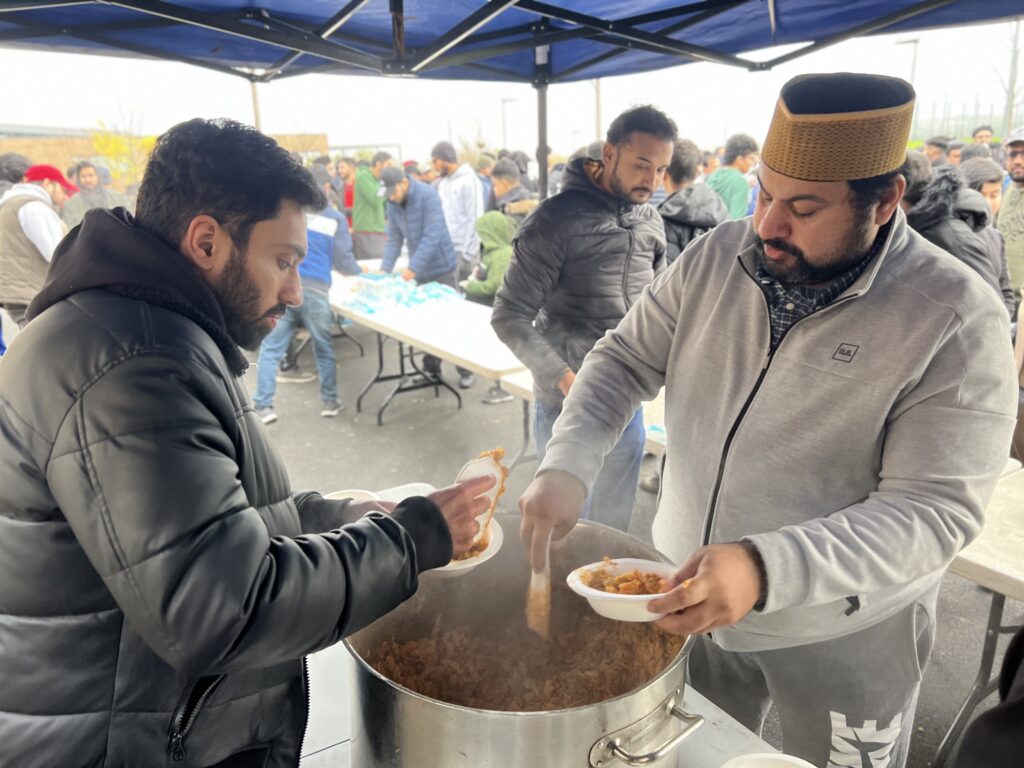 Here is some of the feedback from the Khuddam on today's event.
A Khadim form North West, Abdul Ghalib Sahib, said that "The event has been really good so far, I enjoyed coming together with Khuddam again after the sports were previously cancelled at the Ijtema due to the demise of the Queen". Another khadim, Waheed Ahmad, said that "It was good that Majlis has found a window to hold such an important event of the Khuddam year". Another khadim from Scotland said that "It is important for Ahmadi youth to come together, build a sense of togetherness and develop brotherhood."
Hazrat Khalifatul-Masih V Inaugurates Islamabad Convenience Store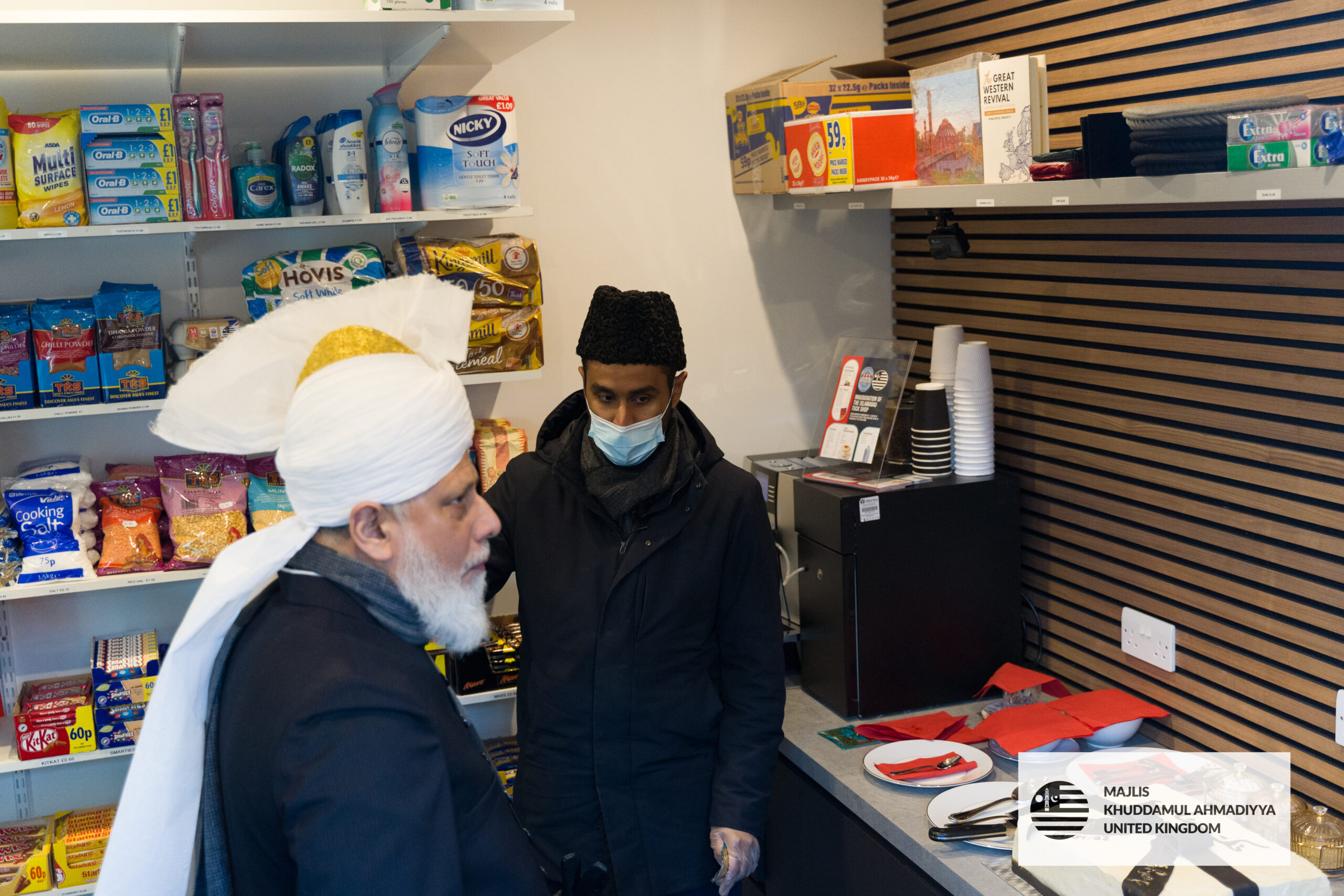 On the 1st of April 2022, after Asr Namaz, Hazrat Khalifatul-Masih V (aba) inaugurated the MKA Tuck Shop in Islamabad. Huzoor (aba) opened the Homeopathic Dispensary adjacent to the Tuck Shop before gracing the Khuddam store.  Huzoor (aba) unveiled a plaque and led everyone in silent prayer after which Sadr Majlis Khuddamul Ahmadiyya UK, Abdul Quddus Arif, Mohtamim Sanat-o-Tijarat, Umar Hassan, and Motamid Khuddamul Ahmadiyya UK, Nassar Bhatti, had the opportunity to show Huzoor (aba) the store and its wares.
Huzoor (aba) graced Khuddam with his precious time and distributed sweets to children who had gathered outside.
Immediately after Huzoor (aba) stepped outside the store, Huzoor (aba) was informed by Sadr Sahib about the Khuddam present with Huzoor (aba) speaking to a few as well. All those who had gathered were greatly  moved by Huzoor's presence.
This tuck shop will Insha'Allah serve as a small convenience store for the residents of Islamabad and visitors. The Homeopathy Dispensary has also opened alongside the MKA Tuck Shop.
Wars will Stop when the World Turns to the Promised Messiah Says Hazrat Khalifatul-Masih V
In today's Friday Sermon, Hazrat Khalifatul-Masih V (aba) once again reminded Ahmadis around the world to pray for an end to the current crisis.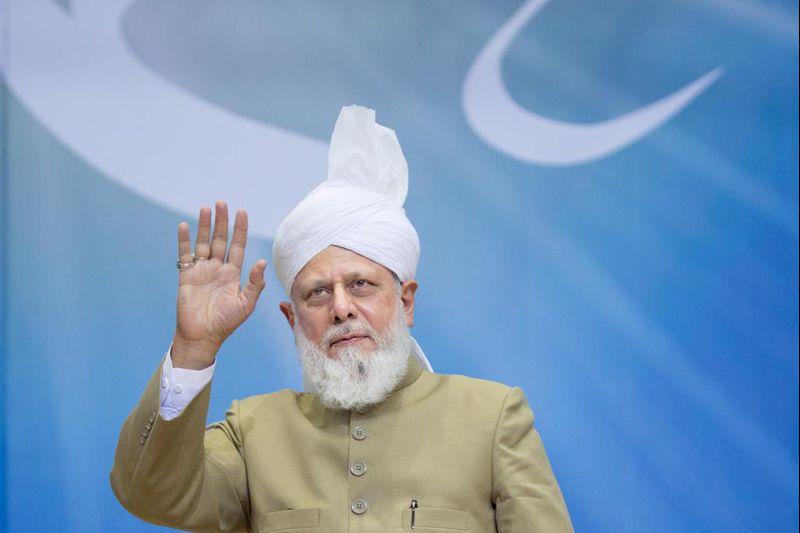 In today's Friday Sermon, Hazrat Khalifatul-Masih Vaba once again reminded Ahmadis around the world to pray for an end to the current crisis. Hazrat Khalifatul-Masih V stated:
Pray that Allah the Almighty grants both sides of the conflict proper understanding and they stop this murder of humanity. 
Huzooraba further commented that Muslims should learn from the unity that the West has displayed in condemning the war:
Muslims should learn from this war. The [West] has become united, yet Muslims, despite belonging to one creed, never unite. They had one country destroyed; Iraq was destroyed, Syria was destroyed, Yemen is being destroyed—they cause this destruction through outsiders and are doing it themselves too, instead of being united. At the very least the Muslims should learn, from the West, how to be united.
Huzoor reiterated his continuous message that there will only be peace in the world when the world accepts the Imam of the Age—the Promised Messiahas:
May Allah have mercy on these nations, the Muslim nations and on the Muslim Ummah. This can only happen however, when these people accept the Imam of the Age who has been sent for this very purpose.
May Allah grant them understanding, and where they [the Muslims] reform themselves may they also pray and use their means to stop the world from wars, rather than themselves become embroiled in them. 
Hazrat Khalifatul-Masih Vaba has been warning of an impending world crisis for a long time and has travelled the world spreading the message of the Promised Messiahas.