Precedence to Faith: A key to successful marriage
Published on March 26, 2021 at 7:40 pm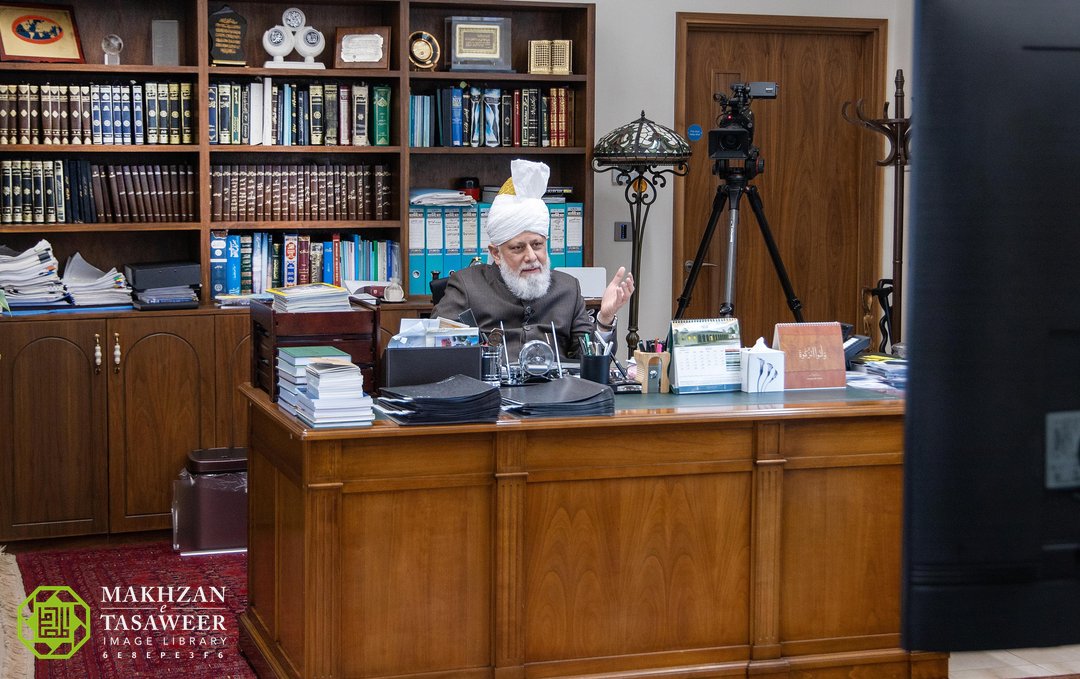 In This Week with Huzoor broadcasted by MTA on 12 March, Hazrat Mirza Masroor Ahmadaba presided over Virtual Amila Meetings with Majlis Ansarullah Australia and Majlis Khuddamul Ahmadiyya Nigeria. During the virtual meeting with Australia's Majlis Ansarullah, an office-bearer asked a question to Huzooraba on the topic of marriage.
Huzooraba was asked about increasing domestic issues and marriages breaking up despite of active departments of Rishta Nata, Islahi committee, Umur e Amma and Tarbiyyat. Some of these issues end up resulting in divorces and hence the rate of divorces is increasing.
Huzooraba gave a very clear and comprehensive response to this question and provided guidance to the office-bearers. Huzooraba mentioned that this issue is not related only to Australia, but this is an issue faced by the whole world. Huzooraba highlighted that he has addressed these issues several times in his Friday Sermons and especially in addresses to Lajna Imaillah (Ahmadiyya Muslim Women's Association). Huzooraba highlighted that he has provided guidance previously to Khuddam (Ahmadiyya Muslim Youth Association) and Ansar (Ahmadiyya Muslim Elders Association).
Huzooraba mentioned that the main reason for an increase in many divorces is that materialism and worldliness has increased, whilst people's level of patience and forbearance has become less. The fault lies on both sides, men and women. Huzooraba highlighted that though the couple take an oath to give precedence to faith over worldly matters, however, they do not heed to the saying of the Holy Prophetsa that when you seek matrimonial matches, faith should be given precedence over materialism, beauty and wealth.
The Holy Prophetsa said: "Some people marry for beauty, others for rank, and others for wealth; but you should marry a good and pious woman."
Huzooraba said that if people were to keep this in mind when getting in the matrimonial journey, there would be fewer problems and issues.
Huzooraba said: "The influence of materialism is also impacting our Ahmadi society". The world around us is distancing from leading a simple life. There has been an exponential growth and surge in materialism due to the impact of social media as well, which results in people setting very high worldly expectations from one another.
Huzooraba addressed the allegation made against Islam about arranged marriages and that the breakdown of a marriage is due to an incompatible match, this is not correct. This is due to a general increase in the divorce rate in the world and hence it is reflected in Jama'at as well.
As per the Office of the National Statics of England and Wales, there has been an increase of 18.4% of divorces between couples between 2018 and 2019.
Whilst discussing the topic of divorces and highlighting the importance of moral training Huzooraba highlighted the importance of ensuring moral upbringing and giving precedence to faith. Such precedence results in a successful marriage and this has been witnessed time and again. Those who marry by giving precedence to worldly matters end up facing issues. Huzooraba mentioned that it is true that there are some cases where the girls or boys are treated unjustly. In some cases, girls get married to boys settled aboard (in reference to Pakistan and India) but the intention is to somehow travel abroad and then they break off their marriage.
Huzooraba reminded the respective office bearers to work together to focus on the moral training of their members. The office bearers should remind the members that despite pledging to give precedence to faith over worldly objectives, yet people break this pledge. There is a decline in patience and forbearance in men and women.
In the end, Huzooraba mentioned that the most important thing is to improve the atmosphere inside the homes and instil these principles in the homes. All marriages should be done by praying and supplicating to Allah and not in haste. If we try sincerely these issues can be eliminated.
Kicking Off the Year – Khadim Style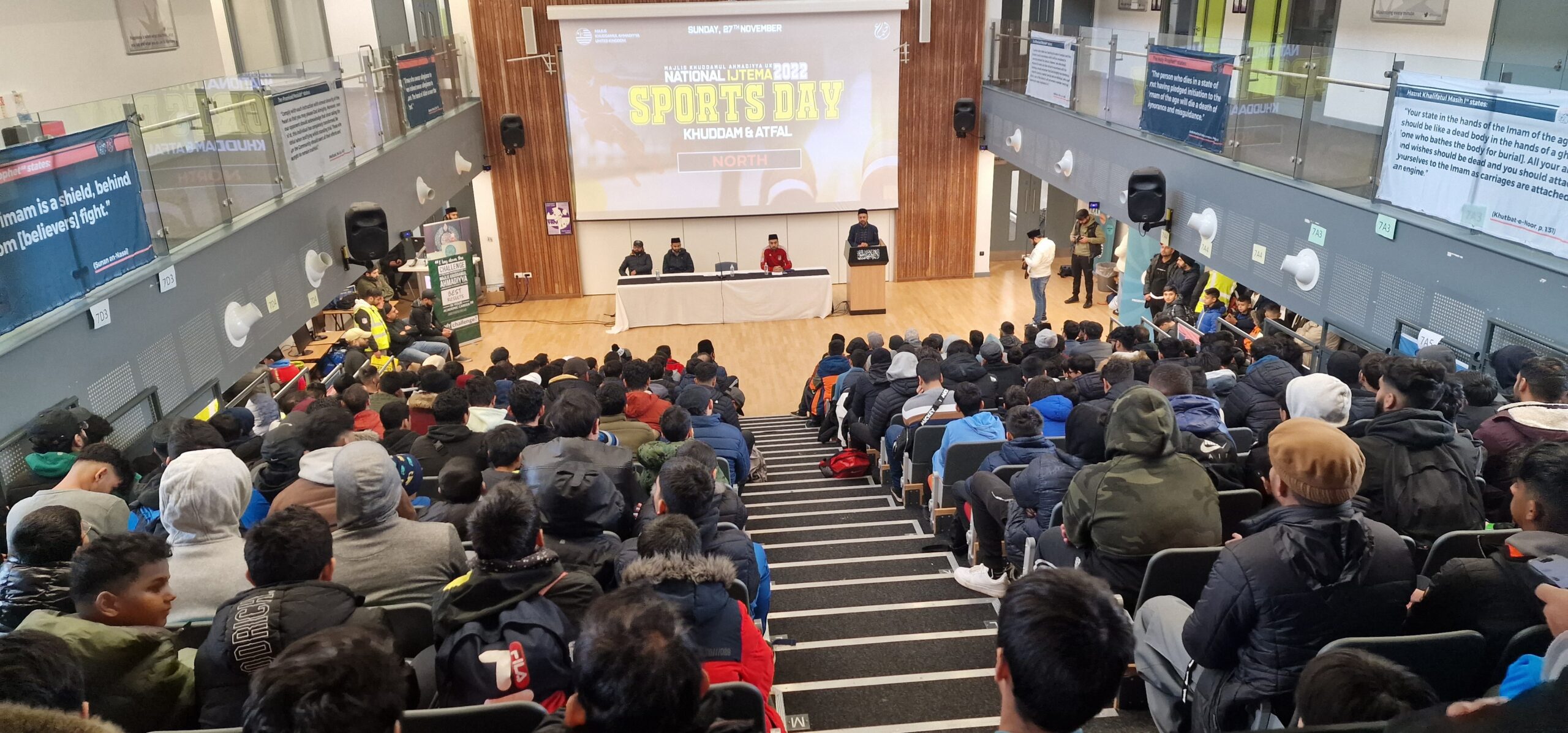 The National Ijtema Sports day for Northern Regions is currently underway in Bradford at Dixons Allerton Academy, and the Khuddam and Atfal present here are thoroughly enjoying all the activities and sessions that are taking place.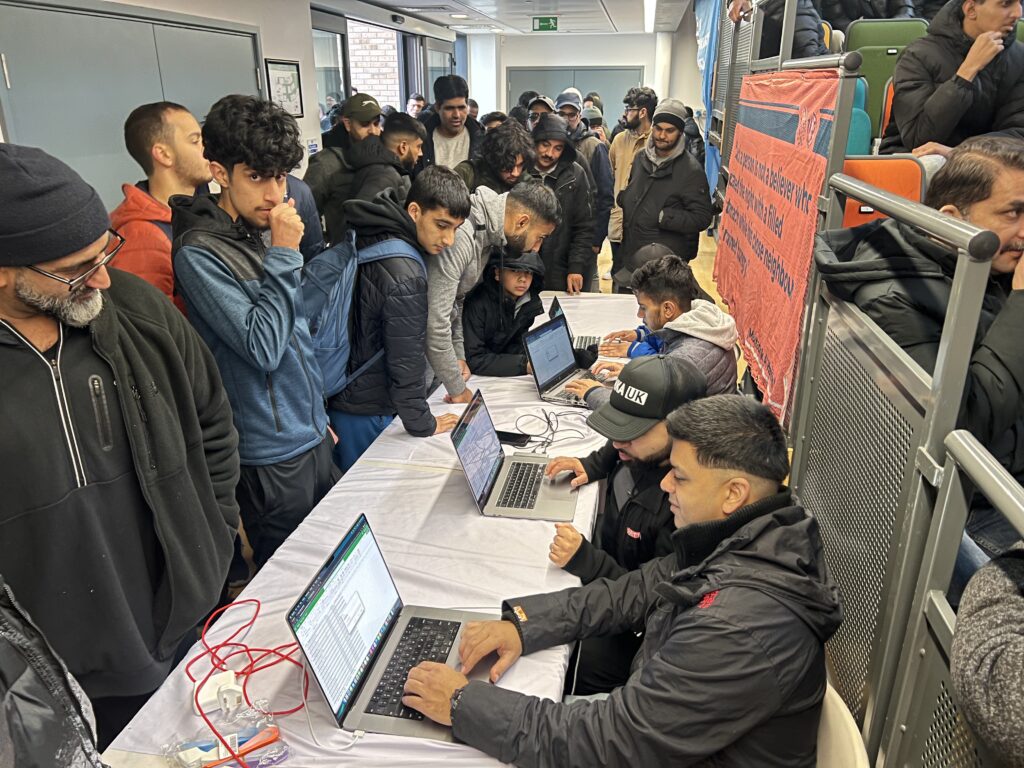 Majlis Khuddamul Ahmadiyya UK is holding this sports day on the instructions of Huzooraba after sports at the National Ijtema 2022 were cancelled due to the demise of Her Majesty Queen Elizabeth II as a mark of respect. Huzooraba instructed the Majlis that the sports that were due to take place at the Ijtema should be organised as soon as possible for the benefit of all Khuddam and Atfal that missed out. Subsequently, it was decided for the Majlis to hold 2 sports days – one for the northern regions (taking place today) and another for the southern regions (date to be announced).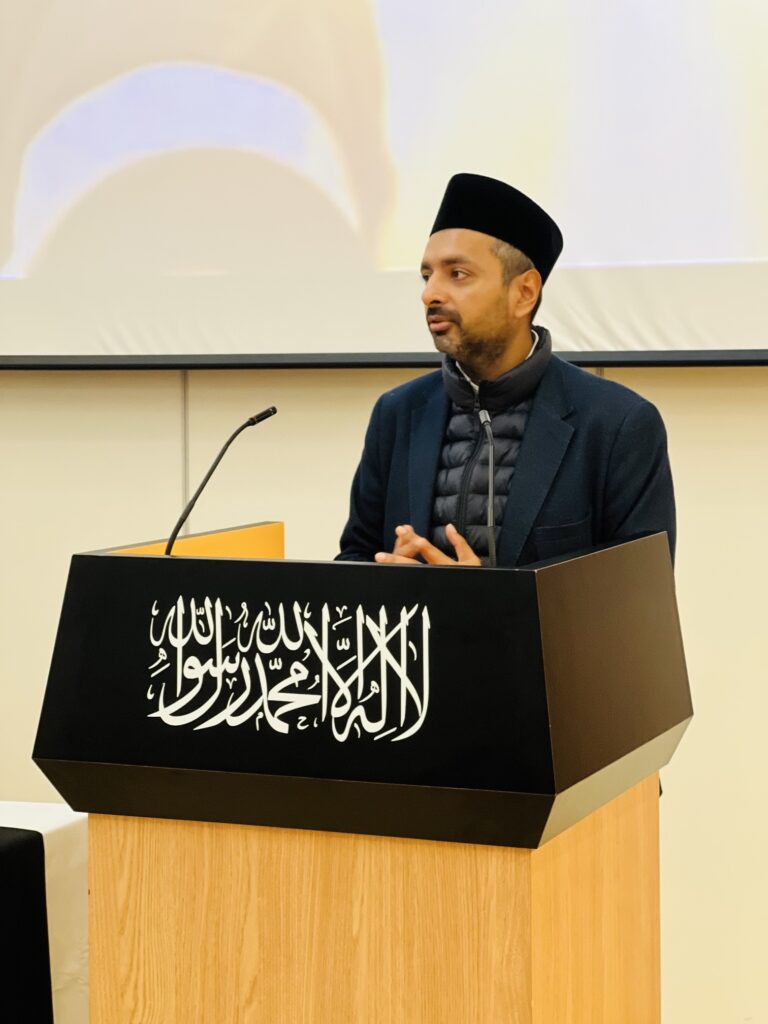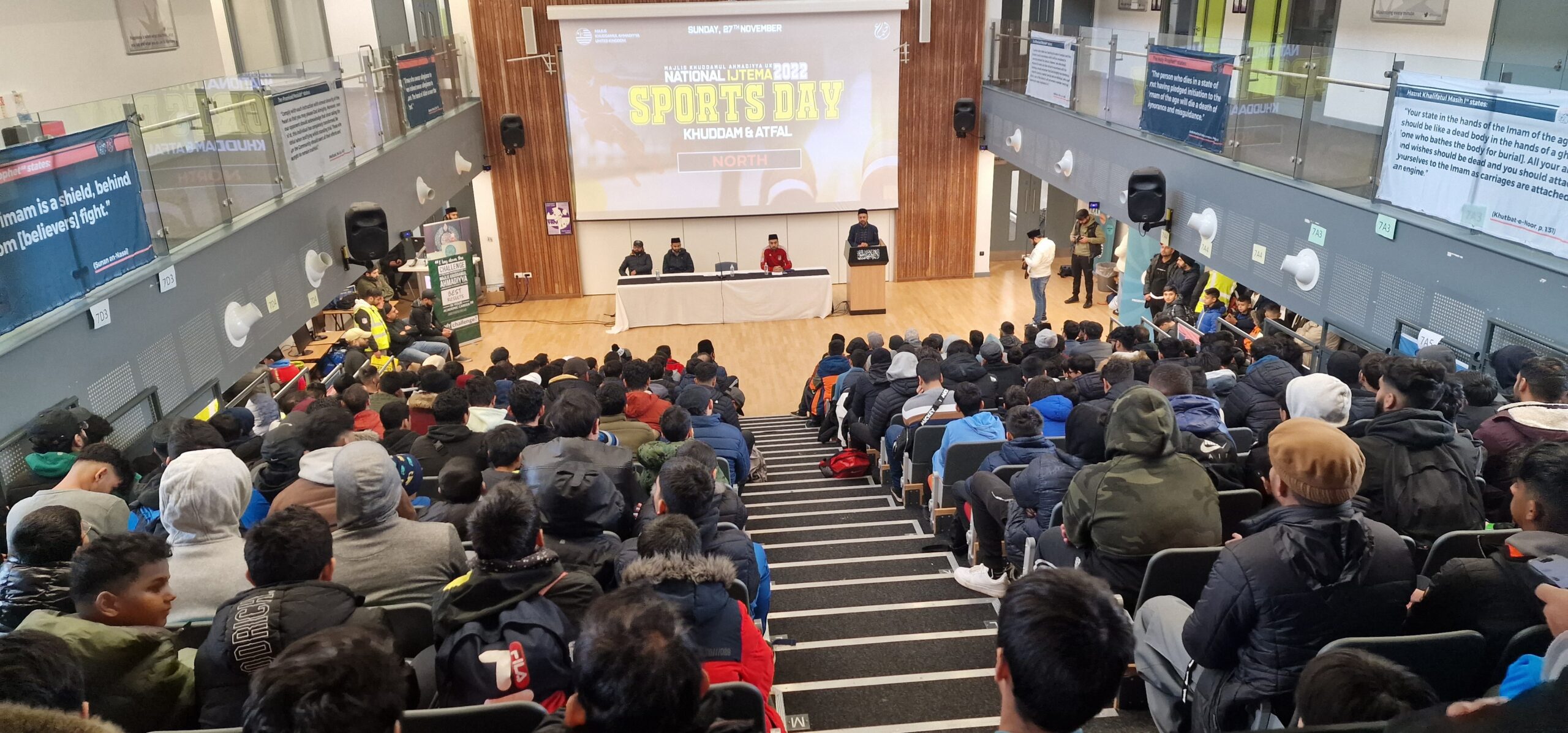 Registration started at 8am with Khuddam and Atfal arriving from all around the northern parts of the UK with breakfast served in the marquees set up onsite. The event started at 10am with an opening session chaired by the Nazime Ala Sahib Ijtema, Tariq Hayat Sahib. The plan for the day was announced by Mohtamim Sahib Sehate-Jismani, Abdur Rauf Lodhi Sahib.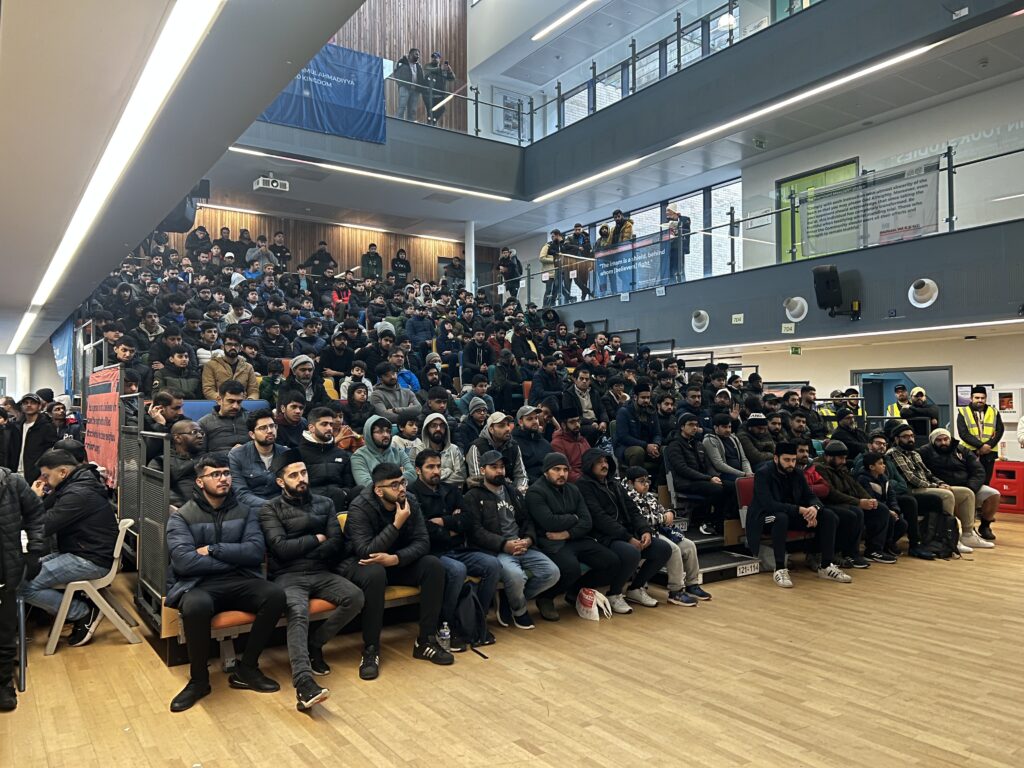 Football and Cricket for Khuddam and Atfal took place in grass fields and netball courts. Tarbiyyat 'Chit Chat Chai' were held at the auditorium, alongside outdoor and indoor sports, on topics such as relationships, the key to paradise, and working hard or hardly working. The first talk covered a wide range of questions in relation to how Khuddam should approach the idea of getting married, how to decide on the type of spouse that they desire, the qualities they should look for and the attitude they adopt going into the process.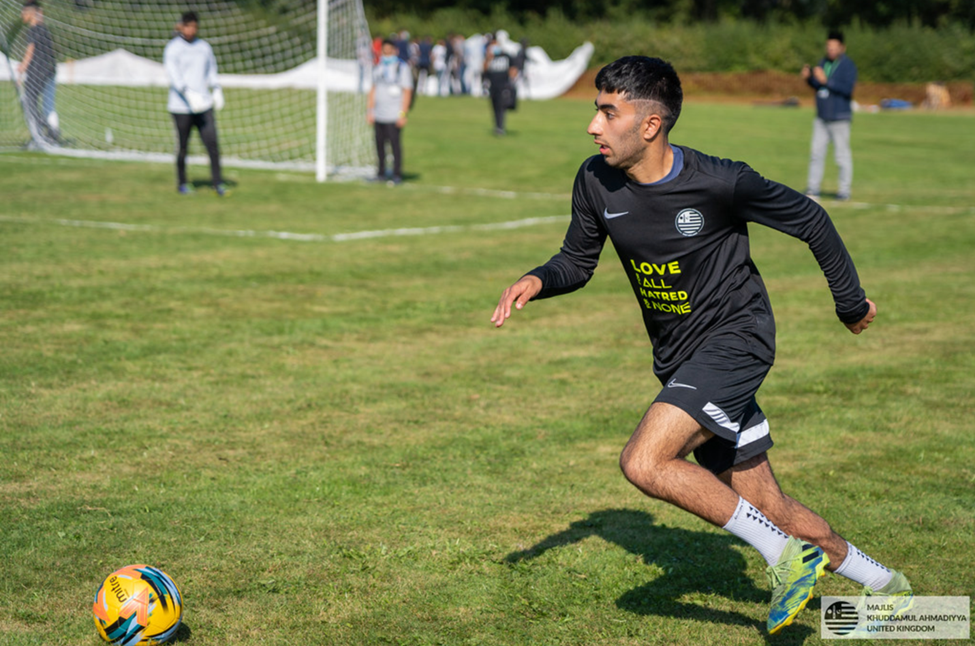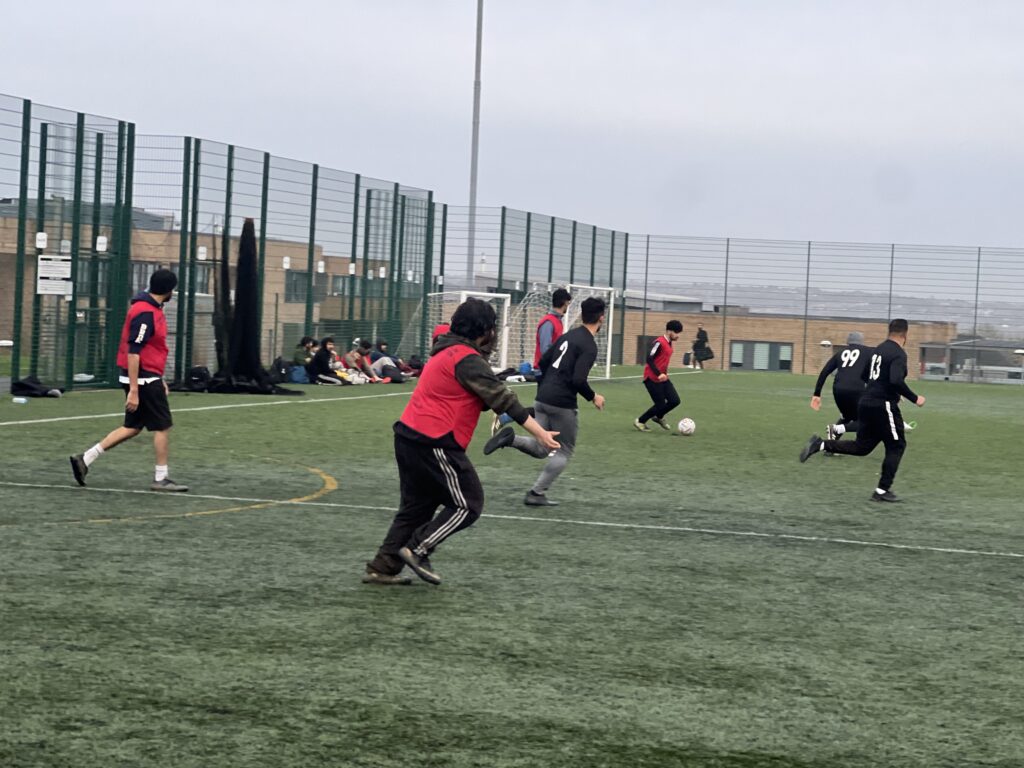 After Namaz-e-Zuhr and Ask a short Talqeen-e-Amal session took place which was on the topic of Namaz. This was followed by a continuation of sports. So far Khuddam and Atfal are finding this it to be a good opportunity to begin the year with an activity that binds the Majlis together in a spirit of brotherhood. The final session is due to take place after Maghrib Namaz, where winning teams will be given prizes by Sadr Majlis Khuddamul Ahmadiyya. The Khuddam and Atfal attendance at the Sports Day is 780, Alhamdulillah.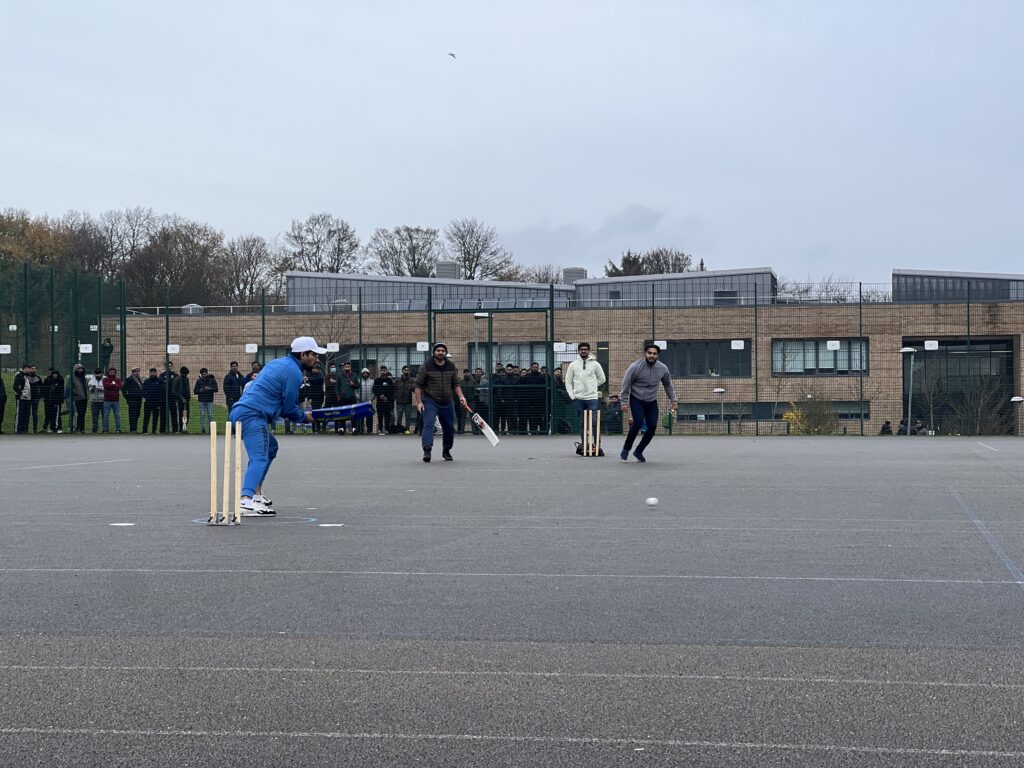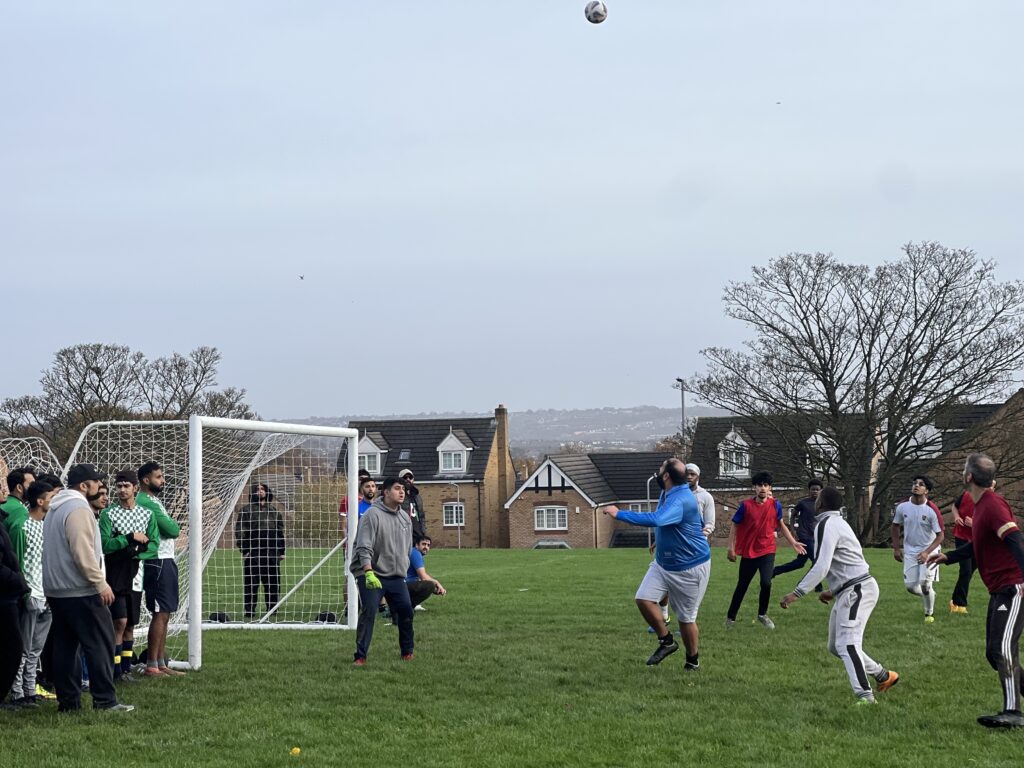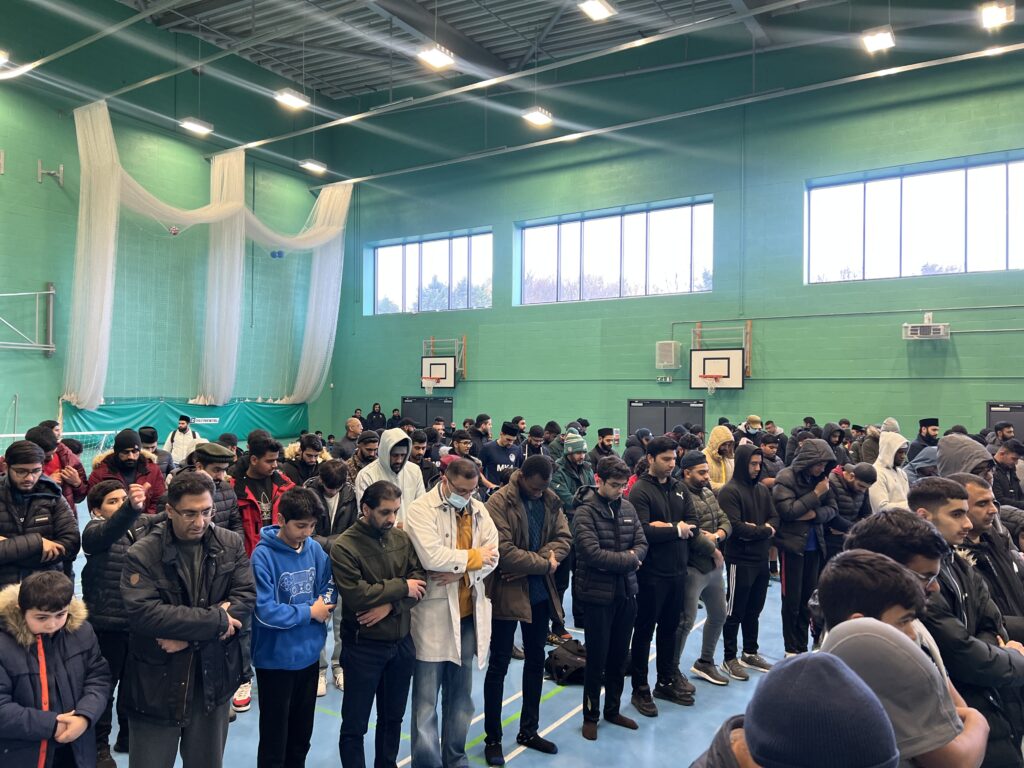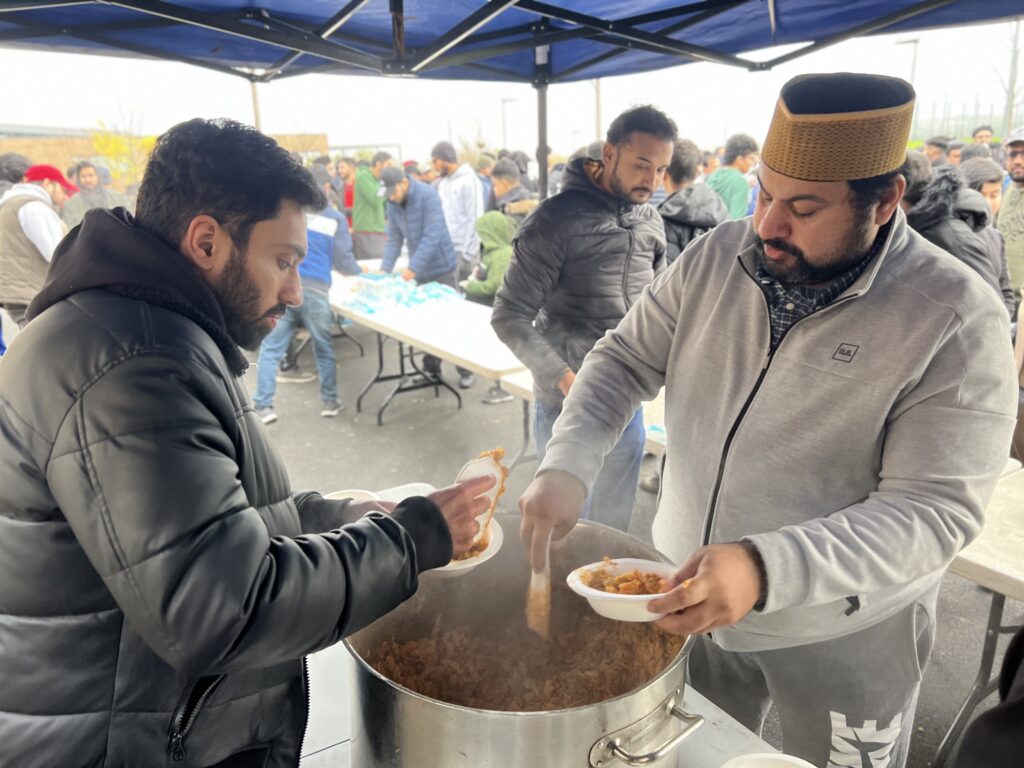 Here is some of the feedback from the Khuddam on today's event.
A Khadim form North West, Abdul Ghalib Sahib, said that "The event has been really good so far, I enjoyed coming together with Khuddam again after the sports were previously cancelled at the Ijtema due to the demise of the Queen". Another khadim, Waheed Ahmad, said that "It was good that Majlis has found a window to hold such an important event of the Khuddam year". Another khadim from Scotland said that "It is important for Ahmadi youth to come together, build a sense of togetherness and develop brotherhood."
Hazrat Khalifatul-Masih V Inaugurates Islamabad Convenience Store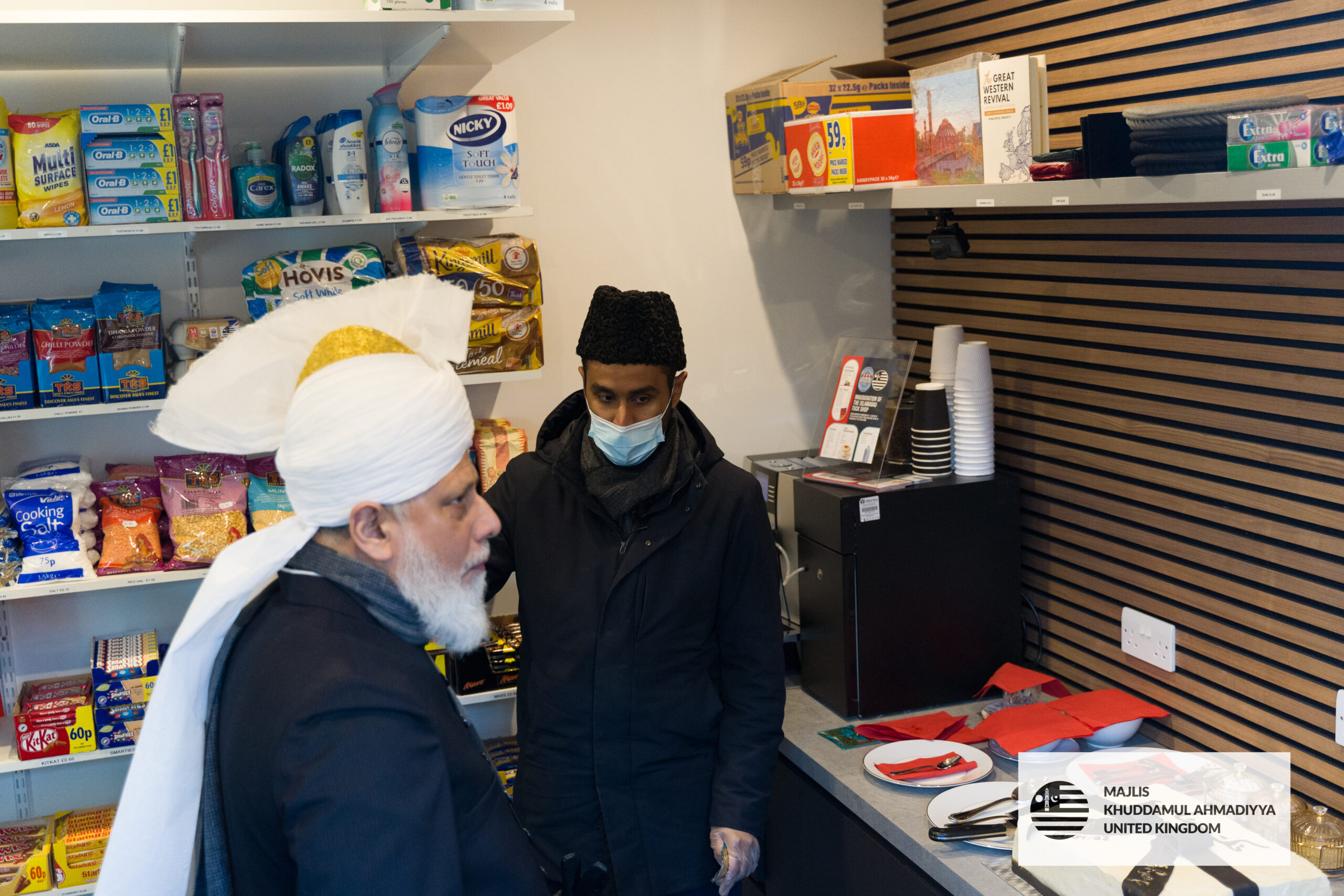 On the 1st of April 2022, after Asr Namaz, Hazrat Khalifatul-Masih V (aba) inaugurated the MKA Tuck Shop in Islamabad. Huzoor (aba) opened the Homeopathic Dispensary adjacent to the Tuck Shop before gracing the Khuddam store.  Huzoor (aba) unveiled a plaque and led everyone in silent prayer after which Sadr Majlis Khuddamul Ahmadiyya UK, Abdul Quddus Arif, Mohtamim Sanat-o-Tijarat, Umar Hassan, and Motamid Khuddamul Ahmadiyya UK, Nassar Bhatti, had the opportunity to show Huzoor (aba) the store and its wares.
Huzoor (aba) graced Khuddam with his precious time and distributed sweets to children who had gathered outside.
Immediately after Huzoor (aba) stepped outside the store, Huzoor (aba) was informed by Sadr Sahib about the Khuddam present with Huzoor (aba) speaking to a few as well. All those who had gathered were greatly  moved by Huzoor's presence.
This tuck shop will Insha'Allah serve as a small convenience store for the residents of Islamabad and visitors. The Homeopathy Dispensary has also opened alongside the MKA Tuck Shop.
Wars will Stop when the World Turns to the Promised Messiah Says Hazrat Khalifatul-Masih V
In today's Friday Sermon, Hazrat Khalifatul-Masih V (aba) once again reminded Ahmadis around the world to pray for an end to the current crisis.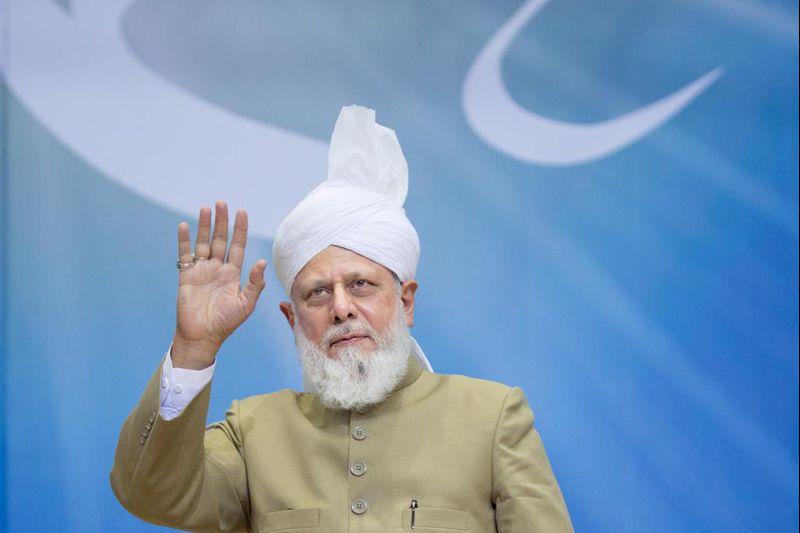 In today's Friday Sermon, Hazrat Khalifatul-Masih Vaba once again reminded Ahmadis around the world to pray for an end to the current crisis. Hazrat Khalifatul-Masih V stated:
Pray that Allah the Almighty grants both sides of the conflict proper understanding and they stop this murder of humanity. 
Huzooraba further commented that Muslims should learn from the unity that the West has displayed in condemning the war:
Muslims should learn from this war. The [West] has become united, yet Muslims, despite belonging to one creed, never unite. They had one country destroyed; Iraq was destroyed, Syria was destroyed, Yemen is being destroyed—they cause this destruction through outsiders and are doing it themselves too, instead of being united. At the very least the Muslims should learn, from the West, how to be united.
Huzoor reiterated his continuous message that there will only be peace in the world when the world accepts the Imam of the Age—the Promised Messiahas:
May Allah have mercy on these nations, the Muslim nations and on the Muslim Ummah. This can only happen however, when these people accept the Imam of the Age who has been sent for this very purpose.
May Allah grant them understanding, and where they [the Muslims] reform themselves may they also pray and use their means to stop the world from wars, rather than themselves become embroiled in them. 
Hazrat Khalifatul-Masih Vaba has been warning of an impending world crisis for a long time and has travelled the world spreading the message of the Promised Messiahas.