"Har Taraf Awaz Dena Hai Humara Kaam Aaj" Advises Hazrat Khalifatul-Masih V
Published on February 20, 2022 at 6:09 pm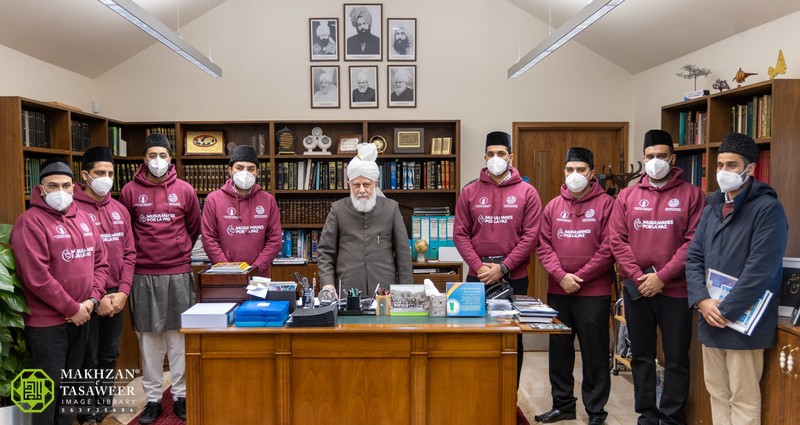 On Saturday 19 February 2022, a number of Khuddam from Majlis Khuddamul Ahmadiyya UK had the opportunity to meet Hazrat Khalifatul-Masih Vaba before embarking on a historic trip to Argentina. Their aim is to spread the word of the Promised Messiahas in Ushuaia, the world's southern-most city. These were the turn of events:
Saturday 19 February 2022
11:30- All the members taking part in the Tabligh trip to Argentina gathered in Islamabad, Tilford. A request for a send off congregational Dua from outside the office was submitted to Huzooraba a few weeks ago which beloved Huzooraba accepted. Due to bad weather, by the grace & mercy of Allah, we had the blessed opportunity to have a mulaqat instead, in Huzoor's office. Despite Huzoor's busy schedule, Huzooraba graced us with the opportunity to sit in his presence and listen to golden words of wisdom that would enable us to complete our mission successfully.
12:00- We humbly entered Huzoor's office and saw ahead of us our beloved Khalifah smiling. We said Assalamo Alaikum [Peace be upon you]. As we were entering, beloved Huzooraba asked Sadr Sahib Khuddamul Ahmadiyya UK, if he was also going to Argentina to which he replied that he was not.
After the introduction of all the members (Usman Ahmed, Hibat ul Mohsin Abid, Nassar Bhatti, Fatteen Anjum, Shahrukh Khan, Ataus Saboor Tahir Mateen and Faheem Nasir) going on the trip, Sadr Sahib informed Huzoor  that Usman Ahmed (Naib Sadr Khuddamul Ahmadiyya) is the Ameer-e-Qafla for the trip. Hibatul-Mohsin delivered a briefing about the trip and that we would be travelling to Ushuaia, the southern most city of the world. Huzooraba said that he knew about the trip as he had been receiving regular updates and reports.
Beloved Huzooraba asked who of us could speak Spanish. Hibatul-Mohsin answered no one, but we had tried learning some Spanish phrases to no great effect. He added that we would have the local Murrabi, Marwan Gill to help us.
Then Huzooraba pointed to the hoodie and said that you should at least know what is written on the hoodie. Beloved Huzooraba read what was written on it [Musulmanes Por La Paz] and said how do you say it and what does it mean.
Hibatul Mohsin said the translation was that it meant ''Muslims for Peace''.
Huzooraba said, you can get something recorded [in Spanish] and play it when giving a leaflet so the message is given out to people. Huzooraba then said that our job is to convey the message of Islam, it is up to people whether they choose to accept it or not.
Then Huzooraba said that with Dua, hard work is needed. We are supposed to work hard and with virtuous intentions.
Huzooraba added: "You are going for work [Tabligh]. You can do sightseeing later."
Then beloved Huzoor was smiling and very lovingly asked "Mujh se Kiya Chahte Ho?" (What do you desire from me).
Hibatul Mohsin Sahib requested if beloved Huzoor could give us guidance for this trip.
Huzooraba reminded us to place emphasis upon prayers, especially Nawafil, if we were on a Tabligh trip, and also engage in Zikr e Ilahi [Remembrance of Allah].
Sadr Sahib then requested Huzooraba to lead us in silent prayer. Huzooraba led us in Dua for a considerable time which showed the amount of prayers we were receiving from Huzooraba.
After finishing dua (silent prayers) Huzooraba quoted a couplet of the Promised Messiahas:
"It is our job today to convey the message,
Whoever possesses a pious disposition shall naturally incline towards us"
After this Huzooraba very lovingly and reminded us again of the instructions and guidance he provided earlier. Huzooraba re-emphasized the importance of dua.
During the whole course of the Mulaqat, Huzooraba had a beautiful smile upon his face.
Before the picture, Sadr Sahib informed Huzoor that Asef Hadi from MTA International has safely reached Argentina. Asef Hadi has been sent on this trip by Huzooraba to create an MTA documentary of this historic trip. Everyone had the blessed opportunity to have a picture with beloved Huzooraba.
We then left the room silently, full of emotion, and full of enthusiasm after having listened to such inspirational words from our Khalifah.
After the Mulaqat we headed towards London Heathrow and began a journey which we hope and pray will be both historic and blessed.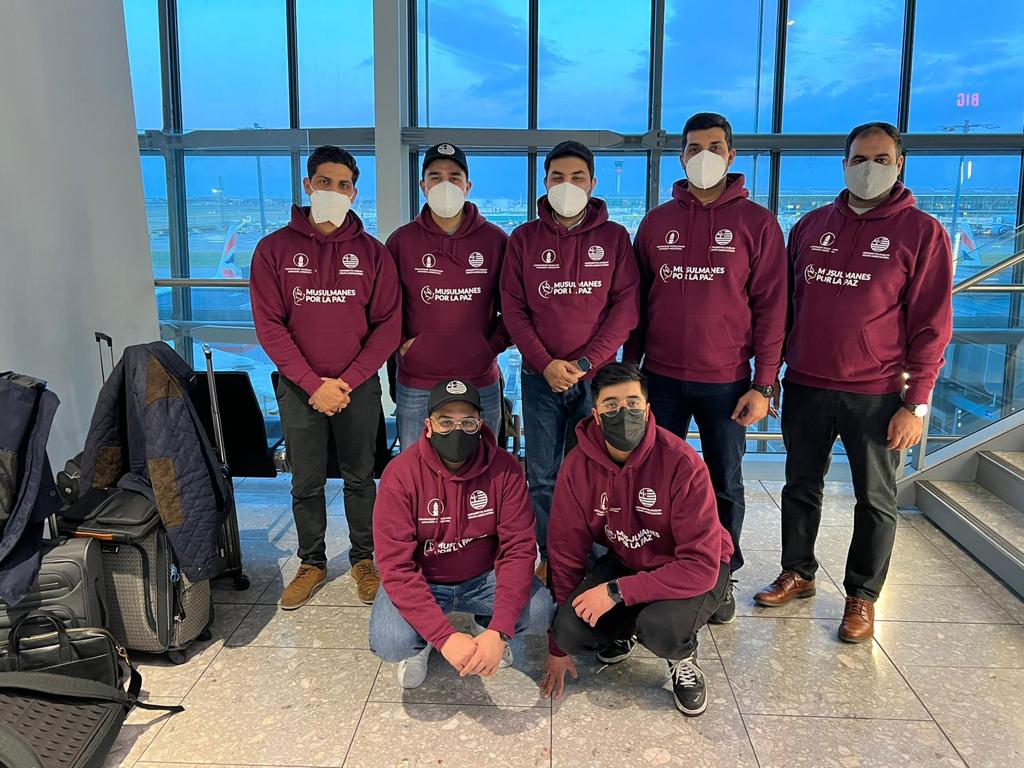 Day 2 – Khidmat-e-Khalq Trip to Poland/Ukraine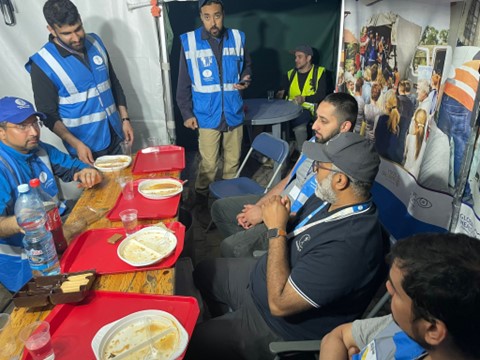 Monday, 9 May 2022
4.30am
Offered Fajr Namaz in congregation.
6.45am
We got ready to do some essential shopping for food preparation in the camp and for the accommodation before driving to The Camp at 8am.
8,00am
Cleaned and set up our campsite. Three of the team, Akbar Butt Sahib, Mohammad Malas Sahib and Jamil Bhatti Sahib, were in the kitchen preparing breakfast and lunch, and cleaning the kitchen area.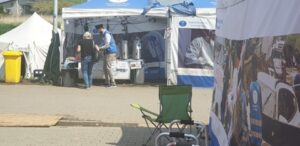 Fatten Anjum Sahib overlooked the food stall serving hot beverages and breakfast. For breakfast, 50 doughnuts and 40 sandwiches were served.
Qammar Sethi Sahib and Shahmeer Baloch Sahib offered assistance for the American Waqf-e-Arzi team with clearing out some equipment and medicine which needed to be sent to Ukraine.
We have noticed that whenever we are serving something to someone or are interacting, we are observed by the people around us very closely. Everyone has a close eye on us.
A few of us also had a chance to speak to people around us; a Khadim was wearing a 'Jinnah' cap whilst serving, so a volunteer worker from a camp in Ukraine approached him and asked him regarding the 'Jinnah' cap if it's connected to Islam. The Khadim answered that in Islam we must cover our heads for prayers and the 'Jinnah' cap is just formal cap worn in Pakistan. The volunteer really liked the cap.
One Khadim was serving coffee to someone. The person was very happy about the Khadim's work so he started sharing stories and showing pictures of his volunteer work in this crisis.
Another Khadim was approached by a lady who is also a volunteer from an Israeli camp. She was asking where we guys are from. The Khadim told her that the camp is originally from the Humanity First team from Germany and six of us have come from the UK as volunteers to help. She also asked from what community we are from and was very keen to learn about Ahmadiyyat which she never heard about before. She also said that she will search for Ahmadis in Kababir and wants to learn more about the blessed movement.
3.30pm
Lunch was served to everyone; approximately 50 plates of warm food (Rice and Chickpeas Salan) were served.
Two Ukrainian families, which included some medical patients, were helped in crossing the border to Poland.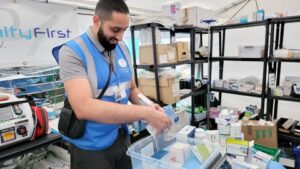 Mohtamim Khidmat-e-Khalq Akbar Butt Sahib placed all the medicine in the medical tent in their respective order and also checked to see if they are still useable.
The Israeli medical camp also brought a patient to our medical tent for treatment. This shows how the blessings of Allah have been showering on us this whole time.
6.30pm
A lady came to drink 'Chai' (tea) who is working for a different medical team further ahead within the camp. She asked us regarding Humanity First. Two Khuddam introduced Humanity First to her, so she expressed her desire to help the Humanity First medical team instead. This shows how the blessings of Allah come in such mysterious ways. Who knew that Chai would attract that many people towards the Humanity First camp and learn more about Humanity First and our beautiful teachings of Islam?
Throughout the day, a lot of refugees were helped by us carrying their heavy bags to either the border or from the border to the refugee bus station.
At the end of the day, we served 600 cups of coffee and 350 cups of Chai.
We also helped with the construction of a mosque on the campsite.
9.30pm
After Maghrib & Isha Namaz, we had a talk with Athar Zubair Sahib about the guidance he has received from beloved Huzoor (aba) throughout his time serving for the Jama'at. One piece of advice he gave us was that we should keep our hearts clean and keep doing 'Taubah' (repentance for our sins) and 'Istighfar' (seeking forgiveness).
Day 1 – Khidmat-e-Khalq Trip to Poland/Ukraine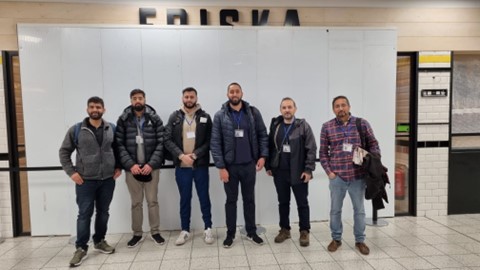 Sunday, 8th May 2022
By the Grace of Allah, Majlis Khuddamul Ahmadiyya UK has been given the blessed opportunity to provide assistance with humanitarian work in the camp set up by Humanity First Germany in Medyka – located on the Poland/Ukraine border.
6.00am
The journey started from Luton, with everyone gathered at Mohtamim Khidmat-e-Khalq Akbar Butt Sahib's parents' house. It started journey with Dua (silent prayer), before two Khuddam from Luton Jama'at dropped us off at the Luton Airport.
12.00pm
Arrived at Kraków Airport where we collected our luggage. After collecting car keys for the hired cars, we drove to the Humanity First camp site.
Near the border we saw for approx. 10 kilometres thousands of cars, vans and trucks in a queue to cross the borders back to Ukraine, due to the ongoing crisis occurring in the nation.
5.00pm
We met up with Muhammad Athar Zubair Sahib who is the in-charge of the Humanity First Camp. He briefed us on what to expect, what the situation is and what our work will be like for this week.
He also shared a few incidents how Allah the Almighty has been blessing this scheme since the beginning. How all difficult situations have turned into blessings after praying to Allah and requesting beloved Huzoor (aba) for prayers.
6.00pm 
Jamil Bhatti Sahib, who is serving as Regional Qaid for Baitul Ehsan Region, was given the duty of cooking the food provision. He was briefed on this by the individual previously in-charge.
We were then given a tour of the site and where all our belongings are stored if needed.
8.00pm
Our team familiarised themselves with the people around us and began to start working at different stations in the camp which consisted of handing out hot beverages, hot food and helping people carry their luggage to the border.
10.00pm
Offered Namaz (Islamic prayer) in congregation before coming to the accommodation to rest. After setting up our sleeping places, we had a short briefing about what we had done today and what improvements should be made for tomorrow.
Day 4: Argentina Tabligh Trip — Masses moved by the Photo of the Promised Messiah (as)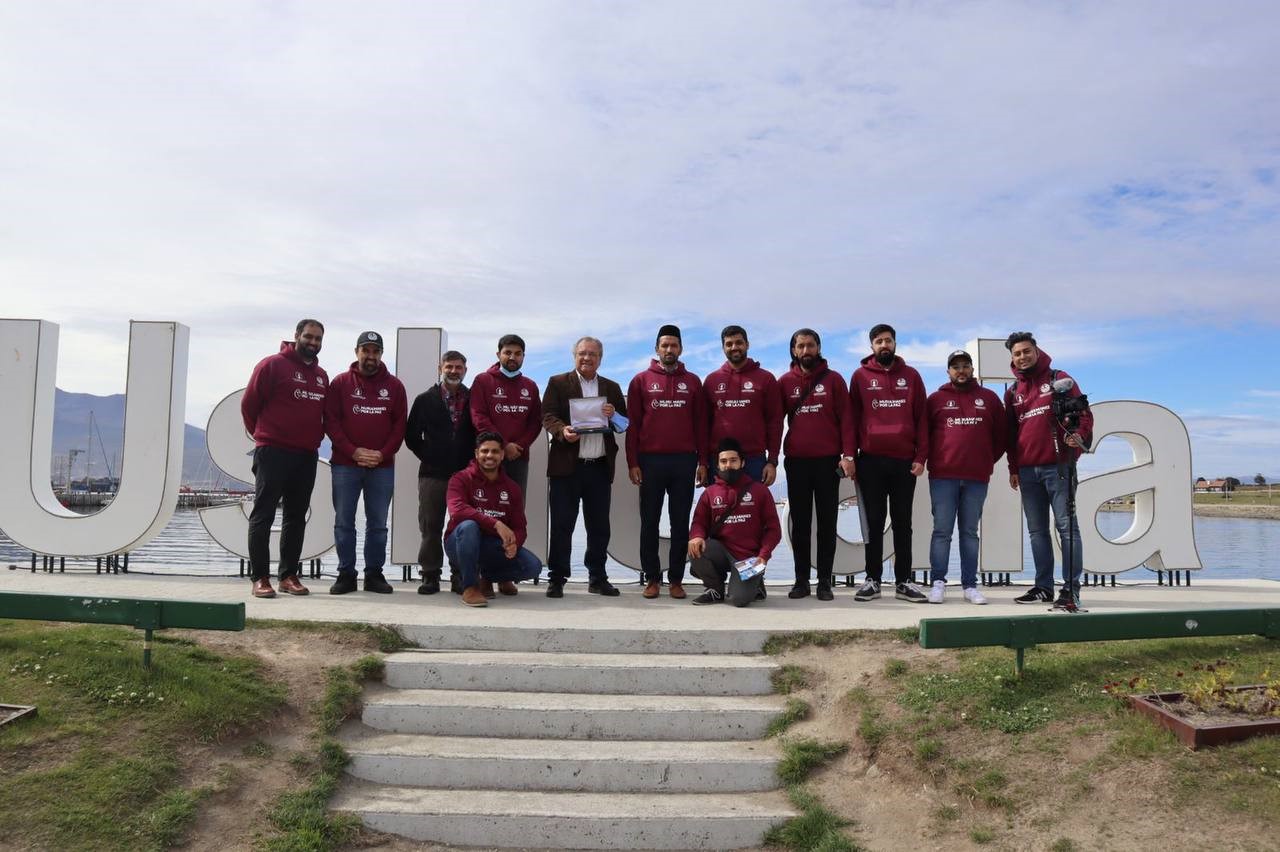 This is the fourth day of the Tabligh Trip in Argentina. Today's proceedings were as follows:
Wednesday 23 February 2022
4:50
Woke up for Tahajjud & Fajr
7.30
Breakfast then went to a Café where we had a briefing on the days schedule, team structure and leafletting strategy. As Hazrat Khalifatul-Masih Vaba instructed we recorded two videos in spanish, so these could be played when locals ask questions about Islam.
10:00
We split into three groups. Two groups went to different locations for leafleting, with one  going to buy frames for certificates and preparing gift bags for delegates.
11.30
Everyone gathered at the Plaza Malvinas Islands for a rememberance service in memory of soldiers who died during the 1982 war. This was organised by the Council at the request of the Ahmadiyya Muslim Community Argentina. Secretary of Worship, former army soldiers, journalists and the general public also joined.
During this ceremony, we introduced ourselves to all the soldiers and the minister. Photos were taken and then Marwan Sahib delivered a speech and laid a wreath at the memorial.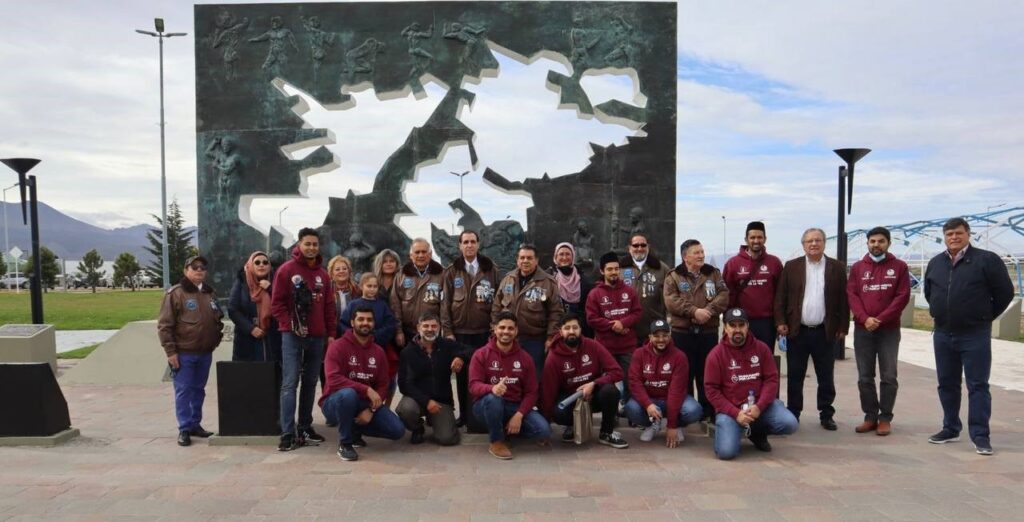 All of us had a chance to speak to everyone present and give them the message of Islam. This even was also tweeted by the Ushuaia council.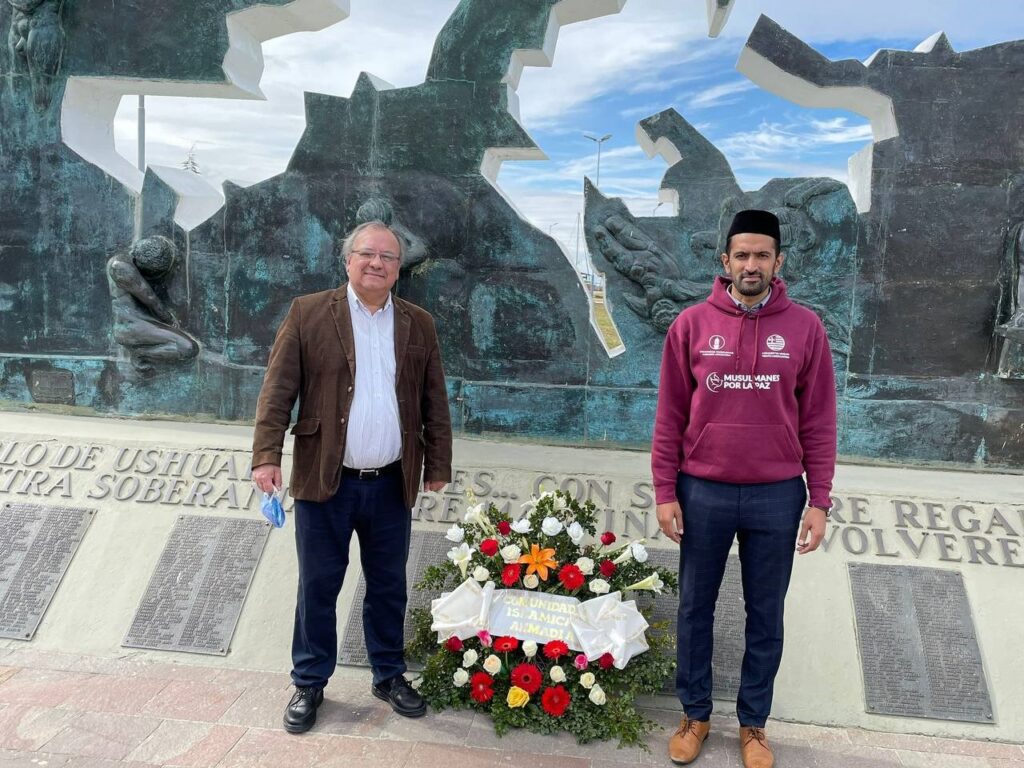 Marwan Sahib was called over by a journalist from TV2 as they wanted an interview with him.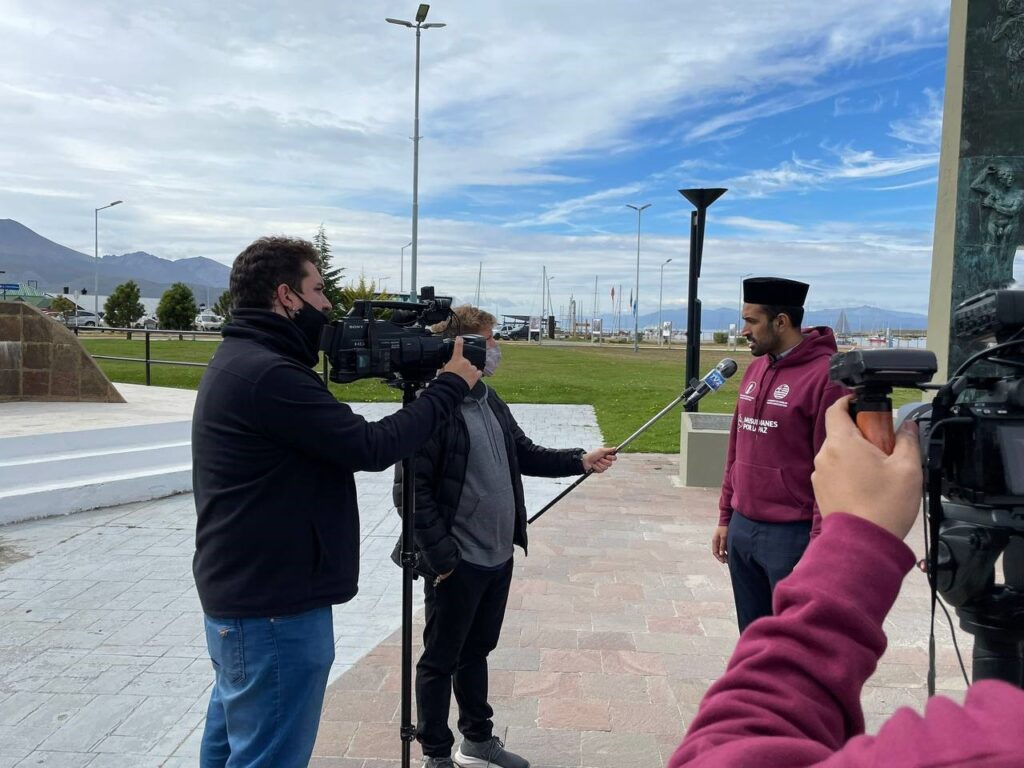 Afterwards, we went to a different location to give a present from the Ahmadiyya Muslim Community to the Secretary of Worship. I presented the gift and pictures were taken with him and our entire group.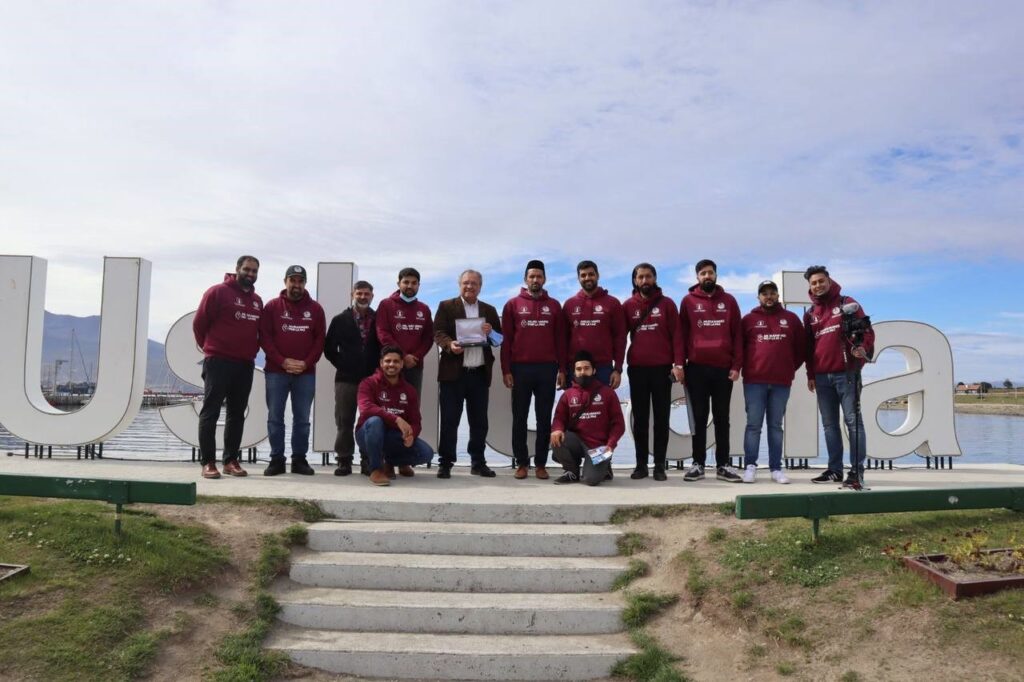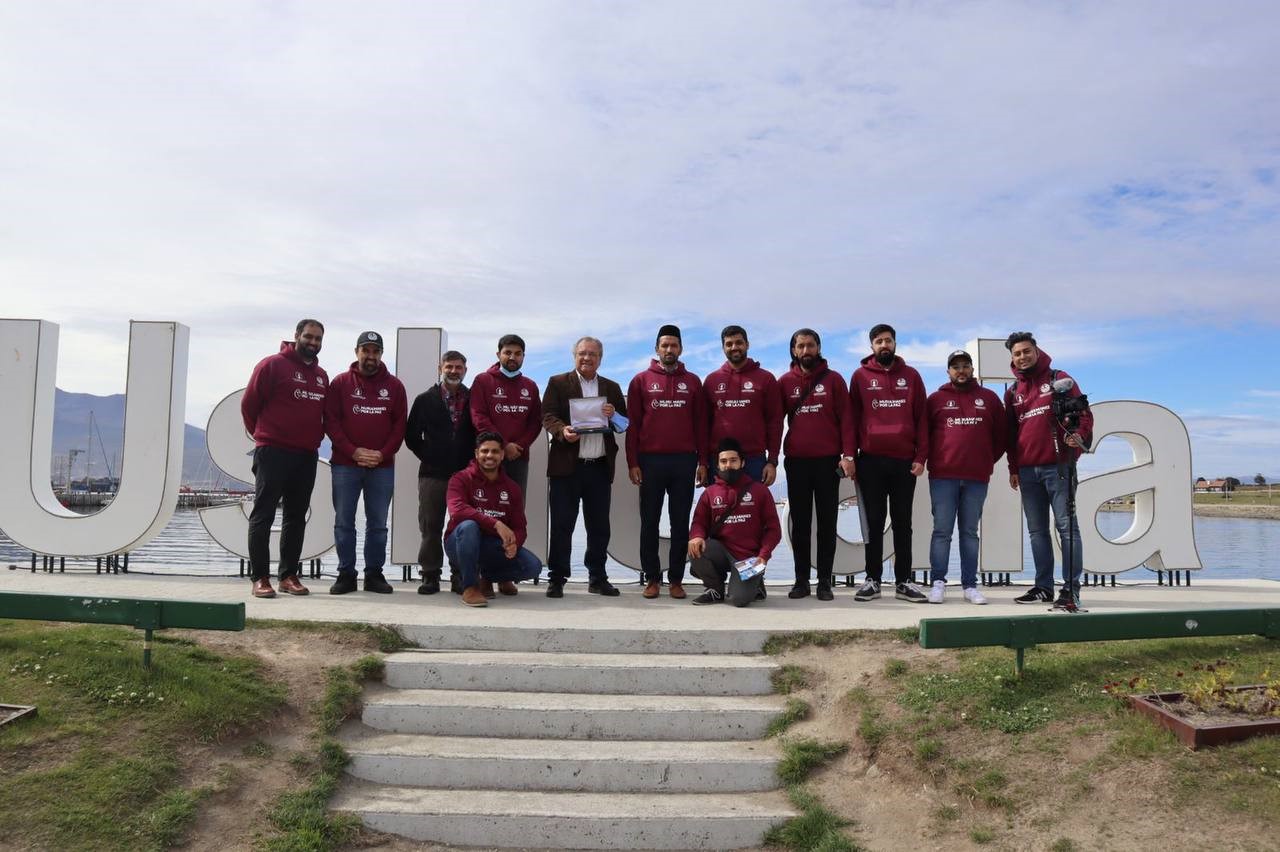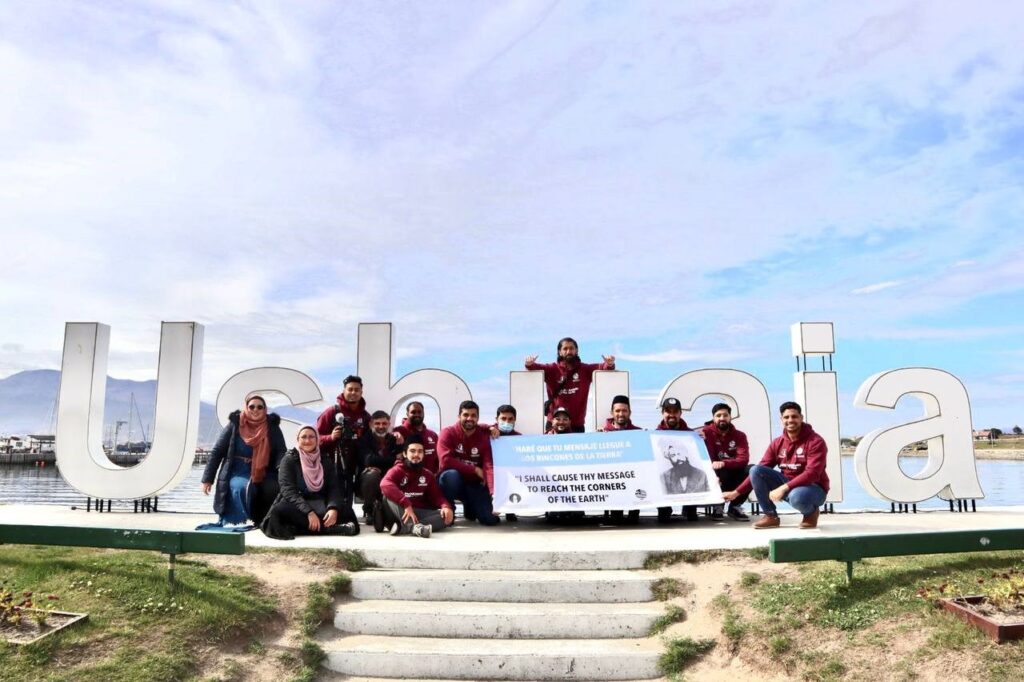 This was covered by local press:
13:00
We then offered Zuhr and Asr Prayers in congregation.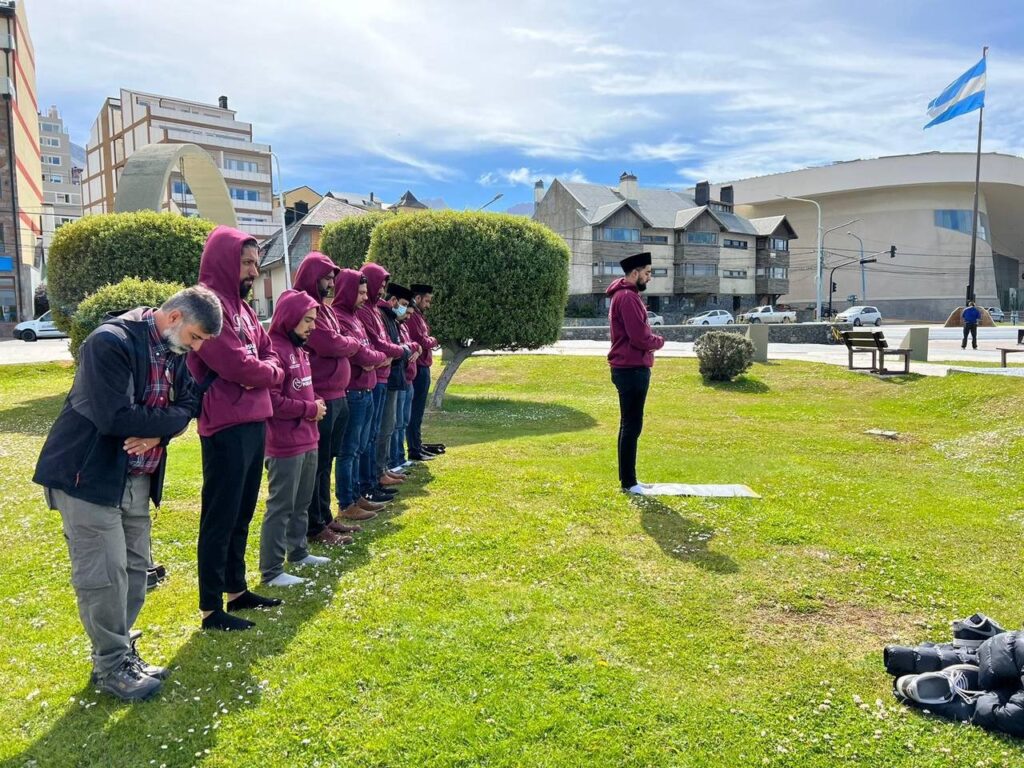 13:30
We split back into our original groups with some proceeding with leafleting and finalising the gifts. Leafletting throughout the day was very successful. The people of Ushuaia are very welcoming and receptive. Many were interested in learning more about the Jama'at. The recording of a message in Spanish was used extensively throughout the day to much benefit—reminding us that Huzoor's words are full of wisdom, we would have struggled without the video. A lady who received our leaflet, returned after a few minutes and was angry and did not want the leaflet. Shahrukh sahib [Regional Qaid Bashir] managed to comvince her to watch the video. After watching it she understood our message and purpose and she agreed to take the leaflet.
Some were given a duty to help the Lajna in the 'Muslim Woman of Argentina' (Mujeres Musulmanas Argentinas) event in Casa de La Mujer. The event was organised in coordination with the local council and had a very interested audience, the event lasted for almost two hours with a question and answer session at the end.
After the Women's event, Marwan sahib, myself and Hibatul Mohsin sahib went to Arakur Hotel to setup the exhibition and the hall where an Interfaith Peace Conference was due to take place in the evening organised by Jama'at Argentinia.
18:45
Everyone gathered at our accommodation where we took a hired van to the hotel.
On the way, Marwan Sahib gave a briefing regarding everyone's duties for this event. And at the hotel he showed everyone the hall where the conference was going to take place.
19:45
Guests started arriving who were led to the hall by the team. The exhibition proved to be very popular. It featured various transaltions of the Holy Quran, books and leaflets. For the main event, seven guest speakers from different religions delivered a speech regarding peace.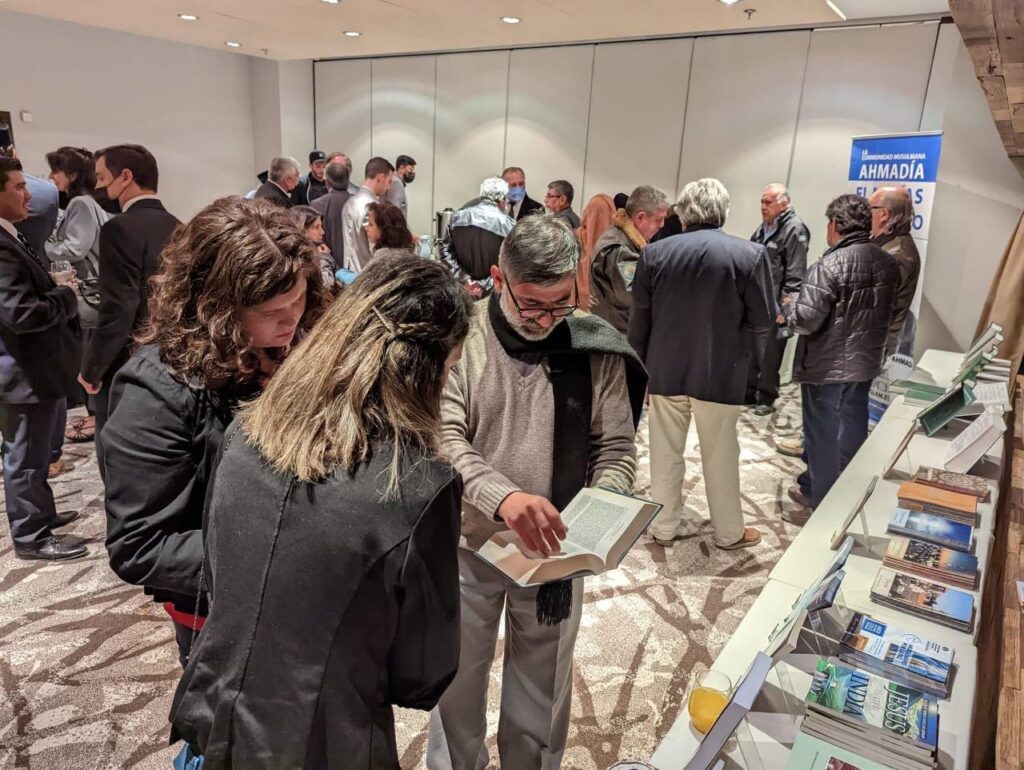 At the beginning of the event, after Tilawat, a video introducing the Ahmadiyya Muslim Community was supposed to be shown, but due to some technical issues it could not be played. We continued with the programme, after guests speakers, Marwan Sahib presented the message of the Ahmadiyya Muslim Community.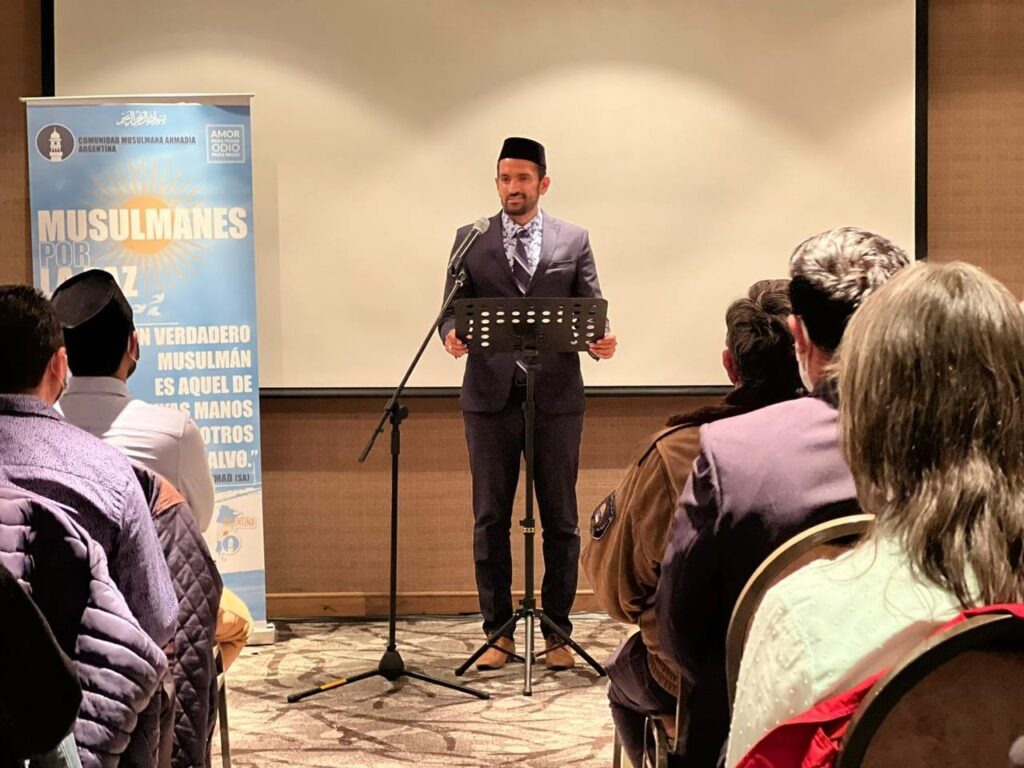 At the end, just before closing speech of Omar Becarra, City councillor, we were informed that the technical issue was fixed and the video could be played. Alhamdolillah it was played and everyone was moved through it, we felt as if Allah the Almighty wanted it to be played at the end, so people could not forget Huzooraba and The Promised Messiahas, it had a much greater impact. I have seen this documentary many times in english, arabic and other languauges, but this time in spanish it had a different affect on me as well. It was difficult to hold back our emotions and as soon as the event finished everyone said exactly the same thing. Moreover, the guests kept asking about Huzooraba and wanted to know more. This is truly a sign of Allah, not only it made us emotional it also had a deeper impact on the guests.
This too was covered by local press.
We ended the session with silent prayer. Refreshments were arranged for the guests aftwards.
We had the chance to speak to the guests and find out their feedback regarding this event. Nearly everyone said that this event was really good and the video at the end left them full of emotions. Asef Hadi sahib and Faheem sahib recorded the guests narrating their experience.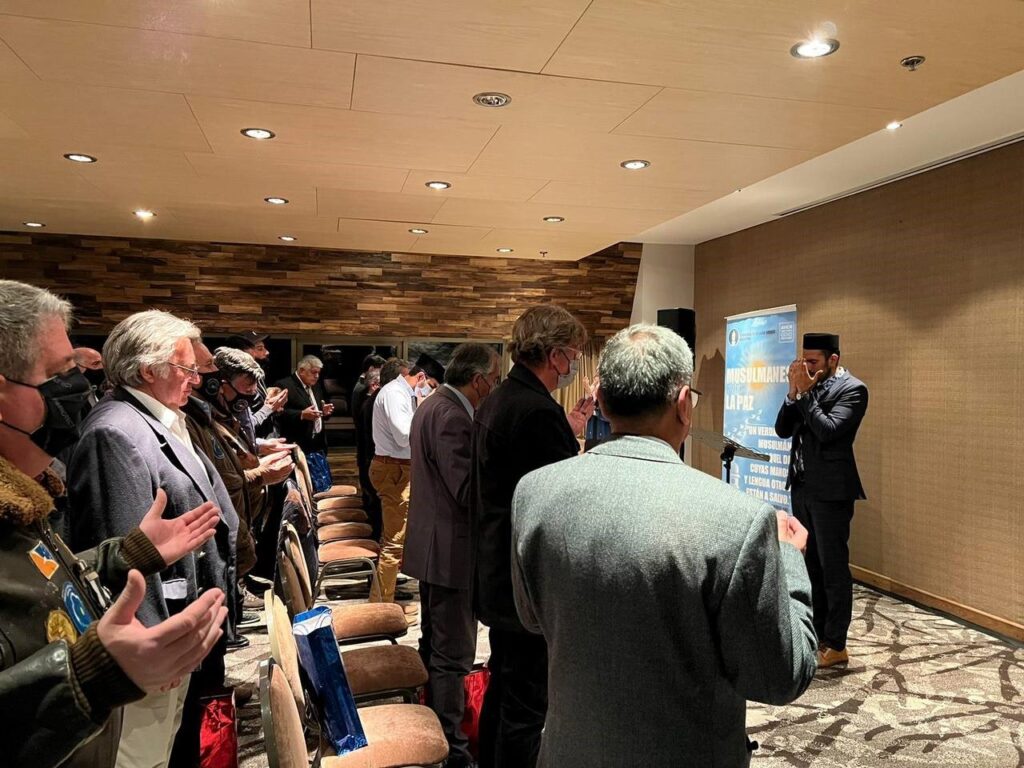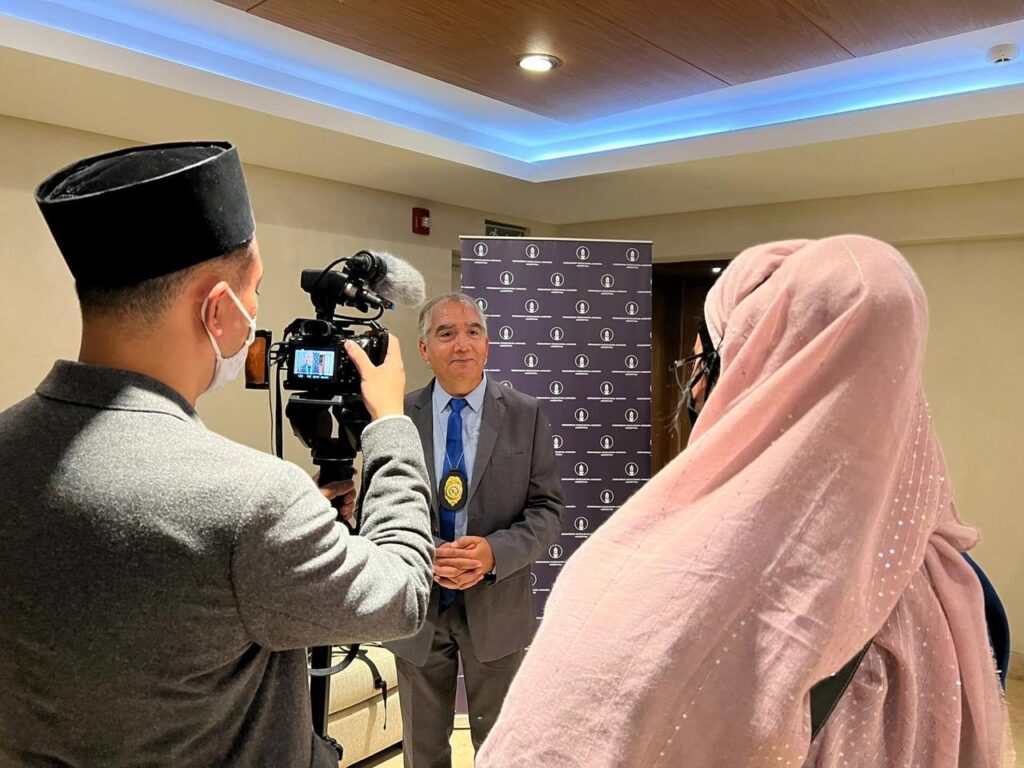 By the grace of Allah, this was a really successful event. None of us imagined that the video not playing at the beginning but at the end would have such a great effect as this video hit the hearts of the people watching.
The owner of the hotel was so moved by the event that he orgainsed a dinner for us in the hotel and joined us along with some of the key guests. He also invited us to dinner that same evening.
So far this trip has shown us the innumerable blessings of Allah the Almighty and how people, all around the world, are ready to accept the message of the Promised Messiahas.