The Diary – April 2016
Germany Tour – Extracts from 'A personal account of Abid Khan Sahib (Incharge Central Press & Media Office). On 23 May 2015, Hazrat Khalifatul-Masih V [aba] and his Qafilah (entourage) set off for an 18 day tour to Germany, where Huzoor [aba] would grace the Jalsa Salana with his presence.
Published on July 22, 2017 at 1:55 pm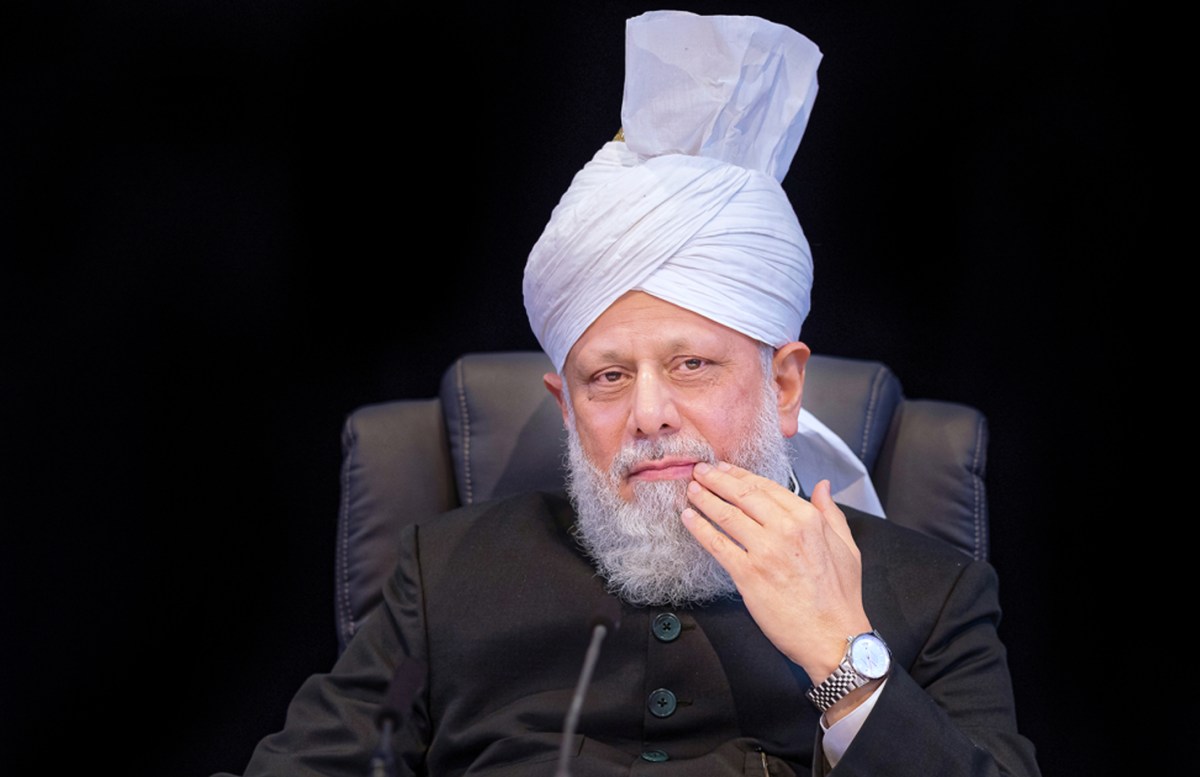 MTA panel discussion in the heat
The 3 days of Jalsa proved to be extremely hot and although there was air conditioning within the main hall and some other parts of the complex, it still felt extremely hot at all times. The hottest day was the first day where temperatures reached 37 degrees (98.6F).
I had been nervous all day because MTA had asked me to take part in a live panel discussion about Khilafat during the afternoon break. The other guests in the panel would be Ameer Sahib Germany and MTA's Managing Director, Munir-ud-Din Shams.
I have never been comfortable appearing on MTA or doing broadcast interviews and I was especially nervous because this slot was soon after Jumma and so I assumed that many Ahmadis would be watching in different countries at that time. The studio was outside and due to the weather it was extremely hot and this made me even more nervous. As I kept wiping dry my forehead, I was continually praying that Allah helped me to avoid any mistakes or to forget my words mid-sentence!
MTA had asked me to narrate a few incidents about Khilafat that I had personally witnessed and so I had identified a few incidents which I thought would be of interest. Unfortunately, I was unable to narrate all of the incidents because the allocated timeslot was not enough to cover the ground that had originally been suggested.
When I was answering questions I could see from the presenter's face that he was trying to hurry me along and was urging me to quickly finish my 6 answers. It was not the most ideal environment to narrate the stories but I tried my best.
Example of simplicity of Huzoor
One small point I wished to narrate on the MTA programme but was unable to due to the lack of time regarded Huzoor's simplicity and humility that I had personally witnessed.
During the very harsh and cold winters in the UK, on many occasions I have entered Huzoor's office and been astonished to see that there was no heating on in the office. Rather, Huzoor was seated at his desk, wearing a thick, warm overcoat and I had even seen Huzoor wearing a scarf inside his office. Each time, I saw this scene, I felt so emotional that our beloved Khalifa was sitting in the cold, wearing his overcoat to keep warm, whilst the rest of us sit in our own offices with the heating turned up.
That is the example of Khalifatul Masih, wherein he cares not for his own comfort and just continues to work selflessly for the Jamaat, no matter what the conditions.
Huzoor's guidance about displaying photographs
A lady from the Croatian delegation asked Huzoor why photos of the Promised Messiah [as] and his Khulafa were displayed in the homes of Ahmadis or in Jamaat buildings.
In  response, Huzoor said that if a person thought that by displaying a photo of the Promised Messiah [as] or the Khalifa it would increase their spirituality or make them closer to Allah then they were wrong. However, Huzoor said that if an Ahmadi displayed a photo of the Promised Messiah [as] or Khalifa-Waqt in their homes because of their attachment to them – in the same way that people display photos of their family members – then there was no harm. However, wherever there was a risk of photos being considered of greater value than this then they ought not to be displayed. Thus, Huzoor said that the Jamaat did not allow for any photo of the Promised Messiah [as] or his Khulafa to be displayed inside a Mosque because that was where people bowed down before Allah.
Similarly, Huzoor said that when he visited Australia in 2006, the local Jamaat had arranged for an official stamp to be printed with Huzoor's photo on it and upon learning this Huzoor instructed that all of the stamps should be destroyed. Huzoor also said that some people were able to recognise the truth of Ahmadiyyat by seeing the photos of the Promised Messiah [as] or the Khulafa. He said that people in various countries had narrated that only after seeing a photo did they realise that the person they had previously seen in their dreams was the Promised Messiah [as] or one of his successors. Thus, in this era, photos were a means of guiding some people towards the truth.
Huzoor's guidance about Khilafat
One of the guests asked Huzoor why it was that from Khalifatul Masih II [ra] onwards, all of the Khulafa of the Promised Messiah [as] had been from amongst his own family. This is a question that is often asked and Huzoor's answer was very beautiful and logical.
He said it was simply a matter of God's Will and that if we observed the family of the Prophet Abraham [as] we see that many of his descendants were Prophets of God and so this is for God to determine not for any man.
A cause of sadness
During the days of Jalsa and indeed for the rest of Huzoor's tour of Germany, it became apparent that Huzoor was suffering with severe hay fever. Whenever you see Huzoor in any form of discomfort it is very upsetting and so seeing Huzoor suffer with the ill effects of hay fever was distressing.
On those occasions where I have seen Huzoor unwell or in any form of discomfort I have always wished that I had inherited some medical knowledge from my father who was a doctor so that I could perhaps find a way of helping. Once in London, when Huzoor was somewhat unwell, I even mentioned to Huzoor that I wished I could offer some service.
Huzoor smiled and responded by saying:
"All I need is dua – that is enough"
Nonetheless, despite the obvious discomfort, Huzoor did not let it affect his schedule in any way. In fact, those final days were perhaps the busiest of the entire tour.
Huzoor calling Ameer Sahib Sanghar
After the meeting, Huzoor walked directly to the Jalsa Gah for the concluding session of Jalsa Salana. Before the session commenced, there was a Ba'ait ceremony. As Huzoor, walked towards the area where he would lead the Bai'at, I saw him point in the direction of an Ahmadi and instructed him to come forward. Huzoor said that he would represent Pakistan at the Bai'at ceremony. The Ahmadi was the Ameer of Sanghar Jamaat in Pakistan. It was quite amazing how Huzoor had noticed him in the crowd of thousands.
Throughout Pakistan, Ahmadis face difficulties and persecution, and Sanghar, which is a district in Sindh, is one area where the situation is particularly dangerous for Ahmadis. No doubt, the Ameer of Sanghar will have witnessed many difficult situations and so it seemed to me that on that day the Khalifa-Waqt bestowed upon him a very special reward and blessings for his services. Alhmadolillah.
Huzoor's love for the family of martyrs
Upon the conclusion of Jalsa Salana, Huzoor returned to his residence for a few minutes. However, as the vast majority of Ahmadis began their journeys back to their homes, Huzoor's duties recommenced just a few minutes later, as he had meetings with new Ahmadi converts and also interviews with a German journalist and a Croatian documentary maker.
As Huzoor walked towards his office, he was introduced to an Ahmadi family, who had been directly affected by the 28 May attacks in Lahore. There was an Ahmadi lady, who was with her two young children. Her husband and their father had been martyred on 28 May in Garhi Shahu. She had now remarried and was with her new husband, who was the brother of her martyred husband. Very lovingly, Huzoor met each of the family members in turn. Thereafter, Huzoor started to walk towards his office.
When the daughter of the Shaheed (martyr), Huba—tul—Waheed (7), observed this, she immediately said:
"Huzoor, mainay aap say kuch baatein karni thi!" (Huzoor, I wanted to say a few things to you!)
Upon this, Huzoor very affectionately said that that he had to meet some other people and that he would talk to her a little later. The little girl was extremely sweet and Huzoor had responded to her love with a very loving reply.
Of course, Huzoor is he who fulfils all of his promises, and so when his meetings concluded, Huzoor sought out the little girl and asked her what she had wanted to say to him. Upon this, the 7-year old girl said she wanted to request Huzoor's prayers for her family. Thereafter she said:
"Aur doosri baat – aap ka kabb chakar lagra hai hamari taraf?"
Perhaps, the closest translation to her words would be:
"And secondly, when are you going to pop round our house?"
As she said these words, we all started to laugh and Huzoor laughed and enjoyed her comment as well. Such informality in front of Khalifa–Waqt is extremely rare and perhaps exhibited only through the innocence of children. It was a very beautiful and lovely scene, wherein the love of Khalifa–Waqt for the young child of a martyr and the love of a bereaved child for Khalifa– Waqt was there for all to see.
As he left, Huzoor gave both the little girl and her brother some chocolates as a gift.