The Immigration Misconception
Published on March 19, 2021 at 10:00 am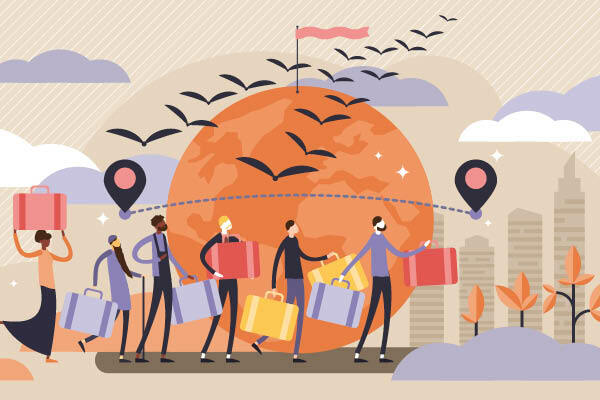 Late last year, in response to a journalist asking whether the economic fallout of COVID-19 could lead to military conflict, the head of Britain's military said "Yes, I think we are living at a moment in time where the world is a very uncertain and anxious place". The alarm bells were rung.  As this threat flickers and flares, we must remember that war affects us all. Conflict extends beyond the bombs, bullets and battlelines. Those displaced by violence and chaos will seek out a better life and a new home; as we meet the wearied faces of immigrants, migrants and refugees, we will be called to act.
But should our actions be of compassion or concern? As the world lurches towards further uncertainty, we must be ready with our answer.
Immigration has become a dirty word, muddied by racism and lazy xenophobia, yet it raises justified security concerns. From the Latin verb immigrare, meaning 'to remove, go into, and move in', the word immigrant captures the journey: removal from a homeland, entering into foreign land and eventually settling in. It's the entering and settling that some people snarl and seethe at. People are quick to label those who do not support the welfare of migrants as right-wing or racist. However, there are a number of concerns that are legitimate:
The Economic Concerns
Why must the public's hard-earned cash be put towards something other than themselves? Why must the taxpayer pay for the support and welfare of foreigners?
These are honest questions. At a time when our economic growth is blunted by record levels of unemployment and the general public is living in narrower margins of comfortability, concerns over where our money goes is rightly justified. Underlying this concern is the fear that opening-up our borders will dry us out. That those who come here for a better life will leech the social benefits we might offer, abuse the system, and leave very little for those that remain in need. Ultimately, the cost of welcoming immigrants will come at our own personal expense.
However, a 2018 report on the economic realities and social impact of migration found that "migrants consume fewer benefits and receive less from the public purse in comparison to natives in similar circumstances." Non-refugee immigrants in Canada for example "use less unemployment benefits, social security and housing support than domestic residents, despite the employment rate for migrants being lower".
But public money is still being spent. If there are more people dependent on welfare, there's little left to go around, right? Well, no.
Professor Ian Goldin, lead author of the report, found that "If immigration had been frozen in 1990 […], the [UK] economy would be at least 9 per cent smaller than it is now. That is equivalent to a real loss in GDP of more than £175 billion over 15 years".
This is least surprising when we consider that immigrants are twice as likely to start their own businesses than British-born individuals in the UK. It's a similar story in the US, where 30% of businesses are founded by migrants, and 40% of Fortune 500 companies belong to immigrants. In other words, immigrants do generate wealth—they're an economic strength, not a burden. They can be vectors of growth and prosperity.
This does not promise the goodwill of all immigrants however. It is therefore important for immigrants to be responsible citizens and aspire for self-sufficiency. In equal measure, host-nations should not prevent the paths to progress in society, and for their own economic benefit, encourage the professional development of immigrants. Thus, the lessons remain clear: there is economic value for all when opening up our borders.
But there is a growing disconnect between the positive economic impact and the increasing negative perceptions of immigration.
The Social Disconnect
The narrative surrounding immigrants strikes fear and mistrust. One example is the racialisation of child grooming gangs. Whether it was the controversial claim that 84% of grooming gang offenders were Asians, or Labour's resigned shadow equalities minister writing that Britain "Has a problem with British Pakistani men raping white girls" — the media has been saturated with a negative view of foreigners and their actions towards society.
However, a new Home Office report published in December 2020 found that the link between Pakistani-heritage men and child abuse is untrue. The report states:
"Research has found that group-based child sexual exploitation offenders are most commonly white. Some studies suggest an overrepresentation of black and Asian offenders relative to the demographics of national populations. However, it is not possible to conclude that this is representative"
The idea that such depraved behaviour is a feature of Pakistani character, or of any ethnicity, is a modern racial myth — a dishonest representation and smearing of minority communities. Criminality does not belong to one ethnicity; it is not the result of culture or religion, but the moral collapse of human nature which we all share.
The distrust of immigrants is rooted in the idea that foreigners have certain values and aspects of culture that should be unwelcomed in any modern democratic society. Current Prime Minister Boris Johnson has said in the past that Islam has caused the Muslim world to be "centuries behind the West" and has a "fatal religious conservatism". Such language presents Islam and Muslim migrants as a threat to civilised society.  It is unsurprising then that a 2016 poll found that nearly two thirds of Britons think Islam is incompatible with British values.
But we mustn't be swayed by sensationalist rhetoric. It is vital to seek an honest understanding when assessing the people at our borders. Since the Muslim population in Europe could double by 2050, depending on migration, it is important to know their principles and beliefs when assessing their entry.
Islamic values: Who is the Muslim migrant?
In a fractious early Arab society, Islam provided a collective identity, defined not by tribal differences, but rather unified in the recognition of the responsibility Muslims had to create peace in society.
اِنَّمَا الۡمُؤۡمِنُوۡنَ اِخۡوَۃٌ فَاَصۡلِحُوۡا بَیۡنَ اَخَوَیۡکُمۡ وَ اتَّقُوا اللّٰہَ لَعَلَّکُمۡ تُرۡحَمُوۡنَ ۝
"Surely all believers are brothers. So make peace between brothers, and fear Allah, that mercy may be shown to you." [Holy Qur'an, 49:11]
… وَ لَا یَجۡرِمَنَّکُمۡ شَنَاٰنُ قَوۡمٍ عَلٰۤی اَلَّا تَعۡدِلُوۡا  ؕ اِعۡدِلُوۡا ہُوَ اَقۡرَبُ لِلتَّقۡوٰی …
"… And let not a people's enmity incite you to act otherwise than with justice. Be always just, that is nearer to righteousness…" [Holy Qur'an, 5:9]
Far from stifling societal progress, Islam gives impetus to pluralism, anchored not just in sentiment but also in jurisdiction. After 13 years of viperous attacks and persecution, the Holy Prophetsa was given divine permission to migrate to Medina. Upon arrival, the Prophet of Islamsa drafted the Charter of Medina, a document establishing the law of the land and recognising the city as a multi-religious state. It bound all people—be they Muslims, Jews or pagans—as being equal citizens of the same city-state. It respected the religious sensibilities of all and established collective responsibility towards peace in a city that had been previously mired in tribal warfare.
The Holy Prophetsa was a Muslim migrant himself. He had entered a new society and established principles of cohesion and integration. These are the true teachings of Islam. Thus, a Muslim migrant who follows Islam sincerely, will carry the values of interfaith harmony, community and integration — in reverence to the Holy Prophetsa.
On the concept of charity, the Holy Prophetsa had advised Muslims that "the upper hand is better than the lower hand". Meaning, giving charity is far better than taking it. This simple saying captures the essence of self-determination and dignity that Islam inspires in Muslims: to establish themselves in a position that betters those around them. Hence, the notion of Muslim migrants, entering this country, threatening societal peace, and being unmindful of others, is an imagination that goes against the teachings of Islam.
Unfortunately, these principles are not practised by some. In committing acts of violence and terror, those who claim to follow the teachings of Islam, do the most to subvert it. To protect society from extremism, terrorism, and radicalisation, security measures are justified. In a 2018 address at the annual convention in Germany, Hazrat Mirza Masroor Ahmad – Khalifatul-Masih Vaba said:
"If there is any doubt or suspicion raised about the character or backgrounds of certain immigrants, the authorities should be vigilant and monitor them until they are satisfied that they do not pose a risk to society. Some may consider this an intrusive policy, yet protecting society from danger and maintaining the peace and security of the nation are paramount objectives for any government."
Commenting on the German government's policy to make community service mandatory to asylum seekers, His Holinessaba said "It instils a belief that it is the duty of each person to serve their society and to help the members of the community. Accordingly, the German Government deserves praise rather than criticism for this policy."
Thus, we shouldn't shy away from justified policies that ensure integration of immigrants and the safety of society in general. Ultimately, the values of loyalty to one's nation, respect for others, and the desire to contribute to society, is an expression of a Muslim's faith. If governments wish to implement such measures, it should not be a cause of concern to any Muslim.
A Place to Call Home
Early this month, a high court ruling heard of the squalid and cramped conditions asylum seekers were placed in at the Napier army barracks in Kent during the pandemic. It was only after a fire broke out that the situation was brought to light. The asylum seekers spoke of the dire conditions: being left without electricity, heating and drinking water since the fire; sharing rooms with 14 other people, having food poisoning from eating raw food. It brings back thoughts of the Windrush scandal three years ago, where people were detained, denied legal rights and threatened with deportation — despite many of the immigrants having arrived in the UK before 1973.
In this country, immigrants, asylum seekers and refugees, are far too often met with hostility and banishment. Though we must remain vigilant against terrorism and other external threats, we don't have to abandon a moral conscience to do so. Most are simply looking to escape violence, find a home and make a better future for themselves and the ones they love.
As the threat of war rattles on, we need to recognise our past failures to those who reach our shores. We need to understand that mass immigration and refugees is a direct consequence of our involvement in wars and supplying weapons. We need to recognise the work of immigrants and their value to society. Immigrant doctors, nurses and others in healthcare are especially risking their lives to heal this country back to health; if we trust them in moments of our own vulnerability, we should trust them in theirs.
Kicking Off the Year – Khadim Style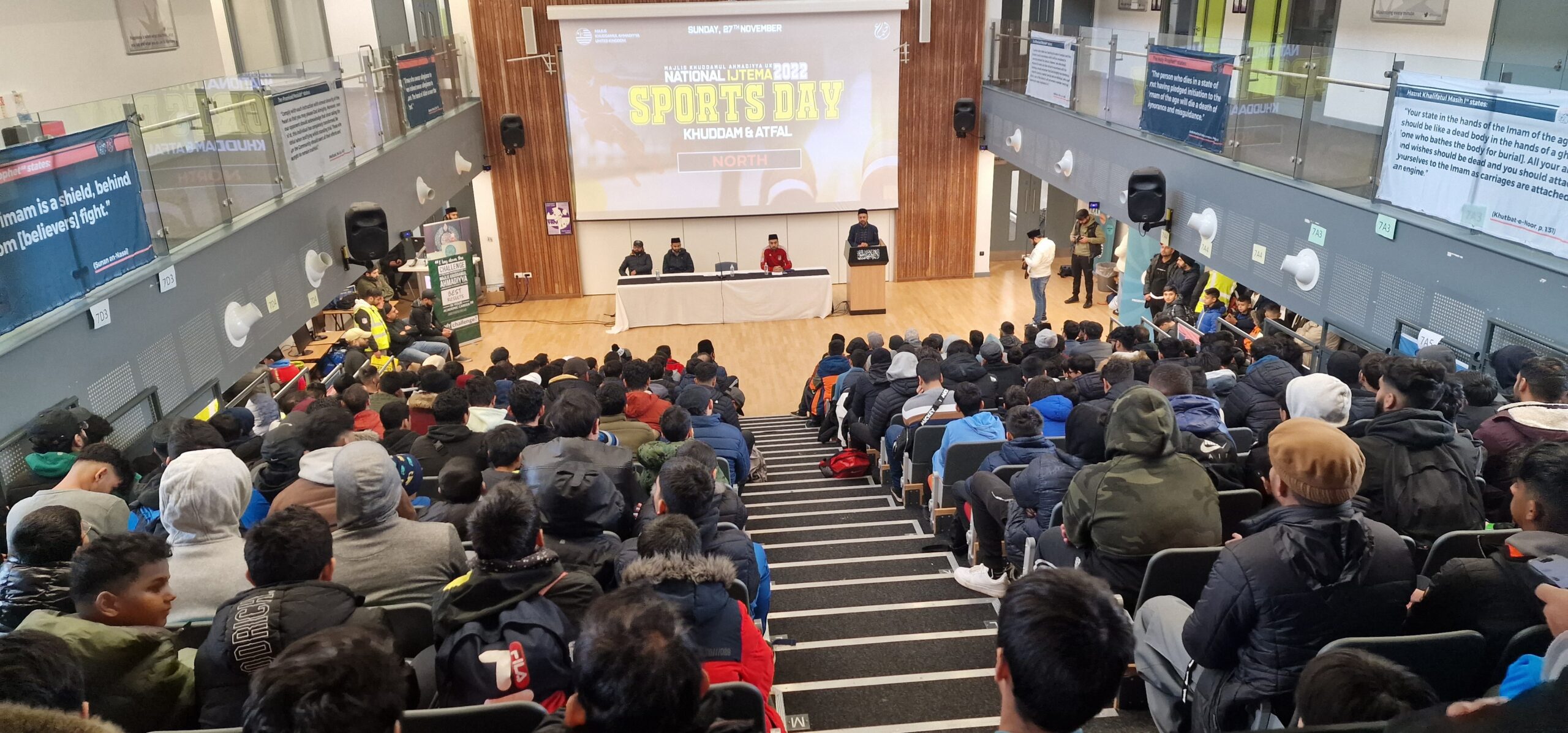 The National Ijtema Sports day for Northern Regions is currently underway in Bradford at Dixons Allerton Academy, and the Khuddam and Atfal present here are thoroughly enjoying all the activities and sessions that are taking place.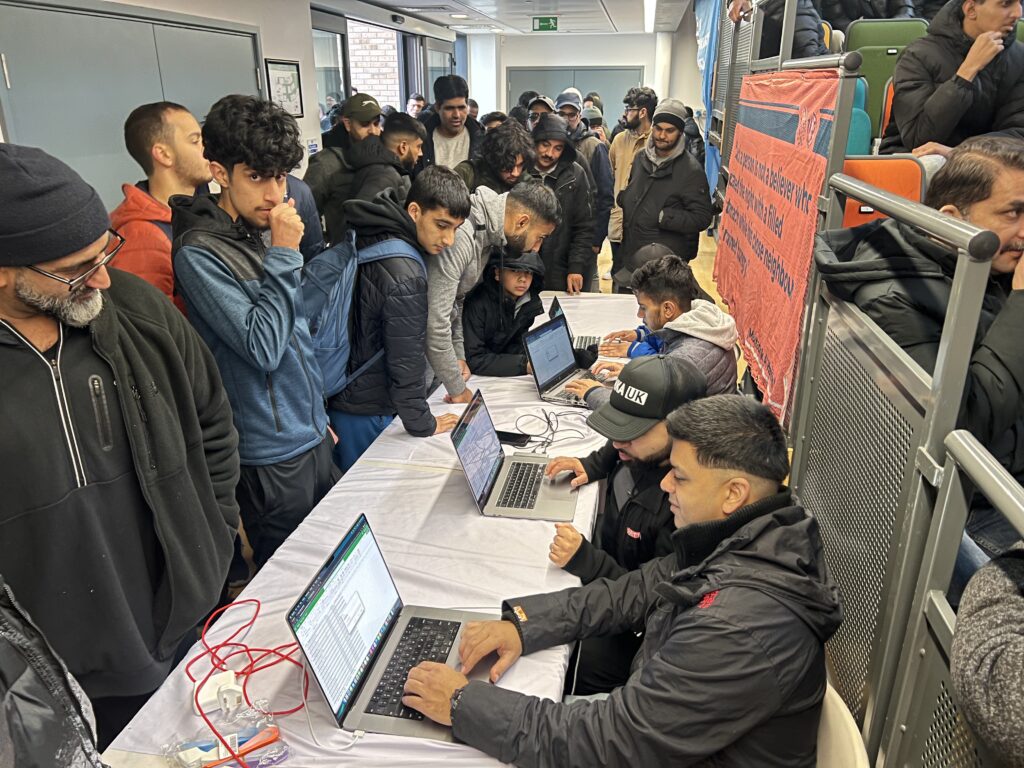 Majlis Khuddamul Ahmadiyya UK is holding this sports day on the instructions of Huzooraba after sports at the National Ijtema 2022 were cancelled due to the demise of Her Majesty Queen Elizabeth II as a mark of respect. Huzooraba instructed the Majlis that the sports that were due to take place at the Ijtema should be organised as soon as possible for the benefit of all Khuddam and Atfal that missed out. Subsequently, it was decided for the Majlis to hold 2 sports days – one for the northern regions (taking place today) and another for the southern regions (date to be announced).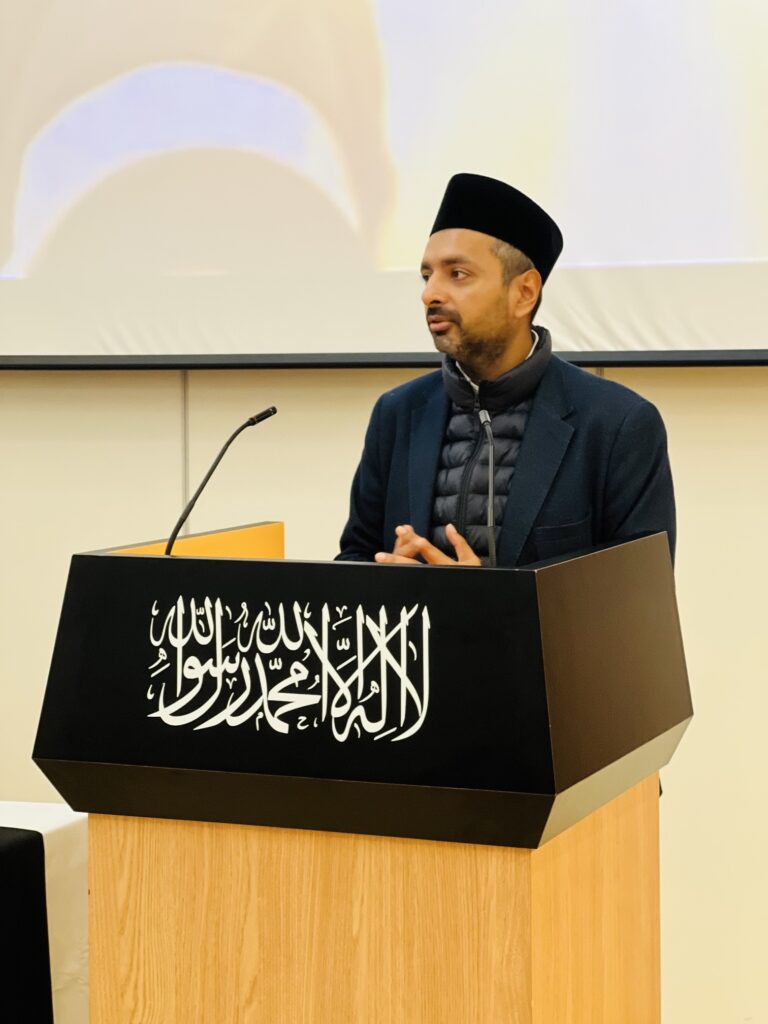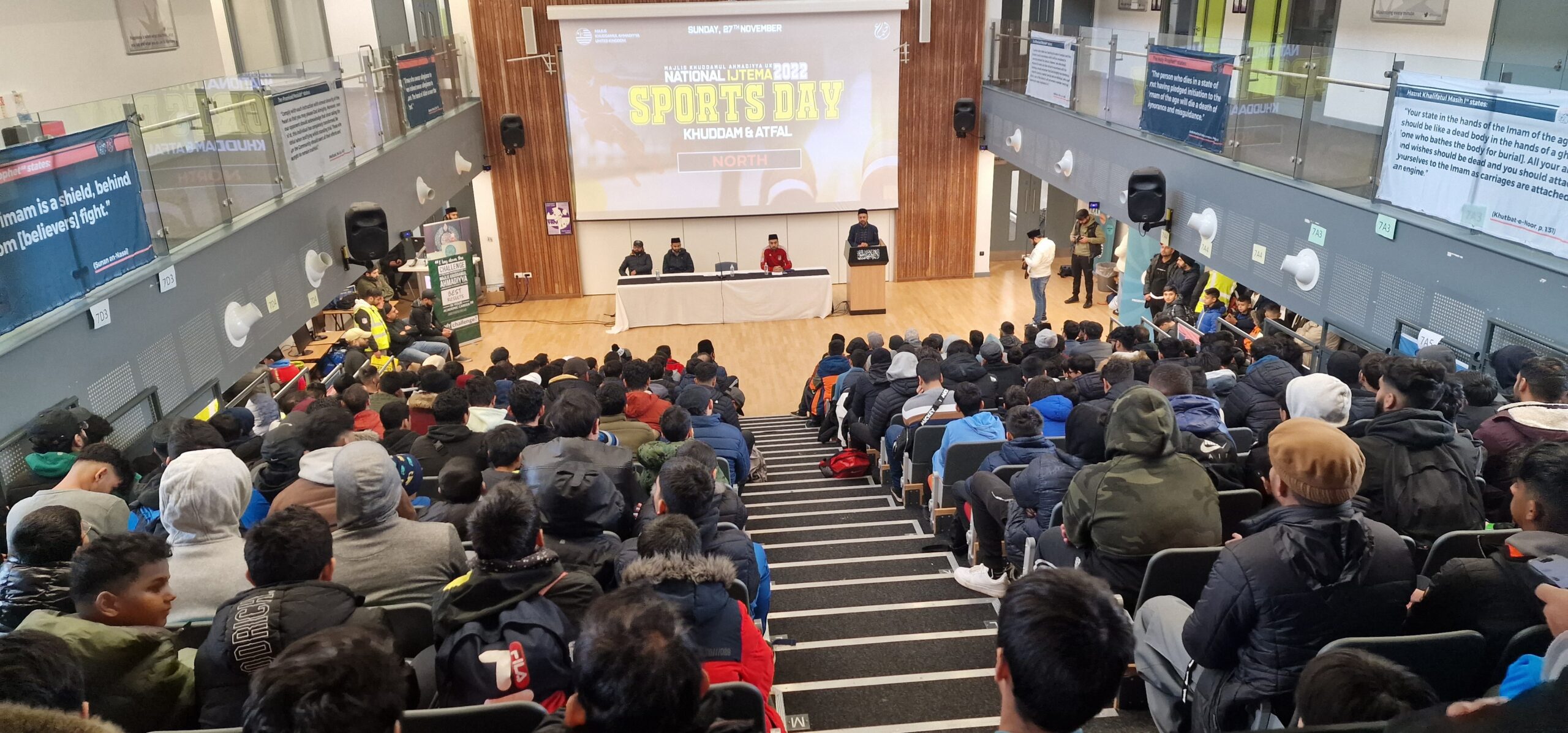 Registration started at 8am with Khuddam and Atfal arriving from all around the northern parts of the UK with breakfast served in the marquees set up onsite. The event started at 10am with an opening session chaired by the Nazime Ala Sahib Ijtema, Tariq Hayat Sahib. The plan for the day was announced by Mohtamim Sahib Sehate-Jismani, Abdur Rauf Lodhi Sahib.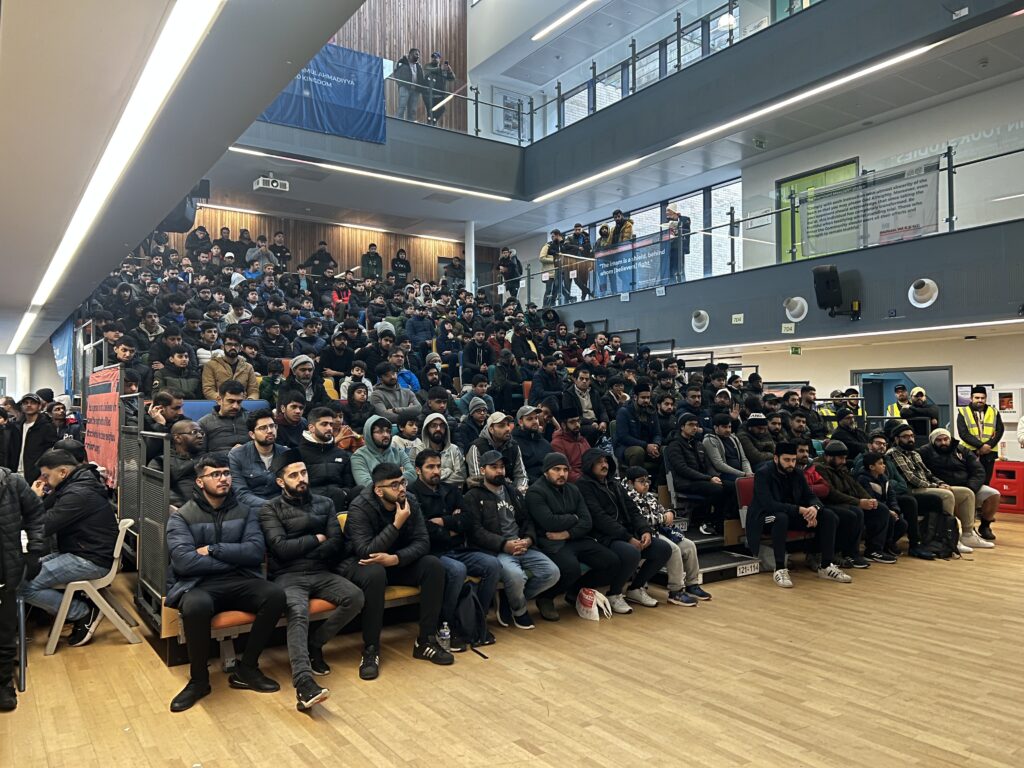 Football and Cricket for Khuddam and Atfal took place in grass fields and netball courts. Tarbiyyat 'Chit Chat Chai' were held at the auditorium, alongside outdoor and indoor sports, on topics such as relationships, the key to paradise, and working hard or hardly working. The first talk covered a wide range of questions in relation to how Khuddam should approach the idea of getting married, how to decide on the type of spouse that they desire, the qualities they should look for and the attitude they adopt going into the process.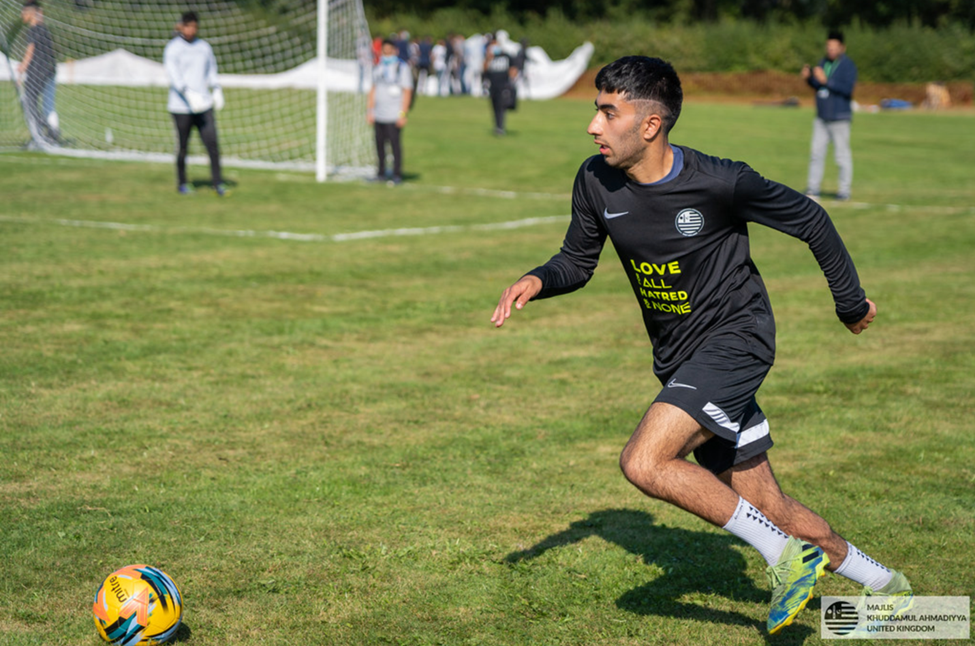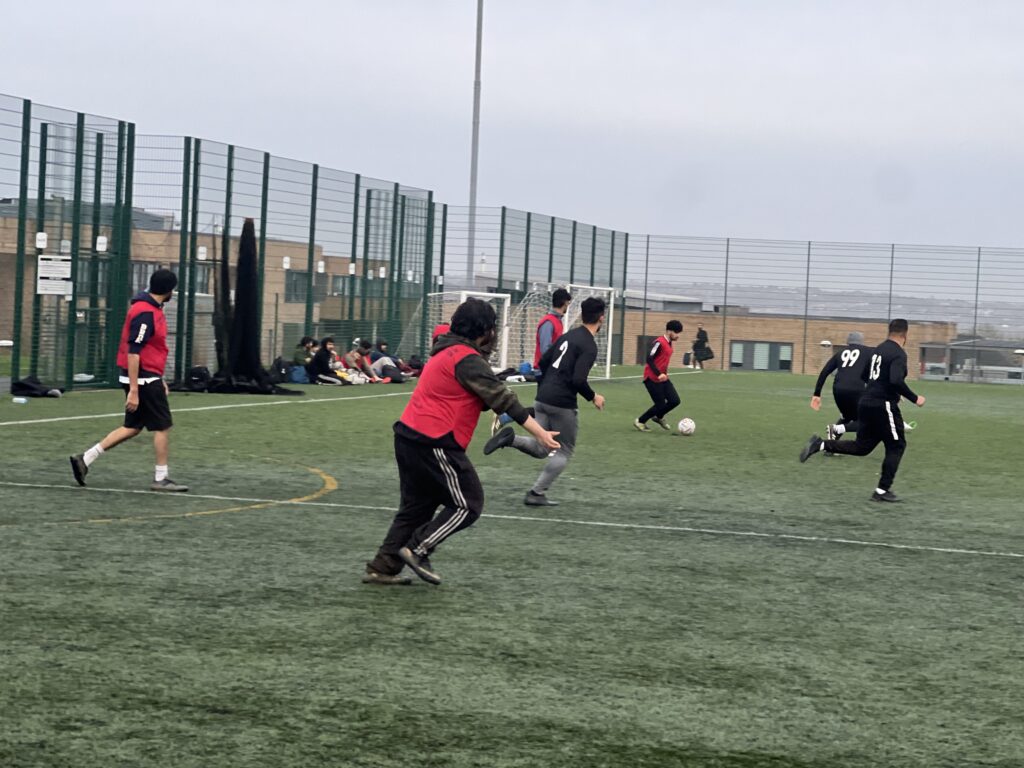 After Namaz-e-Zuhr and Ask a short Talqeen-e-Amal session took place which was on the topic of Namaz. This was followed by a continuation of sports. So far Khuddam and Atfal are finding this it to be a good opportunity to begin the year with an activity that binds the Majlis together in a spirit of brotherhood. The final session is due to take place after Maghrib Namaz, where winning teams will be given prizes by Sadr Majlis Khuddamul Ahmadiyya. The Khuddam and Atfal attendance at the Sports Day is 780, Alhamdulillah.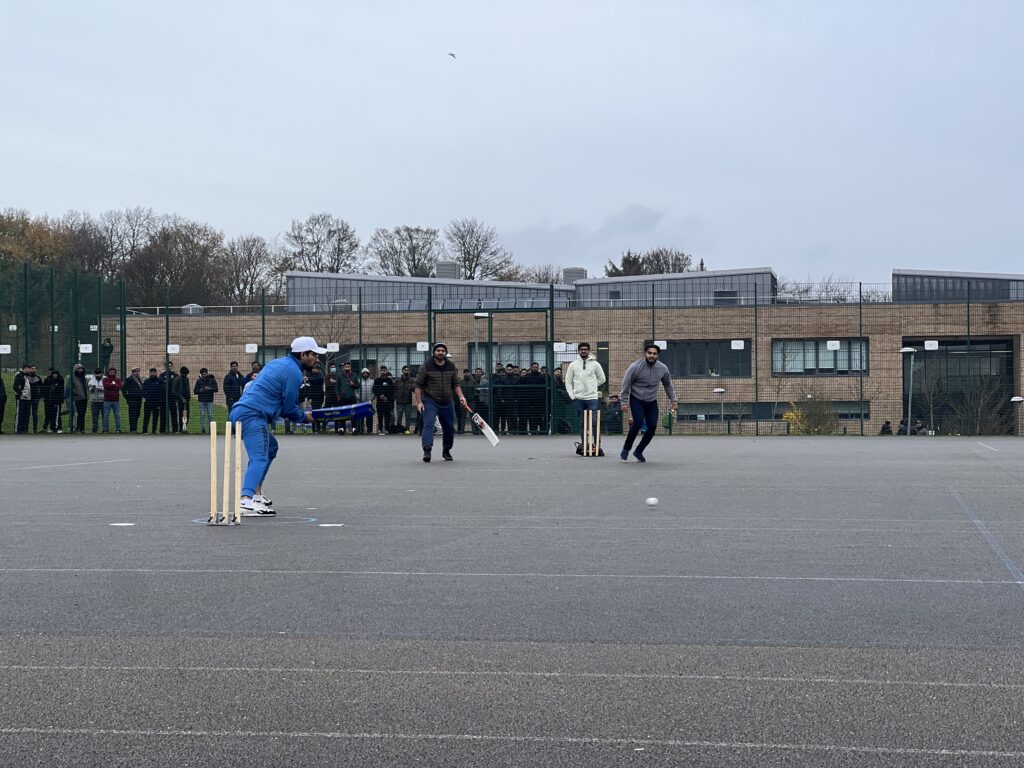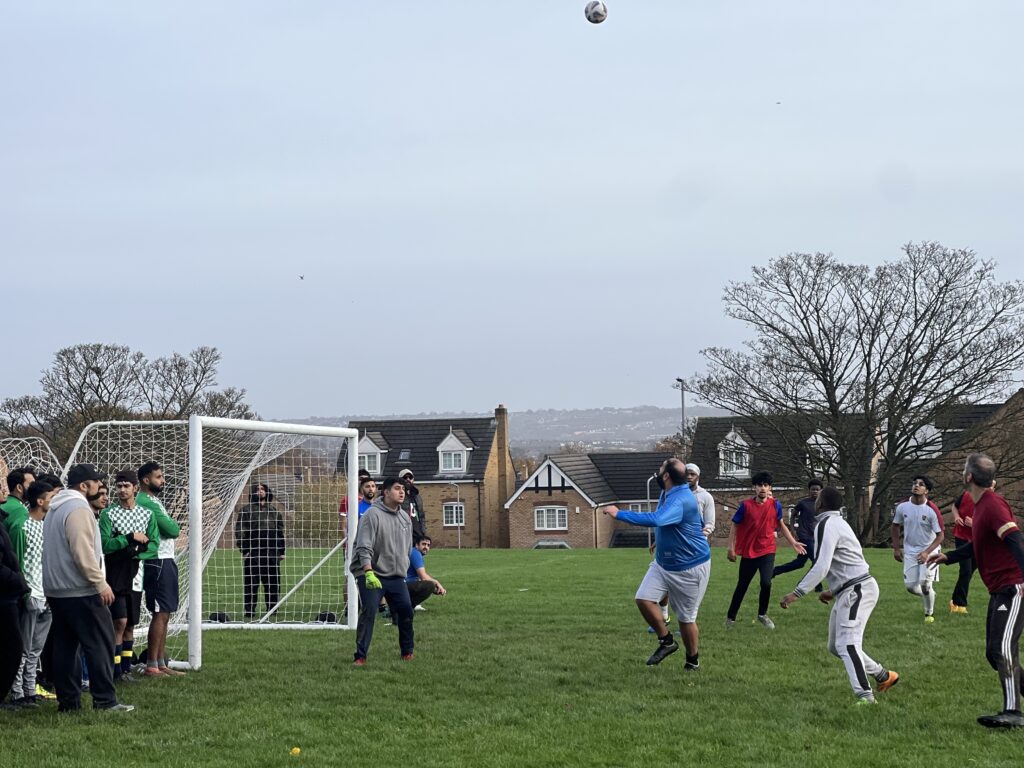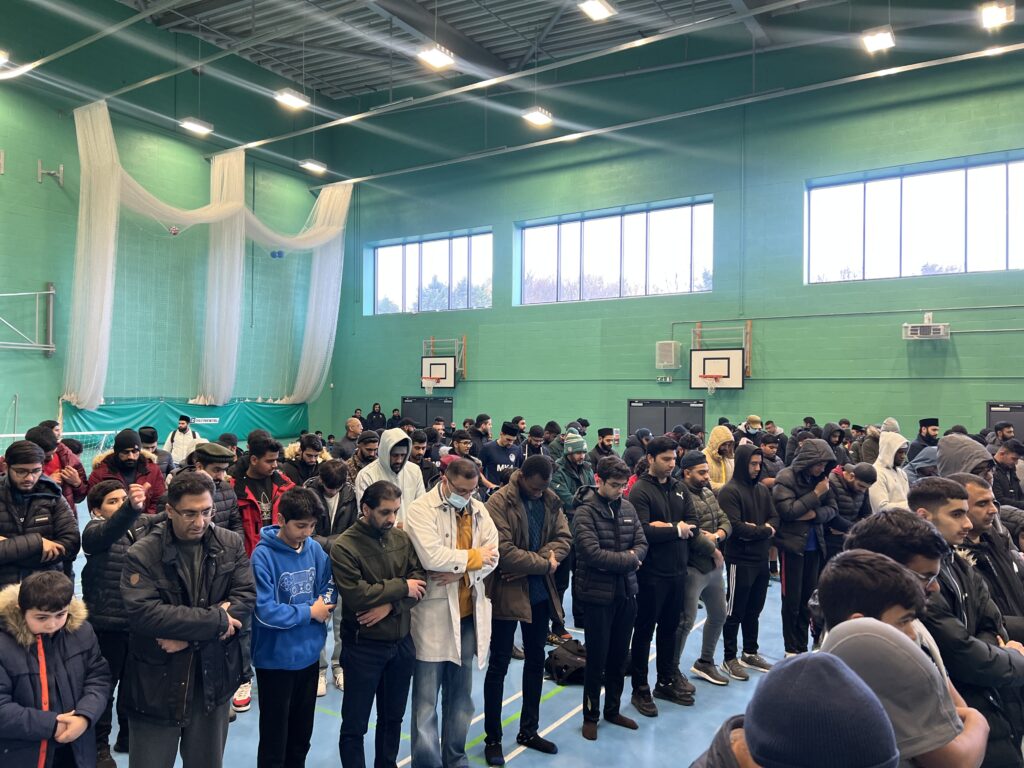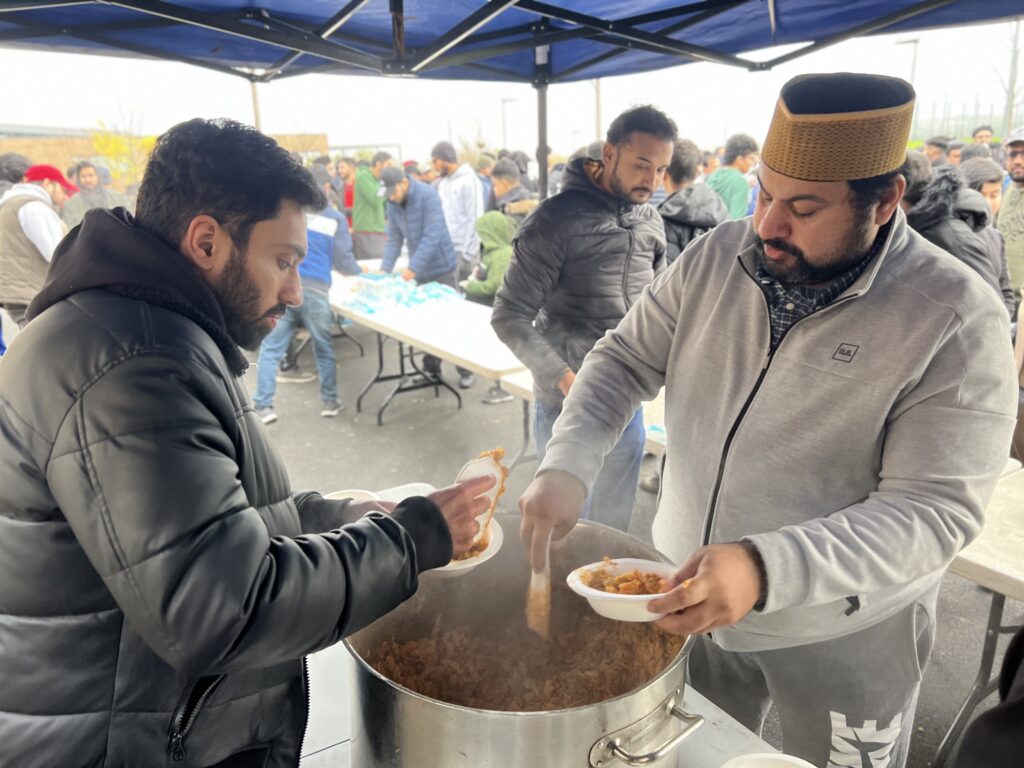 Here is some of the feedback from the Khuddam on today's event.
A Khadim form North West, Abdul Ghalib Sahib, said that "The event has been really good so far, I enjoyed coming together with Khuddam again after the sports were previously cancelled at the Ijtema due to the demise of the Queen". Another khadim, Waheed Ahmad, said that "It was good that Majlis has found a window to hold such an important event of the Khuddam year". Another khadim from Scotland said that "It is important for Ahmadi youth to come together, build a sense of togetherness and develop brotherhood."
Hazrat Khalifatul-Masih V Inaugurates Islamabad Convenience Store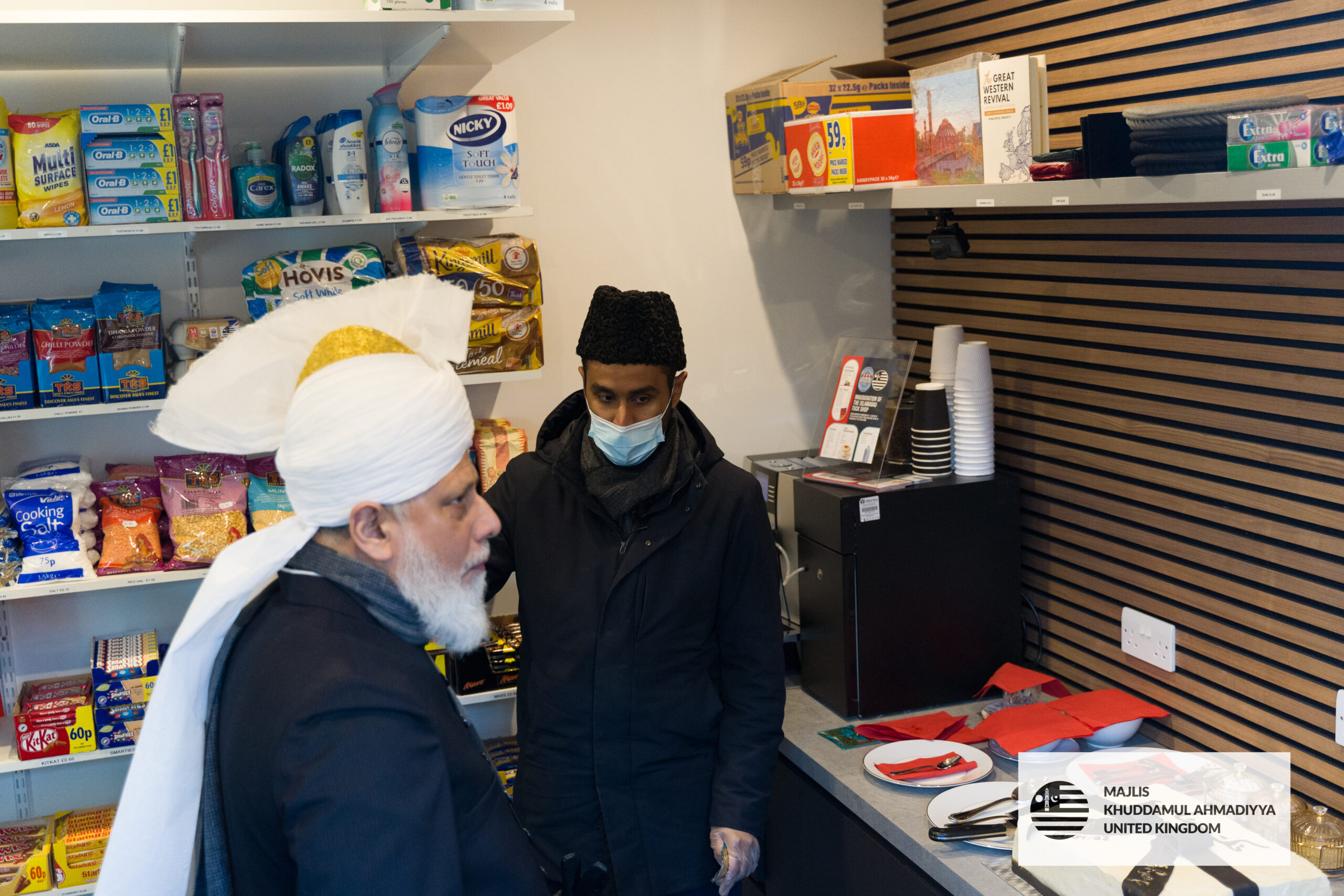 On the 1st of April 2022, after Asr Namaz, Hazrat Khalifatul-Masih V (aba) inaugurated the MKA Tuck Shop in Islamabad. Huzoor (aba) opened the Homeopathic Dispensary adjacent to the Tuck Shop before gracing the Khuddam store.  Huzoor (aba) unveiled a plaque and led everyone in silent prayer after which Sadr Majlis Khuddamul Ahmadiyya UK, Abdul Quddus Arif, Mohtamim Sanat-o-Tijarat, Umar Hassan, and Motamid Khuddamul Ahmadiyya UK, Nassar Bhatti, had the opportunity to show Huzoor (aba) the store and its wares.
Huzoor (aba) graced Khuddam with his precious time and distributed sweets to children who had gathered outside.
Immediately after Huzoor (aba) stepped outside the store, Huzoor (aba) was informed by Sadr Sahib about the Khuddam present with Huzoor (aba) speaking to a few as well. All those who had gathered were greatly  moved by Huzoor's presence.
This tuck shop will Insha'Allah serve as a small convenience store for the residents of Islamabad and visitors. The Homeopathy Dispensary has also opened alongside the MKA Tuck Shop.
Wars will Stop when the World Turns to the Promised Messiah Says Hazrat Khalifatul-Masih V
In today's Friday Sermon, Hazrat Khalifatul-Masih V (aba) once again reminded Ahmadis around the world to pray for an end to the current crisis.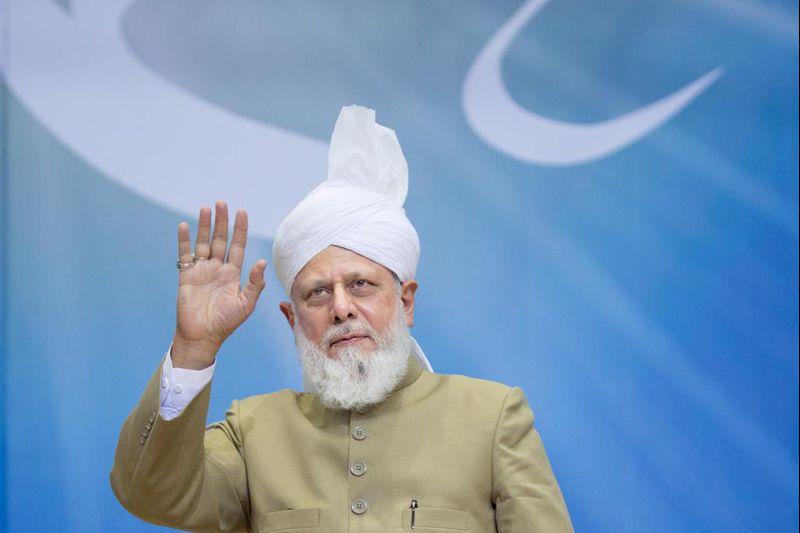 In today's Friday Sermon, Hazrat Khalifatul-Masih Vaba once again reminded Ahmadis around the world to pray for an end to the current crisis. Hazrat Khalifatul-Masih V stated:
Pray that Allah the Almighty grants both sides of the conflict proper understanding and they stop this murder of humanity. 
Huzooraba further commented that Muslims should learn from the unity that the West has displayed in condemning the war:
Muslims should learn from this war. The [West] has become united, yet Muslims, despite belonging to one creed, never unite. They had one country destroyed; Iraq was destroyed, Syria was destroyed, Yemen is being destroyed—they cause this destruction through outsiders and are doing it themselves too, instead of being united. At the very least the Muslims should learn, from the West, how to be united.
Huzoor reiterated his continuous message that there will only be peace in the world when the world accepts the Imam of the Age—the Promised Messiahas:
May Allah have mercy on these nations, the Muslim nations and on the Muslim Ummah. This can only happen however, when these people accept the Imam of the Age who has been sent for this very purpose.
May Allah grant them understanding, and where they [the Muslims] reform themselves may they also pray and use their means to stop the world from wars, rather than themselves become embroiled in them. 
Hazrat Khalifatul-Masih Vaba has been warning of an impending world crisis for a long time and has travelled the world spreading the message of the Promised Messiahas.