Volleyball Tournament – MKA UK v MKA Germany
Majlis Khuddamul Ahmadiyya UK Sehat-e-Jismani department had the opportunity to invite a volleyball team from Germany.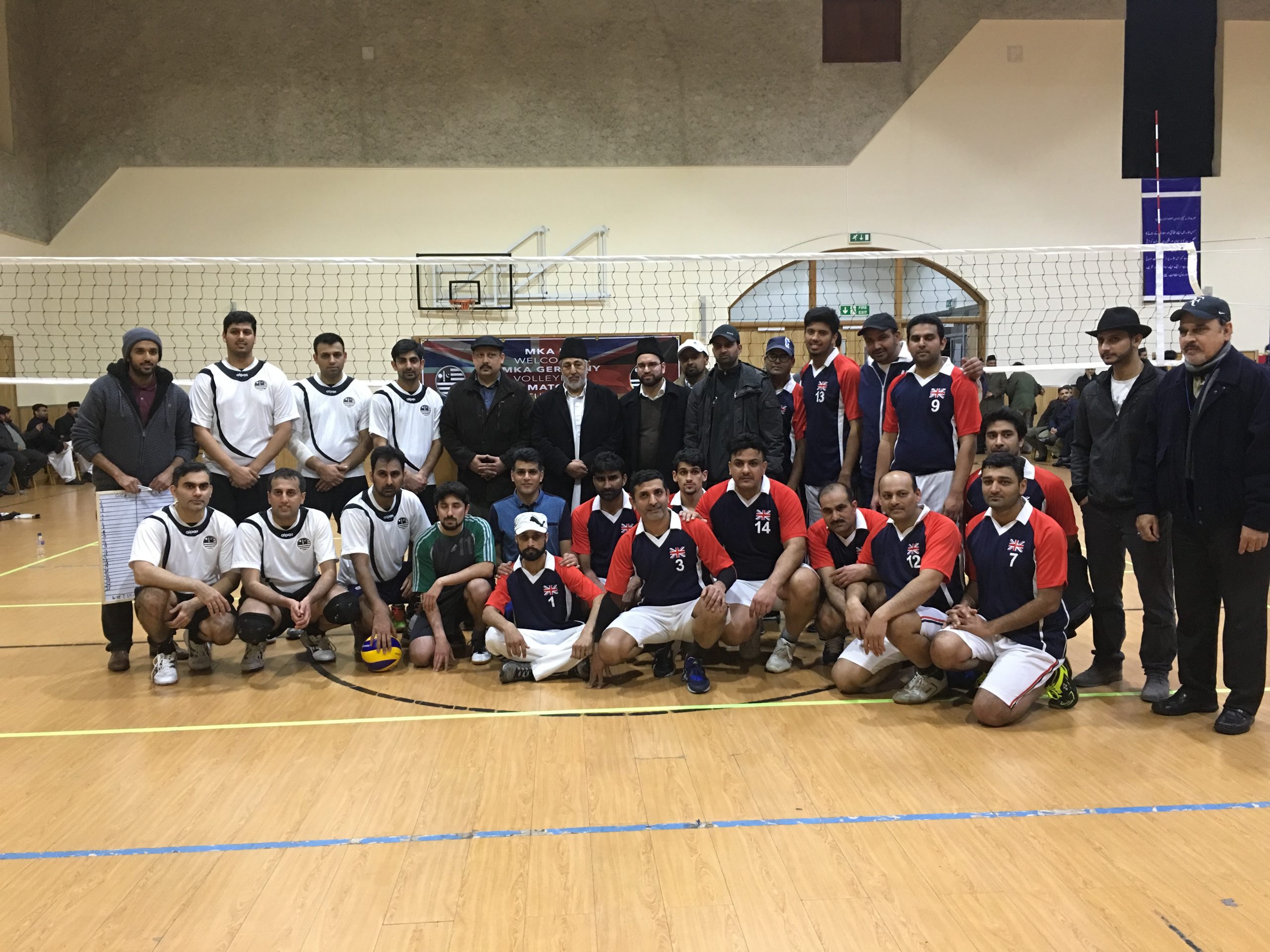 MKA Germany's team arrived in Fazl Mosque at 10am on 29th of January, where they had breakfast & then offered Friday prayers in Baitul Futuh behind Hazrat Khalifatul Masih V (atba).
The first match was scheduled for 8:30pm on Friday 29th of January, which was attended by Sadr Majlis Khuddamul Ahmadiyya UK Sahibzada Mirza Waqas Ahmad Sahib and members of National Amla Majlis Khuddamul Ahmadiyya UK. The match consisted of 5 sets and 25 points in each set. The first set was won by Germany, England made a comeback in the second set to level at 1 set all, but then Germany won 2 consecutive sets to win the first match 3-1.
The second match was scheduled for 6:30pm on 30th of January, which was attended by Respected Rafiq Hayat Sahib, National President of Ahmadiyya Muslim Community UK and Sadr Majlis Khuddamul Ahmadiyya UK Sahibzada Mirza Waqas Ahmad Sahib as well as members of their respective National Amilas. The match consisted of 3 sets and 25 points in each. The first set was won by England and then Germany won 2 consecutive sets to win the second match 2-1.
As Germany had taken an unassailable 2-0 lead in the 3 match series, the winners were declared as Germany. A special dinner was then held for members of the Germany Volleyball team, the Germany Jalsa Salana team as well as the UK team.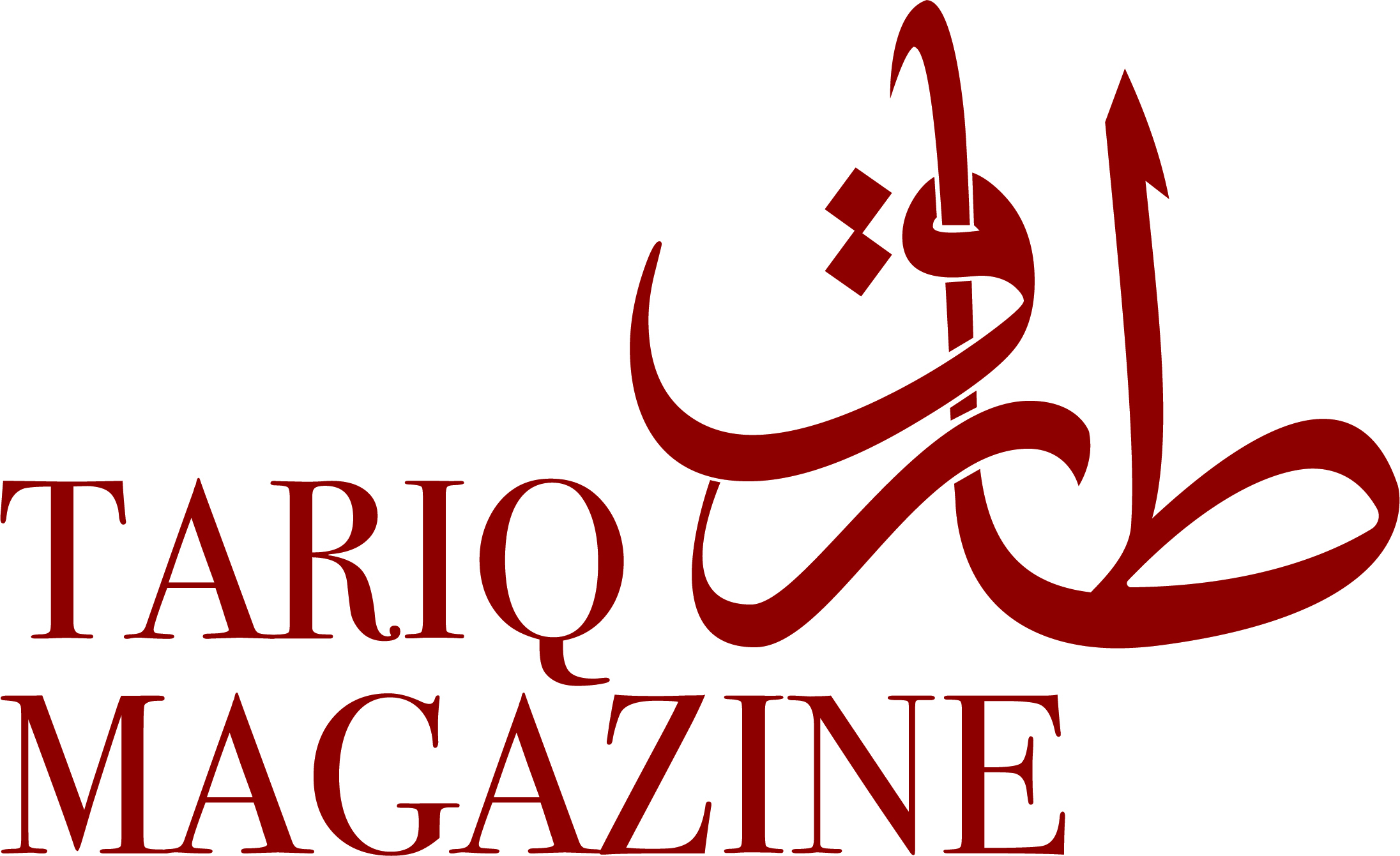 The First Ever Virtual Rally
With the Covid-19 pandemic, social gatherings became increasingly difficult to organise. However, the progress of the community of the Promised Messiah (as) does not halt under the blessed leadership of Khilafat, so under the guidance of our beloved Imam (aba), a virtual rally was held to connect Khuddam from all over the country.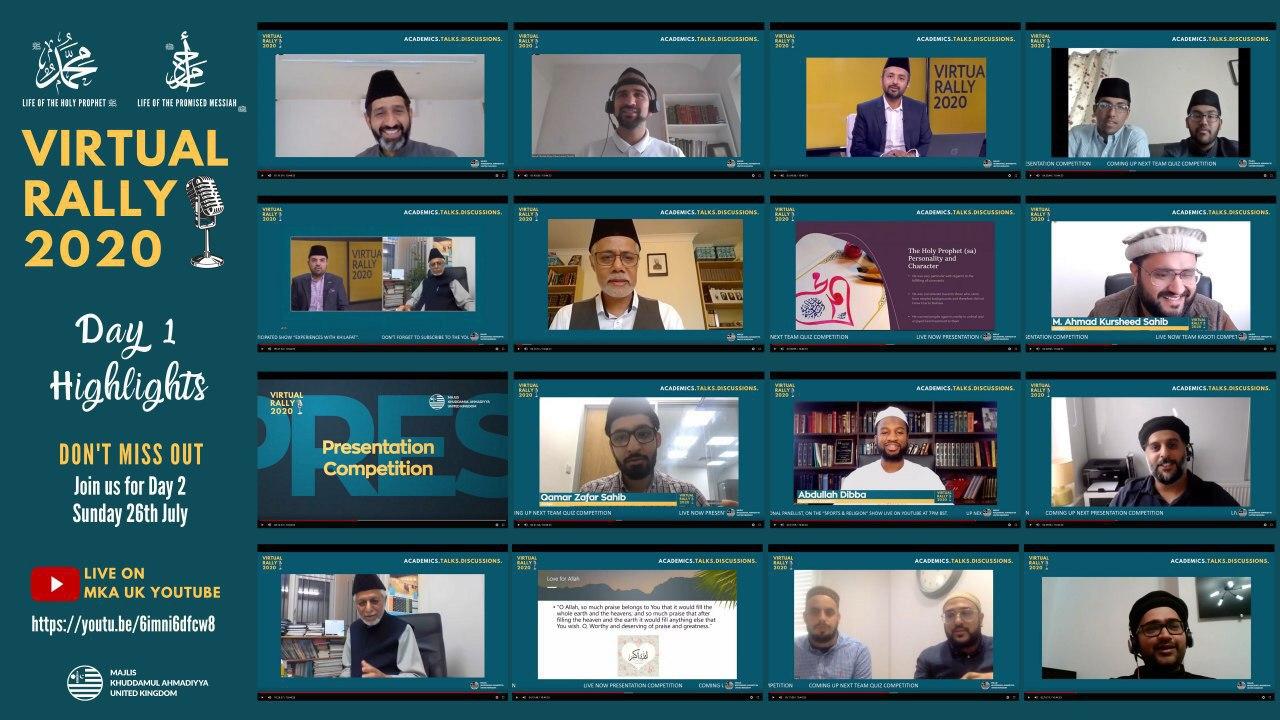 Sunday 9 September 2019; that was the day of the concluding session of the MKA UK National Ijtema 2019. It concluded a traditional busy summer for the Majlis that started with Ramadhan, the build up to Jalsa Salana UK 2019, Eid ul Adhia and wrapping up with a September Ijtema.
After the unfortunate events that led to the postponement of Jalsa Salana Qadian 2019, who would have thought we would have followed this with the summer that we have faced? Local Ijtema'at still took place as usual in early 2020, but only a handful of regions were able to hold their regional Ijtema before the COVID-19 pandemic lockdown swept aside the usual summer programme for MKA. But of course, MKA UK didn't cease its activities , taking inspiration and guidance from beloved Huzoor-e-Anwar (aba), MKA did what it does best; serving the wider community in whichever way it could, whether it was delivering food parcels and medicines to those in need, or assisting councils with delivery of PPE and much more.
However, the summer calendar was still missing  a flagship MKA UK event. The challenge was clear; the Majlis needed to come up with a way to bring everyone together, to allow Khuddam from across the country to connect with each other. Hence, with the guidance of Huzoor-e-Anwar (aba) a National MKA UK Virtual Rally was scheduled for 25-26 July 2020. The theme Huzoor-e-Anwar (aba) gave the Majlis to focus on was 'The Status of the Holy Prophet (sa)' and 'The Life of the Promised Messiah (as)'. For once the weather forecast was not a factor for the event, as the "venue" would be YouTube. So, the MKA UK and MAA UK national teams presented a full weekend of Academic and Tarbiyyat programmes that with the grace of Allah were able to go some way to bringing the Majlis together once again.
The weekend started with a formal opening session with Naib Sadr MKA UK, Tariq Hayat, presenting live from MTA International Studios, at 10:40am, streaming on the MKA and MAA YouTube channel. The start was not without some small technical glitches, but the programme started only 10 minutes later than billed. After Tilawat, Nazm and a brief welcome by Tariq Hayat, Mirza Mahmood Ahmad (Auditor in AMJ International and Vice President Humanity First International) delivered a short talk. He shared a few words on how the blessed souls of Prophets and their successors understand the word of God and convey it to us in words and deeds.
After the opening session, Hafiz Ijaz Ahmad Tahir hosted the first Khuddam academics session. He presided over the judging of the Tilawat finals, interacting with each contestant and understanding how every Khadim prepared his Tilawat in his own unique way. This was interesting for the viewers as it gave them an insight into the manner in which contestants at Ijtema'at prepare their pieces.
This was followed by Salman Qamar hosting and judging the Nazm Finals. The session set the standard expected for participants over the weekend. Following the afternoon break the second Khuddam academics sessions switched to team competitions, starting with a very popular Kasoti competition, followed by the group presentations and team quiz.
The Nau-Mobaeen department (New Ahmadis) hosted their own academic session in parallel with Sammar Malik, Mohtamim New Ahmadis department, chairing the session. The session featured an inspiring speech by Hamza Iliyas, Naib Secretary New Ahmadis (UK Jama'at), and a presentation on the Life of the Holy Prophet (sa) by Humayon Uppal. The academics competitions consisted of Tilawat, Adhan, Prepared and Extempore Speech. Their session concluded with a Q&A with Raza Ahmed, Mujeeb Mirza and Zawar Ahmad Butt – all missionaries of the Ahmadiyya Muslim Community, serving in the UK.
Following the opening session, Atfalul Ahmadiyya hosted an impressive technical feat, hosting 510 Atfal across 10 parallel zoom sessions for the Tilawat Preliminaries. This was followed by Nazm Competition with 250 participants.
After the afternoon academics sessions, Atfalul Ahmadiyya hosted their keynote "Untold Narrations" show at 5.15pm, with Syed Taalay Ahmad (from MTA International News), sharing his experiences with Hazrat Khalifatul-Masih V (aba). The session was followed by the prepared speech preliminaries with 445 Atfal taking part. Further to this, 110 Atfal submitted essays and 150 took part in the calligraphy competition in offline submissions.
Saturday concluded with two special sessions, firstly a discussion on the topic of "Sports & Religion" hosted by Abdur Rauf Lodhi (Mohtamim Tabligh), and an international panel featuring Abdullah Dibba from the US (former captain of Jamia UK football team and missionary), Usman Jamil (former captain of MKA USA Basketball) and our very own Danish Nasir (captain of the AMYA Football team).
The final session of the day was the very much anticipated "Experiences with Khilafat" with Imam Ataul Mujeeb Rashid, followed by a Q&A . This was hosted by Naib Sadr Usman Ahmad in the MTA International studios with Imam Sahib on live video feed. With the grace of Allah, the show capped off a successful first day of the rally.
The second day started off very much like the first, with Naib Sadr Ali Khan, welcoming the audience back, and another inspirational guest speaker, Atta-ul-Momin Zahid (Missionary and Director MTA3 Al Arabiyya), sharing examples of the Holy Prophet (sa) regarding abstaining from vain activities. The Khuddam academics session was hosted by Shahzad Ahmad for the English Prepared and Extempore Speech Competition, and Ayyaz Mehmood Khan for the Urdu Prepared and Extempore Speech Competition. In parallel the Atfal YouTube channel hosted the live finals of the Atfal Academics finals, which featured live voting from the audience.
The afternoon Khuddam session started with the second Khuddam panel discussion session billed on the programme, with "Inspiring Convert Stories", hosted by  Mansoor Clarke and joined by Jonathon Butterworth , Marwan Sarwar Gill  (tuning in from Argentina) and Saul Graham Page. The show turned into one of those sessions you did not want to end.
However, straight after the session the rally returned to the MTA International studios, to join hosts Raza Ahmed sahib and Attiqur Rahman (Mohtamim Tarbiyyat MKA UK), who invited 8 international teams to compete in a very special international exhibition quiz competition. The show turned into a truly unique feature of the rally, bringing teams from Ghana, Australia, Canada, USA, Norway, Sweden, Germany and UK in a variety of team quiz, popular answers and group presentation rounds. The various international teams really enjoyed participating and competing against their fellow Ahmadi brothers from around the world, and the hosts really managed to present the competition in a most interesting manner.
Over on the Atfal YouTube channel, Mubashar Zafri hosted an interesting show called "Charge the Criminal". He was joined by  Sammar Ahmad  and Daanish Khurram to help Atfal solve three scenarios.
Finally, the rally concluded with a special final session hosted by Naib Sadr Adam Walker, inviting Sadr Majlis and Amir Sahib UK for their final message, with Amir Sahib closing the rally with silent prayers at 6.30pm.
This brand-new experience brought with it a lot of challenges, and also some very interesting feedback from participants and our audience.
One Khadim wrote:
"Assalamo Alaikum dear Sadr sahib,
I Hope you and the family are keeping well with the blessings of Allah, I just wanted to congratulate you on the brilliant Virtual Rally, Alhamdulillah it surpassed all the standards by a mile.
May Allah bless the whole team involved abundantly. I know you all will be busy in collecting red book points and I just wanted say there was none. It was amazing from every aspect.
Please pass my congratulations to Farhad sb too.
Wasalaam"
Another Khadim, from Africa, said:
"Mash'Allah, mubarak ho on the wonderful virtual rally. People like me were able to join in too, I really enjoyed it."
Whilst another Khadim wrote:
"Assalamo Alaikum Sadr sb,
For the last two days I have watched a few parts of the virtual rally and my family kept up to date with it as well. My mum enjoyed watching it the most and Alhamdulillah we all learned many new things. So, I would like to say Jazak'Allah to you for organising this amazing event!"
This virtual rally was a brand-new experience for the audience and participants, but the same applied to the event orgranisers and committee. Yousaf Aftab, the Nazim-e-Ala of this event gave the following remarks:
"Alhamdulillah by the grace of Allah and the prayers of Huzoor-e-Anwar (aba), we were able to overcome many challenges in running and hosting our first ever virtual rally. The Covid-19 crisis has made us rethink our dynamics. Certainly, for us as a team we needed to adapt and be agile in creating an interactive and engaging programme to meet the needs of our Khuddam and Atfal brothers.
By no means was this an easy task as we had a very short period of time to deliver such an event to members of our Majlis, a lot of whom we have not met face to face for months.
The challenges of ensuring we could relate to the different styles of learning using such tools at our disposal that we didn't have complete expertise in was a demanding task. It's a fine line in creating a programme that meets the needs of all whilst ensuring you can keep them engaged and actively participating.
The other challenge was ensuring we could get across to all the Khuddam and Atfal in our Majlis and ensure they would be able to attend parts of the programme. In this we had to be creative of selling the programme to the Majlis and outlining why they should join the rally.
The collective efforts of the team and their ability to change, be more agile and work under pressure was notable. The cohesiveness of the team and their willingness to deliver the best result for the Majlis was certainly visible. The hours of planning undoubtedly payed off and highlighted to us that as a dynamic organisation, and with the continued prayers of our beloved Imam (aba), there isn't anything we can do if we pray and persevere.
The motto Hazrat Musleh Maud (ra) provided us with certainly shows that our youth can be nation builders and in all types of adversity can rise to new challenges as and when they come. We've learnt a huge amount from this experience and it is certainly something that will help us grow and develop, Insha'Allah. All praise belongs to Allah for giving us this opportunity and covering our shortcomings. Alhamdulillah."
When asked about what motivated the Majlis to hold such an event, Respected Sadr sahib MKA UK said:
"We are extremely fortunate to receive constant guidance from Hazrat Khalifatul-Masih V (aba). The virtual rally would never have been organised if beloved Huzoor (aba) hadn't instructed us to hold academic competitions and come up with a presentable plan.
In addition to the blessed guidance of beloved Huzoor (aba), the Majlis was extremely blessed to receive the prayers of our beloved Imam (aba) when the plan was presented to him. He blessed this event with his prayers with the words: 'Allah ba barkat fermaye', meaning that may Allah bless this event. Certainly, we saw the prayers of our beloved Imam (aba) being fulfilled throughout the course of this rally, Alhamdulillah."
Being a completely online based virtual rally, accurate figures and statistics regarding the involvement of our Atfal and Khuddam participation were collected. The statistics for both days are as follows:
Day 1:
Atfal:
Total Views: 9522
Playbacks: 7000
Peak concurrent: 418
Khuddam:
Total Views: 8854
Playbacks: 10,000
Peak concurrent: 429
Day 2:
Atfal:
Total Views: 15,510
Playbacks: 8600
Peak concurrent: 428
Khuddam:
Total Views: 9007
Playbacks: 10,000
Peak concurrent: 429
By the grace of Allah, the rally brought many firsts. It was a first for the Majlis to host a lengthy live programme for two consecutive days.  At its peak there were over 750 live connections and over 10k total views on YouTube. The summer of 2020 will always be remembered as the summer where we were restricted to our own households, but due to the prayers and guidance of Huzoor-e-Anwar (aba), it won't be remembered as the summer when MKA UK was locked down, Insha'Allah.
Northwest Fajr trip to London
Khuddam across the country regularly go to eh Markaz to offer Fajr behind Hazrat Khalifatul-Masih V (aba).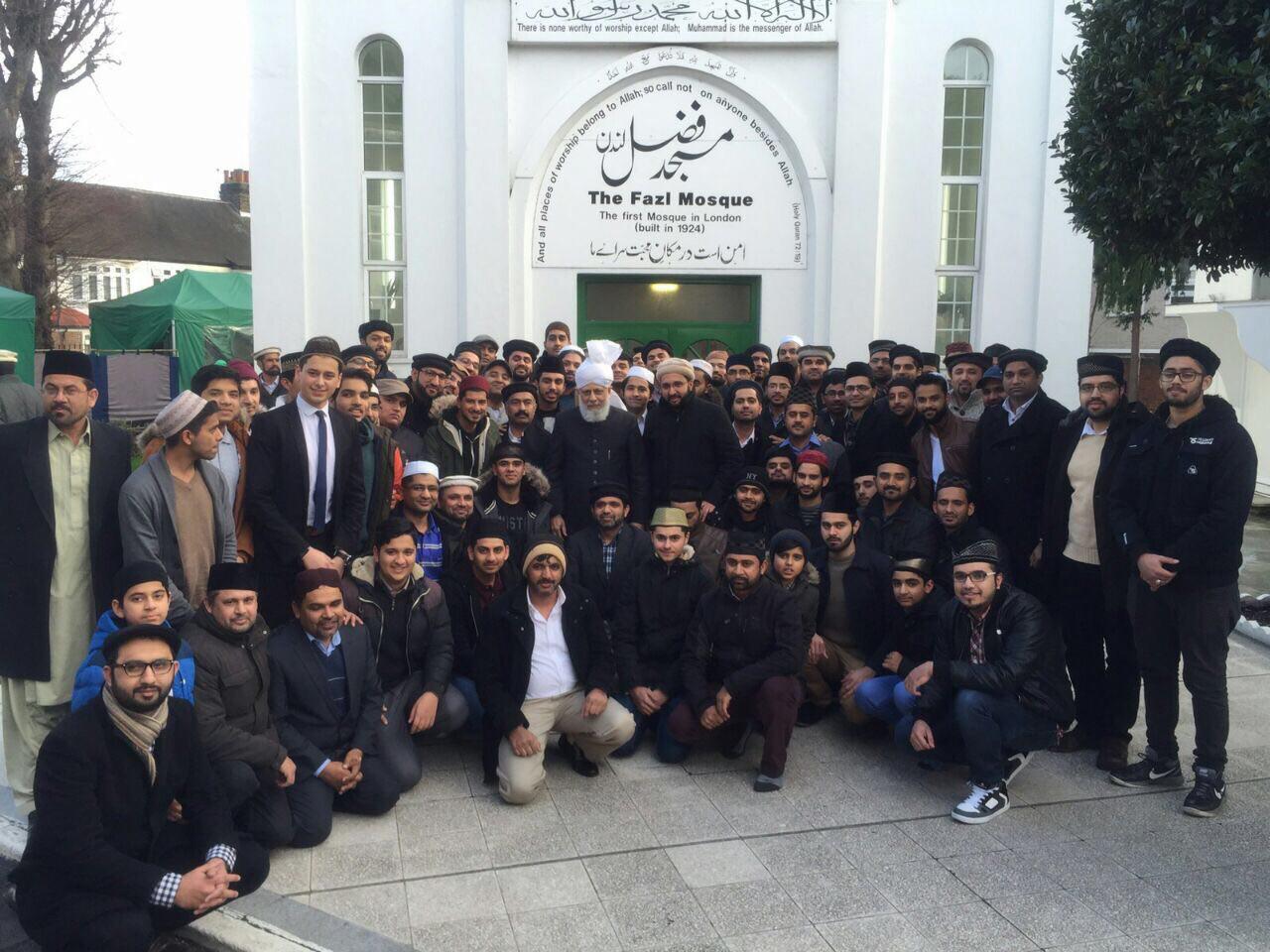 By the grace of Allah MKA north west had more than 75 Khuddam who travelled on 9th January 2016 at 11.30pm from Liverpool, Manchester, Bolton and Stockport to offer Tahajjud followed by Fajr prayers behind Hazrat Khalifatul-Masih V [aba]. This was followed by an interactive Talim session with Mohtamim Talim, and then followed by a faith inspiring session with Abid Khan Sahib. Finally after Zuhr and Asr prayers beloved Huzoor Hazrat-Khalifatul Masih V [aba] very kindly had Musafa (hand shake) with every single Khadim, spoke to them individually and then had a group photo, Alhamdulillah.
Middlesex Christians, Jews and Muslims unite against Extremism
Local Peace Symposium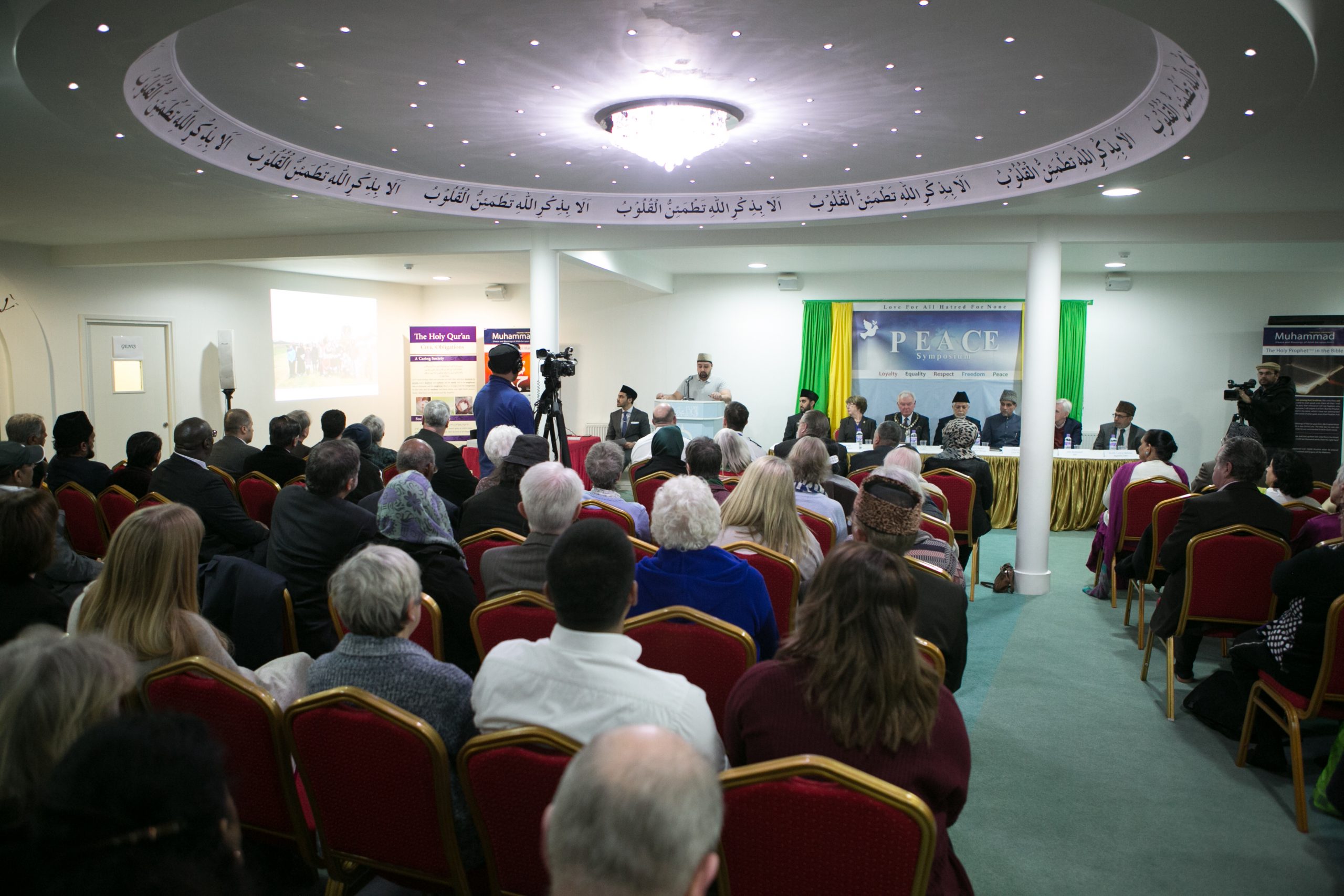 On Saturday the 30th of January the Ahmadiyya Muslim Association (AMA) of Hayes Jamaat invited the public as well as various faith leaders and politicians to attend a peace symposium to unite all communities against extremism. The event was well attended. 170 people from all walks of life gathered at the Baitul Amn Mosque (House of Peace), including John McDonnell MP, Hillingdon councillors, local Police, Head Teachers, Doctors, Christians, Jews, Muslims and people of no faith.
After the introductory documentary, Hamaad Rehman, Regional Qaid of Middlesex presented an introduction to MKA Middlesex and spoke about the various activities of the Majlis Khuddam ul Ahmadiyya in Middlesex, such as raising funds for the poppy appeal, tree planting and helping communities that have suffered from the recent floods.